Grad Success
They're the pruners of our strands, the keepers of our secrets and the masterminds behind those picture-perfect balayages. These Blanche Macdonald Pro Hair graduates are just getting their feet wet in the whirlwind world of Hair, but already, they're making waves in their new careers. Spanning the scene from stylists and barbers to Pro-Educators and entrepreneurs, our grads run their very own hair salons, hold the hottest seats in top salons, and work behind the scenes to create stunning editorials. Armed with the knowledge of our internationally recognized training, and a pair or two of super-sharp shears, these remarkable individuals have heard the entrepreneurial call of the Hair world and they have answered back. With Contessa Awards and other prestigious national and international competitions under their collective belts, our grads are climbing the ranks of local and international scenes one snip at a time. It can be hairy, but they're ready for anything!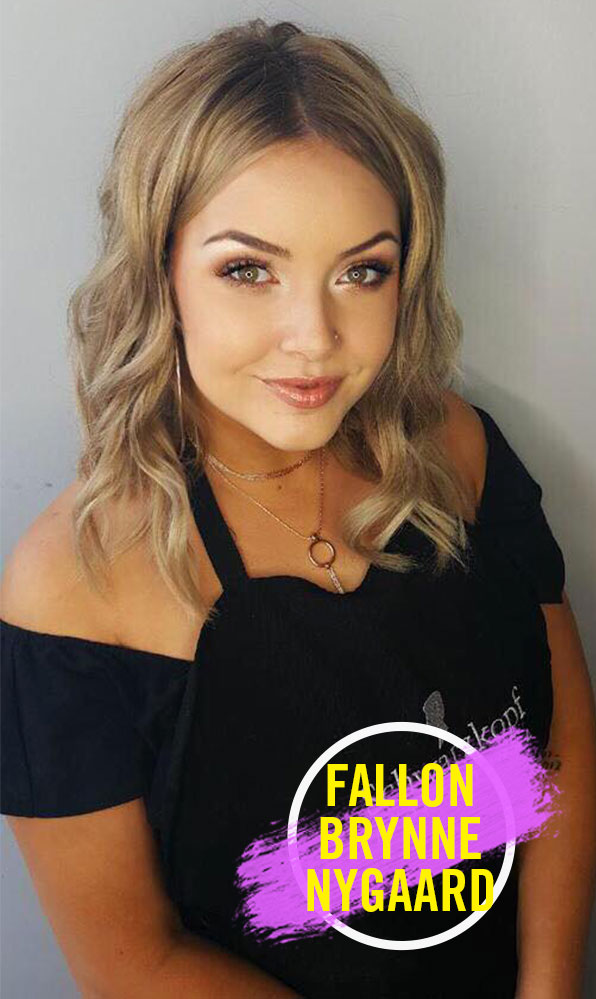 Double Blanche Macdonald graduate Fallon Brynne Nygaard has been setting Saskatoon ablaze with her beauty skills since graduating from Blanche Macdonald's Pro Hair Program and Freelance Makeup Program. Finding her home at The Lemon Tree Salon and Studio, Fallon has amassed quite the following of dedicated clients who come for her sparkling and shimmering attitude and stay for the fierce blowouts, killer cuts and show-stopping colours. Her love of sultry hair and brows that are on fleek is challenged by only one thing - her love of dogs! ("Seriously, I want like 65!") Meet this charming, cheeky and totally kick ass animal lover and graduate that is raising the bar of Saskatoon's beauty game one beautifully blended balayage at a time.
Blanche Macdonald Centre: Fill in the blanks! My name is _____ and I am known for always doing / having ______ and ________. When I'm not at work, I like to wear ______ while doing my favourite activity, ______. All my friends would say I am _______!
Fallon Brynne Nygaard: My name is Fallon Brynne Nygaard, and I am known for always running into things, knocking over product shelves, and tripping at work, yet somehow being able to do hair with grace! While I'm not at work, I like to wear dresses and high heels while doing my favourite activity which is usually freelance gigs! I truly just love to work. All my friends would say I am "the real MVP; a true homie!"
BMC: What game show or reality show you would slay if you were on it?
FBN: Dr. Phil. If "cash me ousside" made Danielle Bregoli famous, I have no doubt this is where I would find my fame and be instantly moved to a glamorous mansion in Beverly Hills and Jenny from the block would hire me as her personal stylist and makeup artist immediately!

BMC: If you ever made the news, what would the headline be (hopefully)?
FBN: "Hair and Makeup Extraordinaire Builds World's Largest Rescue Dog Safe Haven!"
(I'm a total pushover when it comes to animals. I want like 65 dogs.)
BMC: Have you ever had a paranormal experience?
FBN: Basically, yes. I always think of Lydia's line from Beetlejuice: "Well, I've read through that handbook for the recently deceased. It says: 'Live people ignore the strange and unusual'. I myself am strange and unusual. " - Lydia from Beetlejuice
BMC: What would we always find in your fridge?
FBN: Take out. Take out. And ummmm... condiments? I don't grocery shop as much as a healthy human should - that's the life of a hairdresser!

BMC: What was your favourite part of our Hair program?
FBN: I think Design Forum with [instructor] Lisa was my favourite module. I loved the creative freedom we had and being able to be hands on with our styles!
BMC: What is your speciality (cut, colour, ombre, etc)?
FBN: My favourite things to do in the salon are either massive transformations - which is vague, I know - but I also love simply showing people how to enhance their natural palette through balayages and ombrés blended to perfection! I was so scared of men's cuts when I was first leaving school, but now I can bang out fades quickly and with confidence as well!

BMC: What do you remember most about your first day in Q + A? At your salon now?
FBN: I remember walking into Q&A for the first time and feeling like somewhat of a big shot finally moving up in the ranks! I was humbled after school, of course. My first day at the job I'm currently in was definitely a very memorable one… I remember having an overwhelming sense of security and an instant familiar feeling with my coworkers who I've grown very close to now. We are all very open and are able to learn from each other in our careers and in life. I got really lucky finding a placement here. Shout out to all my Lemon heads!
BMC: Name your top 2 go-to products and why you love them.
FBN: My top favourite products right now have to be Caviar Omega Nourishing Oil and Schwarzkopf's Mighty Matte paste. The oil is an uncharacteristic pick for me simply because I put it in the hair wet. This oil is good for really any hair type that is needing some moisture and overall nourishment, it disappears straight into the cuticle of the hair and won't burn, which is pretty fantastic in my opinion! With the paste, I just find it to be such a great versatile product that can leave the hair texture looking natural as opposed to crispy or wet without completely knocking out the natural shine. I use it mostly for short hair cuts, men and women, to create either a sleek or piece-y outcome. It's fab, and my clients adore it.