Hair
They're the pruners of our strands, the keepers of our secrets and the masterminds behind those picture-perfect balayages. These Blanche Macdonald Pro Hair graduates are just getting their feet wet in the whirlwind world of Hair, but already, they're making waves in their new careers. Spanning the scene from stylists and barbers to Pro-Educators and entrepreneurs, our grads own their very own hair salons, hold the hottest seats in top salons, and work behind the scenes to create stunning editorials. Armed with the knowledge of our internationally recognized training, and a pair or two of super-sharp shears, these remarkable individuals have heard the entrepreneurial call of the Hair world and they have answered back. With Contessa Awards and other prestigious national and international competitions under their collective belts, our grads are climbing the ranks of local and international scenes one snip at a time. It can be hairy, but they're ready for anything!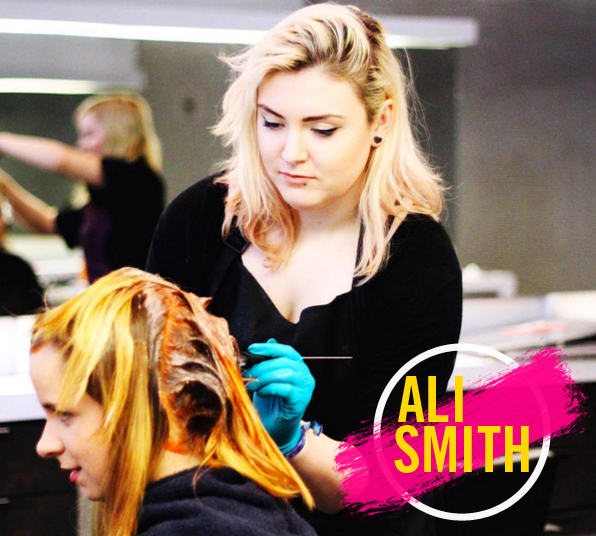 Sure to be sporting a mane of many and different colours, razor sharp liner and specs of glitter wandering randomly about her person, Ali Smith is not just the creator of unicorn hair – she exudes an essential 'unicorn-ness.' Having graduated from the Pro Hair program at Blanche Macdonald a mere 4 months ago, Ali has found herself behind the chair of one of Vancouver's premiere chop shops, Artel Salon. Owned by fellow Blanche Macdonald graduate Eliza Trendiak, Ali spends her days honing her skills, learning from fellow Artel stylists and crafting the latest looks for her burgeoning clientele. A flurry of retro Disney prints, witticisms, and perfectly timed meme humour meet the whirling dervish that is Ali Smith. Or as she puts it "Ariien. Brat. Kitty. Facial hair admirer."
Read More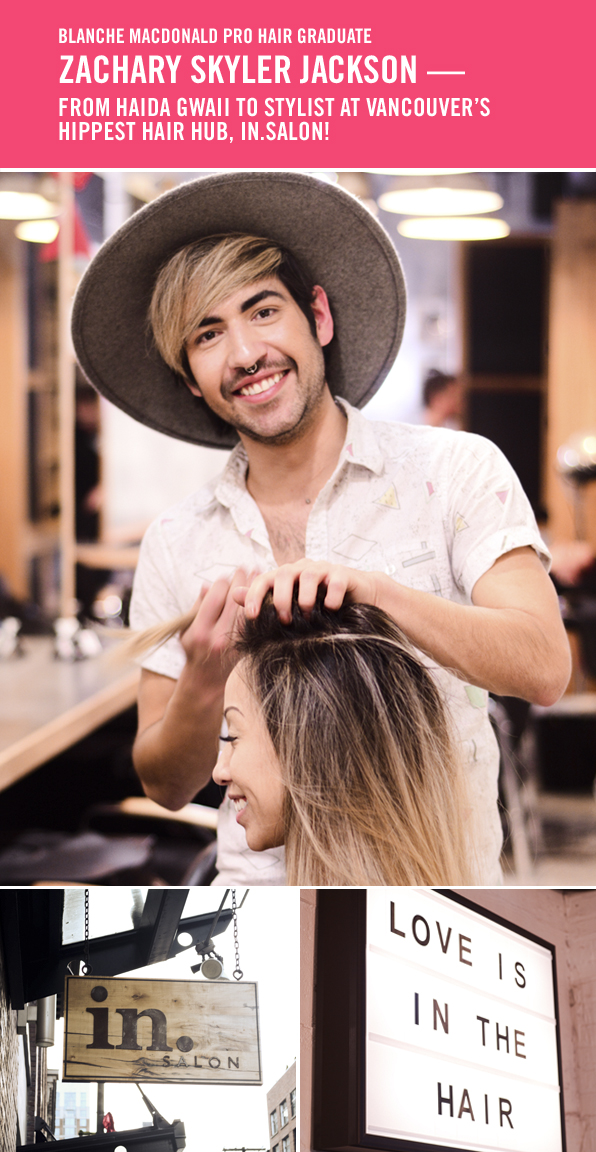 It's not where you're from. It's where you're at.

Few people illustrate this maxim better than Blanche Macdonald Pro Hair graduate Zachary Skyler Jackson, whose journey has taken him from a village on the Northern British Columbia islands of Haida Gwaii to one of Downtown Vancouver's busiest and most fashionable salons.

"It was awesome growing up on Haida Gwaii," explains Zachary, relaxing in the bustling surroundings of in.Salon, his creative and professional home for the past two years. "I just knew I wasn't an island boy. My hometown, Masset, has two streets and about 900 people. I loved cities and fashion was always an outlet for me, which mainly meant MTV and the magazines I could pick up when I went to see my Dad in Prince Rupert or visited Vancouver."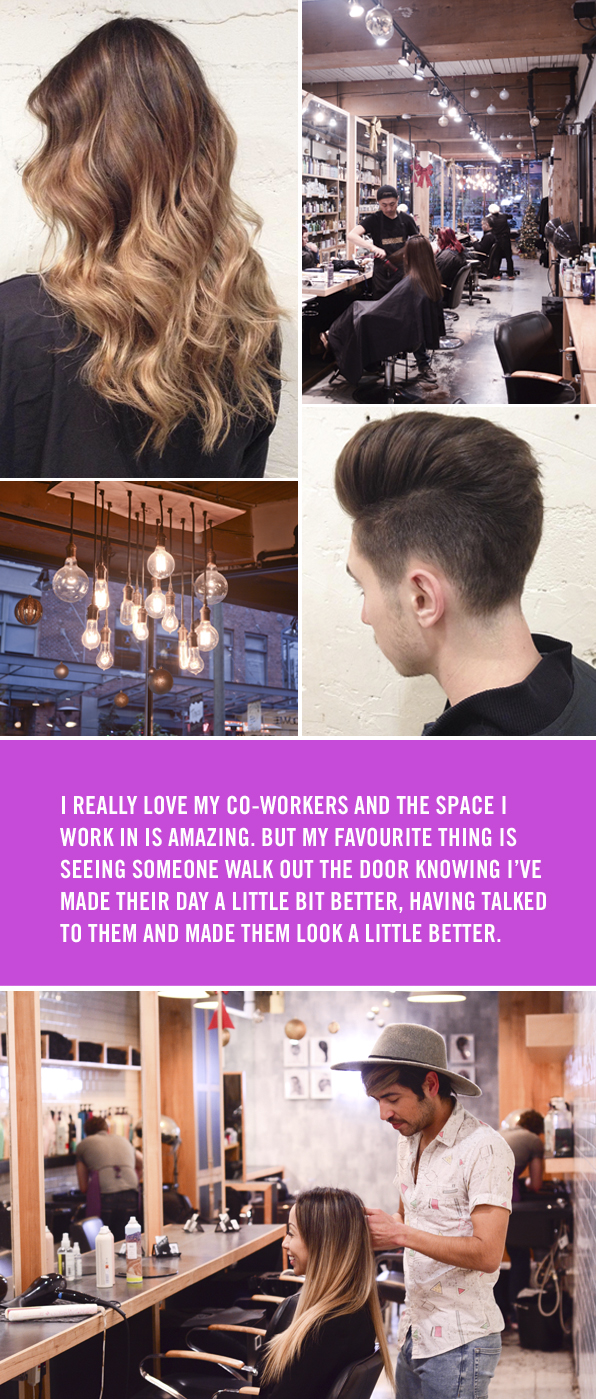 Zachary isn't looking at the fashion world from the outside any more. As a key member of the team at in.Salon, photo shoots and fashion shows come with the territory. Located in the heart of fashionable Yaletown, in.Salon does more than pay lip service to its tagline of 'Vancouver's trendiest salon.'
Read More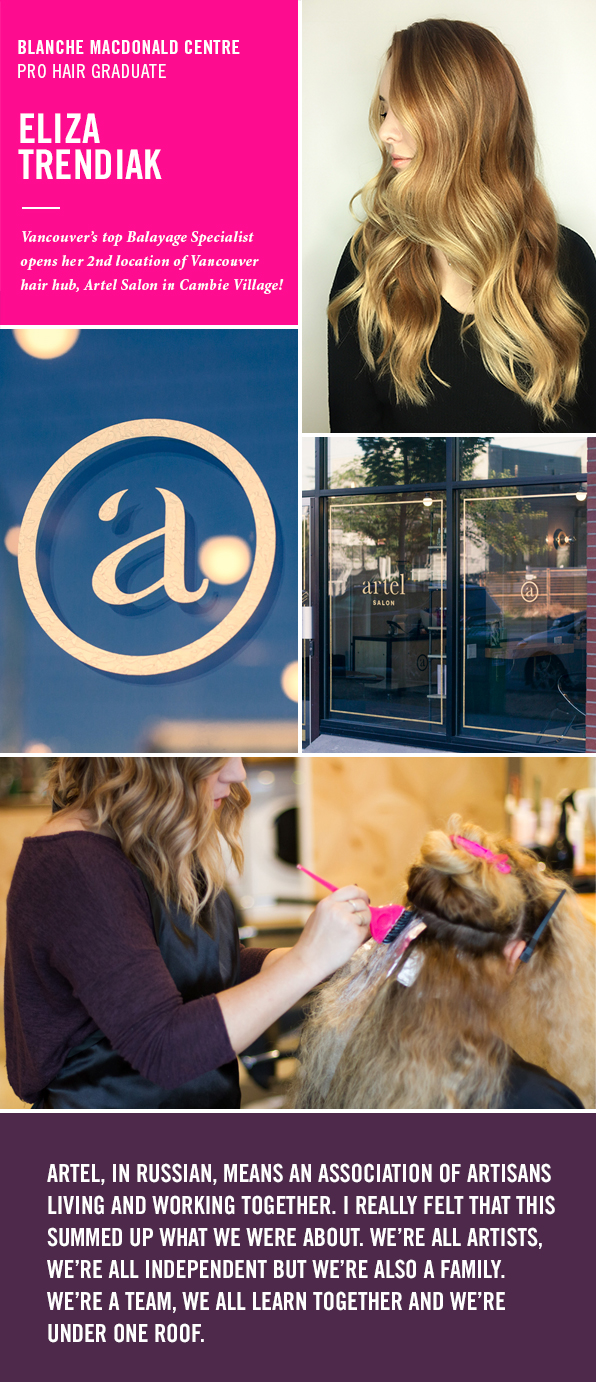 "Artel, in Russian, means an association of artisans living and working together. We brainstormed a whole list of names but I really felt that this summed up what we were about. We're all artists, we're all independent but we're also a family. We're a team, we all learn together and we're under one roof," says Eliza Trendiak proudly, glancing about her sun-soaked empire. The Blanche Macdonald Pro Hair graduate ushers us about the polished concrete and vaulting space surrounding, giving us the grand tour of her newly opened Artel Salon.
Plump succulents scatter about countertops and pastel-packaged product blooms from the walls. The rustic salvaged wood coffee table (hand-crafted by a friend) jostles warmly with rich textiles, coaxing you to plunk down on the couch and make snug with a magazine. Nestled into the niche hubbub of Fraser Street for only a few months now, Artel has already become the neighborhood's favourite hair haunt-meets-hang out, with a constant flow of clients chattering through the door.
Eliza is a natural Entrepreneur, but then again, she's been self-starting since before she can remember.
"My family has always made fun of me, saying that I came out of the womb trying to start a business. As a kid I did lemonade stands, dog walking, sold cucumbers on the side of the road... you name it and was trying to start a business with it," laughs Eliza.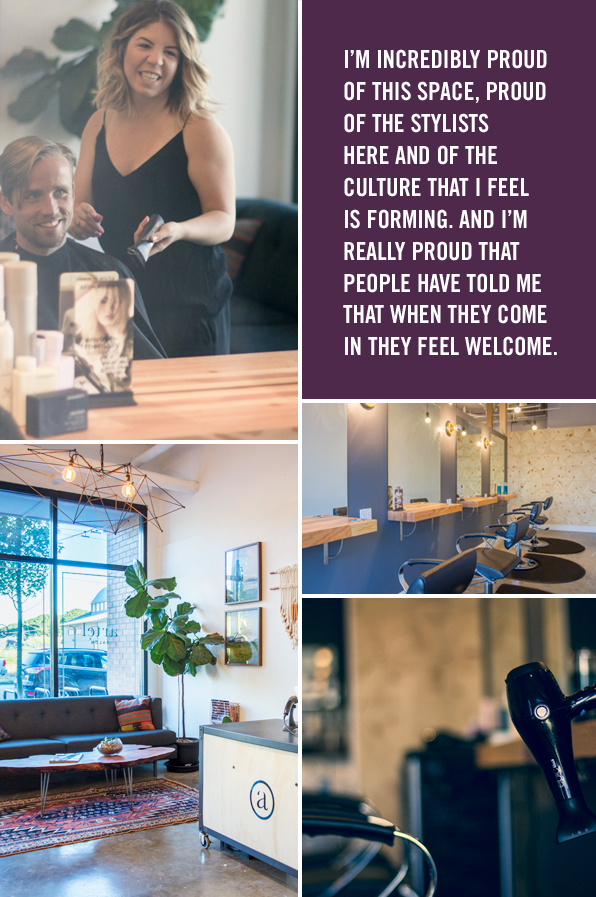 It was no surprise to her parents then when Eliza declared that she was leaving her native New Hamburg, Ontario to go to the School of Business at Trinity Western University in BC. What did come as a surprise to Eliza was that she wasn't 100% satisfied with the path that now lay at her feet.
"I didn't want to end up working in an office. At the time I was doing my dormmates' hair and I just loved it. A friend told me that I should do what I wanted to do because I was going to be waking up and doing it every day. I took that to heart, so I graduated university and went straight to Blanche Macdonald.
"My sister and one of my best friends went to BMC for Fashion Marketing and the quality of their work attracted me to this school from the get-go. Blanche has one of the longer Hair programs in Vancouver, twelve months as opposed to six months; I felt that if I was going to invest in my education, I wanted to spend the most time I could learning. And I loved that Blanche Macdonald had a Business program built into it, as well as Makeup and Hair for TV & Film; you could really get a taste of everything. I wanted to come out of school feeling prepared. Blanche just seemed to be the right fit."
It was. Eliza took to the program like a curl to heat.
"My group was awesome! We prided ourselves on being loved by the instructors. There was a lot of bonding through the intense practical exams and I still keep in contact with some of the girls from my program. I went into hair school like, 'Oh, I've done an undergrad, this is going to be easy,' but I'd be out in the hallways with the rest of them afterwards just exclaiming about how intense it was! It was a really great experience."
Read More

"No matter how long I do hair, the most rewarding part of the job is still changing someone's life."
Despite reaching near-celebrity status on the Vancouver hair scene, Aaron Brousseau still marvels at the transformative powers of the hair he is entrusted to shape.
"I love that I have the ability to give someone the most beautiful accessory they're ever going to wear. Hair can be life-changing, absolutely."
Starting out with only tenacity and a strong urge to get snipping, Aaron's been taming locks since a young age.
"The first haircut I ever gave was on my brother. I must have been about twelve. I took some clippers and started to cut his hair. Then the guard on the clipper came off and left a nice sized bald spot on his head. It was the most wretched haircut. We ended up shaving it all off."
Growing up as one of twelve children in the rural town of Terrace, B.C. may have offered plenty of willing young hair models but it didn't offer Aaron the opportunity to gain formal training as a Hair Stylist.
"[My own Stylist] saw me cutting and colouring for my family and siblings' friends, and saw that I was getting better. That's when she said, 'You need to go to school for this. You have a raw talent. You're good at what you do, but you need to be trained. If you don't apply for school by September, I won't cut your hair anymore.' So I applied to Hair School."

The bright lights of Vancouver were the obvious destination for Aaron and it wasn't long before his research of Hair Schools led him through the doors of Blanche Macdonald.
"I looked into a lot of programs and Blanche was the only one that had everything. I wanted to learn every aspect of the industry and Blanche Macdonald had it all."
Read More

As we nestle into the clients' lounge of Barbarella Hair Saloon with Blanche Macdonald Pro Hair graduate Nessa Pineda, the six-chair corridor-style layout is sunlit and buzzing. We start in, and the other stylists chirp in intermittently as they frisk by, plucking product off the shelves, whisking bowls of yummy pastel pastes, laughing through the hum of dryers. Some come to lounge with us in between clients, their hair twisted up into bows, or tinged in toothsome hues. The atmosphere is vibrant and blithe for so early in the morning. And yet...
"Well, I believe that the salon is haunted," Nessa declares, eyes glinting from behind her signature thick black frames. "So there are definitely some crazy things that have happened. A few weeks ago the manager, Erin and I were opening the salon and we hear this noise. In our back room we have two sinks, and the one for the colour bowls was completely turned on…
"And my hairdryer turned on by itself yesterday!" proclaims Haley, another stylist, with an ominous look as she struts back to her station tailing her customer from the sink.
We can only speculate as to the spooky origins of the salon's omnipresent client, but one thing that can be stated for certain is that Nessa loves being a Stylist at Barbarella. Ghost or no ghost.
"We see so many different clients here! Our services are very colour heavy, and we're always trying something new, so it doesn't get boring.
"It's a great team and the owners really emphasize on teamwork. It's nice to come into an environment where there isn't that competition, and where you feel comfortable sending your clients over to another stylist when you're away because you know that they're going to do an awesome job."

Nessa has been stationed at Barbarella for four years now, and she's somewhat of a veteran of the Main Street hair hub, which sees multi-hued youth and unique-seekers of Vancouver flocking for seats. Those that plunk down at Nessa's station are never disappointed – she loves what she does, and she does it with brilliance.
"I love the freedom and the creativity of hair styling! I'm not an office person, so it's nice to be exposed to new things every day – it's never the same! And I love making the client happy, giving them what they want. People are investing their money into this so it's really important to make sure they adore the outcome; that you're putting a lot of work and care into it.
"My favourite is when someone wants to cut their hair off, when they come in saying they want a transformation. Making people happy and seeing their face light up when they're going through that change is so fun. I love that aspect of my job."
Read More
Blanche Macdonald Makeup and Hair graduate Kara Alaric knows exactly when she fell in love with the movies. To her, they're more than entertainment. They're a connection to great times.
"Every Friday night growing up in Whitehorse my family would go to the video store and rent the VHS tapes we'd watch that weekend," she recalls. "But I never thought I would make movies. My family called me a while ago to say that they found the DVD of Lonesome Dove Church, the first big movie I worked on, in Walmart. Seeing my name in the credits was so exciting for them. And it wasn't even in the $6.99 bin!"
Kara doesn't rent movies any more. She helps create them, starring on the hair and makeup teams on TV and film crews in her adopted hometown of Vancouver. In addition to her work as Key Hair Stylist on Lonesome Dove Church (featuring the great Tom Berenger), Kara has been in the thick of the behind-the-scenes action on series like When Calls The Heart, CBC's Full Flood and the Garage Sale Mystery series of TV movies starring Full House's Lori Loughlin.
"There's a huge sense of accomplishment when you work in film," she explains. "It's a big group effort and it's an incredible feeling when the crew is on the same page and everyone works together. My priority is to get my job done efficiently. But I'm also a fan of having fun. Once you establish camaraderie with a crew it's really rewarding."

As a TV and film hair stylist and makeup artist, Kara knows all about lengthy workdays and nights. But she's never been afraid of putting in the hours to work on her craft. While still a high school student she represented the Yukon in Canada's National Artist Program as a tattoo apprentice. Although it took what seemed like a minor disaster to set her on the path to Canada's top Hair and Makeup School and the movies.
Read More
Florid torrents of sequin and chiffon, city streets steeped in electrifying beats of laughter and hoorahs – it simply must be...
PRIDE! The annual fiesta where our city blitz-and-glitzes through the streets to celebrate and be loud about our collective uniqueness in sexual orientation, gender, and gender choice. We love being a part of this brilliant, diverse and empowered community! And after the vibrant victories for the gay rights movement in the USA and Ireland this year, the 37th annual Vancouver Pride was bound to be one of the most vivacious yet!
Our creative classrooms are built upon a culture of power-in-expression and absolute self-ness, and we've seen some truly incredible, utterly divine individuals find their voice here in our halls. With the Pride parade strutting up fast and fabulous, we reached out to a FIERCE five from our Blanche family who have been taking the local drag scene by storm.

But of course, we must leave some of the introduction up to our resident Drag Queen Supreme, the terrifically inspiring, mind-bogglingly talented Jaylene Tyme, Blanche Macdonald Makeup graduate and CurliQue Beauty Q Talent Leader! Jaylene's realm of experience in both self discovery and transformative artistry has made her a powerful role model in our family, and a maternal icon out on the Drag Queen scene of Vancouver (serving realness and wisdom as Empress a few years back) – we simply cannot think of anyone better to kick off this dazzling week!
"One of the greatest opportunities I've enjoyed at Blanche Macdonald is that in which I get to be part of a family that creates a safe environment for everyone to explore. I remember how important it was for me when I was in school! As artists, we need to feel free to be 100% authentic. The creative journey is all about being able to let go completely so that the only limit is our imagination! My heart has been so full being able to witness both artistry and the human spirit take flight in these halls.
"During Pride season, we celebrate the diversity in our communities. Vancouver boasts a fierce and eclectic drag community, and Blanche Macdonald alumni are at the top of this art form. Who doesn't love a good Drag Queen at Pride?! Check out these fabulous artists! HAPPY PRIDE!!"
Read More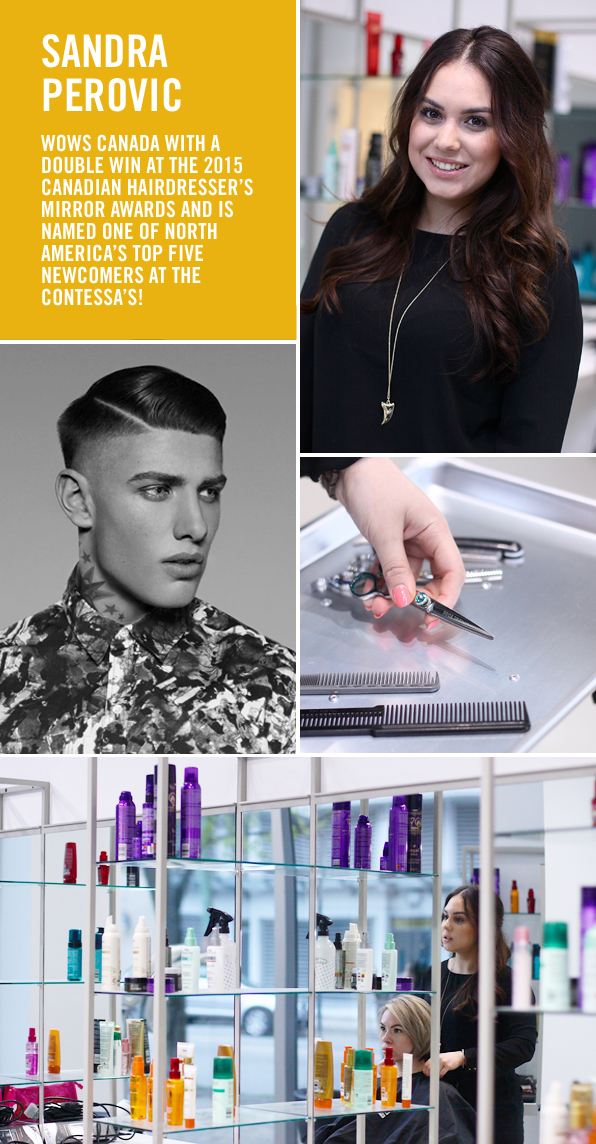 Ask Blanche Macdonald Pro Hair graduate Sandra Perovic what keeps her travelling from her Vancouver hometown for international hair competitions in Toronto and beyond, and her answer might just surprise you.
"I don't enter because I want to win," she explains. "I do it for me. I love the thrill of competition. Hairdressing is always fun, but it's also important to do something that makes you feel good creatively. I like what I do every day but I love stepping out of the box for competitions. Clients don't often want you to do something crazy to their hair. So I love the opportunity to step out of my comfort zone, put my skills to the test and see what I can create."
Sandra may modestly insist that she's not in it to win it, but her results say otherwise. She won an incredible two trophies for Best Men's Cut and Style and Best Day to Night Look at this year's Mirror Awards, Canadian Hairdresser Magazine's annual competition, and was recognized as one of North America's Top Five Newcomers at the Contessa Awards.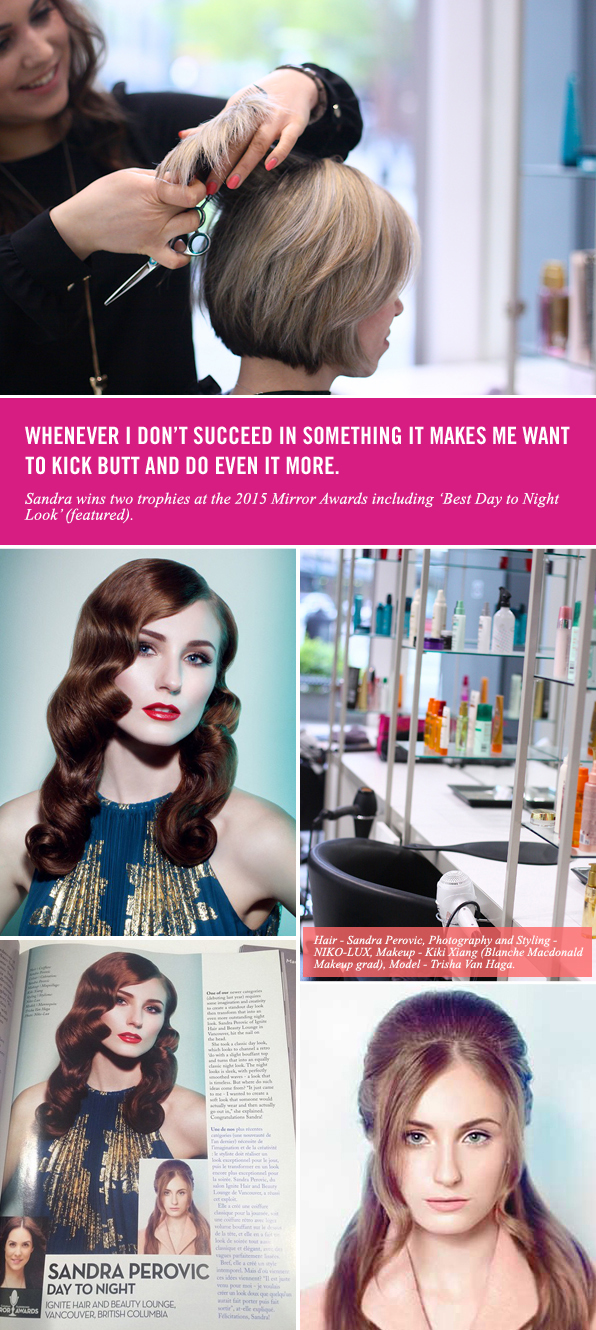 Competing in Toronto against some of Canada's most respected stylists at the Mirror Awards made her double victory particularly sweet and surprising.
"There were hundreds of people at the actual Award Ceremony. It's a really big event. They announced the Day to Night category first. I thought I had a chance but it was still shocking when they announced my name. And I was genuinely speechless when they announced my name as the winner of the Men's Cut competition. There were so many amazing stylists in that category. I was the youngest stylist in the final with the least amount of experience, so that was a big honour. A lot of people I didn't even know congratulated me, which was really awesome."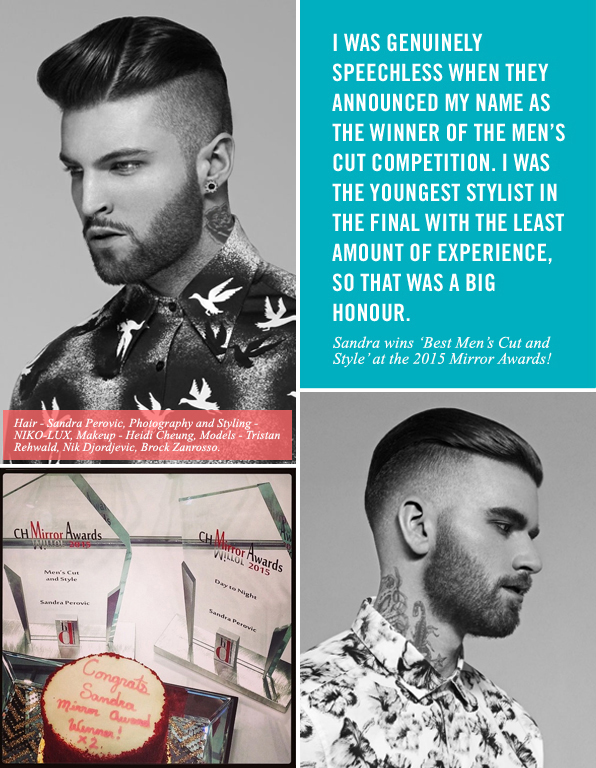 Sandra's Toronto triumphs didn't come easily. Her amazing results at the Mirror and Contessa Awards were dramatic improvements from her very first hair competition, which she entered when she was still a student at Blanche Macdonald.
Read More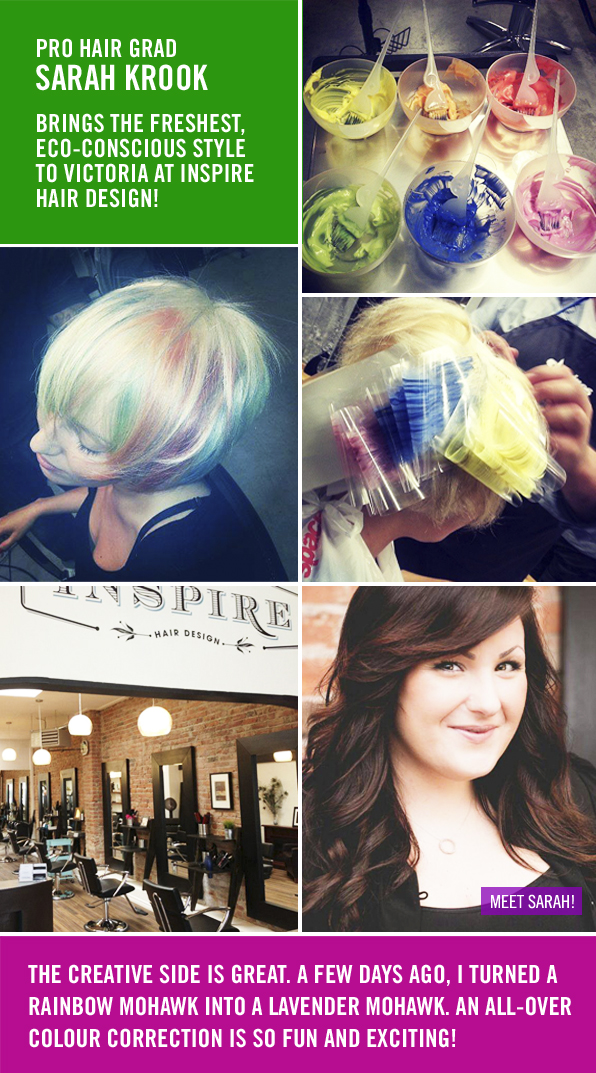 For budding hair stylists and entrepreneurs searching for inspiration, look no further than Blanche Macdonald Pro Hair and Makeup graduate Sarah Krook. Her personal and professional journey has taken her across much of Western Canada, eventually landing in Victoria, BC. Which is where, when presented with a chance to open her own salon, she seized the opportunity. Now Sarah heads a team of six stylists at one of Victoria's greenest and fastest-growing salons: its name, appropriately enough, Inspire Hair Design.
"Our idea was to have a salon that was as eco-friendly as possible," enthuses Sarah. "Our whole mentality is beauty with an eco-conscious mind. We just celebrated our two-year anniversary and it's been amazing! We started with just two stylists and took on more people from there. We put a lot of thought into who we wanted to bring into the team. Every one of our stylists are wonderfully talented and genuine, awesome people. I feel like every hairstyle that walks out the door has my stamp of approval."
Managing a thriving business in a big city like Victoria comes naturally to Sarah. Still, she's not forgotten her small town roots.
Read More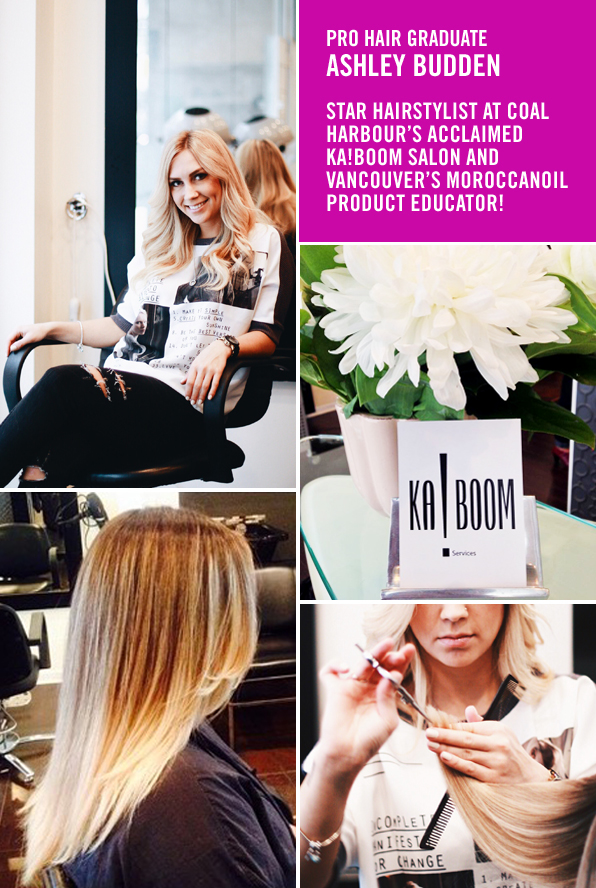 The critics have spoken. When Condo/Western Living magazine ran its "Where to get a real haircut in Vancouver" feature, Ka!Boom was listed as the best salon in the Coal Harbour neighbourhood, with a specific shout out to a certain Blanche Macdonald Pro Hair graduate.
"'Ashley works miracles' was what they wrote!" she smiles. "I got so many new clients from that story. The weird thing is, I don't know how it happened and I never found out who wrote it. I had my suspicions that it was a client but she denied it. So it's still a mystery!"
It's no mystery why that secret admirer is singing Ashley's praises. It's the same reason why her chair at Ka!Boom is continually filled with clients looking for the latest style and why pro hair line Moroccanoil has recruited her to educate other stylists across Vancouver; Ashley loves what she does. Growing up in Kamloops, BC, a life as a top hair stylist in the big city was always her ultimate goal.
"I was braiding my Barbie dolls' hair and experimenting on my younger sister from the time I was five. The first haircuts I gave happened in Grade 5 at a sleepover party. I announced, 'I can cut hair,' and went at all my friends with a pair of scissors. We all ended up going to hairdressers afterwards, but some of those hairdressers said, 'You know, she didn't do that bad a job!'"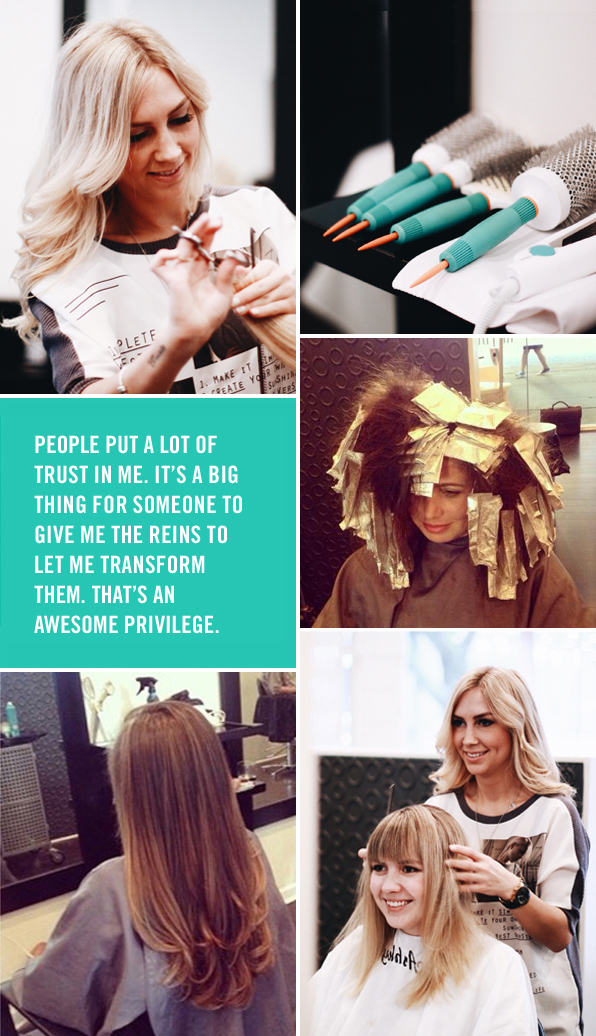 Ashley was sharing opinions about her and her friends' appearance before she'd even started high school. The essence of a hair stylist was already within her.
Read More