Hair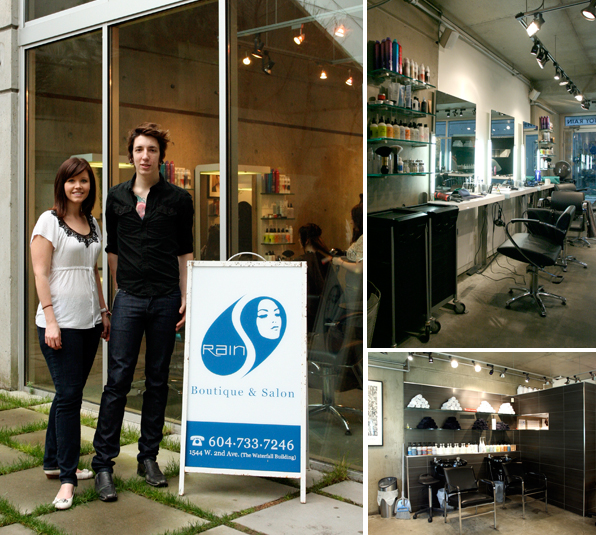 Rain is one of Vancouver's elite boutique salons; an upbeat hive of style where racks of designer clothes complement the work of a team of extraordinary young stylists. That team now includes not one, but two graduates from the Blanche Macdonald Centre's Pro Hair Program, Jeff Sudnicki and Sam Baxter.
He's a small town boy from Ontario with a radical sense of style. She's a well-travelled psychology graduate from Vancouver. They share the same salon floor, but Jeff and Sam's drastically different routes to Rain prove there are many ways to launch a successful career as a hair stylist.
"I moved to Vancouver with no money from Thunder Bay and I cut my own hair for the first couple of years I lived here. Out of necessity really," recalls Jeff. "A stylist friend of mine told me I had great hair and that put the idea in my brain. I'd always been into style and fashion. The more I thought about it, the more I thought hair was the perfect career course for me."
Sam had pursued a counselling career after finishing her Bachelor's Degree in Psychology at Queen's University.
"After about two years doing a variety of jobs, I realised I didn't want to do counselling," she explains. "Traditional psychology careers were too heavy for me. One day I had a poignant conversation with my hair stylist. I explained how I was interested in fashion, business, style and the arts. She said that I sounded a lot like her and asked if I had ever considered hair styling? As soon as she said that I started investigating the idea, and I enrolled at Blanche Macdonald a week later. I looked at a few schools and Blanche Macdonald seemed like it had the most extensive program. It offered the most."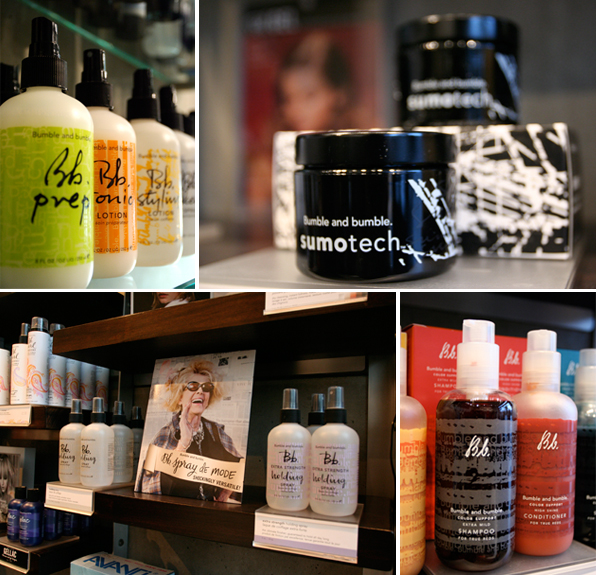 "A friend of mine who had graduated Makeup at Blanche Macdonald told me that they were doing a hair program," says Jeff. "I spoke to one of the directors, Robyne Nessel-Smoot, for about 20 minutes. She said she'd email me photos of the campus but she actually sent me a picture of her dog and her Christmas tree. The dog was cute, so I toured the campus, and it seemed like a good fit."
Sam and Jeff's Pro Hair programs began three months apart. Even though they didn't share classes, they shared a passion to make their most of their time at Blanche Macdonald.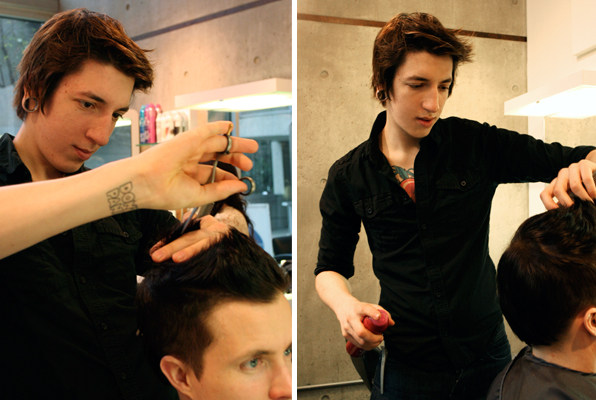 "My goal was to get working behind a chair cutting people's hair and hanging out with cool people all day," laughs Jeff. "The fact that all the instructors have been or are currently working stylists gave us a very realistic view of what it would take us to become successful in the industry. Very early on an instructor told us, 'From now on people are going to know you're a hair stylist. They are going to ask you questions about hair and you're going to have to turn it on. You can't go out looking like a bum. People will expect you to know about fashion'."
"The instructors stressed that only half of what we do is the technical side of hair styling," adds Sam. "You could be the most amazing technical hair cutter and colourist, but if you're not fun to be with or easy to talk to, you're not going to be successful in a salon. I really enjoyed the film and TV unit of the program. I'd love to work for magazines and TV and film down the road, but I wanted to have a viable career as a salon stylist first."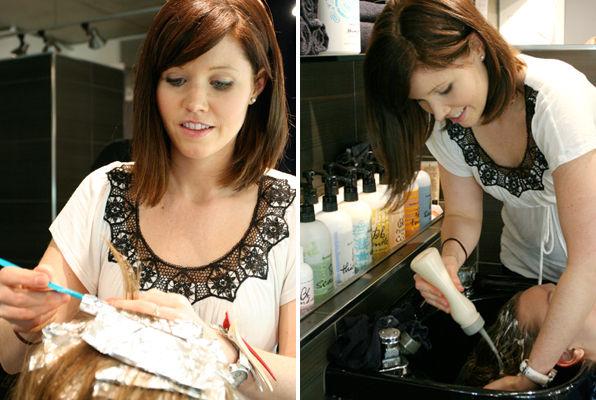 Sam was pleasantly surprised at how much her psychology background helped in her new career direction.
"There was a lot more in common than I anticipated," she admits. "It's so important to listen to your clients. When you're a new stylist, you don't know most of your clients very well, and that sense of anonymity is nice for them. Maybe they have something that they want to talk to a total stranger about. You're an unbiased sounding board, and you're still in a position to make them feel good about themselves. I'd been drawn to counselling to make people feel better, but now I get to do it by making them feel attractive, giving their self-confidence a boost. If I'm able to help someone feel beautiful, that's amazing."
Also amazing is how Jeff went straight from his Blanche Macdonald-arranged work placement at Rain to apprenticing at that same salon.
"I asked one of my instructors, Marcy Hodel, what kind of salon I might be suited for," he recalls. "She said I would get along with the folks at Rain. She used to work there, knew the owners and knew that I wanted to continue my hair education. It's a fun, funky salon where I can talk loud, be goofy and still do amazing hair. I did my work placement at Rain and decided it was perfect for me. I didn't want that opportunity to slip away. I harassed the owner for two months until he agreed to give me an interview."
That desire to refuse to settle for second best was something Jeff and Sam's Blanche Macdonald instructors were happy to nurture.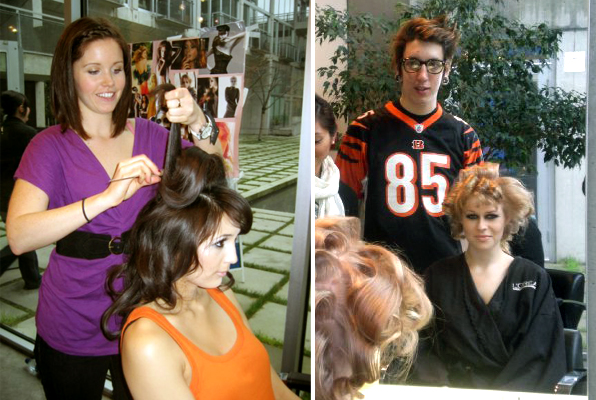 "They made me focus on the kind of stylist I wanted to be and the kind of salon and environment I wanted to work in," explains Sam. "They'll give you what you need to know, but you can ask for more, and they're happy to teach you extra stuff. The teachers really reacted to the students that were really into it. They had fun when they had a captive audience.
"You have to want to be successful that badly," she continues. "No one's going to hand it to you. Any salon will expect you to work hard. They have to know that you want it."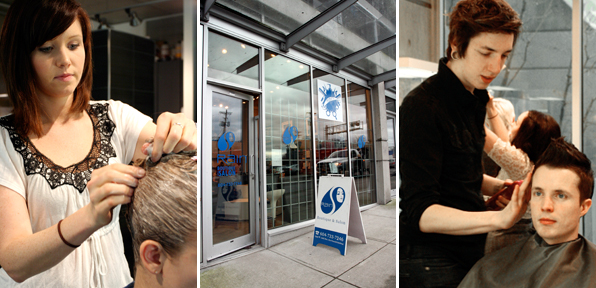 "For me, Blanche Macdonald introduced me to being in a room full of women the whole time," admits Jeff. "I'd worked as a piercer and a cook and I'd never been surrounded by Estrogen the whole time. I learnt that when someone is sitting in your chair they're there to get a service done. At first I wanted to tell them my cool stories. But it's their time. Let them talk. It's not the time to tell my jokes."
Jeff gets the opportunity to tell his jokes at Rain. It's that kind of salon. It's also the kind of salon that takes continued hair education seriously.
"You get out of Blanche Macdonald what you put into it," she stresses. "If you're motivated, it's a wonderful school. And that drive will set you up for a career that requires confidence and perseverance."
"You have to be willing to work when you're in school," adds Jeff. "When you finish school you're not going to have a full book. You have to do great work and make sure people know who you are. You have to be a hair stylist all the time, committed to making yourself successful."
They may be enjoying life in Rain right now, but the future is sunny for Sam and Jeff.