Hair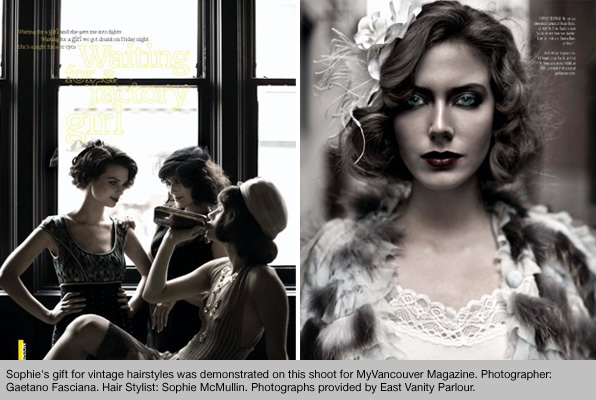 They didn't just break the mould when they made stylist and Blanche Macdonald Pro Hair graduate Sophie McMullin. They smashed the mould with a hammer, put the fragments in a blender, buried what was left and built condos over the top for good measure. Her extravagant plume of hair (black, white and purple at the time of writing) grabs your attention. The incredible tattoo of Boris Karloff as Frankenstein's monster on her right shoulder puts it in a vice grip. Soon he'll have a tattoo of Elsa Lanchester, the original Bride of Frankenstein, on Sophie's left shoulder for company.
Sophie's unique attitude and remarkable talent has turned her into one of BC's most in-demand hair stylists, a star at Vancouver's shrine to vintage glamour glory, East Vanity Parlour.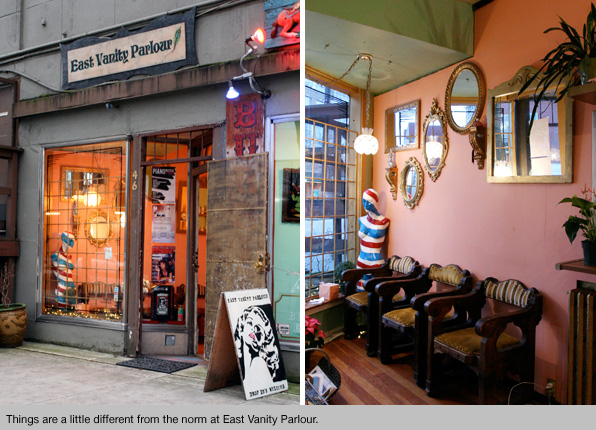 "After I graduated from Blanche Macdonald I said that I was going to take half a year off," recalls Sophie. "But within two months the girls from East Vanity Parlour had taken me under their wing. They do a lot of work with Vancouver's burlesque community, and they had heard of me through someone I did vintage styling with. When I found this place I immediately felt at home. There's obviously something different here, because of the focus on nostalgia and punk rock. And there are no senior or junior stylists. We're all equal and we're all good friends. I love it."
East Vanity is where Sophie's work and social life meet in a daily explosion of fun and creativity. It's the destination of a journey that started long before she first walked through the doors at the Blanche Macdonald Centre.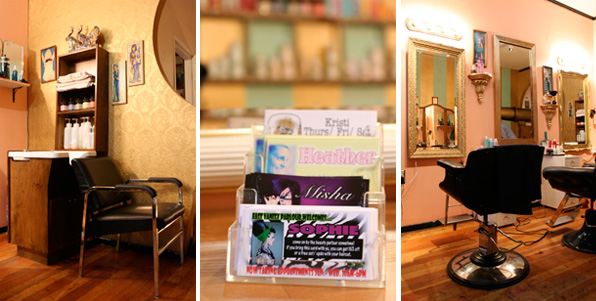 "I've always been obsessed with classic horror and nostalgia and hair and makeup. You can call it vanity," she laughs. "It makes people who they are. I was always doing stuff of friends and on myself. I've kind of looked odd since I was twelve. I had different hair colours and different makeup at high school. A lot of people who bothered me then were actually afraid of me. There was nothing to be afraid of! I just had coloured hair and shaved sides and wore different clothing and makeup!"
At first, a career in makeup was the plan. Sophie applied to Blanche Macdonald to study it three months after graduating high school. She knew she was heading to the right school, but perhaps not exactly the right program.
"My parents are in the film business. My Mum's an actress and my Dad is a camera operator. I'd heard from people in the film industry that if you went to Blanche Macdonald for hair or makeup you'd definitely get some kind of job!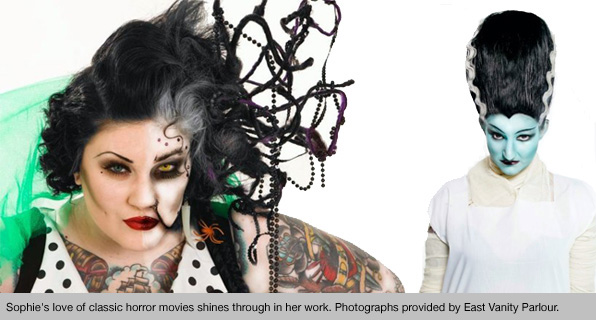 "All the paperwork was done for me to take the makeup program, but it didn't feel quite right. About a month before I was due to start I changed my mind and decided to do hair."
Having made the decision to switch programs, she immediately found a kindred spirit in the shape of Blanche Macdonald Pro Hair Program Director Phil Loiselle.
"I spoke to Phil once I decided to do hair," recalls Sophie. "I love Phil; his personality and charisma and his positive energy. He's very inspiring and down to earth. And he rides a motorcycle! He comes in with his leather chaps and leather jacket. It's awesome!
"I thought the program was great. It totally came naturally to me. I'm very headstrong and I knew what I wanted to get out of the program when I went in. I told everyone that I loved doing vintage hairstyles, anything from the 1920s to the 1960s, and that interest was embraced. Phil sent me on a lot of fashion shows with vintage styles. I got to go up to Whistler to work on the Telus World Ski and Snowboard Festival. And he sent me to do a lot of fashion shoots around Vancouver. It totally made me a better stylist. I did this beautiful fashion shoot in Gastown with a photographer called Gaetano, who's been in the business for many years. I still use it in my book.
"I was really busy when I was at Blanche Macdonald. I knew I was only there for a short time, so I wanted to make as much out of it as I could. For example, extensions really aren't my thing, but you still have to try it."
To absolutely no-one's surprise, two months after graduation, Blanche Macdonald's most enthusiastic vintage hair stylist started working in Vancouver's most vibrant vintage salon, East Vanity Parlour.
"I want to work here for the rest of my life," she smiles. "I couldn't move anywhere else. This place makes me want to come to work. I'm the Promotions Manager here too. We're at the heart of Vancouver's Burlesque scene. We put on the Kitty Burlesque nights at the Biltmore. We were at the International Burlesque Festival in Vancouver.
"We want to eventually turn this place into an East Vanity Beauty Factory, where we'll have people in here teaching dance, and doing mind, body and soul courses; making yourself not only beautiful on the outside, but on the inside too. A lot of today's society says that you just have to look beautiful, not feel beautiful. We want to change that."
As East Vanity Parlour's reputation and business grow, the pressures on Sophie's time continue to grow too. For the outside observer, it might appear that one day she might have to put down the scissors to focus on promoting the salon full time.
"Would I ever give up doing hair? No! I love the creative outlet. It's self-expression, and it's cool to make other people feel good. I'm so busy because I do both!"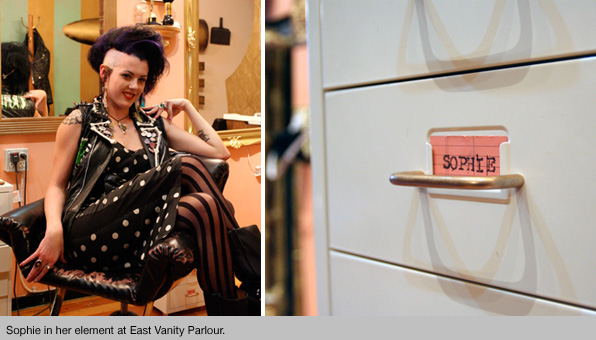 Busy? Yes. Happy? Very. And at the root of Sophie's success story is a determination to follow her own path.
"Be yourself!" she advises. "You've got to have a passion for it. Find your true self. If you're studying hair don't just do styles that you think are going to be popular."
A cheeky smile appears.
"And don't hate extensions like I did."