Hair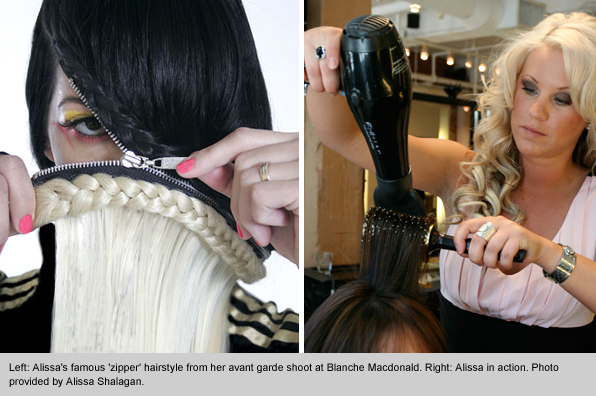 It's not for us to declare Alissa Shalagan one of the very best young hair stylists in Canada. We don't have to. Independent experts have said it already. This year Alissa entered and won the British Columbia semi-final of the nationwide Redken Cover Competition and was flown to Toronto to compete with the finalists from seven other provinces. She's in elite company.
This success has come as little surprise to her instructors at Canada's top hair school. Her talent and enthusiasm at Blanche Macdonald led to a work experience placement at one of Vancouver's leading salons, Avant Garde Hair Studio, which turned into a full-time job as a stylist.
"I come from Red Deer, Alberta," she smiles. "There's not a lot going on there. You either get married and have kids, or you leave."
Alissa took the latter option.
"I left and went to college to become a biology teacher," she recalls. "After that I worked at Disneyworld for a year, in the Canadian Pavilion at the Epcot Centre. I went back to Alberta and I thought about becoming an Interior Designer or a chef."
Alissa was unsure how to direct her future career. The answer, it turned out, was in her past.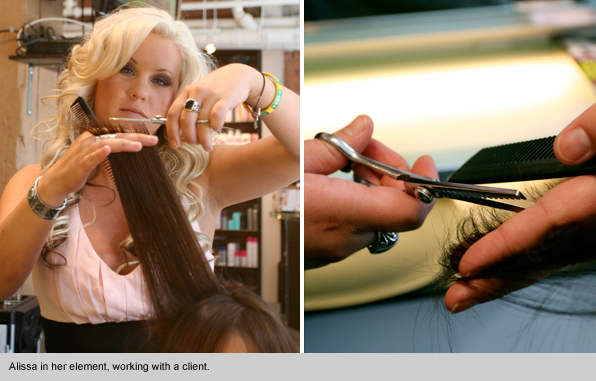 "I'd been doing hair for my friends and family since I was about ten. When I was young I'd spend two hours in the bathroom doing my hair. When I was even younger I'd do Barbie's hair. It was creative, and I was a creative person. I wasn't great in science classes, but I was always good at art.
"My cousin suggested Blanche Macdonald. Her friend took the hair program and was working in Vancouver. I thought, even if I didn't like it, I'd still have a qualification. Now I love it. This is exactly what I want to do!"
Alissa once considered hair to be a sensible career option. Now it's a passion. Two people she gives credit to for opening her eyes to the creativity and challenge of the industry are Blanche Macdonald Director of Hair Phil Loiselle and the owner of Avant Garde, multiple Contessa Award-winner, Jon Paul Holt.
"Phil is super nice," explains Alissa. "Very intelligent. He always helped me out when I felt uncomfortable. I'd go to talk to him when something cool happened and he'd always be excited for me. He encouraged me to do the best I could be. All our instructors encouraged us to be creative and do what we liked and believed in. The harder you work, the more you're going to succeed.
"Blanche Macdonald put me forward for the work experience at Avant Garde. I was there for a week, worked hard and tried my best. After that, Jon Paul would call me to do fashion shows, which led to a job offer."
After a year at Avant Garde, Alissa felt the urge for a change of pace. She left the salon on great terms with Jon Paul and started working at The Room in Vancouver's chilled out Kitsilano neighbourhood.
"Jon Paul gave me an awesome reference letter. He was sad to see me go, but he knew I was looking for something a little different.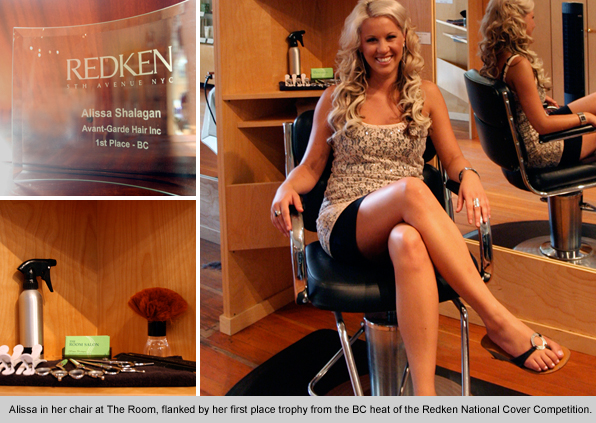 "Now I live seven blocks from The Room. It's better to build up a clientele when you live in the area. I know people here. If I'm in the supermarket and someone says 'I like your hair', I can tell them to come visit me. I'm busier here than I was at Avant Garde, even though it's more relaxed.
"I'm from Red Deer, so I like things a little more calm. And I like the spa feel. It's really customer service oriented. When clients come here we start off with a scalp massage with essential oils. And when you're getting a hair colour done you get a hand massage. You get a real one on one with your client. I get to know the people in my chair, and I like that. I want to be the person who becomes their friend and does their hair at their wedding."
On display by Alissa's chair at The Room is the trophy that came with being named BC's best in the 2010 Redken Cover Competition.
"I picked a model, styled her hair for a Redken ad, took a photo and sent it in. Out of all the entries Redken picked five people from BC. And I was one of them. We went to the Marriott Hotel in Vancouver. We set the hair, and had 20 minutes on stage to style it. There were 300 people from the industry watching. I was the most nervous stylist there. I'd never been in a competition before in my life. Most of the semi-finalists had a lot more experience than me. One guy had been a professional for 15 years. I was sweating bullets!
"They announced the third place winner, the second place winner and then they said my name. I was in shock."
Alissa's prize was a trip to Toronto to compete with Canada's best.
"Everyone else there had so much experience. One other competitor had just three years experience. Everyone else had lots. And they were all very talented. I was the baby of the group. But I was the rookie in BC too.
"On the day of the photo shoot I started roller setting my model's hair at 6am even though the shoot didn't start until two in the afternoon. I did a wet roller set and it took hours to dry. I stuck my model under the dryer for four hours – she did not enjoy that – and it still wasn't dry. The other stylists, even though they were competing against me, all grabbed blow dryers and started helping me. It was a great experience!"
Alissa's final shoot can be seen here. Her model is the brunette in the silver-grey blazer. Please take your time to cast a vote for Alissa. If she wins her shot will appear on the cover of two magazines, Zink Magazine and Canadian Hairdresser International, with the added opportunity to work as a junior editorial stylist on future shoots.
Alissa's success has come as little surprise. Even at hair school, her appetite to improve perfectly echoed her instructors' attitude.
"I was taught to never give up," she insists. "There were things I was terrible at when I started. I couldn't finger wave for the life of me. It takes practice. You have to try your hardest.
"We had so many opportunities at Blanche Macdonald! We took a TV and film course, and a makeup course. Awesome! Knowing how to talk about makeup is so helpful. And we learnt about the business. One day I'd like to open my own salon. It'll be a lot of work but I know how I'd do it.

"I did lots of volunteering at school. I did hair for the models at the fashion runway show at the Telus Ski and Snowboard festival. And I networked with everybody at Blanche Macdonald. You get so many opportunities that way. I did hair for a lot of shoots for the fashion students. I was doing one of those when a girl came up to me and said, who did the hair on that model? I said I did, and she said she needed that same hairstyle for a music video in two days' time. That was a video for Theset, this band from Victoria. I was on set down an old mineshaft all day. It was so fun. That led to me doing the hair for a Christmas themed country song video by Gord Bamford. That's one of the things I love about this industry. You don't have to be a hairdresser in a salon. I could work in the film industry. I could work on fashion shows. I could be a product rep. I could open my own salon. I could be an educator. I'd like to do that when I'm a little older."
That's all in the future for this budding salon superstar.
"The best part of being a hairdresser is how someone can be having a terrible day, they sit in your chair, and you can turn that day around! You have the power to make people happy!"