Hair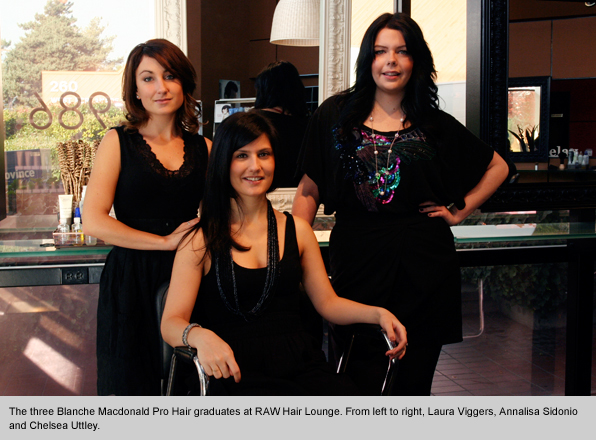 When Blanche Macdonald Pro Hair graduate Annalisa Sidonio opened RAW Hair Lounge in North Vancouver this summer with her business partner, Casey McKerrell, she knew where to look for talented young stylists. She put in a couple of calls to Phil Loiselle, her old program director at hair school. Now Annalisa has a pair of Blanche Macdonald Pro Hair grads at the heart of the RAW team – Laura Viggers and Chelsea Uttley.
"I'd been in contact with Phil to see if he had any students that were finishing the hair program," recalls Annalisa. "He suggested Laura and she came to see us one day, looking very flustered. We interviewed her and she was lovely."
"I wasn't really flustered," promises Laura. "I'd been handing out resumes and I'd had a very busy day. I'd received an email from Phil and called the salon. They told me they were hiring and I should come by. I went in to see Phil after I'd dropped off my resume. He called the salon while I was standing there, but didn't tell them that I was listening. He said, 'What did you think about Laura? Isn't she great!' The next day they offered me the job!"
"I told Phil I liked the idea of working on the North Shore," adds Chelsea. "He told me to come to RAW and see Annalisa. As soon as I walked in I thought it was awesome. I came here for an interview and stayed for a class about the latest men's product line from Aveda! It was perfect!"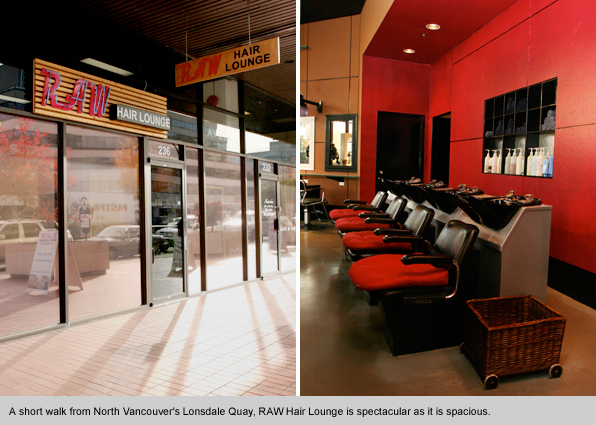 RAW Hair Lounge is an Aveda Concept Salon a short stroll from the bustle of Lonsdale Quay. Its prime location, talented team and commitment to the very highest levels of service and product knowledge are winning glowing reviews and new clients.
"It's going well," smiles Annalisa. "Every month's been better than the one before it. Casey and I brought a lot of our clients from our last salon, Aveda on Robson. The salon was in pretty good shape when we got it, but we're working with some designers to give it a bit more flow."
Owning her salon was always the plan for Annalisa. It's what brought her to Blanche Macdonald in the first place.
"I was doing archaeology and philosophy at Capilano University but I wanted to have my own business. I liked doing hair and grew up doing it for my friends. My parents thought it was great to have a trade. Having my own business was always my goal. I looked at other schools but they didn't want me to come in and talk. They just said the space was filling up and they wanted the money up front. I didn't feel very good about that. I called Blanche Macdonald, met a director and ended up on the very first group of the Pro Hair Program.
In addition to introducing Annalisa to the skill set she'd need to become a professional stylist, the program gave her an initial understanding of what it would take to launch a successful salon of her own.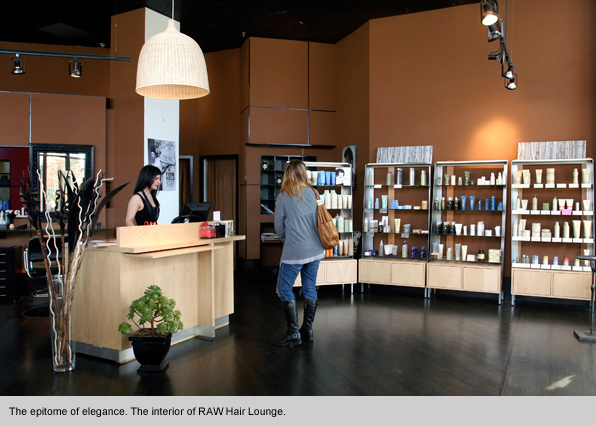 "We had to do a business plan when I was at Blanche Macdonald," she recalls. "It was good that I had that in my mind when we were doing the real thing. I knew what was needed. It's a lot of work and effort, but I knew the costs of opening and running a business."
Annalisa also knew that the new generation of Blanche Macdonald grads were coming out of hair school having had the experience of completing a refined and fully professional program.
The two new recruits arrived at RAW with real experience of the challenge and rewards of working in an operational professional salon. Blanche Macdonald's philosophy that being a successful hair stylist has as much to do with attitude as technique was already in place when Annalisa was a student. It was a concept that resonated with Laura and Chelsea too.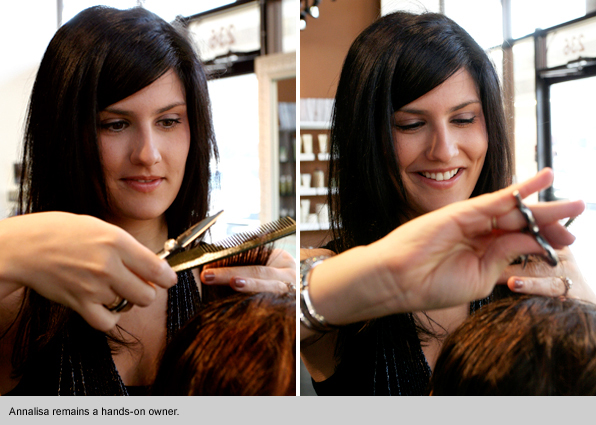 "I was working for Le Château in Calgary before I moved to Vancouver," explains Laura. "We did a fashion show and I could see the girls working backstage. From that moment I knew I wanted to work in a fun salon in a big city. As soon I applied to the program I knew I was going to throw myself into this. I wanted a career and I had that drive. I haven't looked back.
"You need to make your guests feel comfortable. Having that connection with someone is important. That's why people keep coming back. You have to gain and maintain that relationship. You're not going to make it far in this industry if you're not a good people person."
For Vancouver native Chelsea, coming to Blanche Macdonald lived up to the positive reviews she'd heard growing up.
"I remember the first day of hair school was like Christmas," grins Chelsea. "We got our kits with scissors, combs, flat iron, curling iron, hot rollers. It was great. The first time I did a client's hair at school I gave a woman with really straight hair curls. She loved it and came back, asking for me, four or five times. I love working with people. That's why I got into this industry. You really get to make women feel beautiful. That's super cool."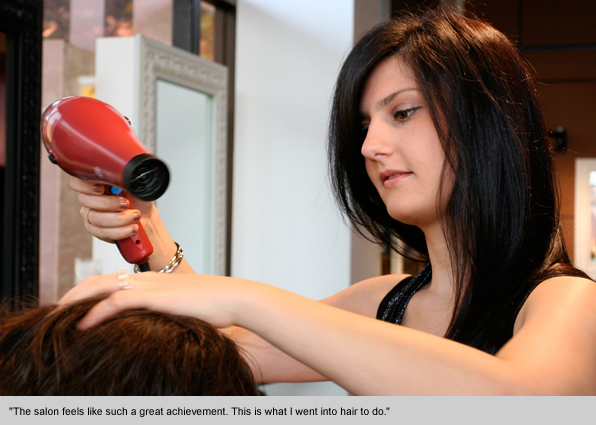 Hiring a pair of stylists fresh out of hair school for a brand new salon, Annalisa knew that the highest standards of professionalism would be critical. Having spoken to Phil Loiselle and attended the program herself, she knew she wouldn't have to worry.
"Of course, you have to be on time for guests," she states. "That insistence on punctuality was already there when I was at Blanche Macdonald. You need to be well dressed and look professional. Your conversations need to be professional. That's why people come back.
"Chelsea and Laura are both bubbly and friendly people. They're confident and open. Of course, anyone fresh out of hair schools needs some additional training, so we've been doing that. They're both doing awesome and they're great fun to have around."
Annalisa is rightfully proud of how far she and partner Casey have come since beginning their pro hair careers. Most importantly, they understand that the hard work has only just begun.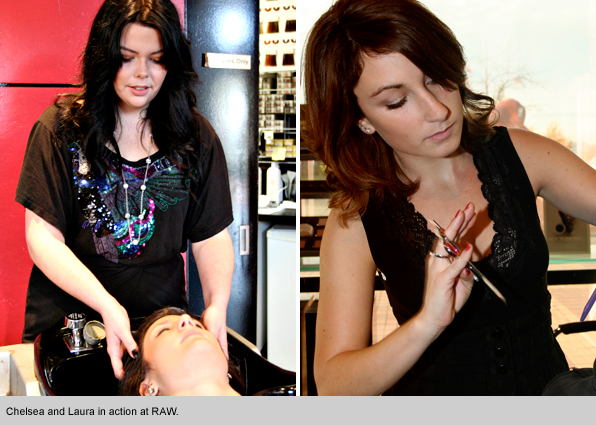 "The best thing about this is you don't work for anybody else!" she promises. "It feels like such a great achievement. This is what I went into hair to do. And it's only four years since I graduated Blanche Macdonald. We're here doing what we love to do and we want Laura and Chelsea to grow into the best stylists. That's why we're hard on them. They have so much potential!"
"They give us tough love," laughs Laura. "It pays off. And we can see that. Even on days I'm not working I come in for more education. I want to be fully booked with a good clientele. I want to be successful. Eyes on the prize!"
"My favourite thing is building our team," smiles Annalisa. "We all get along so well here. And Casey and I can see our business growing. It's so exciting!"