Hair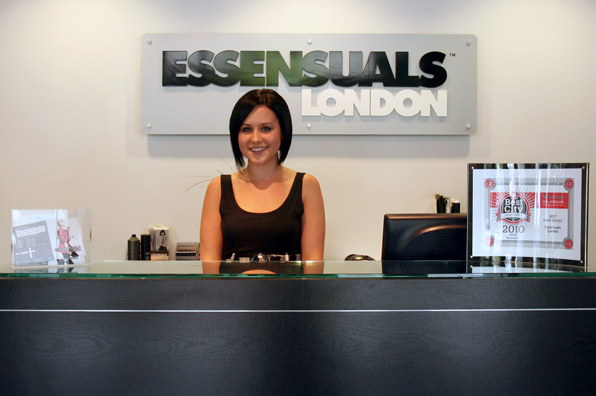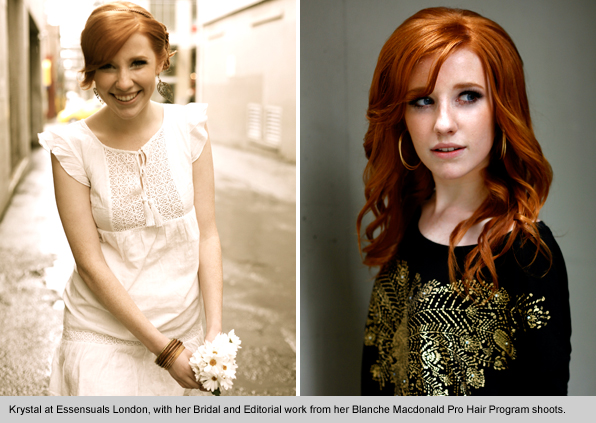 It's hard to miss the Essensuals London Hair Salon in Downtown Vancouver. If its clean lines and stylish interior don't grab your attention, then the posters on the windows certainly will. Those posters boldly proclaim Essensuals London to be the number one salon in Vancouver, as voted for by the readers of the city's Westender newspaper. It's a prestigious honour. And enjoying that prestige is the newest member of the Essensuals London team, Blanche Macdonald Pro Hair graduate, Krystal Charlotte Schluessel.
Life at the Vancouver branch of the next generation of UK-style salons from the Mascolo Group, founded by the famous Toni Mascolo, suits Krystal fine. A self-confessed nerd ("I loved the book work at Blanche Macdonald"), the Edmonton native always strived to maximise her considerable talents.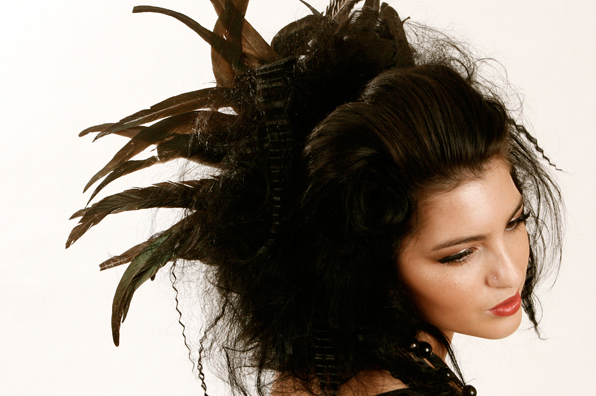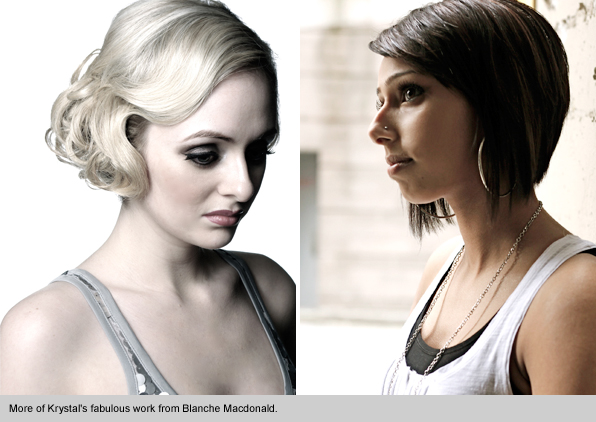 "I was pretty quiet in high school," she explains, "but I studied a lot and got a scholarship to University. I went to the University of Alberta for my Bachelor of Science degree. I lasted half a year before I realised it wasn't for me, and I was cornrowing my friends' hair the entire time I was there. I packed up, started moving around and tried to figure out what I wanted to do. I tried a bunch of careers. I looked into accounting and real estate, but I couldn't handle sitting at a desk the entire time. I needed to keep my hands busy. I wanted to be creative. I thought hair was fun and I enjoyed making people feel pretty. I always wanted to go into hair, and having a desk job was the final straw. That experience gave me the confidence to do what I wanted to do."
Krystal was living in Calgary when a day spent researching and reading reviews led her to the Blanche Macdonald web site.
"Nothing had appealed to me before then. But Blanche Macdonald had something different. There was something about the website. I thought, I'm moving to Vancouver!"
Krystal relocated across the Rockies and enrolled in summer 2009. Things didn't go smoothly at first, but she persevered. The effort was worth it.

"I had a really difficult start and a lot of bumps along the way. I didn't have a lot of support from people to do hair, so I was kind of on my own. The instructors and staff at Blanche Macdonald helped keep my spirits high. I had such amazing support from everyone. My Admissions Director, Lise Graham, and the Pro Hair Program Director, Phil Loiselle, were so helpful. I would go into his office to chat whenever I needed a little push or pick me up. He's the best director of any school I've been to."
Having beaten her initial difficulties, Krystal was able to focus on her education. She'd been drawing since the age of 15, and the training she was receiving daily allowed her to push her natural creativity to new levels.
"I was kind of scared to be creative in front of people at first. But the support from the instructors enabled me to let loose, open up and be creative. They gave me that drive. And I wanted my work to stand out. The first time I had a real client I thought I wasn't ready, but as soon as I started I realised that, actually, I was prepared. And I loved every minute of it!
"After our first photo shoots I knew this was the career for me! I could see my work with my name written all over it. When we got into the Design Form photo shoots it was great to let my creativity out."
Krystal also had her eyes on a certain salon, a literal scissors' throw from her hair school (not that we would ever condone throwing scissors).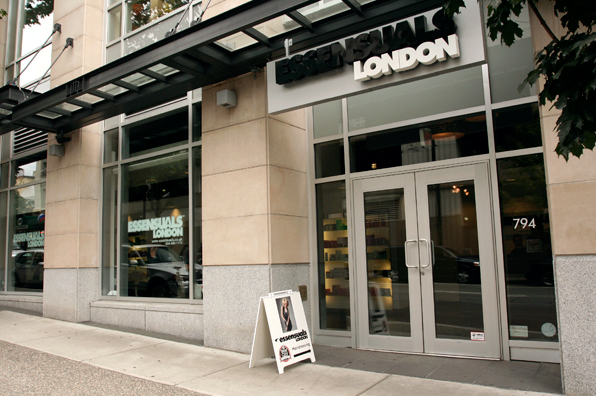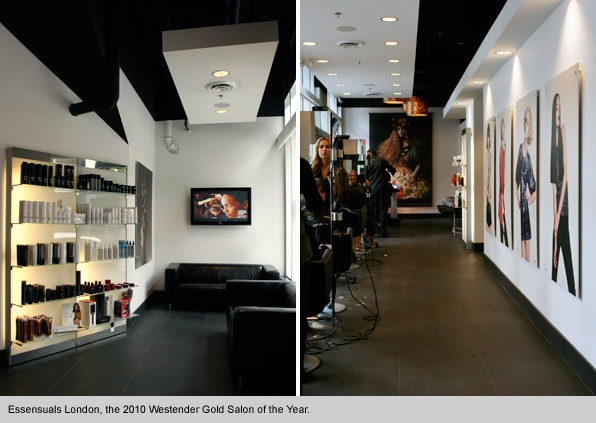 "I saw the poster saying Essensuals London was the 2010 Westender Gold Salon of the Year every day when I walked by on my way to school! I would think, I hope I end up in a salon like this."
With the experience that came from a few Blanche Macdonald-organised work placements, and a lot of hard work, that wish became a reality.
"All the places I did work experiences were so great," she continues. "I was offered apprenticeships from a couple of them, but I felt I should wait.
"From the first day I walked into Essensuals London everyone was so friendly. I loved the environment, the look and most importantly its training program. The training they provide is wonderful and the energy in the salon made the wait worth it. I feel that this career choice gives the opportunity to work world wide, and in industries like fashion and film."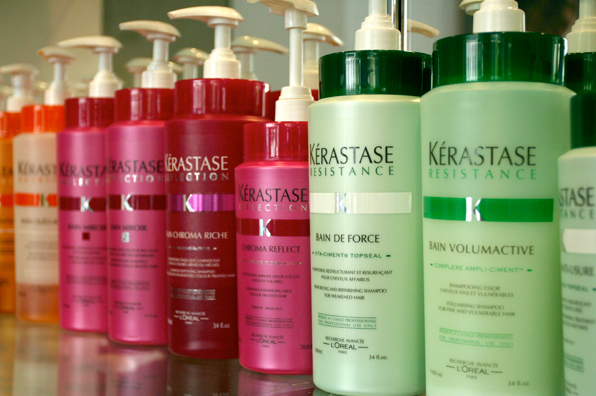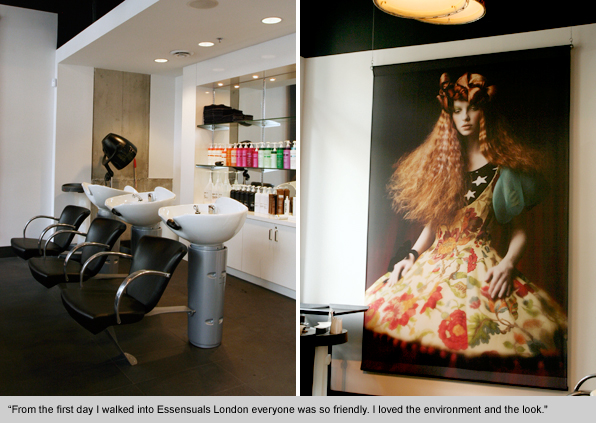 Krystal is just starting her journey at Essensuals London, and she understands that there's plenty more for her to learn. But she appreciates that Blanche Macdonald gave her more than the tools that put her in this enviable position. It gave her the mindset to believe that anything and everything was not just possible, but totally achievable.
"My time at hair school was incredible. Of course, as soon as you start at a top professional salon you realize there is more to learn, but you get the skills you need at Blanche Macdonald. I know everything can be moulded into something even better. Doing the work experience and being on the floor in busy salons made me ready to do this.
"Hopefully in two years time I'll be flying over to London, England to continue my training. I love this company and I'm so excited to be apart of this team."
With international travel on the horizon, and ideas of one day dipping her toes into the worlds of fashion and film hair, the future is looking bright for Krystal.
"So far, so great! I know I work for the best salon now. I see it on the window every time I walk by!"