Hair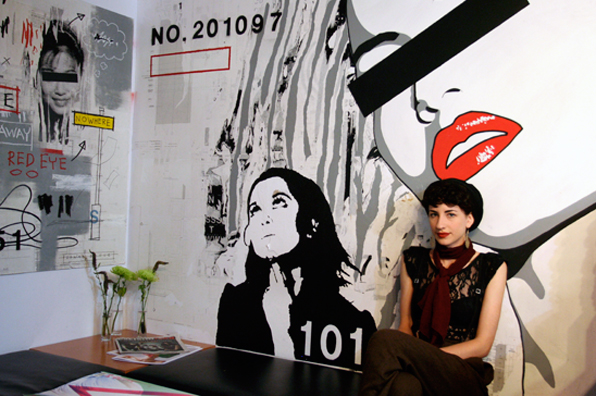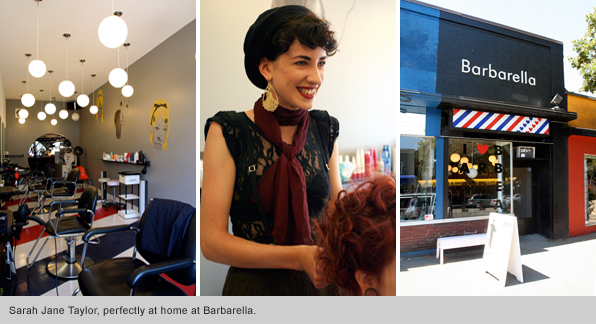 Main Street is the beating heart of Vancouver. More hometown than downtown, it's where you'll find the best coffee shops and the hottest boutiques. It's also home to Barbarella Hair Salon, one of the very coolest places in the city for a cut.
With its unique combination of stylish décor and relaxed informality, Barbarella perfectly reflects the attitude of its Main Street location. As does its newest stylist, Blanche Macdonald Pro Hair Graduate, Sarah Jane Taylor.
"Everyone here likes to have fun," she explains. "We try to keep our styling as up to date as possible, while incorporating elements from the past.
"I did my work placement at Barbarella when I was at Hair School at Blanche Macdonald. It was where I wanted to be. I lived on Main Street for a while and often walked by the salon, although I'd never been in there. I wanted to try something new.
"I wanted to work at Barbarella after graduation, but at first they didn't have any room. Then, when a space opened up, they called me. They had kept me on file. That was a big compliment. That was eight months ago. Now I'm working my way up. You have to start from the bottom, build your clientele and make people think you're rad. Those people are starting to come back to me!"
There was little doubt that Sarah Jane would eventually win devoted fans. She'd always been artistic, and she'd always had her hands in someone's hair. Including her own.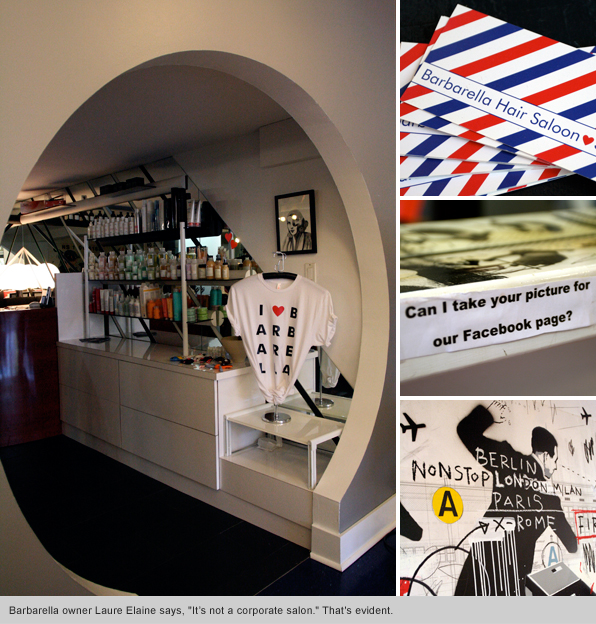 "I did hair on an unprofessional basis pretty much my entire life," she continues. "Doesn't everyone cut their own hair off when they're young? My first time was when I was about seven. I had an awful bangs trim so I started doing it myself. I thought I could do a better job. My parents were fine with it. Actually, they encouraged it. I'd cut my friends' hair at high school, and the response was generally good."
The East Vancouver native enjoyed the creativity that came with working with hair, but that wasn't her only outlet.
"I wanted to do music professionally," she explains. "I had an idea in my head to move to the middle of nowhere, so I did – to a town an hour outside London, Ontario. It was amazing and a lot of creative music happened. I was playing guitar and working on old style country songs."
Sarah Jane eventually moved to Montreal, and then back to Vancouver, where she joined the fabulous folk-punk band Mezamazing. A chance conversation led her to make another major career choice.
"Someone suggested the idea of hair school to me. I was doing hair already, unprofessionally, at any chance I'd get. That's when it dawned on me that it was something maybe I could do and have a go at. I thought it could be a really creative job to have as a 9-to-5. If I could be creative during the day, I'd still have room to do all the other things I liked. I looked at various hair schools. Blanche Macdonald had the best reputation, so it went to the top of the list. I called Blanche Macdonald and went in for an interview with Robyne Nessel-Smoot, who was lovely. That was a really good first impression."
Once Sarah Jane had enrolled, her early nerves evaporated once she found another creative free spirit, Sophie McMullin.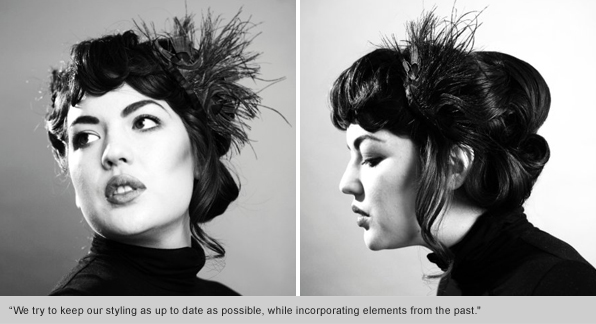 "The first day of Hair School was pretty nerve-wracking," recalls Sarah Jane. "It was like the first day of high school. On the second day of class Sophie managed to knock over an entire counter of Barbicide. We were on our knees cleaning it up together. From that moment we knew we'd be best friends at school, and we're still friends to this day. She's totally out there. That's the kind of person I like."
Getting back into studying mode was another challenge.
"The learning curve was harder than I first thought it would be," she admits. "There was a lot of theory involved. But there were a lot of fun parts. Incorporating our own personal style was very much encouraged. All the photo shoots were great.
"I took my work ethic from my time at Blanche Macdonald. What we were taught about the mindset we needed to succeed was really accurate. It can be a tough lesson to learn. I had to sneak past Phil Loiselle's office a few times when I was late. Punctuality doesn't come naturally to me. It could be tough. But tough things are necessary. I don't diss Phil's position on timekeeping at all."
The lessons Sarah Jane learnt at Blanche Macdonald took her to Barbarella, where her time on work experience made an extremely positive impression.
"I haven't normally hired juniors in the past," reveals Barbarella owner and Blanche Macdonald Makeup School graduate Laure Elaine. "But everybody liked her. She's a very stylish girl and she really suited the salon. Barbarella is a very peculiar place and she had the right personality for it. It's not a corporate salon. We don't listen to techno all day. It's very mellow. It's very alternative in a different kind of way. Her style fit it.
"I like people to be individuals and successfully minded. We do a lot of education here because we want people to be aesthetically ahead of the curve with what they're doing with their haircuts."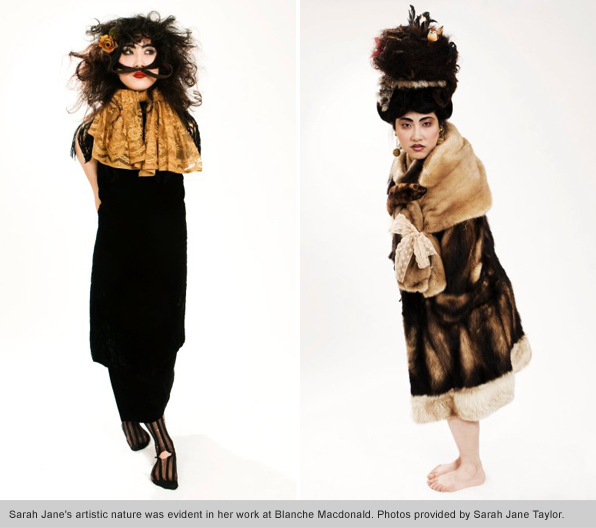 It's a forward-thinking approach that Sarah Jane has been happy to adopt.
"Sometimes clients are interested in your opinion," she explains, "and that gives you more opportunity to make them look fabulous. I like it when someone comes in for an updo and says 'do whatever'. That happens a lot. I get all the updos now. They're coming to me!
"It's really important to follow through from start to finish – in terms of what you give to a client. Getting a haircut should be much more than a technical experience. A lot of my clients are interested in me. It's like hanging out over a coffee, but working at the same time. When you put yourself out there people enjoy the experience a lot more. We often talk about music. I can normally turn them onto certain things."
For Sarah Jane Taylor making music and cutting hair are two sides of the creative coin. She's enjoying both too much to even consider picking one over the other. Why would she?
"Hopefully I'll be doing music and hair equally in the future. I can see myself doing both for a long time. Maybe one will be more in the forefront than the other. All I know is hair is a great creative outlet."