Hair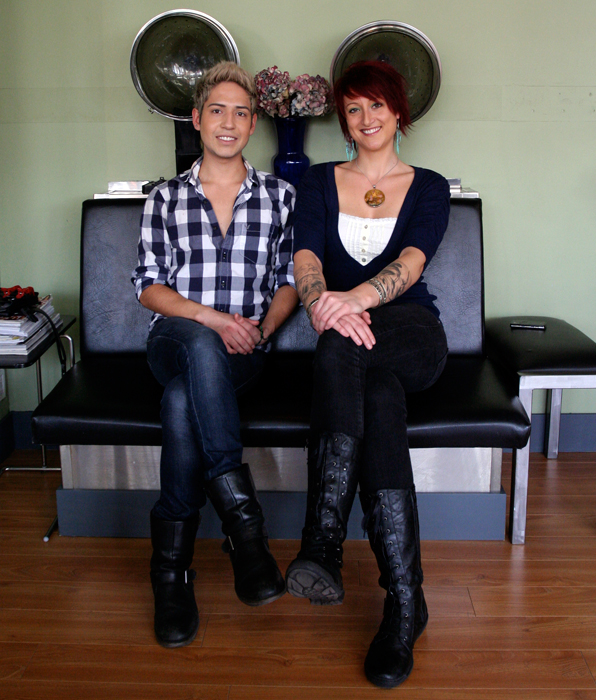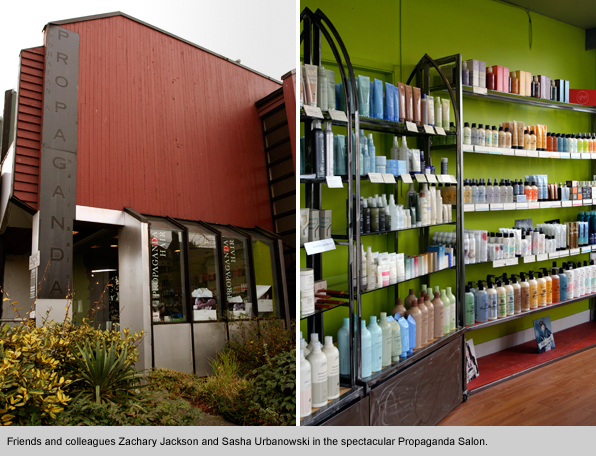 Sasha Urbanowski and Zachary Jackson are friends first, colleagues second.
It's not surprising. They have a lot in common. Their creative drives brought them from the far corners of British Columbia (she's from Victoria, he's from Haida Gwaii) to Hair School at Blanche Macdonald in Vancouver. They graduated within two months of each other and from there, their skills, talents and charm brought them to one of the city's most exciting salons, Propaganda Hair in fashionable Kitsilano.
"I was always an artsy person growing up," recalls Zachary. "I thought I'd be an artist. I worked in a salon as a receptionist when I was in high school and loved it. So I moved to Vancouver to go to Blanche Macdonald and to pursue this career."
Sasha's background is eerily similar to her friend's. Sister and brother from different mothers?
"I always did artwork and I wanted to explore that with hair," she explains, "getting creative with colour and cuts. I apprenticed at a salon in Sidney but left because the atmosphere wasn't what I thought it should be. I was looking at hair schools and found the Blanche Macdonald web site. It's pretty incredible. I was really overwhelmed by it.
"I came to Vancouver and spoke to the Admissions Director Mary Hombrebueno. She was amazing! I showed her my art pieces and she was in love with them. Every time I was having a bad day Mary or the Hair Program Director Phil Loiselle would always be happy to talk to me. They were so professional."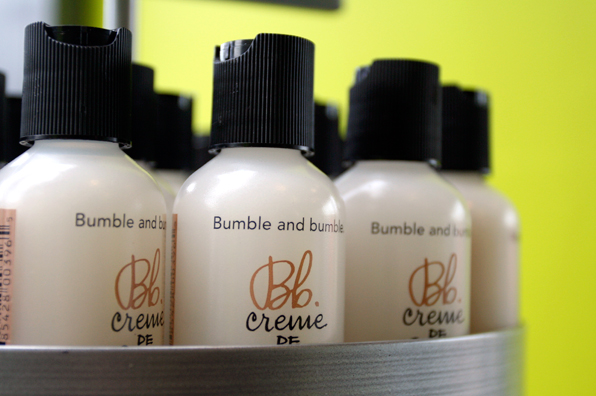 "I knew about Blanche Macdonald before I started looking for hair schools," adds Zachary. "Within any part of the beauty industry the school has a great reputation. If you say Blanche Macdonald, people know what you're talking about. My Dad was a good friend of Blanche's nephew too. I came down to look at the school and I was overwhelmed. My Admissions Director was Robyne Nessel-Smoot. I still love her!"
Zachary came to Blanche Macdonald straight from high school, while for Sasha it had been eight years since she'd sat in a classroom. Both knew they'd made the right decision almost immediately.
"Waking up a little earlier was tough," laughs Zachary, "but living in Vancouver was cool. We were taught how to be in a salon environment. When I went on work experience and I met people from other schools, they'd be like, 'Whoa, how did you learn this?' I had technical hair and colour skills. And I knew about professional ethics."
"Blanche Macdonald has very high standards with the way you look and being professional," agrees Sasha. "They really drilled that into us. And with learning the actual skills and techniques our teachers brought a lot to the table. Every instructor was able to offer something different."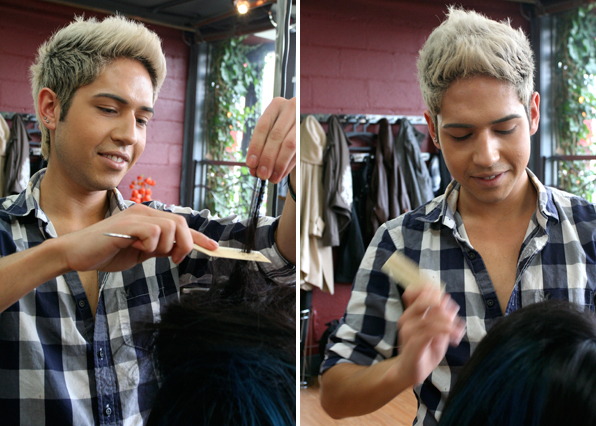 The two students from opposite ends of BC were equally impressed with the challenges that came with working in Blanche Macdonald's fully operational pro hair salon.
"It was super nerve-wracking at first, interacting with somebody on that level," laughs Sasha. "You have to give them a great hair cut. Seeing the results, you gain from that and realise you can do it."
"I wasn't even expecting my first client," recalls Zachary with a smile. "He was a walk-in off the street: a young Asian guy with poker-straight hair. You can see all your mistakes so clearly on that kind of hair. But he liked it!
"I had a lot of clients in school. I was booked a lot. We learnt that it's about personality too. It was awesome to think that people wanted to see me."
The twosome also relished the creative opportunities of Blanche Macdonald's frequent photo shoots.
"They were awesome," insists Sasha. "When we were in our comfort zone those shoots got us thinking about creativity. Not just with hair, but clothes and makeup. I remember doing a model's hair for a photo shoot and getting so nervous I got a rash on my chest. Now I'm totally relaxed. Our instructors were so demanding on updos and how to do the structures properly."
"Not just backcombing the hair and pinning it up," chimes in Zachary, "learning the real technique to it. I feel like those shoots got us to the next level."
Zachary and Sasha echo each other's sentiments so closely, it's hard to believe they barely knew each other at Blanche Macdonald, only meeting properly when they were doing their work experience in salons around Vancouver.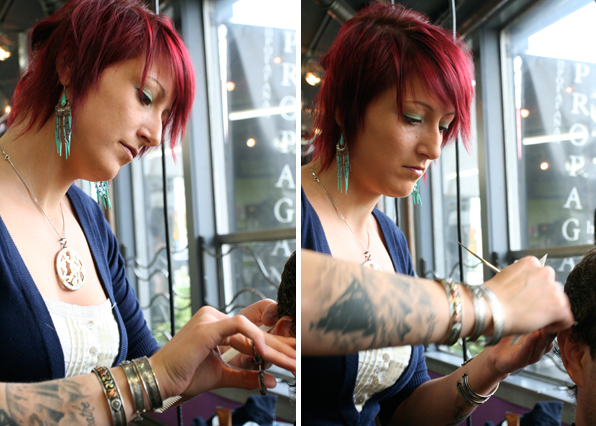 "I came in to drop a resume off at Propaganda one day," smiles Zachary. "I was like, 'What are you doing here?' I got hired that day."
They've both found a home at Propaganda, a stylish and high energy salon owned and managed by Andre Abboud, whose Canadian Hair Stylist of the Year Awards are modestly pinned on a wall away from the action. Although the atmosphere at Propaganda is distinctly easy going, it's still a salon that puts a premium in developing its stylists to their maximum potential.
"Andre saw my drive and my enthusiasm," explains Sasha. "And he could tell that we have the personalities than can get clients."
"He could see we were stoked on doing hair," agrees Zachary. "Every week we have classes on Thursdays and Fridays. We learn a lot and have a good time while we're doing it.
"Sasha just went to New York with one of our senior stylists for some Redken training," he adds, smiling but not disguising his jealousy. "I don't know when my trip to New York is coming."
"Two more people are going in December," points out Sasha, her body language suggesting that she'll be nominating Zachary when the subject comes up. "This trip was unreal. I was there for a week. It was pretty intense. We had classes with live models for three days. It was taking us out of the box of what we know and exploring new patterns. It makes your brain open up a little more."
Zachary and Sasha's brains are being challenged daily at Propaganda. Salon life is fulfilling those creative urges they were searching for when they both started looking at hair schools.
"It's fun going to work in the morning," insists Zachary. "I love what I do. I wouldn't trade it for anything. I worked at a few fashion shows when I was at Blanche Macdonald, but I like the salon environment too much to chase them now. Maybe in the future."
"Knowing my clients are going to be there is what gets me out of bed every day," agrees Sasha. "Everyone's hair is so different. It's so personalised. And our boss is pretty awesome. It's not even working. I get paid to talk to people!"
Sasha and Zachary are perfect workmates; friends in and out of the salon. They're so close, they're even able to finish the other's sentences. But when you think about it, their experiences at Blanche Macdonald and Propaganda moulded them into the successful stylists and people they are today, so why wouldn't they get along?
"I've grown so much since I became a hair stylist," admits Zachary with a smile. "I used to be a shy 18 year old boy in the corner. Not so much any more. I've learnt how to talk to people. I've opened up as a person."