Hair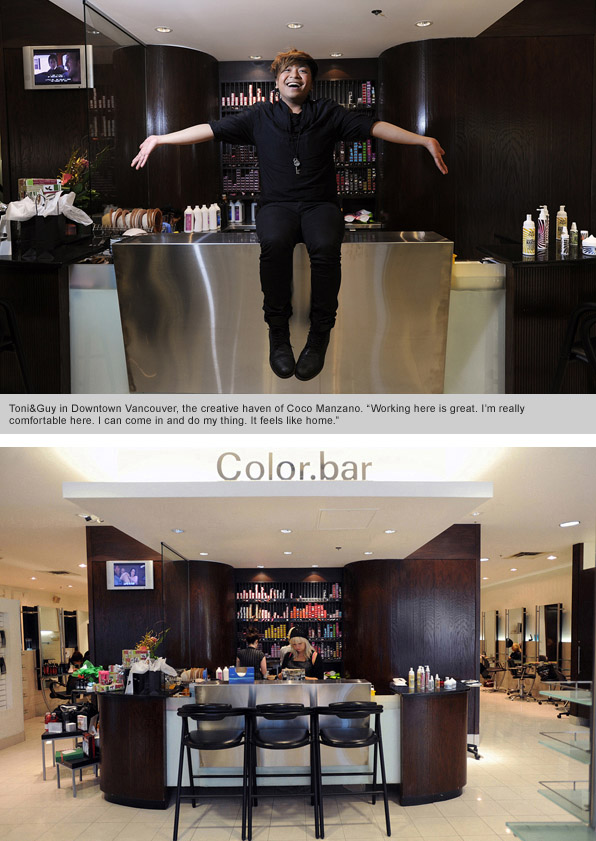 Coco Manzano has always had an affinity for hair. Just ask his family.
"My Mom says that when I was really young every time she got out of the shower I wanted to brush her hair," he recalls. "When I was in Grade Seven bangs were really in fashion so I asked my sister if I could cut her hair, which was really long. She said no, so when she was sleeping I chopped her hair really short – just above her eyebrows. Everyone was so mad at me. She has a really small forehead so it looked extra funny. She still won't let me cut her hair."
Plenty of people in Vancouver would leap at the offer of a cut from one of the city's most exciting young stylists. It's been a year since the Blanche Macdonald Pro Hair graduate dropped off his résumé at Toni&Guy and became a permanent member of the team at one of BC's busiest and best salons.
"Working here is great," he continues. "All the employees are really humble. I'm really comfortable here. I can come in and do my thing. It feels like home."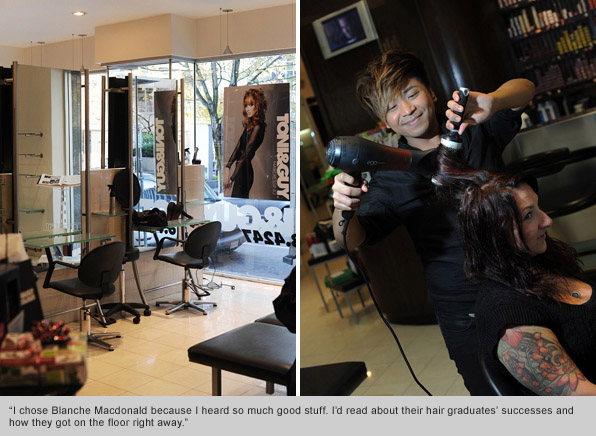 Until three years ago Coco's home was in the Philippines. It was soon after arriving in Vancouver that he decided to launch his career with some education.
"I knew that Canada was the future for me," he explains. "At first I was looking for a Fashion Design program. I'd always loved fashion, but I wasn't sure about it. Fashion Design seemed really competitive and I had no experience. Hair School looked, how can I say this, easier. That's what I thought until I started the program! I chose Blanche Macdonald because I heard so much good stuff about it. I'd read about their hair graduates' successes and how they got on the floor right away."
The shy young man from the Philippines came to Canada's top hair school with minimal experience. It barely mattered. He'd discovered both his passion and his creative outlet.
"I was nervous when I started Hair School," he admits. "I didn't know what to expect. At first my cuts were very simple, but then the surroundings allowed me to get comfortable and was able to show more of my personality. I thought that everybody would be very judgemental. But that was just me. I realised that no one was judging me and I became comfortable letting my personality show. Growing up I was a bit awkward. I couldn't express myself sometime. At Hair School my styling really evolved and I could express myself more. I learnt how to bring my personality to it. I loved all my teachers – especially Renata Trebacz! People kept saying I was good at styling and I always had lots of clients in the school salon. I would surprise myself with what I could do."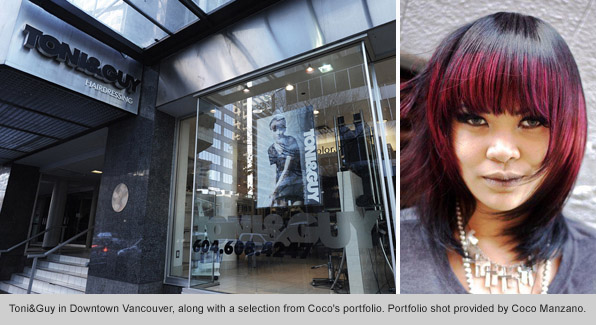 As Coco's skills developed, so did his confidence. The instructors at Blanche Macdonald watched as his nerves and shyness swiftly evaporated once he realised that he had the skills and the creativity to do whatever he wanted. Once he had to choose between hair and fashion. Now he could have both.
"I told Aimee Yamazaki that I wanted to be involved with fashion shows if the opportunities came up," he continues. "She would send me lots of messages. I did an Aboriginal Fashion Showcase that was part of the Olympics, shoots for Fashion Merchandising grads' styling photo shoots and a few events at Vancouver Fashion Week while I was still a student. It was so much fun. I work better in faster-paced environments. I love the adrenaline rush."
Coco turned freelance after graduation, continuing to volunteer at fashion events and specialising as a bridal stylist, working on his technical and client skills.
"The secret is making people feel comfortable," he explains. "If I'm doing a wedding I'll take the bride to one corner so it'll be just her and me. I can do my thing without everyone else making her nervous. It's about putting her in a comfortable place where she can relax. That's a technique I learnt from Bridgette Smith, one of our instructors at Hair School.
"All the time I was building my confidence. When I got to the point that I'd done a lot of freelance cuts and knew I could do it, I passed my résumé into five salons. Toni&Guy were the third salon to get back to me. They asked me to bring in a model to do a blowout. I brought a friend in with crazy Asian wavy hair. Instead of making it straight I left it wavy, but softer. I didn't really follow the instructions but it still looked good."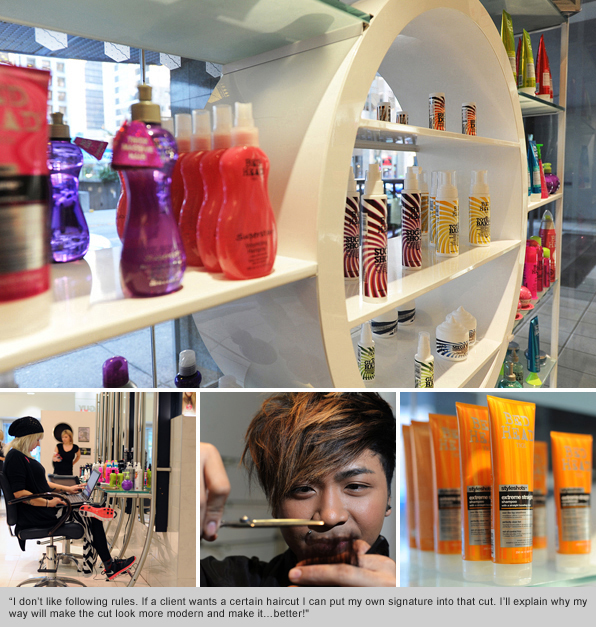 Toni&Guy loved what they saw. Coco's work was impressive, but it was the personality and the person that the management felt would make him a perfect addition to the team.
"Coco is the kind of person who would do hair even if he wasn't getting paid," reckons Yasmin Kanani, Operations Manager at Toni&Guy. "He eats, breathes and sleeps hair. Any time he has an opportunity to do hair at home, for friends, for family, outside of work, he's doing it. They're the kind of people Toni&Guy is looking for; people who are self-motivated and driven and will do whatever it takes to get where they want to be. Coco has that."
Yasmin is convinced that the training Coco received at Blanche Macdonald played a pivotal role in creating both the stylist and the person loved by the staff and clientele at Toni&Guy.
"The Toni&Guy training program is very structured and rigorous," she insists. "Coco always has his models and is always willing to learn. When you give him feedback he's always takes it and uses it constructively. Blanche Macdonald reflects the kind of philosophies that we have as a company. We both want people who are driven and motivated. Blanche Macdonald has a curriculum that works well with ours. It's a good partnership."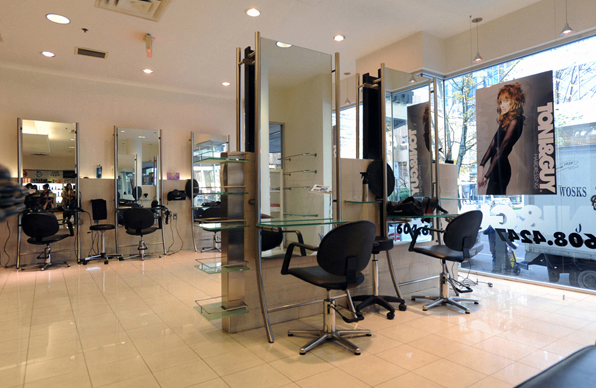 With any creative art form you need to understand the rules to know how to break them. That suits Coco absolutely fine.
"I don't like following rules," he smiles. "I like to do my styles and my haircuts with clients. If a client wants a certain haircut I can put my own signature into that cut. I'll explain why my way will make the cut look more modern and make it…better! It's my vision. If I have a client that doesn't know what she wants I'll grab a few magazines and get her to look for a cut that she'd like. If people can bring or pick one or two photos, I can combine them together. The magazine always does the trick!"
Coco can laugh about delighting clients now and mortifying his sister years ago. He's loving life in Downtown Vancouver. Maybe he'll return to the Philippines one day to start his own salon? Maybe he'll move full-time into fashion? He won't be doing either in the near future. He's having too good a time at Toni&Guy.
"If I get to the point where I'm successful enough, I might go back to fashion designing," he shrugs. "I still have that passion inside of me. But it feels like home here. Every day I'm excited to see my co-workers and my clients. Clients will stop me in the street to say hello. That's like, wow!"