Hair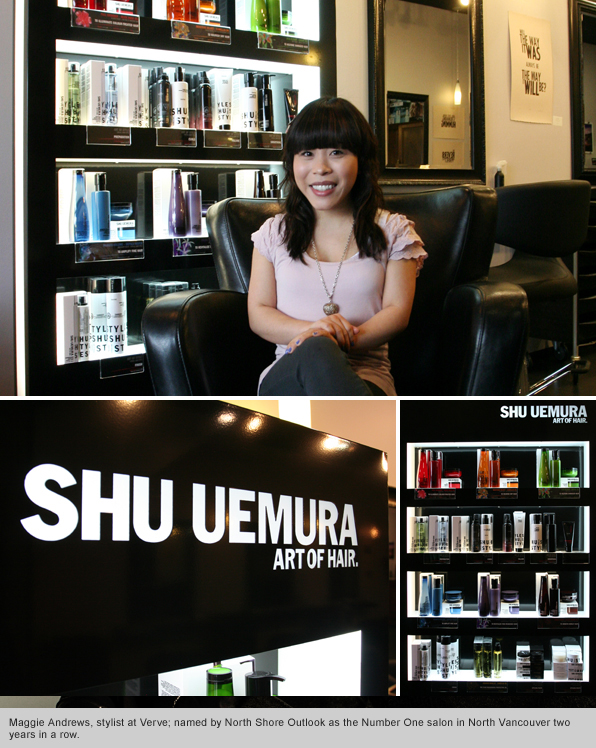 Walk through the doors of Verve Hair Lounge in North Vancouver and within seconds, you'll realise you're in a special salon. It might be the wearable designs and prints from local artists lining the walls. It might be the shelves full of high end products from Redken and Shu Uemura (Verve is the only salon in the entire North Shore to carry the Shu Uemura line). But it'll most likely be the warm welcome you receive from Blanche Macdonald Pro Hair graduate Maggie Andrews. She fell in love with Verve the first time she saw it too.
"I saw Verve when I was in Hair School," she explains. "I wanted to do my work experience here but I was way too chicken. I really wanted to work here, so what if they hated me? I creeped them, looking at their web site and twitter account. I'd get upset when they'd announce that they had a new teammate. I was like, that could be my job!
"After I graduated I was trying to figure out how to apply here and saw Verve was hiring on Craigslist. The ad said they wanted minimum three years experience, but I sent my résumé and a cover letter anyway. I said that I realise I'm young and straight out of hair school, but I love doing hair and I'm willing to work hard and learn. Amber George, the owner, called me the very next day and asked me to come in for an interview. The assistant job had come open. 'Just so you know,' she said, 'all my assistants in the past haven't made it. We'll try you out but we probably won't keep you'."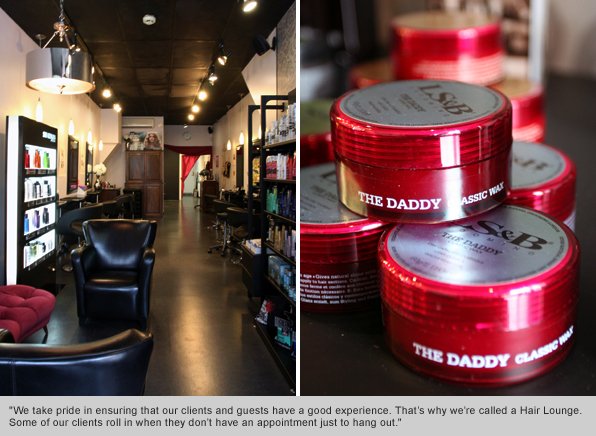 Amber clearly hadn't had an assistant like Maggie, whose unquenchable passion for the hair and beauty industries had begun when she was growing up in the small city of Grande Prairie, Alberta.
"I'd always enjoyed hair and makeup," she recalls. "My parents went mad when I cut all the hair off my Barbies. So I went to my sisters and cut their hair off too. In Grade 11 I was looking for classes to fill up my schedule so I wouldn't have to take subjects like physics and chemistry. So I took a cosmetology class. That's when I realised just how much you could do. I fell in love with it. It's so cool that you can do a hair cut and it can transform someone and their self-confidence."
Maggie understood that to truly immerse herself in the industry, she'd have to move away from Grande Prairie.
"I always loved Vancouver when I visited, so this was where I was researching hair schools. I actually enrolled at a different school because it was the first one I came across. But a few days before I came to Vancouver I stumbled upon Blanche Macdonald's web site. I looked at the schedule and the curriculum and knew I should be going to Blanche. I loved that there was a real background in the theory of how to do everything. Learning about extensions and hair for TV and film. Photoshoot styling. Classes on the business of hair and the e-portfolio. No other school I knew offered those things. Seeing the curriculum blew my mind.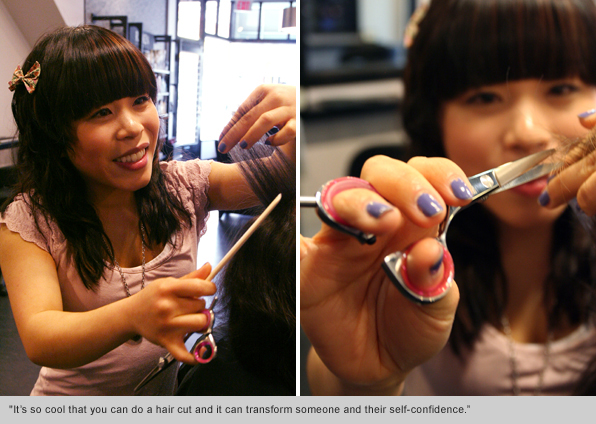 "I sent my original school an awkward email. They weren't happy, but I knew I was going to Blanche Macdonald. The second day I was living in Vancouver I visited the campus and enrolled there and then. I started a month later. I loved it at Hair School. I was sad to leave when I graduated."
Maggie enjoyed the theory, but actually meeting and working on real clients in the Blanche Macdonald salon came with its own challenges.
"I wanted to make people happy, so if they weren't 100% super-stoked on their hair I would take it very personally. I would ask a lot of questions of the instructors, which I think made clients quite nervous. I could sense that and then I would get nervous.
"About six months into the program I started to become really confident with hair. I started to understand how it works and I was comfortable in my spot. I'd grown up quite shy when I first met people, but I got used to talking to people and clients. You can give a client a not great hair cut, but if they like you as a person they'll keep coming back to you."
She laughs.
"If you can do both, that's the best thing."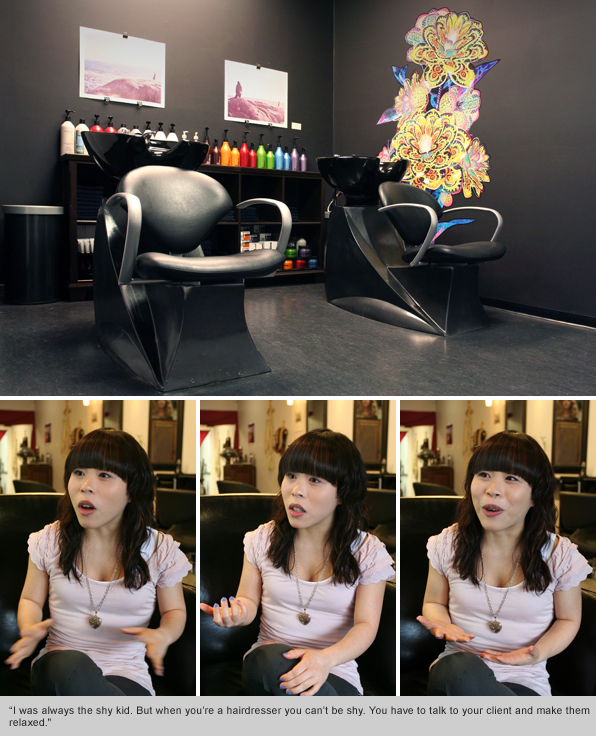 Maggie didn't go straight from Blanche Macdonald to the award-winning team at Verve (North Shore Outlook has named it the Number One salon in North Vancouver two years in a row). She wanted to see what else was out there before committing to a full-time position.
"I did a lot of volunteer work. I did a lot of photo shoots and some work on film sets – two student films and one indie film. One of the student films needed 1950s styles. My education came in so handy, because we'd learned about hair in different eras and we'd been taught on-set etiquette – when you can go in and fix the hair and when you can't. Film sets can be nerve-wracking, but if you know how to talk with people you can really change the whole environment. That's our job. We make people comfortable. We're touching the actors. We break the ice. We can bring people out of their shells. The cinematographer from that film called me a few weeks ago to ask me to work on another short film. And there's a feature due next year and they want me to do the hair for it!"
If Maggie does get the chance to work on her first feature, they'll miss her at Verve when she's gone. She's an essential member of the team, even if it took her a while to realise it.
"I didn't tell my parents that I had a job here for weeks because I was afraid Amber was going to fire me and I was going to hav e to tell them I'd lost my job," she laughs. "We take pride in our work and ensuring that our clients and guests have a good experience. That's why we're called a Hair Lounge. Some of our clients roll in when they don't have an appointment just to hang out. We want our clients to feel comfortable like that. Everyone talks to everyone. Usually the entire salon is involved in one big conversation. That's the vibe we like to have.
"Amber and I went to Las Vegas for the Redken Symposium in January too. It was crazy! 10,000 hairdressers from 28 different countries in one spot. The only frustrating thing was that I wasn't 21 yet!"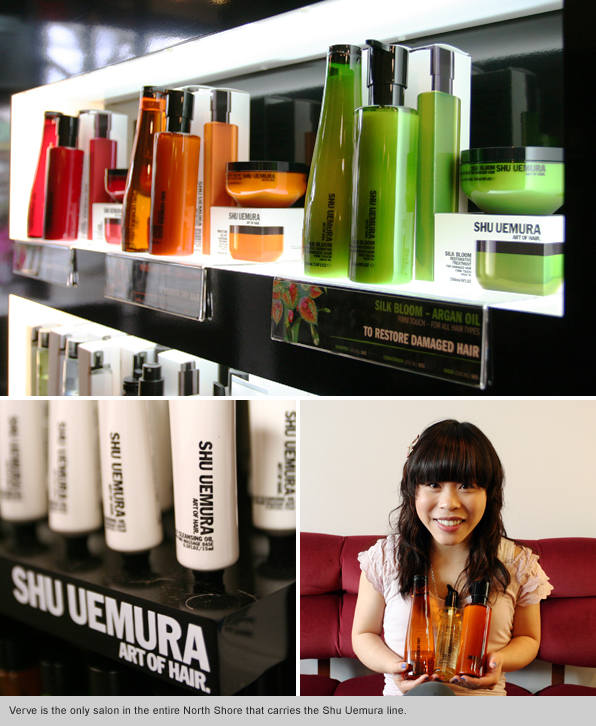 Like many Blanche Macdonald Hair School graduates before her, Maggie has turned her creative potential into real world success. It's a familiar story. The one twist is that Maggie is really short. When she's working she'll stand on a stool or the bespoke platform her cosmetology teacher's husband made for her in high school. Other than that, it's never been an issue.
"I grew up with three older siblings and it didn't matter that I was way smaller than them," she smiles. "My brother used to stick me in pillowcases. I learned to adapt. I never let it effect me. Same with coming to Vancouver and going to Hair School. I didn't know anyone and I wondered how they were going to react. It was no big deal."
Today Maggie emanates charismatic confidence whether she's with clients in her chair or looking after Verve Hair Lounge's front desk. She wasn't always that way. But the girl from Grande Prairie is now cutting and styling on film sets and one of the city's most exciting salons.
"I was always the shy kid. But when you're a hairdresser you can't be shy. You have to talk to your client and make them relaxed. At Blanche Macdonald I got more comfortable coming out of my shell and talking to people."