Hair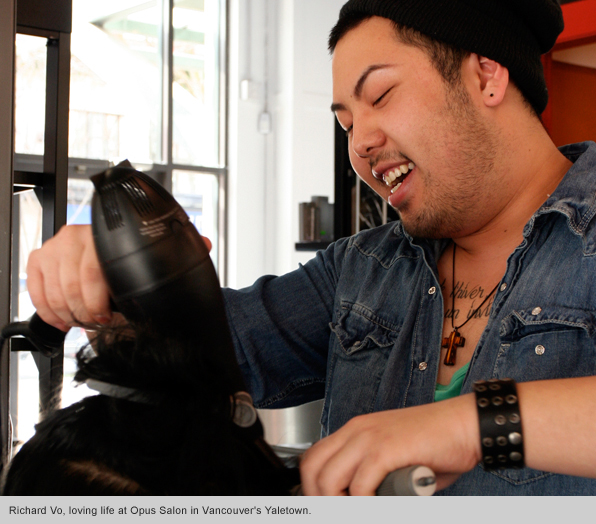 "Au milieu de l'hiver, j'ai découvert en moi un invincible été."
Those words, tattooed across the chest of Blanche Macdonald Pro Hair graduate Richard Vo, were written by the French author and philosopher Albert Camus. They're words of courage, optimism and inspiration. And the ideas behind those words have led him to his current position as a stylist in the fabulous Yaletown salon, Opus.
"My parents wanted me to be a doctor, lawyer or accountant," recalls Richard. "In school math was my niche. I did calculus and all that fun stuff. My original career goal was to become an accountant. So I went to college to do my BBA in accounting. But I knew it wasn't for me. Accounting is really tedious. I remember picturing myself sitting at a desk every day crunching numbers for decades. So I decided not to continue with it."
Realising you're travelling down the wrong path is one thing. Having the courage to change direction is another thing entirely. Richard was working at an East Vancouver Starbucks when the realisation dawned that his natural warmth and a growing passion for hair could be the keys to a new career.
"I loved getting to know my everyday customers at Starbucks and hearing their stories. That connection is something I consider very valuable. And I'd always loved doing my own hair and getting my hair done. Walking down the street I'd always think, 'this person could look great if they wore their hair differently'. A lot of my girl friends would ask me what I thought they would look like with highlights. I could visualise it straight away. I was thinking about going into hair, but I was pretty nervous about it. I still didn't think I was going to become a hair stylist."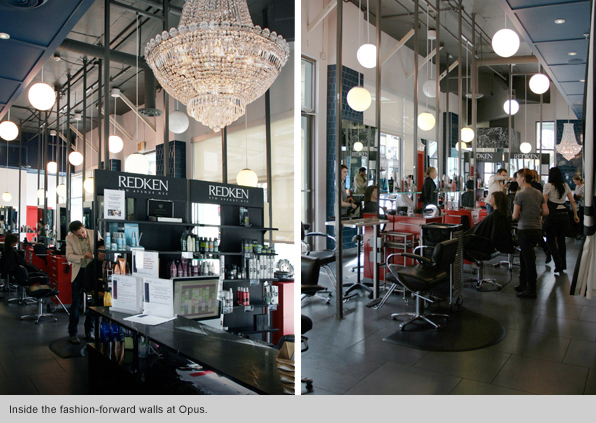 More out of curiosity than determination, Richard started investigating Vancouver hair schools.
"Blanche Macdonald stuck out to me. When I checked out their web site I was very impressed by the work they were doing. I knew it was a well-rounded course. At some other hair schools I looked at you didn't get as much as you did at Blanche. Even then, I wasn't quite ready to make the jump and it took a few months before I could say, let's do this."
Once Richard began classes at Hair School, his expectations were immediately shattered.
"I was like, it's hair, how hard can it be? It was the complete opposite. I don't think I've worked that hard my entire life. It didn't come naturally to me at all. I was actually that kid in level one who was always the last person to finish. I was still doing my roller set after everyone else was done. It could be frustrating. You want to be the best, or at least be the best you can be. It was a struggle to be my best and work out who I was."
Richard can openly admit that he wasn't a natural born stylist. But he knew his dedication and hard work had paid off when a client from the Blanche Macdonald salon sent a text message that continues to inspire him.
"She was a regular client but this haircut took a little longer than usual: I was always second-guessing myself back then. When I finished she was very pleased with the cut. She gave me a smile and a hug. Later she sent me a text saying how in all of her years this was the first time she'd ever felt like a million dollars. She went on to say that I was very talented and that I should continue doing this because she felt so amazing. Being able to make someone feel that way makes everything so much better. At the same time, it doesn't even feel like work for me because I enjoy it."
Confidence boosted, Richard was pushing the limits of his creativity before he'd even graduated. When a friend who worked in the nightclub industry suggested Richard put on his own Hair Show, it was an offer he couldn't refuse.
"The night was called Funky, Fresh and Fabulous and we held it at Tunnel Night Club. They set up a runway and I did eight models with big hairpieces. I did neon colours and big, fabulous hair. We played with Funky, Fresh and Fabulous theme."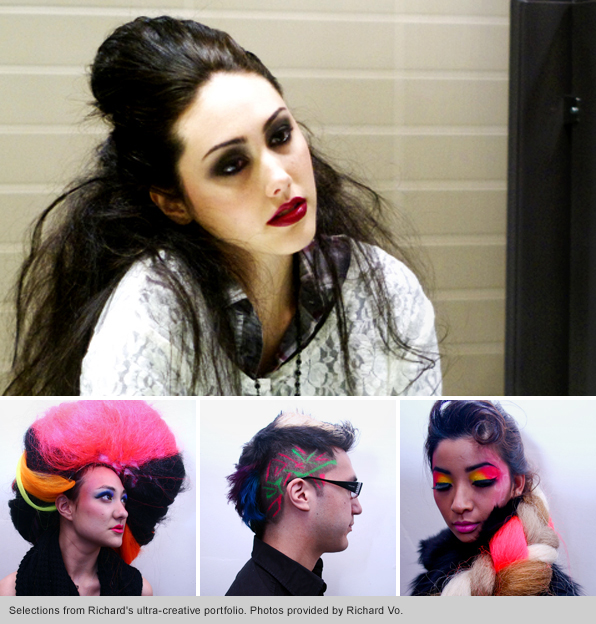 He also enjoyed a pair of work experiences at a fashion-forward salon in Vancouver's Yaletown called Opus.
"Because I had done work experience here I knew the owners, Ludo and Jesica Jan, and a lot of the stylists. Before I graduated hair school I came by to explain that I was interested in working at Opus. We sat down for coffee and talked about our goals. I graduated, had a week of summer vacation and started here.
"It's a Redken salon, and one great thing about that is that they're very focused on education. We have super-inspiring classes that teach me things that most people at this stage of their careers wouldn't have the chance to know. Ludo and Jesica are both from Paris. He's a stylist and she's a colour tech, so when I began I would work on my cuts with Ludo and my colours with Jesica. That training was rigorous. There are so many different ways to do things.
"I'm still growing and learning a lot. I'm not saying I'm the best. I know I'm not. But I'm pretty busy considering how long I've been working here. I have a lot of loyal clients. I feel that I can make that personal connection. I get close to someone pretty quickly."

Working at a fashion conscious salon also brings opportunities to sample the occasional night of backstage glamour.
"Not long after I started," continues Richard, "four of us from the salon went to do the hair for a fashion show for Blushing Boutique, a clothing store not far from here. It was my first fashion show and lot of fun. I felt like Blanche Macdonald had set me up for that and I was completely ready. We'd done photo shoots at Hair School, so I was familiar with the need to be on time and the adrenaline rush. I like the creative and art side of making a look for a fashion show. If I had the time, I'd love to do more of that and let my creative juices flow."
He's beyond busy at Opus, including spending a recent weekend working backstage with Redken at the Allied Beauty Association Exhibition, but Richard has somehow found the time to launch a new project – the wonderful hair blog, Cut&ColorFiend.
"There aren't many hair blogs on line," he explains. "I'll look and write about the latest collections and runway shows. I'll comment on the hair, the makeup and the styles and try to forecast trends. I'll put my work up there and give out a lot of hair tips. It's something that keeps me in the game and on top of my stuff. It's a way to reach out to people. As hair stylists we're here to educate and make sure people are treating their hair right."
Rejecting accountancy for hair has done more than please his growing list of clients. It's also changed Richard. The words etched onto his chest are reminders that positivity and courage are more than mere words. They're ways to live life.
"I'd always get pretty anxious when I was younger," admits Richard. "These days I'm more willing to take risks. I can put myself in more uncomfortable situations and see if I can overcome them. Before, I would always be nervous when embarking on a new adventure. I've learnt to overcome those nerves. I look back and can't believe I've come this far."
For anyone stuck in a career path they're unhappy with, Richard's advice is clear. He's living proof that you can be successful doing what you love.
"Go for your passion, because that passion is going to drive you further and further towards the person you want to be. Finding that passion for hair has given me the drive to continue and grow."