Hair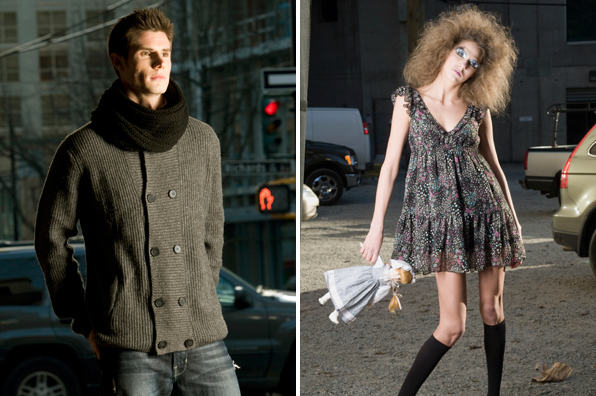 Valerie Webb knows about high performance. It's been a way of life for her since she started swimming competitively at the age of five in her hometown of Saanichton, BC. She became one of Canada's finest young rowers, and won a full athletic scholarship to the University of Miami in Florida. She earned an Exercise Physiology degree there, along with minors in Business and Sports Administration, and went on to work with some of North America's finest athletes, providing speed and nutritional training for NHL and NFL superstars.
It was this commitment to the very highest levels of performance that brought Valerie to Blanche Macdonald, and led to Victoria's Copa Hair Studio & Day Spa, one of the finest salons on Vancouver Island.
"I knew I wanted to be in Vancouver when I was looking for hair schools," recalls Valerie. "I met with other schools to see what was available and I enjoyed Blanche Macdonald's curriculum the most. It was the most comprehensive, and I really enjoyed the business planning aspect of the program."
Valerie knew a thing or two about selecting the perfect school. As a talented rower graduating high school, she received scholarship offers from six American Universities, as far apart as Washington State and Buffalo.
"I chose Miami," she laughs. "If you're getting up to train at 5am six days a week, you don't want to be doing that in the snow.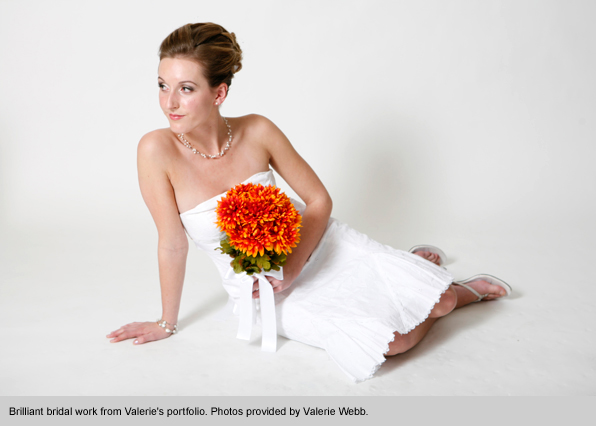 "My experience at the University of Miami was amazing. I was majoring in Exercise Physiology. That was my field of interest. I was really interested in sports nutrition too. I became a certified strength and conditioning specialist in Florida and I got to work with professional athletes from the NHL and NFL. I would help them with their speed, agility, plyometrics and nutrition. I worked with Nathan Horton when he was with the Florida Panthers and football players like Frank Gore, Fred Taylor and Kellen Winslow. I was in such good shape then, I could jump in and do their exercises with them."
Valerie returned to Canada to work for the government, touring the province as an ActNow BC representative on the 'Road To Health Community Tour'. Exploring the distant corners of BC was illuminating and Valerie enjoyed sharing her knowledge of health and fitness with others. However, Valerie wanted to explore other areas of interest and take her career in a new direction.
"One day I thought, hair! I'd always done it. When I was in grade seven I was watching a stylist do my highlights and thought, I can do this! I probably did 200 sets of highlights between then and actually going to hair school. I did all my girlfriends and teachers in high school. If my friends were going out it would be me that did everyone's hair. And at university I did the highlights for all my team-mates. I knew I was good at it. So why shouldn't I become professionally certified?"
It wasn't long before Valerie knew she'd made the right decision with her new direction and choice of hair school.
"I really enjoyed working with my level one teacher, Zohray Manji. And once we started doing some hands on styling I loved it!
"Having real clients in the salon was very valuable and the photo shoots were pretty cool. I volunteered for six of the Fashion Merchandising program shoots. Those were very similar to a real life situation when you're brought in as a hair stylist, told a look and have to execute it alongside a makeup artist, a professional model and photographer."
Blanche Macdonald also opened a door that allowed Valerie to sample a different kind of Olympic experience, courtesy of the Makeup School's one-time instructor, Jason Stafford.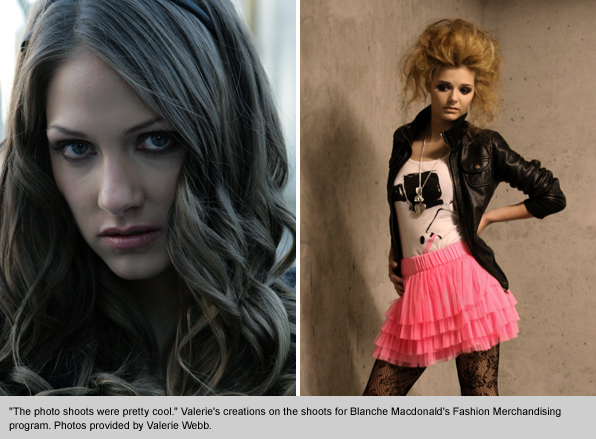 "Jason contacted our Program Director Phil Loiselle and asked if there were any students he would recommend to help out at the Opening and Closing Ceremonies, and Phil told my class about the opportunity.
"My job was to do the hair for the Sacred Grove segment of the Opening Ceremony, working with three other full time hairstylists. Our job was to prepare the 56 dancers from the Alberta Ballet and Ballet BC.
"For the Closing Ceremonies I was in charge, along with one other girl, of preparing the swing band that accompanied Michael Bublé. It was an absolutely wonderful experience that I wouldn't trade for anything. I got to meet several Olympic athletes and worked alongside the top makeup artists in the world. It was fabulous!"
Before she came to Blanche Macdonald, Valerie was involved in a serious accident when the taxi she was riding in was rear-ended by a speeding car. Her injuries prevented her from rowing at a higher level and she was attending physiotherapy the entire time she was in hair school. After a year of treatment, Valerie took her sister's advice and started working with a physio specialist in Victoria. Valerie went back to the Island, moved home with her family and treated physio as her full time occupation. That return to Victoria also led her to the door of Copa Hair Studio & Day Spa.
"Once I'd recovered, I went into Copa with my resume. The owner, Brandy Cook, offered me a position with her group of stylists. I distinctly remember, she said 'Do you want to start tomorrow?'"
Copa knew they were getting someone special.
"I'm a big people person and now I'm constantly meeting new people. We're very near UVic, and the bulk of my clientele is male UVic students. It's fun because we have loads to talk about. My female clientele is also growing, but when a new guy comes in and asks for 'the rower hairdresser', I know it's because one of their friends has recommended me. I can talk and relate to guys on a sports level, and that's unusual for them in a salon environment."
Copa has also benefited from the addition of a stylist for whom satisfactory is never good enough.
"I probably come across as bossy because I like taking control of situations," she smiles. "We didn't do extensions at Copa when I joined, but I was trained in five different types of extensions at Blanche Macdonald. I took the initiative and suggested that we start doing them. I called a company in Montreal and got their kit mailed to us. Because I'd been trained I was able to send some photos straight back to them to get certified. Then I taught the girls in the salon so they've become certified. I trained all of our staff! And I'm constantly advising the team and our clients on the exercise they should be doing and the food they should be eating. It's dual service!
"I love it here, and my boss understands that I am interested in learning more about the business aspect of a salon. Now I'm in charge of creating and delivering the monthly newsletter to our clientele, along with additional special event invitations. I'm passionate about learning about the product line and marketing too, so Brandy asked me to join her for a four-day seminar with Bumble and bumble in New York this Spring."
If you ever want to see a terrific hair stylist in Victoria – one that will throw in a little nutritional and exercise advice at no extra cost – you know where to go.