Hair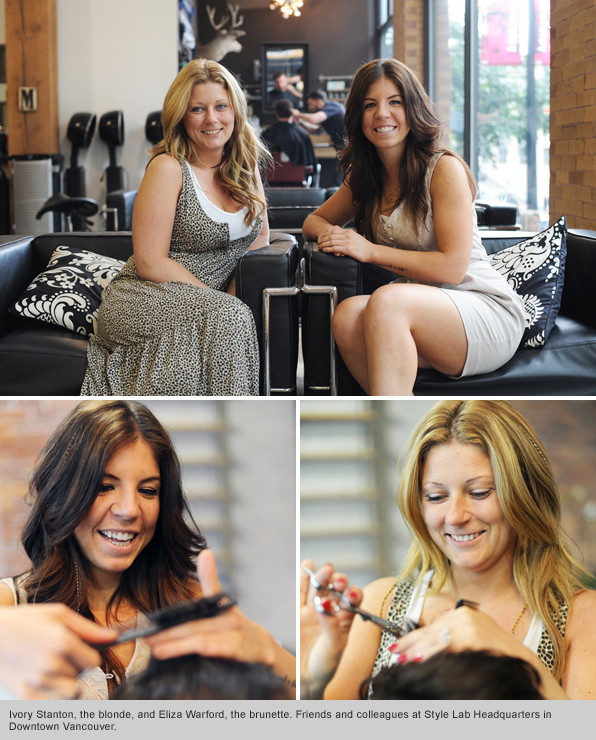 One of the very first people Eliza Warford met when she began her work experience at Style Lab Headquarters was Ivory Stanton. Back then Eliza was close to graduating Hair School at Blanche Macdonald. Ivory had graduated six months earlier. They immediately hit it off.
"I asked a ton of questions," recalls Eliza. "I was just about to graduate so I had a million fears. I didn't know if I'd be working here."
"We talked about school and I helped her out with the things that were coming," confirms Ivory. "Of course we're friends now. Everyone in the salon is friends."
That's the kind of salon it is at Downtown Vancouver's Style Lab Headquarters.
"I knew I wanted to come here from day one," continues Ivory. "Even before I went to Hair School I came to this salon as a client."
"One of my classmates had come here and she'd loved it," explains Eliza. "I'd never been to a salon that has an atmosphere like this. The second I arrived everyone was so welcoming and so laid back. I begged the owner, Leo Tioseco, for a job. And Ivory made it happen!"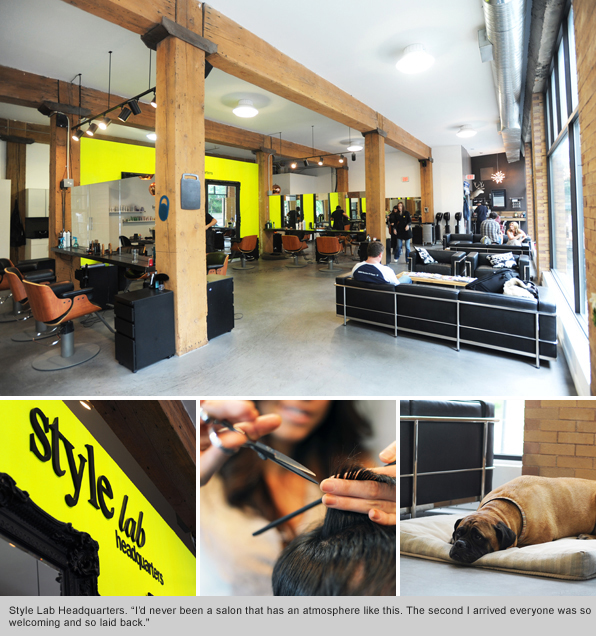 Exactly what Ivory told Leo has been lost to history. But, having shared the same hair education at Blanche Macdonald, Ivory knew Eliza would fit in. Despite growing up thousands of kilometres apart, they both harboured dreams of working for themselves in a genuinely creative industry.
"I was sick and tired of working in offices," sighs Richmond, BC native Ivory. "I worked in real estate and property management. My office had grey walls. It wasn't fun. I wanted to interact with people. Hair was always something that I was good at. My mum was a hair stylist so I knew about the industry. She taught me a lot and I was always doing my friends' hair. I decided it was time I started getting paid for it."
Eliza had made her way to Vancouver from the tiny Ontario town of New Hamburg to study business at university. As soon as she graduated, she began the Pro Hair Program at Blanche Macdonald.
"Ever since I was a little girl I've been trying to start my own business," she smiles. "I had a lemonade stand and a dog-walking business. In school I studied entrepreneurship and marketing. I knew I wanted to either work for myself or own a business, but I wanted to do it in something creative. I'd always done hair, so it seemed like a natural progression to go to hair school.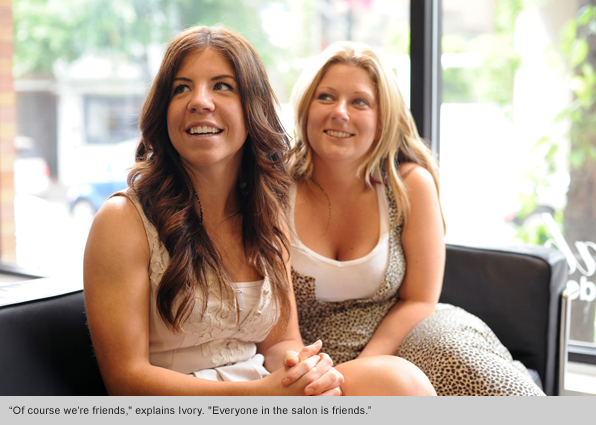 "I did a lot of research on different schools. They all seemed to be in the same price range, but they differed drastically on the length of the program and what they offered."
"And their reputation!" adds Ivory.
"I figured that if I was spending the money I'd want to get as much education out of hair school as possible," continues Eliza. "I'd rather go for a year and learn a ton, rather than whip through a course in six months. I liked that Blanche Macdonald incorporated business into the program. They taught extensions, which no one else had. They taught hair for TV and film, which no one else did, too. It became an easy choice."
"I learnt structure and responsibility from Blanche Macdonald," explains Ivory. "Even down to the dress code. And creatively, you had to open up your mind. You had to think outside the box so you weren't doing the same photo shoots other people were doing. You were forced to be a little bit more creative."
"Blanche Macdonald taught me the fundamentals that you need to build on," agrees Eliza. "You need that fundamental understanding of hair. Then you start doing work experiences and see that people can do things differently. About halfway through the program I felt like I was starting to become a real stylist. I loved it. When we were seeing clients in the school salon I just wanted to get their signatures and start doing their hair."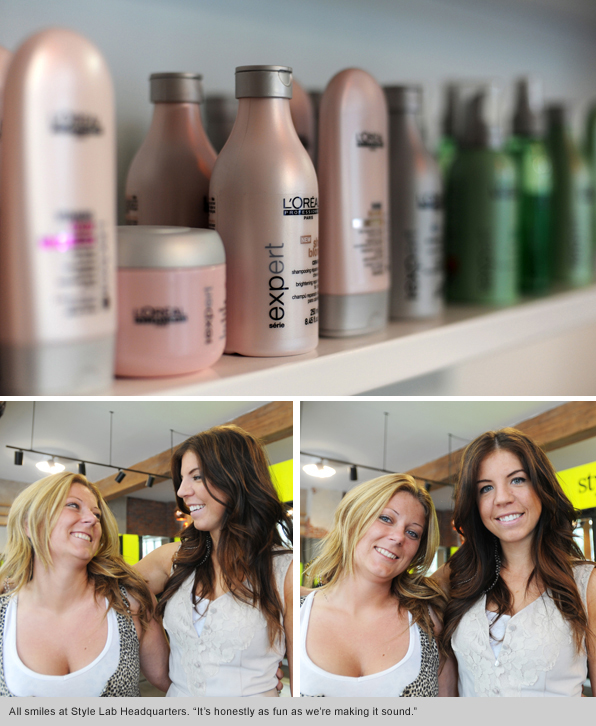 That training, and the confidence that came with it, landed both ladies a chair at Style Lab Headquarters – a unique salon where stylists bring in their dogs and male clients have a gender-specific 'dude zone' where they can sip whisky and watch sports while getting their hair done.
"I was seeing clients here almost instantly," explains Ivory. "I started as the owner's assistant, but as soon as I started he said I could start seeing my own clients on the days I wasn't working for him. It was a little scary. At Hair School there were instructors there to catch you when you fell. Hopefully you didn't fall. In a salon you're on your own.
"At Style Lab each stylist runs their own business, does their own marketing and books their own clients. You rent your chair at the beginning of the month and the rest of the money you make is yours. I couldn't even picture working at another salon."
"We don't push the salon as a brand," adds Eliza. "All the stylists are independent workers. You can be as busy or as slow as you want. I could do a client's hair at 3am if I wanted to. There have been nights when I've been here until 11. I have the freedom to do that. There's something about being your own boss that's amazing. I don't know if I could ever work for someone again."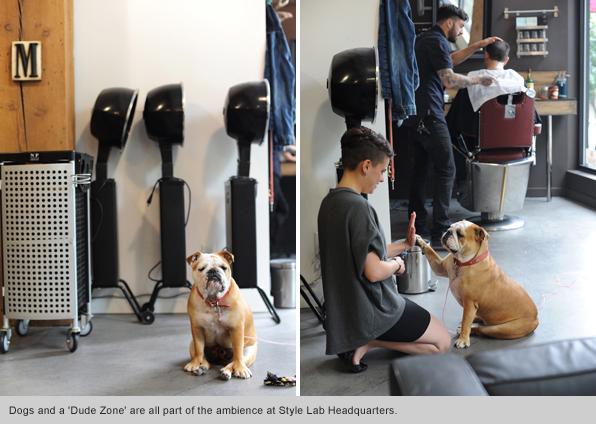 Freelance life is treating Eliza and Ivory very well. When they're not at Style Lab Headquarters both have become involved in Vancouver's lucrative bridal hair business. Their weekends can be hectic, but profitable.
"We're both busy most weekends now," confirms Ivory. "I m et and started working with a really great makeup artist, Yuki Lam, who is booked solid every year. She's a Blanche Macdonald makeup grad."
"Every wedding I go to I look at as an opportunity to get more clients," explains Eliza. "Those bridesmaids could be getting engaged soon. I try to prepare, make sure I have business cards and network with the makeup artist. The whole business is totally word of mouth."
To get that positive word of mouth the hair has to look spectacular, naturally. But Ivory and Eliza know that there's more to being a successful stylist than pure technique. A great stylist is also a friend and a psychologist.
"The instructors were so different at Hair School," recalls Ivory. "I learnt little bits from all of them about how to approach conversing with other people. It's important to be a good listener."
"As soon as you start touching clients' heads they tell you their problems," laughs Eliza. "I don't give advice. I just try to listen and reassure them that everything will be ok."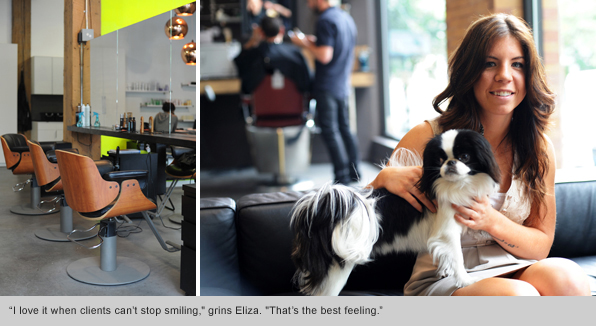 Sitting down with Ivory, Eliza and the many Style Lab dogs, the conversation flows smoothly and the laughs are plentiful. They're working hard, but they're having plenty of fun while they're doing it.
"It's honestly as fun as we're making it sound," promises Eliza. "It's hair, not brain surgery, so you can have fun with it. But it's still what I'm passionate about. When I take the bus over the Cambie Street Bridge every morning I'm thinking that I can't believe I get to do this as my job. I can't turn my brain off. When I'm on the bus I'm analysing people's haircuts. If I'm in a movie theatre I get distracted looking at people's hair."
Clients are lining up to be on the end of that kind of passion.
"I love it when clients can't stop smiling," grins Eliza. "Even when they are trying to stop. That's the best feeling."
"Definitely," smiles Ivory. "And then they tell all their friends."