Hair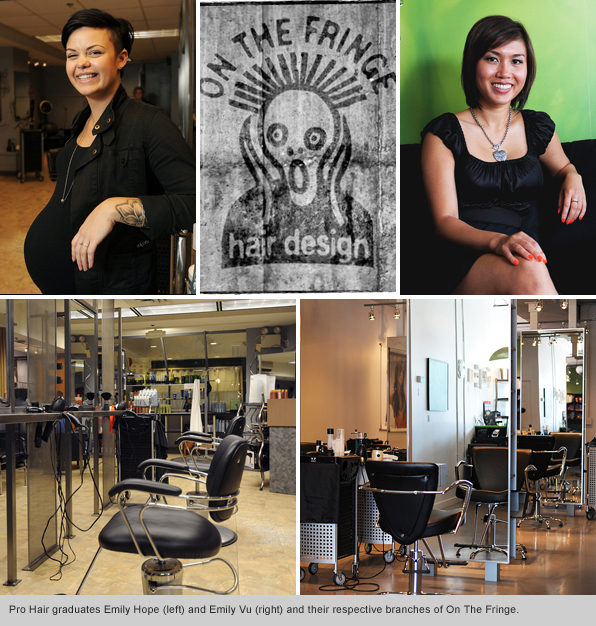 There are two branches of the supremely hip hair salon On The Fringe. One is on Vancouver's ever-fashionable Main Street, delivering cutting-edge styles and hosting competition-standard photo shoots. The other is in the student union building at the University of British Columbia, introducing students from across Canada to the world of amazing hair. The commitment to excellence is the same at both. And it's no coincidence that each salon has a Blanche Macdonald graduate on its floor – Emily Vu at Main Street and Emily Hope at UBC.
"I like the education at Blanche Macdonald," explains On The Fringe's owner, award-winning stylist Shannon Simmonds. "The people that come through there are good stylists. There are certain schools that I won't take stylists from. I will take students from Blanche Macdonald.
"Emily Vu is great. She has an innate talent, which is a pleasure. She's open to learning, she's always in a good mood, she's great with her clients and she understands hair, which is really important. A lot of stylists have taken courses but don't really get it. She gets it.
"Emily Hope has an amazing talent. She's a joy to be around. We're very team orientated, and I look for people who can bring something to the team."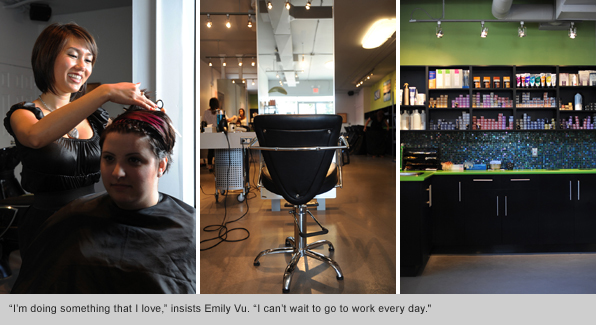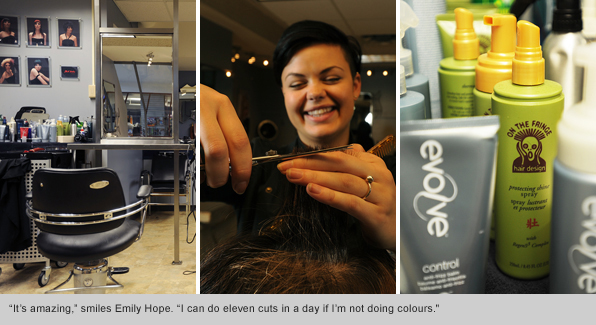 The two Emilys of On The Fringe share a name, an education and a passion for their work. Aside from that, they're very different. And one of the main differences is how they came to hair. While Miss Hope was planning a career in the business at high school in Ladner, BC, Miss Vu barely thought about it growing up in Vietnam.
"I moved to Vancouver when I was 17," she explains. "I didn't know what I wanted to do other than improve my English. When I was little I was a real tomboy, but as I grew older I really started to like fashion. I wanted to make people look good. Maybe I could do hair?
"I was thinking about it for a couple of years while I was working at a restaurant. I did some research on hair schools in Vancouver and went to see places where they offered short term, 600-hour courses that put you on the floor straight away. That was too fast for me. I'd never done hair before. Blanche Macdonald's hair program was 1500 hours."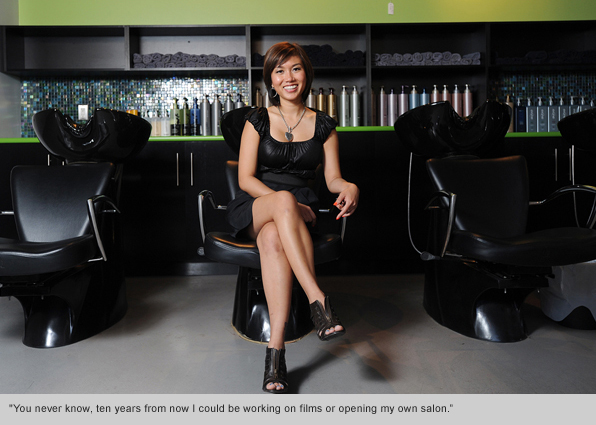 At the same time Emily Vu was contemplating her career options, Emily Hope was certain on the direction she wanted to take.
"I wasn't as attentive at high school as I should have been," she laughs. "That was partly hair's fault. I couldn't wait to be done so I could get on with it. I was always cutting my friends' hair. If you'd had asked me then I would have said it went awesome. If you ask me now, it wasn't so great.
"I loved the idea that you could change the person you are by changing your hair. In Grade Nine I went from having hair to my waist to hair to my shoulder. At first I felt really bad. Then I realized that was ridiculous and felt completely liberated. Why feel bad about losing something that renews itself on a very regular basis?
"I was looking at hair schools when I was still at high school. Blanche Macdonald had the best program as far as I was concerned. It went a lot further and was a lot more extensive than other schools, which I liked."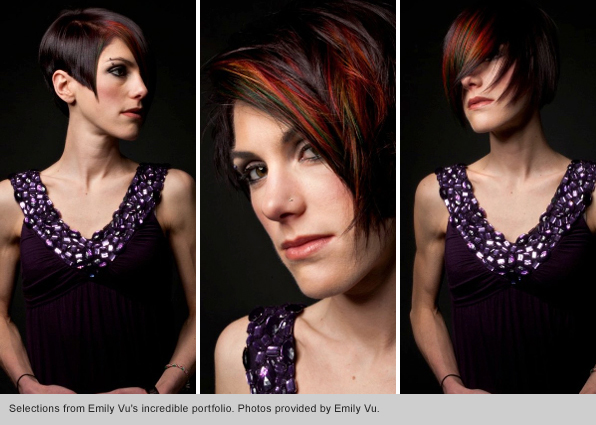 Both ladies came to Hair School with high expectations. Those expectations were met and exceeded.
"At Hair School every time we had a new instructor I learnt something new," recalls Emily Vu. "I remember everything the instructors told me, and I use it every day. They knew what was trendy. And I liked the courses like TV and Film, extensions and business. A lot of schools don't offer that. You never know, ten years from now I could be working on films or opening my own salon."
"It was even more detailed than I thought it was going to be," continues Emily Hope. "I had never done anything like the photo shoots at Blanche Macdonald before. It was so cool that they gave us complete creative control. Even if we screwed up really badly, we learnt why. Sometimes it's best to screw it up so you can figure out where you went wrong."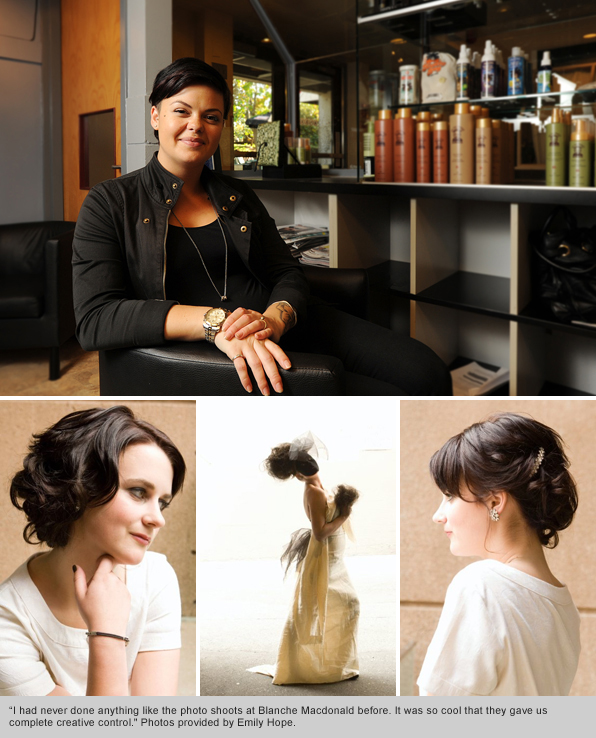 Shannon chose to bring both Emilys into the On The Fringe family; a pair of decisions all three of them are still delighted with. On the surface the two salons are poles apart; the frenetic feel of the UBC salon a stunning counterpoint to the serenity of Main Street. Scratch a little deeper though, and they're not that different. The philosophy of great, fashionable hair is the driving philosophy behind everything they do.
"I found the photo shoots we did at Hair School really helpful," explains Emily Vu. "At On The Fringe we're constantly doing photo shoots, which whet your appetite to get more creative and think outside the box. I'm entering the Canadian Hair Awards in the Best Newcomer category in October.
"I'm lucky. People on Main Street have a lot of personality. They want to try new things. There are a lot of artists working around here, so people like to look funky and different. When a client says, 'Do whatever you want – I want to be totally changed', I tell them what I'd suggest and they can say yes or no. Funky for some people is two inches off and highlights. Funky for me is asymmetrical, purple and pink."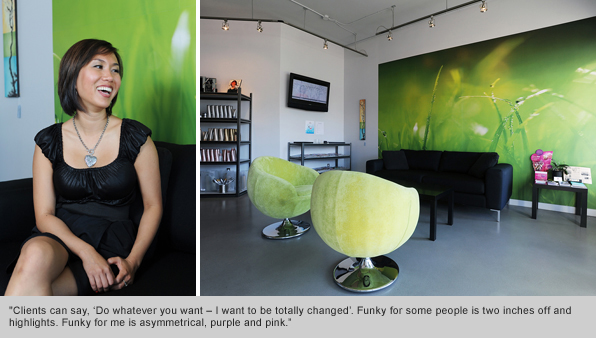 At the UBC salon, Emily Hope has the chance to push creative boundaries on a daily basis.
"It's amazing," she smiles. "I can do eleven cuts in a day if I'm not doing colours. You learn to adapt and become efficient, even though you're never cutting corners and giving 150% to every client. When you really talk to someone in a consultation, you learn what they really want and how to get there. We do a lot of men's haircuts here, so you have to know what the guys are into these days. They're spending more on their hair now. Which is nice. A lot of clients are full time students, so we have guys and girls come into asking for asymmetrical Mohawks and hair tattoos. When I'm working, especially when someone asks for something really creative, I'll think back to my time at hair school and think about how different teachers would approach it in different ways.
"We get a lot of young people coming in who have never been into a proper salon before. I had a client recently who'd never paid more than $3 for a haircut. It's nice to give those people the best haircut they've ever had. Some guys have never seen a shampoo sink before. They'll crawl onto the seat and lean forward. It's hilarious."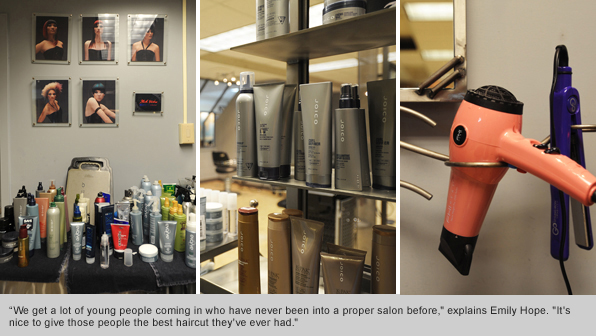 Whether they're taking Vancouver's fashion elite to new levels or introducing newcomers to the pleasure of quality haircuts, the two Emilys of On The Fringe are relishing the opportunity to make a difference in clients' lives.
"I'm doing something that I love," insists Emily Vu. "I can't wait to go to work every day. I get to make people look and feel good and get paid. When people love what you do it's like your hard work has paid off. You feel like you've done something amazing. You have to have passion to do this. You have to be patient. Hair isn't easy. It's hard work. But it's getting easier every day. When you finally own it, it's fabulous."
"It's a hands-on skill. It doesn't happen overnight," agrees Emily Hope. "The more you do it, the more you're going to grow and learn. In the beginning you just need to tell yourself, relax, it will come!"