Hair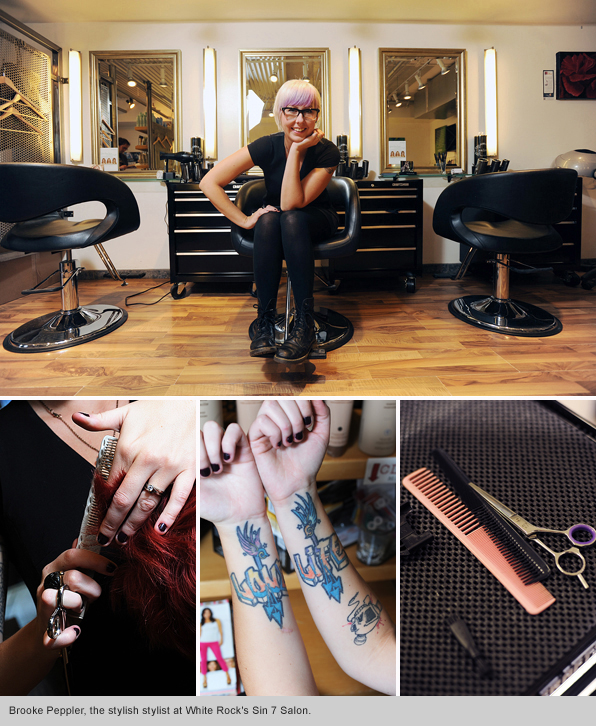 White Rock is one of the smallest cities within the Metro Vancouver regional district. Thanks to Brooke Peppler and her colleagues at Sin 7 Salon, it's also becoming one of the best looking.
"I get the chance to do cool haircuts all the time," smiles Brooke. "The best thing about working in a small town like White Rock is when you do a fun haircut, you see it everywhere. We have classes almost every week at Sin 7, so we bring in our own models for fun new cuts and colours. And we often get cool girls turn up who have moved back from college in Vancouver to live with their families. Whenever they come in I'm like, let's do this!"
It's somehow appropriate that Brooke has found a happy home bringing style to a small town. Growing up in the tiny BC community of Oyama until her early teens, and repeatedly moving around the province after that, wherever she lived, she was always accompanied by her spirit of creative adventure.
"I always did hair," she continues. "I gave all my friends my haircut. We were all walking around with bangs and a bob. Oyama wasn't that fashionable a place so I never thought it could be a career.
"I'd get different box dyes and play around with people's hair. I had some nightmares. All the weird chemical reactions between different dyes turned my hair silver-grey once. It would be cool now, but I was in Grade 5, starting a new school halfway through the year and it was terrifying. Everyone else was wearing flannel and rubber boots and I turned up dressed in Club Monaco with grey hair!"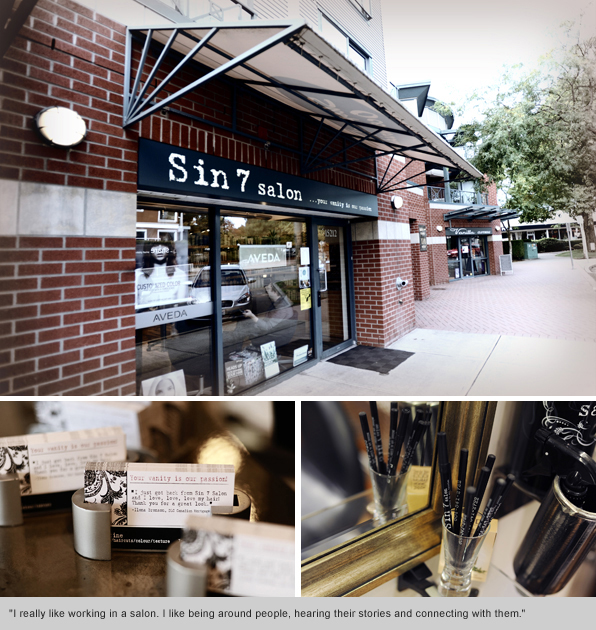 Brooke eventually landed in Vancouver, and was planning on going into nursing before the realisation arrived that hair could provide her perfect career path.
"I'm a creative person. I loved working with people. All my friends were hair stylists. I thought, 'I could do that!'"
Brooke was in her mid-20s when she started investigating Vancouver hair schools.
"I wanted to go to a really good school that was well known and had a great name. I emailed an enquiry to Blanche Macdonald and someone got back to me straight away. I visited, spied on the teachers and students, and actually had a haircut there. Blanche Macdonald offered a lot more than all the other schools I looked at. It seemed like I'd get a good base and learn a wide range of information. I knew I'd be exploring all the different career options in the industry, not just learning to cut hair in a salon. Initially I wanted to go into the movies. And I was really into the idea of doing photo shoots."
Those ideas became reality as Brooke began her formal hair training. She soon found herself in the School Salon with scissors in her hand, working on strangers' heads.
"It was great!" she smiles. "And it was hard. The first real person actually in my chair was a model with hair down below her waist. She wanted layers and not too much off. It was scary but when I was done she really liked it.
"I liked being thrown in. I thought, 'We're practicing, so I'm just going to ask for help when I really need something'. That's when I realised I could do this! The instructors would walk by and say, 'Yeah, you're doing fine'.
"Having my creativity challenged was my favourite part of the program; when we got through the basic stuff and started creative colouring and cuts. I'm really drawn to geometric and angular shapes with colour. When we reached that advanced part of the course, that's when I really started to love it."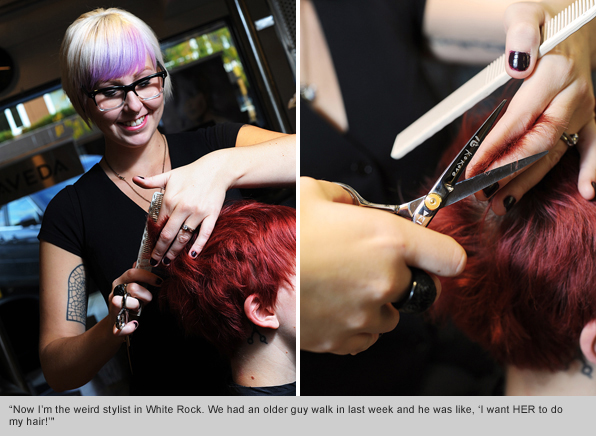 Learning to embrace her creativity was a breakthrough moment for Brooke. So was the realisation, in an industry where self-promotion is vital, that being herself was her greatest strength.
"Pretty quickly I knew I would be good at this," she explains. "Even though there are so many nuances. There are rules, and rules you can break. For me the most awkward part was learning to sell myself.
"If you want to be taken seriously in Vancouver you don't want to look like a teenager or Avril Lavigne. You can have your own style, but you still need to look professional. I'm not glamorous and I'm not crazy East Van hipster either. With me, what you see is what you get. I learned that people respond to that."
With her purple-fringed bob and growing collection of tattoos, Brooke doesn't have the traditional hairstylist look in quiet little White Rock. That suits her and her clients just fine.
"Now I'm the weird stylist in White Rock," she laughs. "We had an older guy walk in last week and he was like, 'I want her to do my hair!' He kept saying that he wanted something modern. Normally people say to me, 'that looks cute on you, but I don't want that!'"
Plenty of people want Brooke working her magic on them. For a stylist naturally reticent to sell herself, she's become an expert on self-promotion. Her trick? Being herself.
"I'm always handing out cards. I love talking to people. I talk to people at the bank or the grocery store. If someone compliments me on my hair or a tattoo, I'll start talking to them."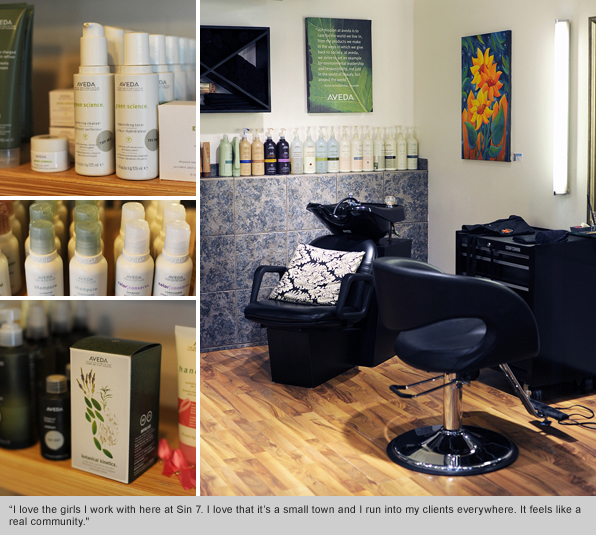 Once those strangers have been converted into clients, they soon understand that they're in the hands of a stylist who genuinely cares.
"I love the girls I work with here at Sin 7. I love that it's a small town and I run into my clients everywhere. It feels like a real community. But my favourite part of this job is the reaction clients give me. That's why I enjoy hair. I could do the same cut on a mannequin and be bored. It's not like I want to make this beautiful piece of hair art. I know people like that and that's fine. But my favourite part is making people feel amazing. That's why I really like working in a salon. I like being around people, hearing their stories and connecting with them. My absolute favourite is when someone comes in with a really crappy haircut and I get to fix it. That happens too many times.
"I've had a couple of elderly people come in from retirement homes. Just because they're older why do people give them crappy hairdos? Why shouldn't she look like a babe, even if she's 90? They're the smartest and the wisest clients. And they care the least!"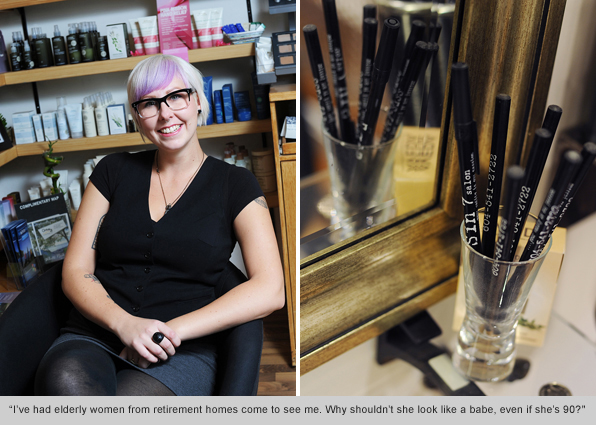 Brooke Peppler has made White Rock and Sin 7 her home for the foreseeable future. It's where she loves living and working, even though she knows that as a young, talented hair stylist, there are oceans of opportunities waiting for her as soon as she starts looking.
"I have so many plans," she smiles. "The world is your oyster when you're a hair stylist. It's exciting. I never wanted to work in a salon when I was at Hair School, but now I love it! I still want to find the time to volunteer doing hair at homeless shelters or a retirement communities, and to work in the movies.
"If you're thinking about going into hair be prepared to work hard. It's physically tough and busy. But we need more great hairstylists in the world!"