Hair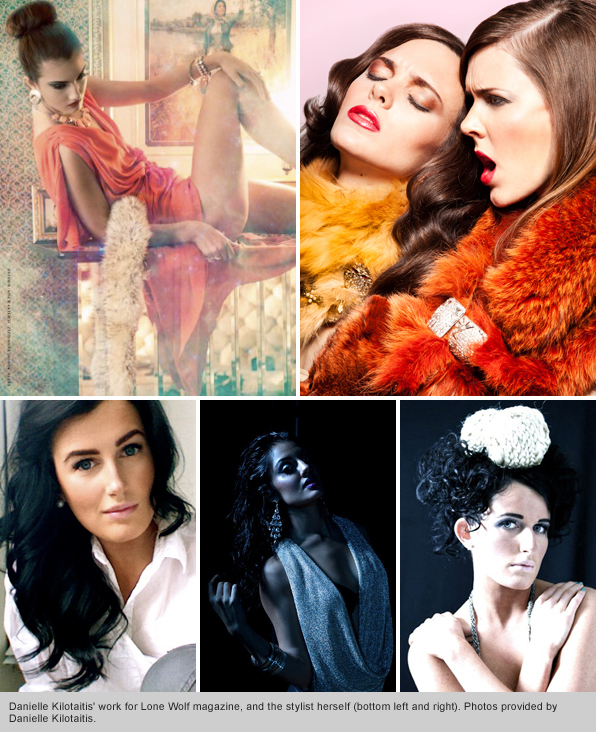 "I remember the first time I was in Toronto," recalls Danielle Kilotaitis. "I walked up to the front of the MTV studios and said to my sister, 'One day I'll do the hair here.' She just laughed, but I knew this was where I needed to be."
For Blanche Macdonald Pro Hair graduate Danielle, Toronto is now her home and MTV is a regular part of her life. So is a job as a stylist the high-end Salon Dew in Toronto's upscale Yorkville District and an editorial role with fashion magazine Lone Wolf. Less than two years after graduating Vancouver's best Hair School, she's carved multiple niches for herself in the beating heart of Canada's fashion industry. She's come a long way since she left her hometown of Cochrane, Alberta.

"My mum was a wedding designer, so I picked up her passion for fashion," she explains. "I was always surrounded by fashion and getting inspired by all the possibilities. When I was a little girl I'd change my hair five times a day. I'd get out of doing the dishes by saying I needed to go to the bathroom, and my mum would find me in there doing my hair or painting my nails.
"My first job in high school was a receptionist at a hair salon. I liked the atmosphere and watching what was going on. And I always carried a Vogue around with me. I've always been obsessed with editorials and couture and the way the hair looked. When I read an article about a hair stylist working backstage at fashion shows and travelling the world it totally dawned on me that I could do both careers at once."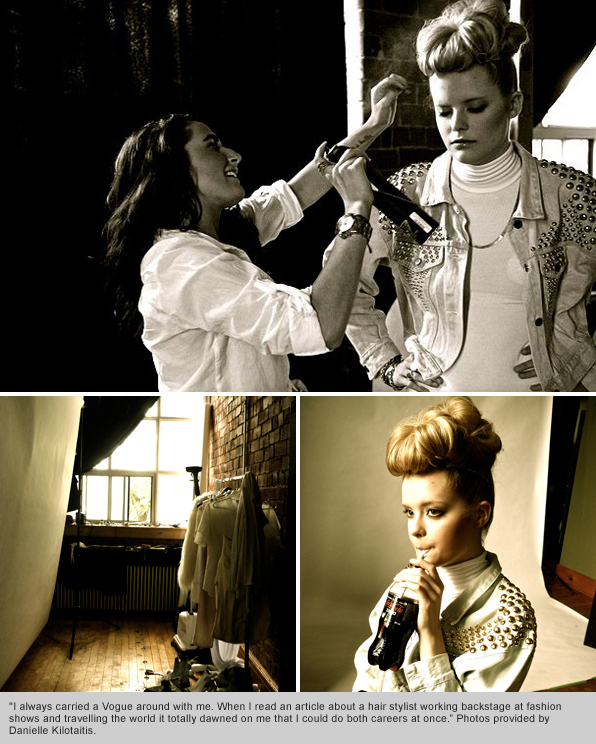 Danielle had made the connection between Hair and Fashion. Her next step was finding a hair school with close links to a fashion school. With both departments on the same campus, Blanche Macdonald was an obvious choice.
"I wanted a hair school that could point me in the right direction," she continues, "a school that had a focus on editorial styling and could introduce me to working with a photographer or on a film set. I wanted to learn the professionalism and the etiquette. Blanche Macdonald pushed me in areas I thought I wouldn't like but I ended up liking. I thought I was the type of hair stylist who likes pretty things; Parisian chic and the glamour. Blanche Macdonald helped me with the fantasy aspect and the edginess. They kept me inspired and showed me what I was capable of in those avenues. That gave me the confidence to go into a shoot and do something different.

"I was doing shoots for the fashion students at Blanche. I was so amazed at what was coming out of the fashion program, I wondered if I should have done that instead of hair. When it came to my own shoots, I was able to map out the hair and wardrobe look exactly how I envisioned. That's when I knew I'd definitely made the right decision to come to Blanche."
Hair School had inspired Danielle's creativity and introduced her to professional grade photo shoots. It also provided the key to Vancouver fashion's backstage areas with an introduction to Avant Garde Salon and its owner, Jon Paul Holt.
"When it came to the internship part of the Program, I'd already asked which salons in Vancouver focused on fashion. People were always talking about Jon Paul and I felt like he was going to help me get to the people I wanted to get to. I went to [Program Director] Phil Loiselle and said Avant Garde was my number one choice. I actually went down to Avant Garde and introduced myself and let Jon Paul know I'd put in my name in for consideration. Later that week I heard I'd got the position.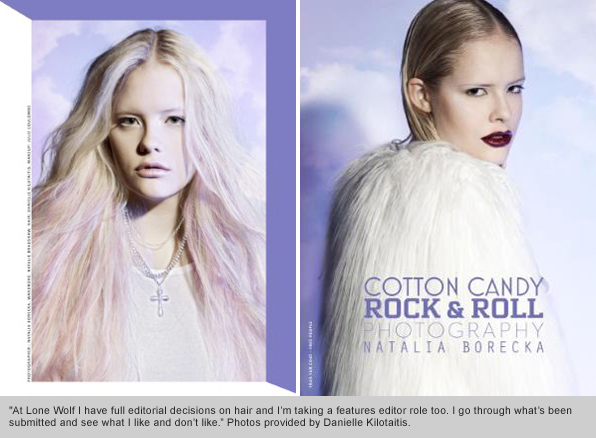 "Jon Paul is an amazing person. He lit a fire under my butt. A minute after I arrived I was running coffee errands, but he inspired me and was my guide with honing my skills. Doing fashion shows with him was awesome. For the first couple of shows I was his lead assistant but as time went on he gave me more responsibility. At the Pamela Anderson Fashion Show I remember running around backstage with my hands covered in hair spray trying to do a million things at once. It was the coolest thing ever. Jon Paul offered me a job while I was still at school."
It was a great offer, but one Danielle felt she had to refuse. The lure of Canada's fashion metropolis was too tempting to resist.
"I was dreaming of moving to Toronto while I was still at Hair School. I knew the fashion industry is bigger than it is as Vancouver. And it's only a hop, skip and jump to New York."

Showing the audacious initiative that had always been her hallmark, Danielle Googled Toronto salons, decided that Jie Privé was the best in town, and called to introduce herself. Four days after graduation, Jie took time away from his work on European and New York runaways to personally call her cellphone. Danielle was on her way to Ontario.
It turned out that Jie wasn't the perfect match for Danielle. That was ok. She was in the heart of Toronto and she was making connections.
"I facebooked the makeup artist for MTV, Lucky B, initially to ask about what salons she liked. She wrote me back, and I explained that if she ever needed an assistant or hair help, I would love to do it. I forwarded her my portfolio and one day she called. She said she had a shoot that week with the photographer Christopher Wadsworth for Harpers Bazaar Asia. They didn't have a hair person so she wanted me to do it. I have never jumped so high in my entire life.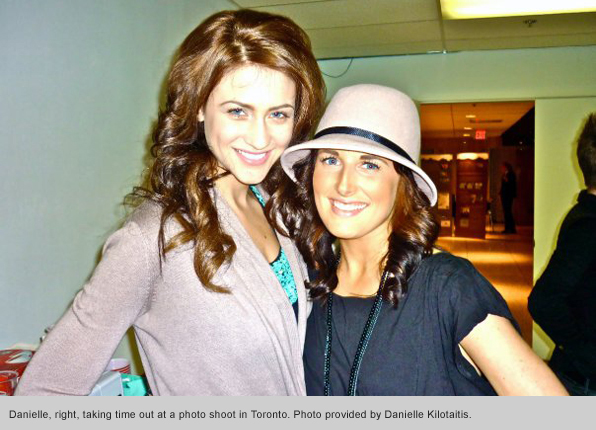 "The shoot was with a singer, Krystal Garib. We did her hair and makeup at the MTV studios then took a car to Christopher's loft, which was where we shot. It was the most surreal day. We had champagne at the end of the shoot. And the feedback I got was amazing. I got home that night and could not stop crying. I was so excited. The universe had given me what I was looking for and shown me I could do it.

"After working on that shoot I got a call from an editor at MTV. She'd seen my blog and offered me a position at MTV Fora writing about hair and makeup trends!"

At the same time as her freelance career was exploding, Danielle landed another great gig, filling a role at Salon Dew that wasn't even supposed to be there.
"One of my aunt's co-workers worked at Salon Dew. She made that connection and got me the interview. They were only looking for a salon assistant. They said there wasn't room for a junior stylist. I needed the job so I took it. I busted my butt and that turned into a promotion pretty quickly. We have high-end clientele here, some big names in this city, but it's not a super chichi environment. Everyone here is really well rounded and genuine."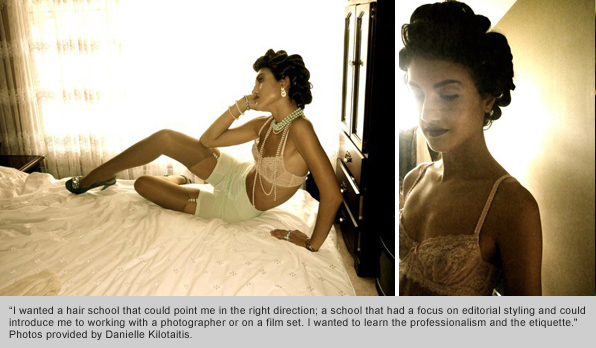 Since Danielle's arrival in Toronto, she's provided the hair on numerous A-grade editorial shoots, landed a regular blogging role at MTV Fora and secured herself a job at one of the city's best salons. As if that wasn't enough, she's also landed an editorial position of her own.

"Lone Wolf is an edgy fashion magazine for 20-35 year old women in Toronto who are trying to take the city by storm like we are. The lead editor, Natalia Borecka, is a photographer who does amazing work. I don't even know how she found me. She asked me if I was available for a shoot, we established a relationship and we've been working together for the past eight months. I have full editorial decisions on hair and I'm taking a features editor role too. I go through what's been submitted and see what I like and don't like."

The girl from Cochrane is already at the forefront of Toronto fashion. The crazy thing is, this is only the beginning.

"I can see myself focusing more on fashion as time goes by," she smiles. "I know it's not crazy to live your dream."