Hair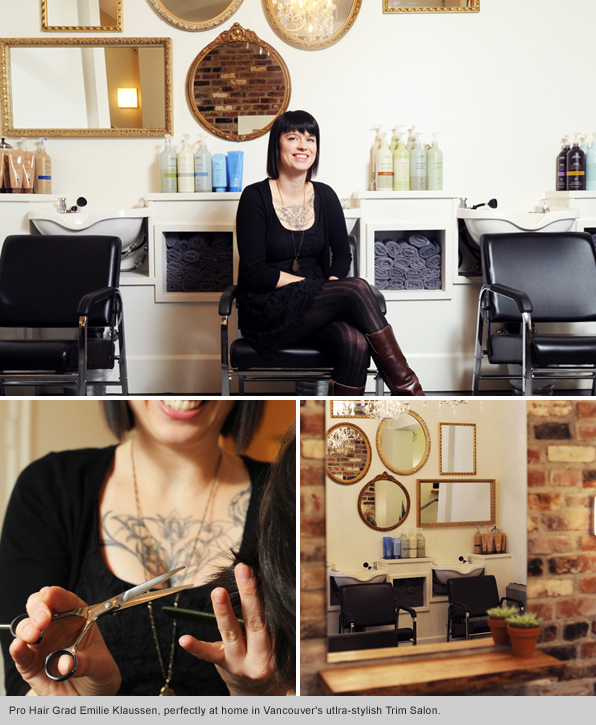 "First and foremost we're looking for genuinely nice people," explains Trim Hair Salon's Owner Sarah Stach. "And people who love to do hair, of course. Emilie has such a warm personality. Right away I wanted to spend time with her. That's a huge part of why we wanted to hire her."
Trim is a leading candidate for the title of Vancouver's most welcoming hair salon; a spectacular space where clients can drop in for a tea and a chat even when they don't have appointment. Blanche Macdonald Pro Hair graduate Emilie Klaussen is a perfect fit for Trim's friendliness first ethos with her laid-back demeanour, a terrific sense of style and an unwavering enthusiasm for the art of hair. Before she came to work there, Emilie was the salon's biggest fan. Now she's a key member of the team.
"I checked out the salon a couple of times before I actually came in and met everyone," she admits. "I'd come in pretending to be a customer, checking out the products and staff. I didn't realise that Sarah was the owner. She had cut my hair in Kitsilano a year beforehand and had encouraged me to do further training and keep growing my career."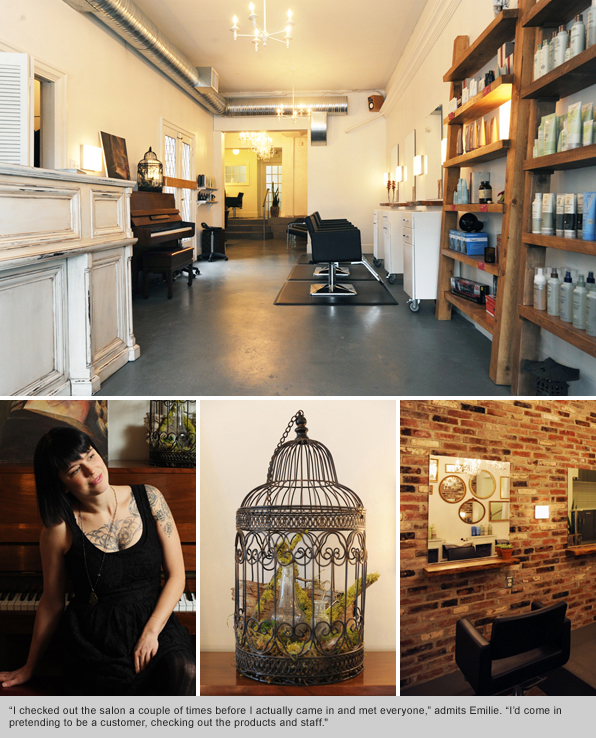 "I had no idea she had her eye on us," laughs Sarah. "When she came in to drop off her résumé I thought she looked familiar, but I didn't know where I knew her from until we sat down for a cup of coffee. We were looking for people we'd want in our family of stylists, so why not hire people who are well trained, talented and you'd want to know on a personal level? If I'm not available for a cut I can refer any of my clients to see anyone else in the salon and I know they'll have that same great experience. They're going to be happy, not just with their hair, but with the hour they spend in the chair."
Sarah's confidence in Emilie is well placed. Both stylists appreciate that there's more to working in a salon like Trim than cutting and colouring. At its core is a relationship with clients that goes far beyond technique.
"It's about giving people the opportunity to enjoy themselves and feel comfortable while they're here, having someone take care of them," explains Emilie. "Finding the right hairstyle is a compromise. How can I help clients create the look that's best for them but still lets them feel comfortable as themselves? Everyone has great features that a stylist can draw emphasis to."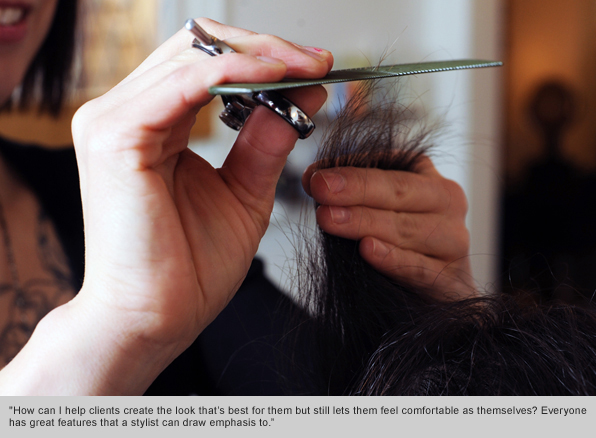 If it sounds like Emilie approaches hair like an artist, that's because that's exactly what she was doing before deciding to become a stylist. The Calgary native spent four years at art school getting her BFA in Painting, but even when she was looking at a career in fine art, she always enjoyed working with hair. She'd been experimenting with hair colour on herself since she was 13. She just never looked at the industry as a career. That all changed when she was 26 and took a working holiday in Australia and New Zealand.
"I don't know where it came from, but I just decided that I wanted a trade. I walked into every hair school I'd come across there, but I decided to come back to Canada, move to Vancouver and go Blanche Macdonald. I had a friend who'd gone there for Makeup and she gave me great reviews. I realised I didn't want to live in Calgary any more. I wanted more of a Metropolitan city, with more options, more diversity and a bit more polish."
Emilie arrived at Hair School with a smattering of self-taught experience and a willingness to absorb as much information as her instructors could give her.
"My year at Hair School was a good kind of a whirlwind. All the instructors were great. I appreciated Marcy Hodel's quirkiness and creativity. I really appreciated Renata Trebacz's persistent tactics. She taught me finger waves over and over again until I got it. That was amazing!"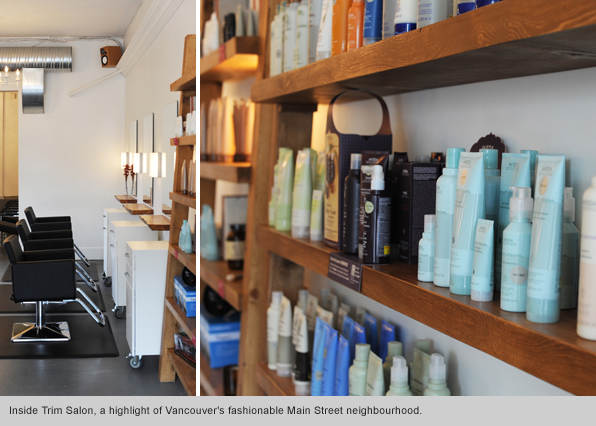 Emilie sampled life at a selection of Vancouver's most prestigious salons after graduation, including a spell apprenticing at Toni&Guy, before taking her first full time styling position at The Chop Shop on Commercial Drive, a laid back, fun salon in one of Vancouver's most bohemian neighbourhoods.
"Clients wanted hair that was edgy but still low maintenance," she continues. "The walk-ins for colour were amazing. You'd get asked for every colour of the rainbow."
Emilie learnt on the job, but her dedication to her chosen art form meant that she never stopped training.
"Like any craft or art form, you have to keep polishing it," she reckons. "You're raw when you come out of Hair School. When Sarah first cut my hair she encouraged me to take an advanced Vidal Sassoon five-day course. That was like hair boot camp. I re-assimilated some techniques to get some cleaner cutting and a little bit more precision and continuity in my work."
Emilie loved her time at The Chop Shop, but she was eager to reduce her commute time to live and work in the same neighbourhood. Trim fit the bill perfectly.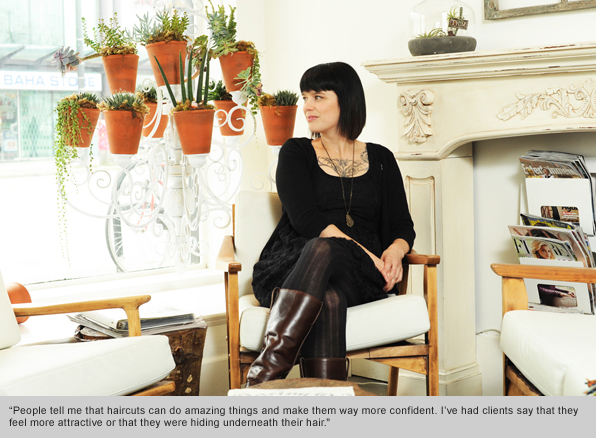 "Clients feel more loyal to you when they know you live in their neighbourhood," she explains. "I liked Trim because it was eccentric, but still clean and polished. I really wanted to live and work in the same community and grow my clientele."
Coming to Trim has worked out even better than Emilie anticipated. She's kept a majority of her regular clients from The Chop Shop and has added more since. Clients can sense that they're in good hands when they sit in Emilie's chair. Making every one of them look and feel the best they can is a responsibility she takes very seriously.
"You're helping people better themselves so that they can perform their jobs and feel comfortable in their own skin," she smiles. "People tell me that haircuts can do amazing things and make them way more confident. The majority of people can afford a haircut. It's not an elitist business. Everyone needs a haircut and should get a good haircut. I've had people say that they feel more attractive or that they were hiding underneath their hair. They feel a lot more confident and excited about the way they look and take better care of themselves because of that."