Hair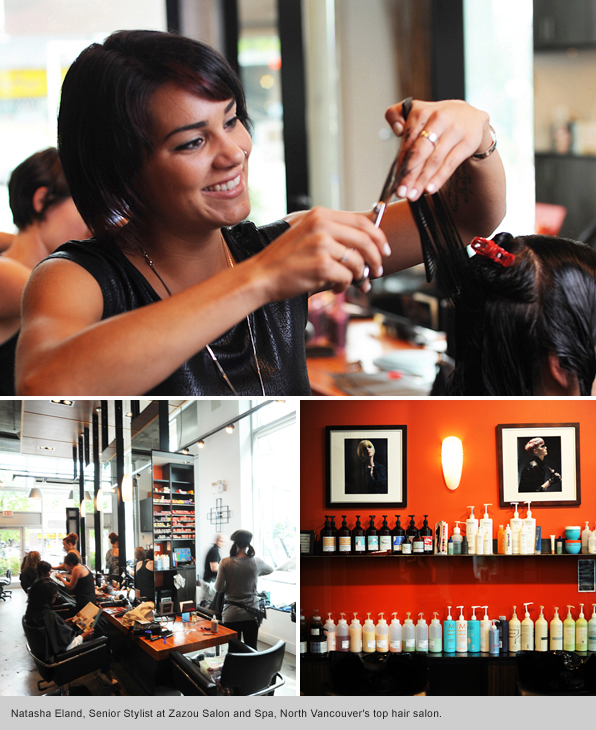 For Natasha Eland, Senior Stylist at North Vancouver's Zazou Salon and Spa, there's no debate about what she enjoys most about her job.
"The reason why I got into hair is that moment when I'm done when I can tell that the client is really excited and way more confident," she smiles. "They'll say something like, 'Well, I have to go out now. It looks amazing!' and I'll go, 'Yeah, you do and you should'. I love seeing them happy and having that extra confidence. People can sit down in my chair and an hour later they look totally different. They've been enhanced!"
Enhancing is what Natasha does best. Zazou has been repeatedly voted North Vancouver's best hair salon, and Natasha's commitment to the cutting edge of styling is a major reason why.
"I try to get my clients to switch it up all the time," she continues. "I've persuaded a lot of people to switch from the same cut they've had for years. I always ask if they want to try something new and then I'll suggest some ideas. I'm usually pretty good at changing their minds. We do have young people that get cool haircuts with shaved sides, but for most of our clients it's colour placement that we have fun with. Getting edgy but not too far out there. It's actually pretty fun to take a really cool idea and modify it a bit, toning it down to make it a more everyday look, or vice versa."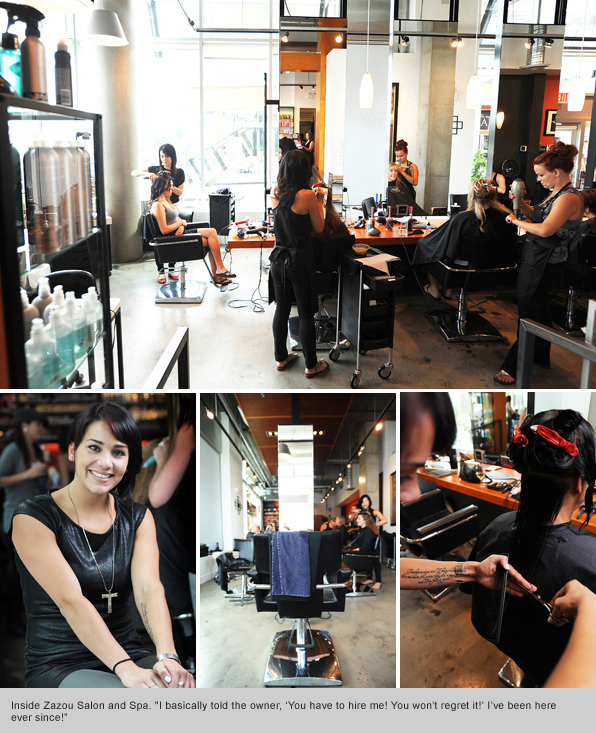 Natasha's bringing new styles and ideas to Lynn Valley on a daily basis. She was born and raised in North Vancouver, and was going to work on heads there for years before she realised she had a career at her fingertips.
"I always loved doing hair. I'd do all my girl and guy friends. It wasn't that much cutting, more flat ironing, up-dos and a lot of braiding when cornrows were in. I always liked doing it, but I never thought of it as a career. I got a job in the kitchen at the Cactus Club after high school and worked there for two and a half years. After that, I decided I definitely didn't want to be a chef any more. It was fun, but super stressful. I wanted to start going somewhere with a career and my mum said, 'Why don't you do hair? You always liked hair'. I thought that would be a good idea. And once I started, I really, really loved it."
Natasha had realised her vocation. The next step was choosing where to take her first step.
"Blanche Macdonald had a good name. I knew it was a well-recognised school and it had a good web site. I visited the campus and really liked it. And once I started Hair School I loved getting to play with hair all the time. When I was younger I'd sit in the chair and think, how do they know what to do? It looked complicated. It was cool to break it down and figure it out.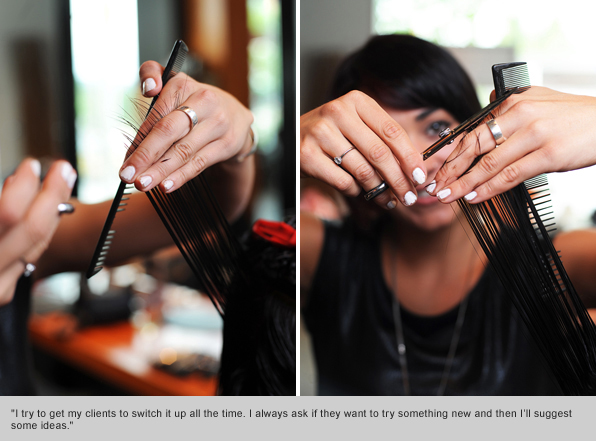 "All my teachers were really nice. And strict, which was important. Phil Loiselle was very strict on cleaning, which is definitely a good skill to have. It's really important how your salon looks and how organized you are so that you never look messy. You need to show clients they're in good hands."
The clients Natasha began seeing at Blanche Macdonald's school salon understood they were receiving professional standards of treatment and service. Even if Natasha herself wasn't 100% certain.
"I remember my first full head of foils," she laughs. "I'd gone out the night before I went to school and wasn't feeling my best. But I sucked it up and did them in good time. And the client loved it so I was pretty stoked on that. Sure, it was scary at first, but you get over it. And I like talking to people, so it was all good."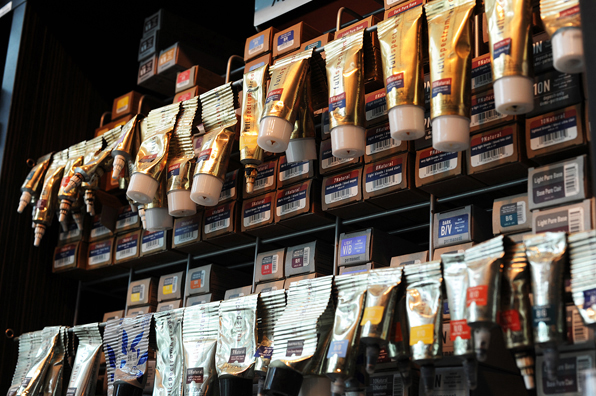 It was Blanche Macdonald that introduced Natasha to Zazou too, sparking a professional romance that shows no sign of fading four years into the relationship.
"We had four work placements to do, and Zazou was my third salon," continues Natasha. "I did my fourth there too, because I liked it so much. I was invited to a work party and basically told Bruce Peters, the owner, 'You have to hire me! You won't regret it!' That was before I even graduated. And I've been here ever since."
No one at Zazou has ever regretted Natasha's arrival. She's risen from Junior to Senior Stylist in the process of becoming one of Zazou's busiest employees, growing her clientele through her reputation and a hefty dose of instant charm.
"At first I brought in a lot of friends and family and grew my clientele through word of mouth, going out and throwing my business card at people. When you meet people and tell them you're a hair stylist, they always say, 'What would you do to my hair?' Answering that's easy for me. I usually look at people's hair and have an idea anyway. I'll go out with a friend from Zazou and we'll just sit and analyse what we'd do to people's hair. How could I make that person look their best? I don't normally walk up to people and say 'I can make you look better'. But I have done it."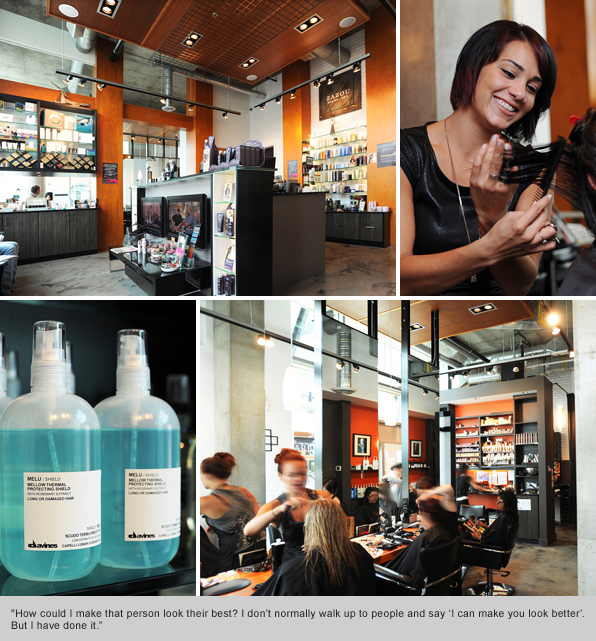 There are few things more satisfying for a young hair stylist than a perpetually occupied chair. But there's more to being a great hair professional than the twin arts of cuts and colour. Natasha has earned the trust of her clients, which helped her win Zazou's in-house prize for the best product sales last year. Part of that prize was a five-day trip to Las Vegas for the North American Hairstyling Awards, the NAHAs, where Zazou was named as one of North America's top five salons for business excellence. It's an incredible perk of the job. Especially when you consider that this year's prize is even more exciting: a trip to Paris.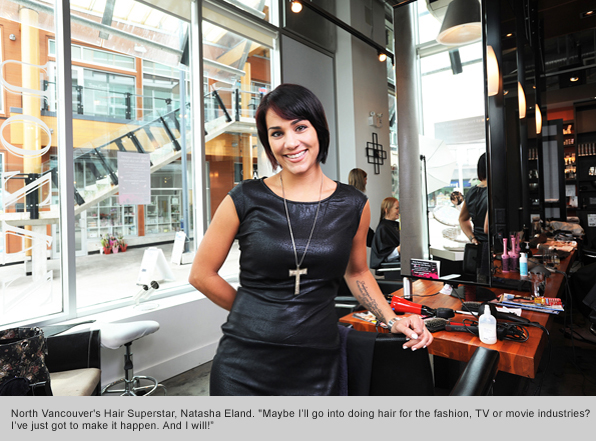 Natasha's staying at Zazou for the foreseeable future, but that doesn't mean she's not seeking out opportunities at the same time. She has the skills and the aptitude to take her hair career anywhere she likes. Next stop Hollywood?
"Going to Vegas was super-inspiring," she insists. "I just did some extensions for a guy who was in the sequel to Grave Encounters. I watched the first one and that was pretty creepy. Maybe I'll go into doing hair for the fashion, TV or movie industries? I've just got to make it happen. And I will!"