Hair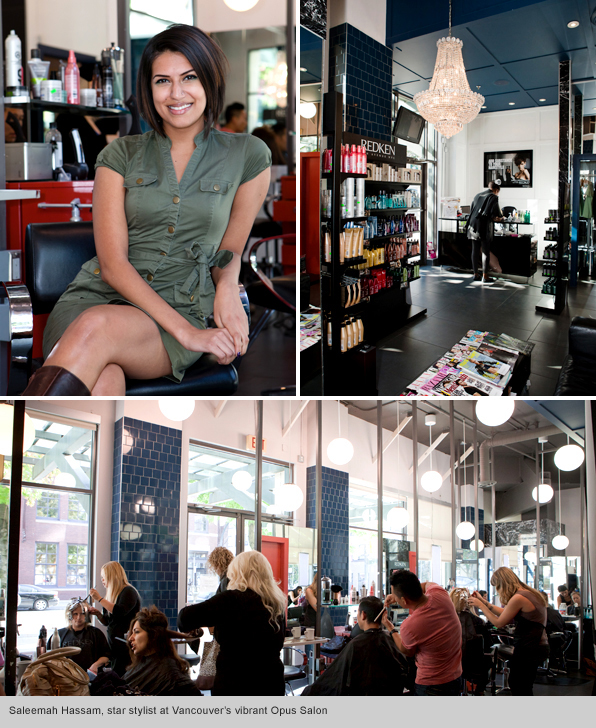 Saleemah Hassam is, first and foremost, an artist. It's Vancouver's good fortune that the medium she's chosen to work with is hair.
"I was looking for a career in art that I knew I could be really successful in," she explains. "That's why I chose hair.
"I guess I was always curious about it. When I was little I once put rollers in my sister's hair while she was asleep and she woke up with a tangled mess. I suffered through a few do-it-yourself bang trims. The worst was when I bought some bleach from a drugstore and put it in my hair. I kid you not, my hair looked like it was on fire."
The days of Saleemah's failed hair experiments are long over. The Blanche Macdonald Pro Hair graduate is now a stylist at Opus, one of Vancouver's most fashion-forward salons in the city's always-cool Yaletown district. Owned and run by Parisian couple Jessica and Ludo Jan, they've imported their European training and attitude to the Canadian West Coast. That suits Saleemah just fine.
"One thing I love about Opus is that Ludo and Jessica take care of their staff. We still all go to classes. It's so important to know new looks, trends and what's in style. Ludo makes sure we're up to date with cutting and colouring techniques. Another thing that makes this salon really great is the people working here. There's no drama, which is so pleasant. I'm always busting out dancing in the back room with [fellow Blanche Macdonald grad] Richard. It's no big deal."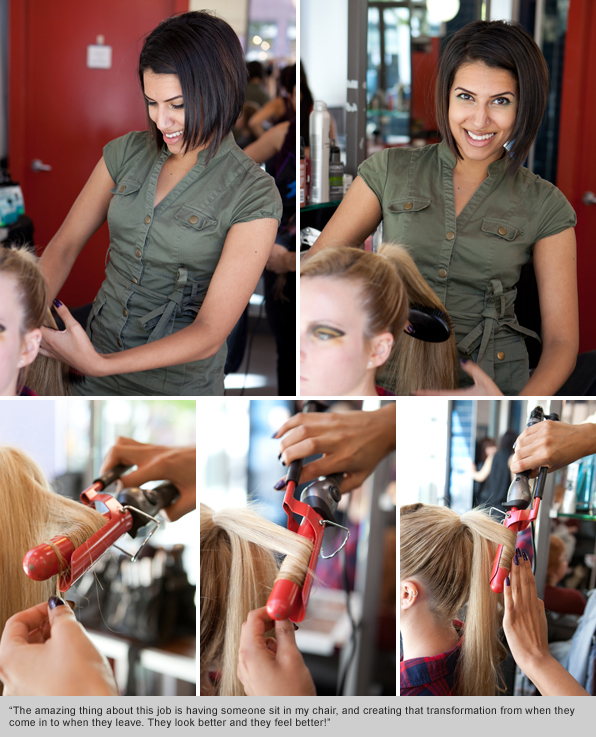 Opus is where art meets education, with the end results seen on delighted clients across Vancouver. It's the perfect home for Saleemah, who decided to change direction and enter the hair business after completing her prerequisite studies for a career in nursing.
"I'd already applied for the nursing course, but around that time my grandma got really sick. Just being in the hospital a lot of the time made me realise I couldn't work there myself. I wanted to go into the arts. That's when I went into hair."
Once that decision had been made, Saleemah started researching her options. As soon as she visited Blanche Macdonald, the search for the perfect Hair School was over.
"I made an appointment at Blanche Macdonald and learned what it's all about. The Admissions Director explained the course to me – from the basics to how we'd learn about the business. It seemed really well rounded. That's when I decided that Blanche Macdonald was where I wanted to go."
That first impression proved accurate, as Saleemah the student turned her curiosity into genuine passion.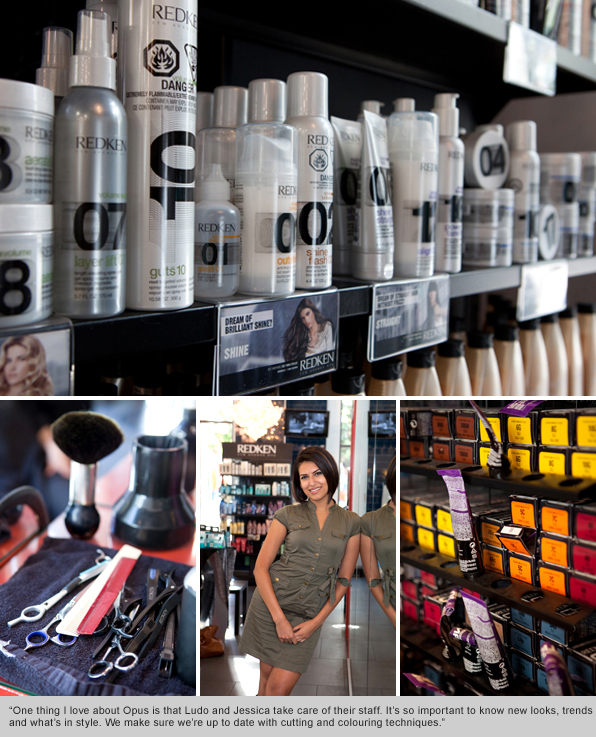 "It was honestly a very fun year. Jeff Ranger was my teacher for Level One and he was awesome, even though the first time I picked up scissors I was so nervous. My very first time working on an actual human was a woman's cut. That was ok because you're not cutting so close to the head. When I did my first men's cut my hands were shaking. But it ended up really good. He really liked it!
"Doing runway photos and avant garde styles was a really fun part of the course. That was the level where we got to learn all the really cool stuff about hair. We'd look through hair magazines at all the amazing styles and the instructors would explain everything. When I was in the Design Form course with Danny I learned advanced cutting. I was able to really understand it. After that I could look at any cut and say, I know how that's done."
As Saleemah's skills developed and grew, so did her creative capabilities.
"The more I got into the course, the more I was able to be artistic. You need to learn the basics first. Then they give you that freedom when you're on the floor in the student salon. I'd do the consultation with the client, then explain to the client and the teacher what I was thinking of doing. You imagine what you want it to look like and then you build it.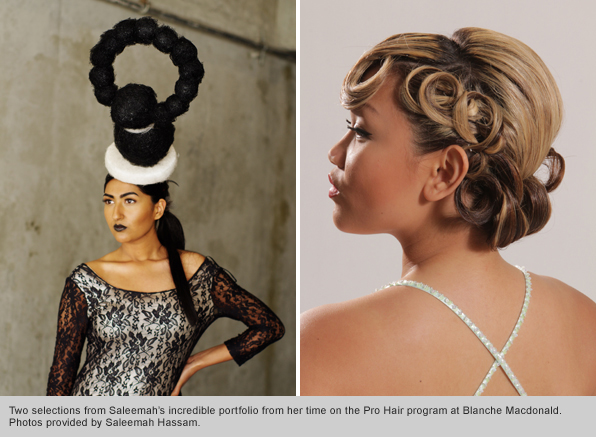 "At Vancouver Fashion Week there was a hair competition with the theme of 'Old Hollywood Glam'. One of my classmates, Amber Pawluk, and I entered. We worked on models together and made the final. When we got to Vancouver Fashion Week there was a text-in vote and we ended up coming second!"
Blanche Macdonald was also where Saleemah first learned about the career that awaited her at Opus.
"I loved [Program Director] Phil Loiselle," she smiles. "I'd always drop in for a chat. One day I went to Phil's office and asked him about places suitable for me, based on my personality. My dream salon was something in Yaletown, with no drama and a good clientele. Opus was one of the salons he suggested.
"I ended up walking into Opus without an appointment or a résumé, and the receptionist told me that tomorrow they were conducting interviews. I emailed them my résumé and made it through to a second interview where I had to bring in a female model for a blow dry and a guy for a men's cut. It was intimidating because Ludo went through every inch of that cut checking every little thing. I got the job, which was awesome!"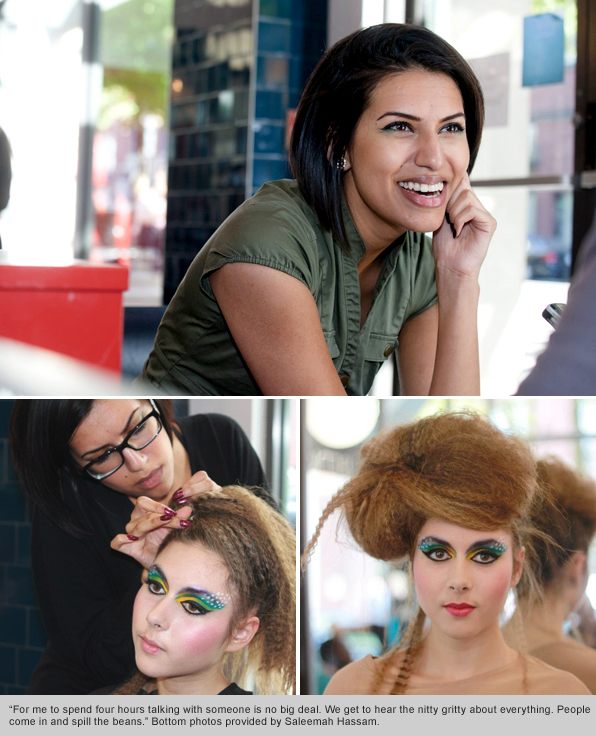 That search for a "dream salon" has become a daily reality for a stylist who has cemented her place at Opus with a combination of skill, artistry, hard work and limitless enthusiasm.
"For me, cutting off a bunch of hair is great. Probably my favourite thing is the cut that's really funky where I get to go a little crazy. That's always fun, for sure. Another favourite is when someone comes in with a bad colour correction and their hair looks a mess. You have to break down the hair and really get technical with it. You need to remember all the information you've learned over the years and apply it. What products did they use on their hair beforehand? If their hair is really long you might have to go back three or four years. You get to break it all down, figure out what they want and then build your formulas. They don't see the colour until it's fully blow-dried. When they see those curls and waves and you push that hair forward, they can finally see the colour and they're so pleased. That's always a good feeling."
No one gets on the floor at a salon like Opus without a combination of skills and artistry. But there's a third factor that's helping Saleemah become one of Vancouver's rising hair stars. That's professionalism.
"We were definitely taught that at Hair School," she continues. "You have to make it a pleasant experience for clients. That's how you build a clientele. If they like you, they're going to come back to you. Even if you do a good job, if they don't like you, there's a fair chance they won't come back to you. When you know what you're doing it's easy to focus on your client and chat with them. You definitely build a relationship. For me to spend four hours talking with someone is no big deal. We get to hear the nitty gritty about everything. People come in and spill the beans.
"The amazing thing about this job is having someone sit in my chair, and creating that transformation from when they come in to when they leave. They look better and they feel better!"