Hair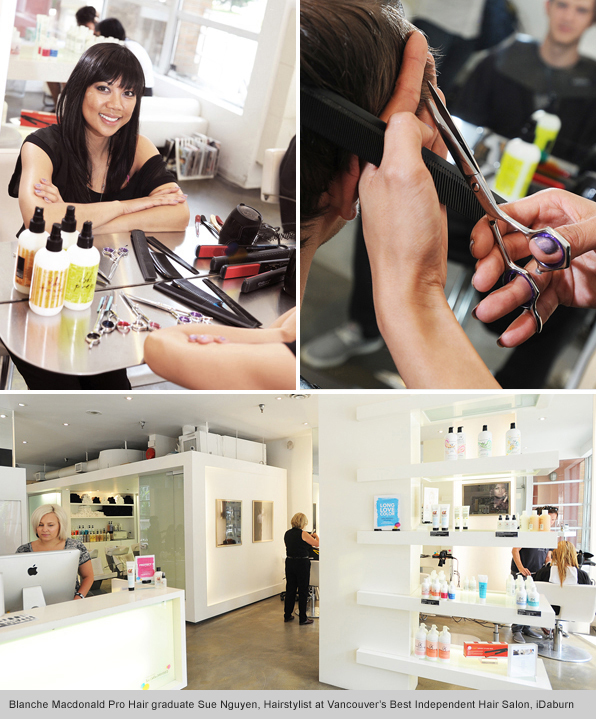 iDaburn Salon in Vancouver's fashionable Yaletown district is the brainchild of Ian Daburn. Born, raised and trained in London, England, where he was part of the Creative and Education Team at Toni&Guy, Ian has gone from strength to strength since moving to Vancouver. He's hair royalty in this City, and people know about it. It's no coincidence that readers of The Georgia Straight have named iDaburn Vancouver's Best Independent Hair Salon for the past two years.
Naturally, Ian demands and expects the very highest standards of artistry and professionalism from his team. Which is why Blanche Macdonald Pro Hair grad Sue Nguyen fits in perfectly.
"Ian selects people that he thinks will gel with his and everyone else's personalities," explains Sue. "There are no egos here. It's all about learning and giving back. We're all here to help and be there for each other. It's very team orientated. Everyone welcomes input from everyone else. It's not about being competitive. If one of our clients walk in and their usual stylist is busy, we'll recommend someone who is free. It's all about coming together and making sure the client leaves happy.
"This is one of Vancouver's best salons and I'm working with people who are really good at what they do. With Ian his ideas and the ways he accomplishes them are incredible. He's creative with everything; whether it's hair, photo shoots or his own web site. I'm learning from talented people with a passion for hair. And I'm feeding off that!"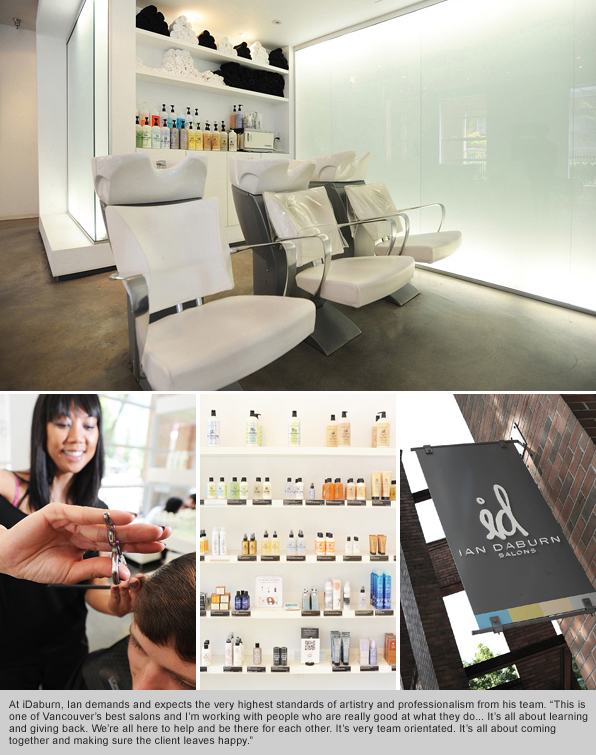 Sue didn't always realise that she had that passion within her. She'd enjoyed experimenting with her own hair while growing up in Victoria. She just didn't think it was the career for her.
"Hair is a safety net for people. When you do something wrong people can cry! I cut my cousin's hair when we were about 12, which put me off the idea for many years. I kept cutting it unevenly, and every time I tried to even it out it went shorter and shorter. Eventually it was at her ears, which was when I thought, this isn't for me. But I'd always coloured my own hair. I liked wigs and extensions. I had bleached blonde hair before any other Asians I knew! When I came to Vancouver I realised everyone had blonde hair."
Understandably nervous about reducing more family members to tears, Sue nurtured her love for fashion instead. It seemed a natural move to make the short journey from Victoria to Vancouver, enrolling in the Fashion Merchandising Program at Blanche Macdonald.
"I was always interested in fashion and design. I figured I'd have a career in fashion. I wanted to get into wholesaling, possibly opening up my own store or line."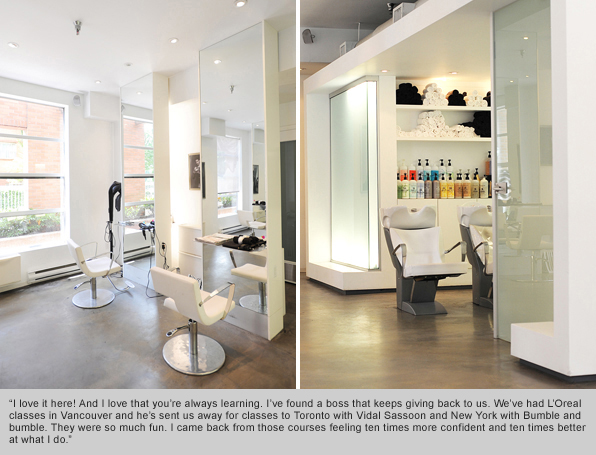 Fashion was the plan, until a chance encounter with a group of Pro Hair students at Blanche Macdonald opened up a whole new world of ideas.
"I suddenly realised hair was so creative. I could bring out my social, active and artistic sides but still make money, and possibly even be my own boss. There were so many avenues career wise. And these students looked so happy! I'd heard the program was really good. I loved the campus. And, of course, Blanche Macdonald has the best reputation. I thought I'd try the program and fell in love with it!"
Right from the start, Sue knew she'd made the right decision.
"Phil Loiselle and all the teachers were amazing! I was excited by the creativity that we needed. Creating a look is instant gratification. It helped that I'd taken the Fashion Merchandising Program, because I had learned about all the historic stages of fashion and could refer to that when I was searching for ideas. I was always striving to do the best I could and get the best marks. We were cutting, then colouring, then perming, then going onto Hair for TV and Film. For me, doing something different every week was the most enjoyable thing about Hair School. It was only when we were learning about the business side of the industry that I started wondering about my next step and where to take my career."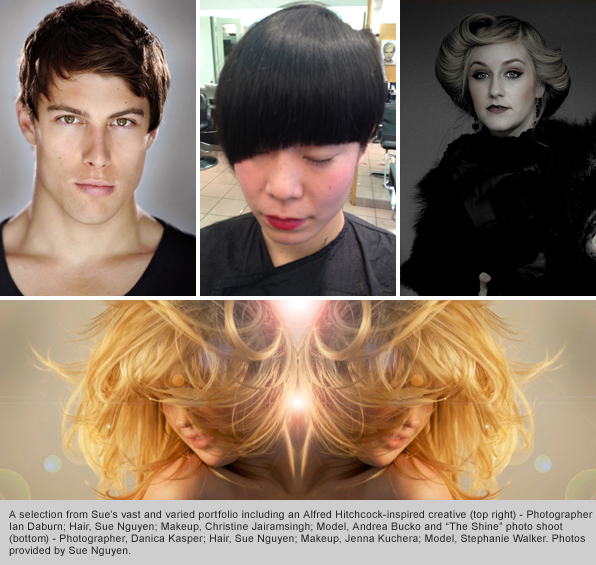 Blanche Macdonald had installed a passion for learning within Sue. And having chosen an industry where the learning never stops – after all, hairstyles never stop evolving – she wanted to continue her education while moving her career forward.
"I had a great foundation from Blanche but I wanted to continue learning. My instructor at Hair School, Lisa Callender, has a friend, Cameron Sterling, who specialises in colour. I wanted to learn more so I assisted for him after I graduated. He would teach me his colour knowledge and in return I would wash and blow-dry his clients. Cameron told me to apply to iDaburn. Ian could tell I had the initiative and the will to succeed. I knew it wouldn't be easy. You're learning all the time and need to retain a lot of information."
At such a prestigious salon it was only natural that Sue began by assisting Ian and the other stylists on the floor and behind the scenes, developing a deeper understanding of the high-end hair business. On top of her work responsibilities she would bring in at least two models every week, learning advanced cutting and colouring techniques from one of the best Hair Teams in Vancouver.
She's a key member of that team now, but that doesn't mean that she's stopped her hair education. If anything, she's hungrier for information than ever before.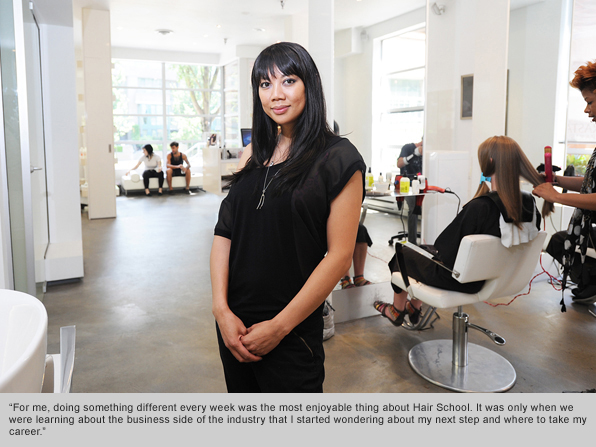 "I love it here! And I love that you're always learning. I've found a boss that keeps giving back to us. We've had L'Oreal classes in Vancouver and he's sent us away for classes to Toronto with Vidal Sassoon and New York with Bumble and bumble. They were so much fun. I met stylists from all over the States and Canada and came back from those courses feeling ten times more confident and ten times better at what I do. And we still have classes here every week. A lot of models for classes get their hair done for free, then become clients after that. They come because they trust me."
One small but delightful irony of Sue's career is that, after finally choosing Hair over Fashion, she's landed in a position where she's able to regularly do both. Fashion shoots and shows are a regular part of the iDaburn Team's schedule.
"I started volunteering for shows when I was still at Hair School," smiles Sue. "As many as I could do really. Since I came to iDaburn we've done the Obakki show, Cirque du Strange and a couple of events at Vancouver Fashion Week. I do enjoy it. It's a lot of stress but you get to meet a lot of stylists, and you're learning to do different things in a crazy environment. I like the pressure. In any salon you're mainly cutting and colouring. But a fashion show is all styling, which is something that I really love doing. It's instant gratification without having to cut or colour it. When we're doing photo shoots here we come up with a concept, we find models and get creative. Shoots are for the team to work on things together. They promote us as stylists, showing people what we can do."
People know what Sue and iDaburn do, and they love it. That moment when she knows she's made someone's week (and life) that much better is still her favourite part of the job.
"Some people don't give you a big reaction when you've finished cutting their hair but you know they're happy when they keep coming back. The satisfying thing is seeing them scheduled in the appointment book again. That's how you know they really liked what you did.
"It's weird but nice when someone you don't know gives you a big hug because you've just coloured their daughter's hair."