Hair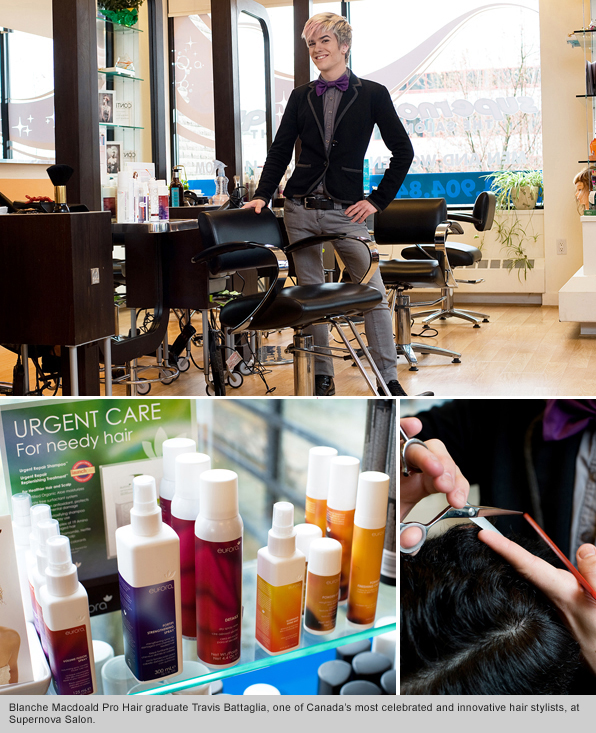 Wetaskiwin, Alberta, a small city of about 10,000 people, is currently best known for being home to Canada's Aviation Hall of Fame and a handful of NHL hockey players. But it probably won't be long until Wetaskiwin is far more famous for being the starting point in the career of one of Canada's most celebrated and innovative hair stylists. Blanche Macdonald Pro Hair grad Travis Battaglia has barely entered his twenties, and he already has over 300 fashion shows and shoots under his belt.
"It was interesting growing up in Wetaskiwin, Alberta," he laughs. "I guess whatever doesn't kill you makes you stronger.
"I started thinking about hair when I was in high school. We had an awesome program offered there with an amazing instructor, so I'd received some post-secondary hair education by the time I was 14. I enjoyed hair back then, but until I started to see the realms of hair – professional shows, getting to know Platform Artists, and the true art of it, I wasn't really thinking about it as a career. There were so many different fields I wanted to go into. I was thinking about biogenetic engineering and psychology, and I love bringing that academic approach to hair! I can look at it mathematically. I can look at degrees and how I'm going to distribute the weight. I can look at it architecturally – taking inspiration from great architecture. You can take colour schematics from plants or tie-dye. It's a true art form. You can mould and style the hair to take it to a whole new level."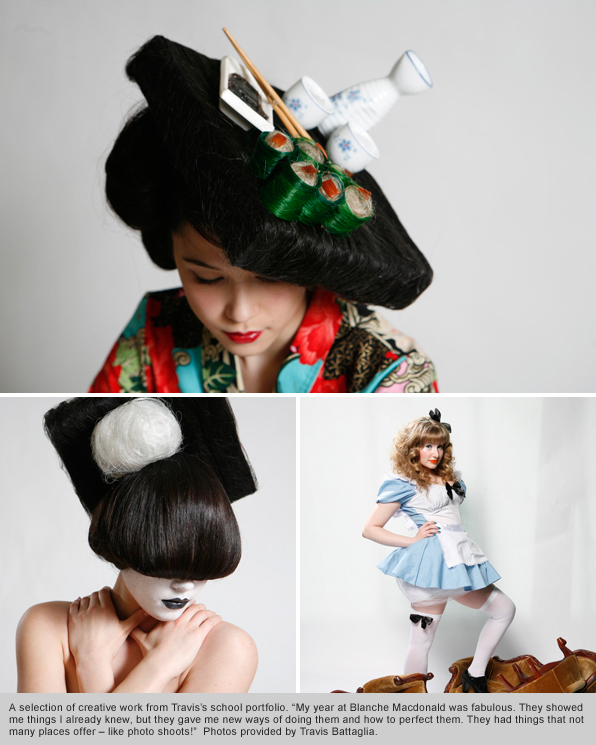 Admittedly, Travis had a head start on his styling career before he made the journey west to Vancouver and Canada's best Hair School. He was assisting at Allied Beauty Association (ABA) shows in Alberta when he was just 15. Still, when the time came to get some professional training, it was a simple decision.
"Vancouver is a lot more accepting and open than Alberta. There are a lot more fashion and opportunities. My ultimate goal is to work for a company like Wella or Sebastian as a Platform Artist. And there are a lot more people out here who can help me achieve that. Blanche Macdonald is the top Makeup and Hair School in Canada. I'd already had great training and learnt the fundamentals, but I knew I could always pick up more.
"My year at Blanche Macdonald was fabulous. They showed me things I already knew, but they gave me new ways of doing them and how to perfect them. They had things that not many places offer – like photo shoots! And they have such an amazing team there. I've been graduated for nearly two years now, and I still go back a couple of times a month to see my old instructors. I've built great relationships with all of them. They're always willing to help out with anything I need. They've set me up with shows, and that really helped me start out in Vancouver. When you're a student at Blanche Macdonald you have the benefit of their name too. That name gets you out there and gets you shows. Although you still need to volunteer every moment that you have."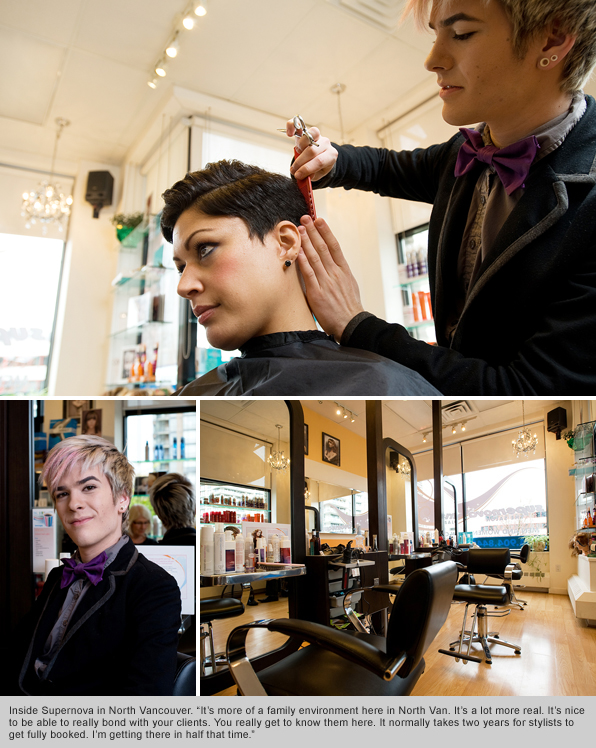 For Travis, volunteering every moment wasn't an exaggeration. He lost count of how many fashion shows he contributed to while still at Hair School. His guess is between 50 and 80. He's kept up that pace since graduation, averaging two or three shows or shoots a week. Back then he was often assisting. Now he's normally the key hair stylist.
"When you first start doing shows there's an adrenaline rush. Initially I was always nervous and excited, but it eventually became normal. Coming from a town with 10,000 people, I never thought I'd ever be doing this in my life. But it's happened and it's definitely everything I thought it would be. Living the dream? Yeah!
"I had the opportunity to work with the teams for Black Eyed Peas and Lady Gaga for their after show parties. During the Olympics Pamela Anderson presented a fashion show and I got to do the hair for her entire team."
For Travis, the excitement of being a fashion show hair stylist goes far beyond the thrill of soaking up the backstage atmosphere. Every show is a chance for him to express his creativity, push the boundaries and inspire a new generation of hair stylists.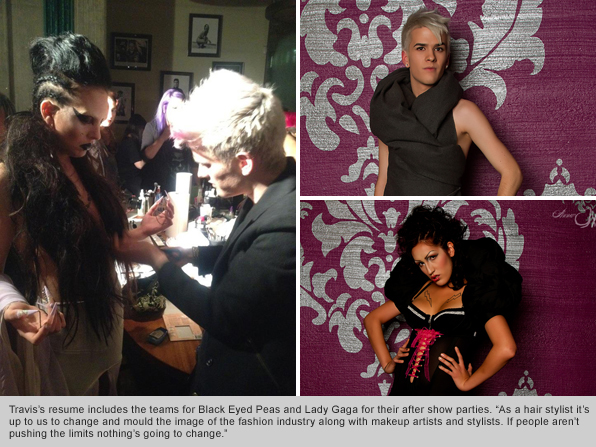 "Now I'm keying the majority of shows I'm doing," he explains, "I bring organisation, confidence and comfort. Lots of the time it's Blanche Macdonald students working with me. I remember what I felt like when I first did shows – it's not like it was that long ago.
"As a hair stylist it's up to us to change and mould the image of the fashion industry along with makeup artists and stylists. If people aren't pushing the limits nothing's going to change. It's my way of putting in my two cents to grow and help create a better fashion scene in Vancouver. People are more mainstream here then they are in Toronto, but as I've built my rep up I've been given a lot more creative freedom. Designers and show organisers usually say, this is our mood and our look, what are you thinking of for hair? I get a lot of freedom."
Away from the fashion fast lane, Travis was able to sample many of Vancouver's salons through Blanche Macdonald's work experience program, including a stint at Yaletown's famous Avant Garde salon and its owner, Jon Paul Holt.
"I volunteered at a fashion show for him and we ended up bonding. It was great assisting him while I was still in Hair School. He saw my potential and wanted to take me under his wing and help my talent blossom. To this day he still invites me to do shoots and shows with him."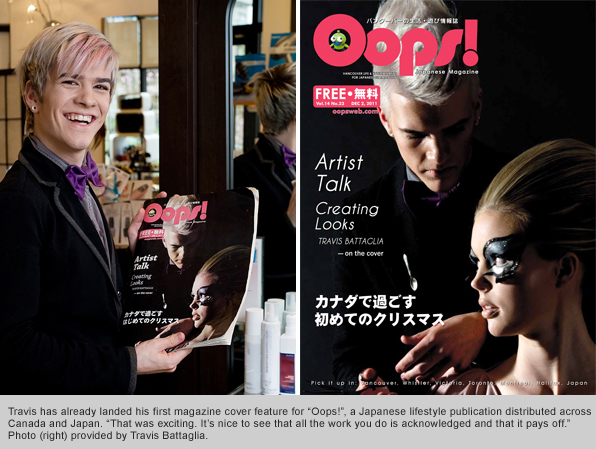 Travis eventually chose L'Atelier in Yaletown to begin his salon career, an environment he describes as "fabulous".
"I was doing a hair show with Dana Lyseng, who is a Platform Artist for Wella," he continues. "We'd met and really hit it off for the ABA in Vancouver. Then I travelled to Alberta for another show and ran into her again. I knew Dana would take the time to mould me into what I want to be. That was the deal-breaker and why I moved to North Vancouver. What better way to become what you want than to surround yourself with it?"
Dana's salon, Supernova in North Vancouver's bustling Lonsdale area, has been Travis' home ever since.
"It's more of a family environment here in North Van," reckons Travis. "It's a lot more real. It's nice to be able to really bond with your clients. You really get to know them here. It normally takes two years for stylists to get fully booked. I'm getting there in half that time."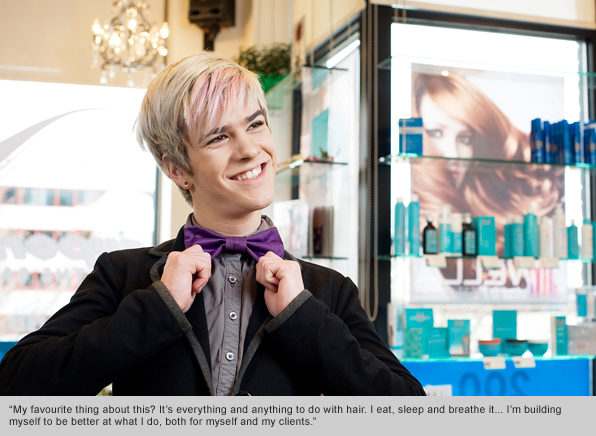 Word of Travis' talent has already spread far beyond North Vancouver. He's already had his first magazine cover feature; for Oops, a Japanese lifestyle publication distributed across Canada and Japan.
"That was exciting," admits Travis. "It's nice to see that all the work you do is acknowledged and that it pays off. I sent so many copies to my family I ended up running out. Luckily I found one lying around for me to keep."
It seems inevitable that Travis will fulfil his ambition of becoming a major company's Platform Artist. The young man from Wetaskiwin is certainly going the right way about it. The ambition was always there. The Hair School was the perfect springboard. But the bottom line is that Travis' success has as much to do with perspiration as inspiration.
"My favourite thing about this? It's everything and anything to do with hair. I eat, sleep and breathe it. I do anywhere from 40 to 80 plus hours a week, whether it be clients, photo shoots, music videos or shows – even classes furthering my education, learning or perfecting something. I'm building myself to be better at what I do, both for myself and my clients."