Hair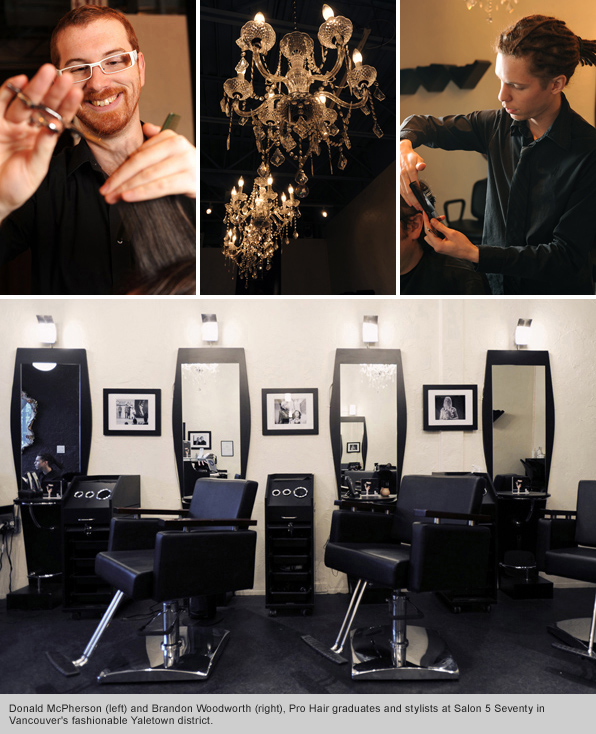 Denise Meikle, owner of Salon 5 Seventy in Vancouver's fashionable Yaletown district, knows talent when she sees it. As an ID artist with L'Oreal Professional and Award-winner, she insists on having only the best stylists working in her salon. Which is why it's no coincidence that she employs two graduates from the Pro Hair Program at the Blanche Macdonald Centre, Donald McPherson and Brandon Woodworth.
"What makes them special?" smiles Denise. "Their passion and their desire to better themselves all the time. Having seen people that have come through Blanche Macdonald, I see a school that teaches students the full realm of the industry. Not just cutting but how to build a business and customer service. They're number one in this industry. We've formed a really good family here and that's what I like."
Family is a fine way to describe the team at Salon 5 Seventy. The stylish, relaxed atmosphere is unmistakable. So is the shared sense of humour, drier than a vintage Cabernet Sauvignon.
"Everyone's comfortable here. There's a camaraderie," explains Donald. "And there's free coffee for all employees."
"We're professional and courteous," adds Brandon, without batting an eyelid. "Customer service is a huge part of the job. The salon is kept well and we work in a professional demeanour. We all love coming to work."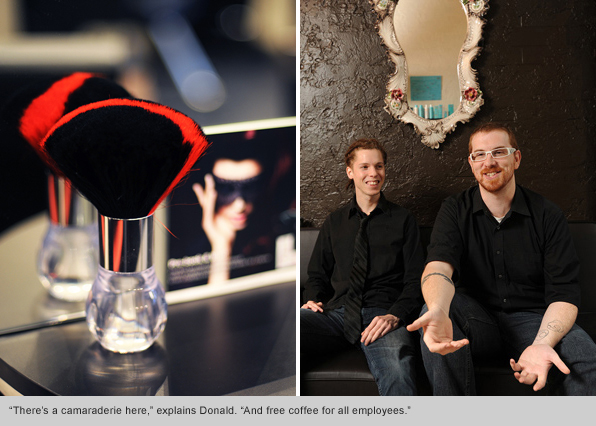 If it seems appropriate that two stylists with a shared love of hair and deadpan comments share a workspace, there's still an element of good fortune that their paths crossed in Yaletown. Neither is a Vancouver native and neither came to Blanche Macdonald with any prior experience working on hair.
"My mum suggested it to me when I was 19," explains Donald. "I laughed it off. She just wanted a stereotypical gay hairstylist son. Five years later I moved here from Victoria and she mentioned it again. I talked to some salon owners and stylists, thought it would be a lot of fun to do, and started researched schools."
"I'm from Toronto originally," adds Brandon. "I'm a freelance photographer and I was living with a roommate who was a makeup artist. It came up in conversation that it would be great to do some fantasy hair, but neither of us had a clue about it. The idea grew in my head so I checked out a few schools in Vancouver. I went to Blanche Macdonald based on what I saw on the web site. After taking the tour there I was in love with the idea. I asked more questions, signed up and I've been loving it ever since then."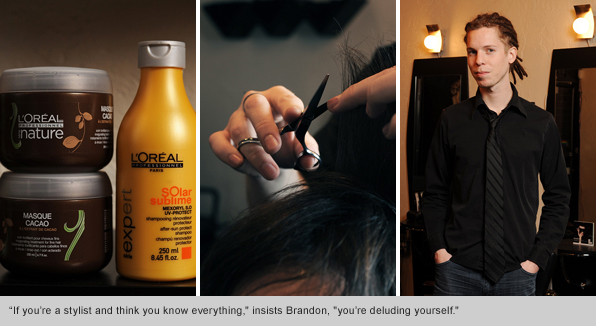 Both arrived at Hair School full of nerves but brimming with ideas. Both soon realised they'd come to the right place.
"Blanche Macdonald was awesome," insists Donald. "I remember being extremely nervous about it at first. Phil Loiselle is amazing. He calmed me down. Blanche Macdonald teaches you the basics and you get comfortable with them, knowing what to use when. My first haircut model was my friend Melissa. She didn't get any of my nervousness. She's very trusting."
"I was impressed with how the school salon was set up," agrees Brandon, "and I was tremendously excited to get my new trade underway. I was oozing with creativity before I even got through the door, so I was more than excited to start learning the craft and merging those two aspects together into something tangible that I could carve into someone's head. When we got to our creative shoots that excited me so much. There was a lot of freedom and guidance when we needed it. For the fantasy shoot I constructed horns out of hair using wire framing and paper-mache. It was an idea I had before school that I was able to do when I was taught to do things like mounting and braiding and flat ironing hair. It's still a huge part of my portfolio today. That was definitely a highlight for me."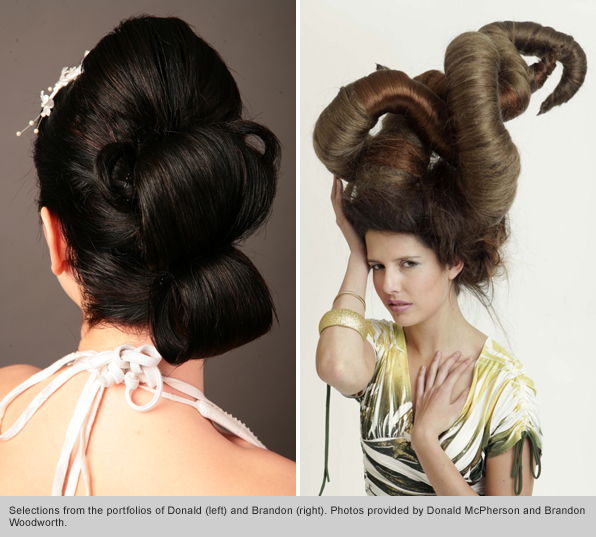 "One thing Blanche Macdonald gives you is networking tools," adds Donald. "I still talk to Phil and Jeff Ranger and ask them questions to this day. They're my go-to guys. It was Phil who told me Denise was looking for a stylist."
"I'm still in contact with Jeff, Phil and Danny Del Giglio," points out Brandon. "Danny was very encouraging. I would talk to him a few times a month after school as I was looking for a salon to call home. It was through his advice that I made this connection.
"I still pop my head into Blanche once in a while. I make a mess in the bathroom and leave," he smiles, pausing to make sure it's clear that he's joking.
Both stylists embraced their creativity at Hair School, along with an appetite for learning that's still healthy today.
"We're continuing our education every Tuesday night," explains Donald. "Denise is a L'Oreal ID artist, so she goes to Toronto twice a year to learn all the new looks and colour placements. On Tuesdays we bring in models and learn those looks ourselves. It's part of the industry. If you stop learning, you're not doing your job any more. Everything is changing and you need to keep up with it. Having a boss that will teach you something new every week keeps it exciting."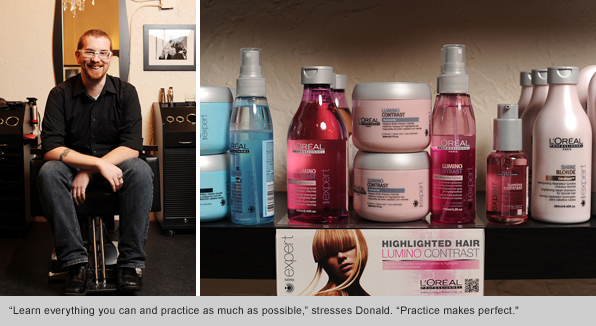 "We're generally pretty stoked," agrees Brandon. "If you're a stylist and think you know everything, you're deluding yourself. Without learning and evolving you're just a stale piece of bread."
Perhaps we're overstating just how similar Brandon and Donald actually are. In reality they're unique individuals with their own styles and personalities. But we still think it's more than coincidental that these two guys from the same Hair School have ended up in the same great salon. And it's no coincidence that they come up with similar answers when conversation turns to their favourite things about the job.
"I discovered this some time ago," explains Brandon. "Seeing clients smile and leave having had a good experience and loving their hair, that excites me every day. And I have creative freedom – the ability to express my ideas. I can turn out some really wicked hair that's fun for me and whoever's wearing it."
"The best thing is when you do a hair cut or colour and you get the smile and the look of joy," agrees Donald. "They get the enjoyment and so do you. I don't think that feeling will ever fade. The relationship with clients can run pretty deep. You're a cheap therapist sometimes. I have clients I've been seeing for four years. I changed salons recently and last week I had four clients track me down and find me. They would phone my old salon, find out I was working on Davie St, phone every salon on the street or walk down the road looking for me through the window. It's a great feeling to know they wanted to see me."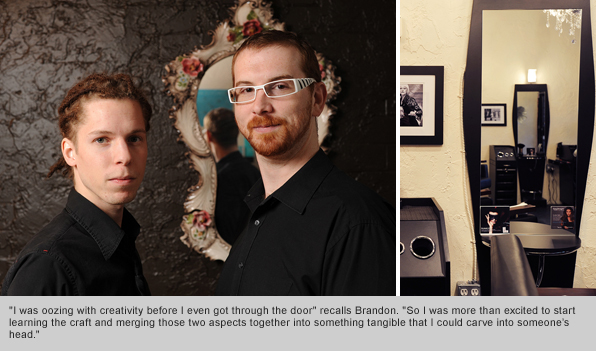 Donald and Brandon have proved that with hefty doses of enthusiasm and hard work, you don't need prior experience to carve out a success creative career as a hair stylist. When they start dishing out advice, it's worth listening.
"Learn everything you can and practice as much as possible," stresses Donald. "Practice makes perfect. I used take it pretty personally when I messed up. You just have to let it go. It happens. You can fix it. Hair grows back."
"Commit to it and do it," agrees Brandon. "A lot of challenges will become easier. And consider working somewhere else other than Vancouver. That's just taking away clients that I would rather have."
Of course, a bone-dry sense of humour isn't essential. But it helps.