Hair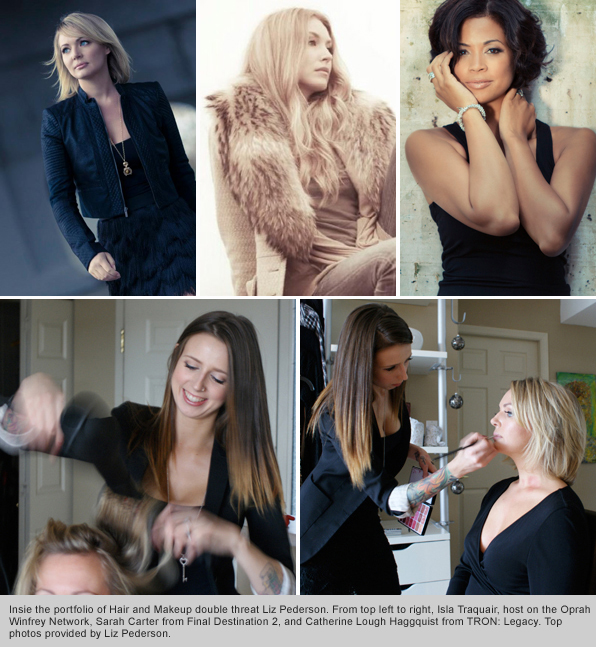 Can't decide between makeup or hair? Why not do both? For freelance Makeup Artist and Hair Stylist Liz Pederson double the expertise means double the opportunities.
"I'm doing both makeup and hair on jobs most of the time," explains the Blanche Macdonald Pro Hair and Makeup graduate. "You're more flexible as an artist and more valuable on a shoot. They work together so well. Whether I'm doing a wedding, a private client or an editorial the two go together seamlessly. And doing both helps me create a more cohesive end product."
Liz has carved a niche for herself as one of Vancouver's busiest beauty professionals since graduating from Canada's #1 Hair and Makeup School. She's continually working on photo shoots and bridal clients, while still finding the time to spend two days a week with her faithful hair clients at Yaletown's fashionable Is Salon. It's the ideal combination of creativity and commercial success. Which is the exact career Liz was always looking for.
"Creativity was always something that flowed through me," continues Liz. "When I was little I'd love doing anything creative, whether it was crafting, or sitting in front of the mirror for an hour doing my hair or playing with makeup."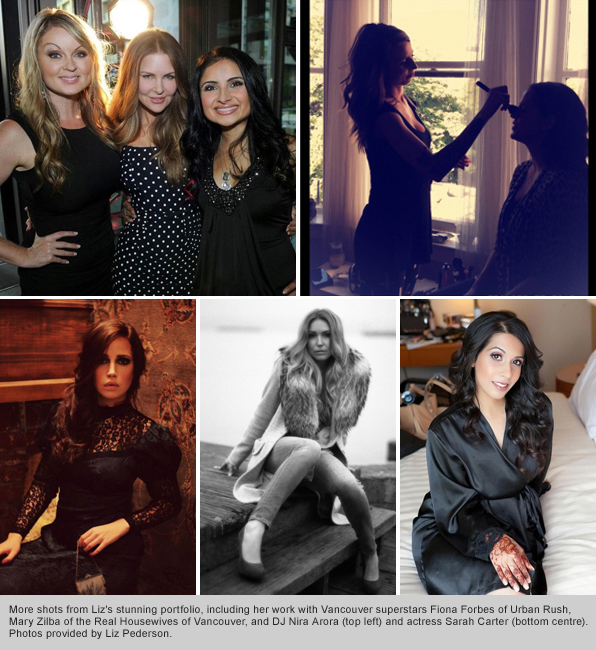 Liz was lucky enough to tour Blanche Macdonald as part of her High School's career program. Then and there, she'd found her vocation.
"It was something I could be passionate about every day. I realised all the fun I could have being creative, while still making a career of it.
"The course was amazing! One of my favourite teachers was Jon Hennessy. He inspired me to go towards fashion makeup and photography. I used to watch FashionTelevision a lot, so I was excited about working backstage or keying a look for a designer's collection. The glamorous side of the business really appealed to me. Although I learned that if you want to be successful you have to get your hands dirty and work your way up the ladder."
Liz made a great start climbing the first rungs of that ladder; receiving a job offer for a position at MAC the day she graduated Makeup School.
"I spent four great years with MAC at Park Royal, Oakridge and the Robson store. I learned so much and was the best experience I could have had out of Makeup School because I kept learning. It was like a family. Even now, when I go to MAC I still get a warm feeling."
Liz had laid the foundations of a successful career in makeup. But she still wanted to learn more. When a package from Blanche Macdonald arrived in the mail, the creative light bulb was switched on again.
"I received some information that Blanche Macdonald was starting a Professional Hair Program. I thought, if I could do hair on a shoot or a show I'd expand my whole skill set and become that much more of an in-demand artist. I made my decision the next day."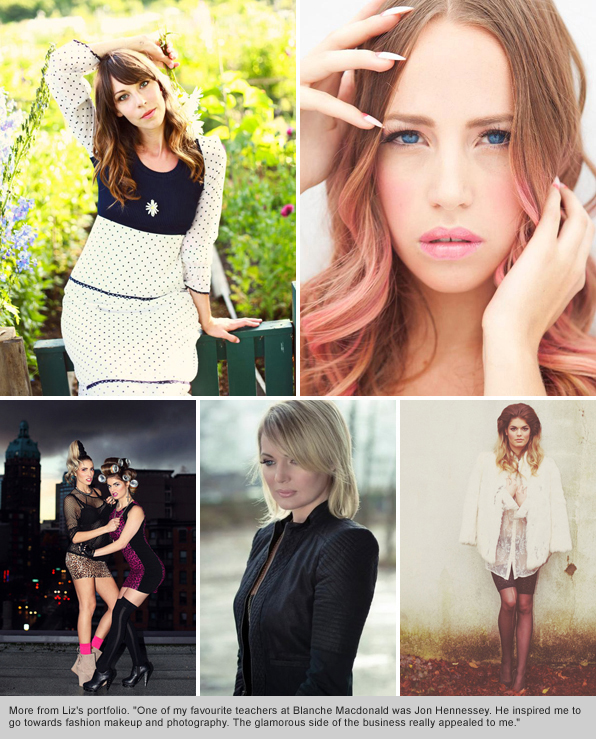 As a professional Makeup Artist Liz already knew what a creative career felt like. Even so, entering the world of hair came with new challenges.
"Hair is different to makeup," she explains. "With makeup you can wipe it off. With hair, with cutting or colouring, you can't just change it. There's definitely more of a scientific side to hair. We learned so much with every haircut we did. And at Blanche Macdonald we could do that because of the constant flow of clients coming in.
"We were the very first Pro Hair class at Blanche Macdonald, but we still had Phil Loiselle and Jeff Ranger! We all grew together. Now when I go back to Blanche Macdonald to say hello I can see how they've modified the program and how it keeps getting better."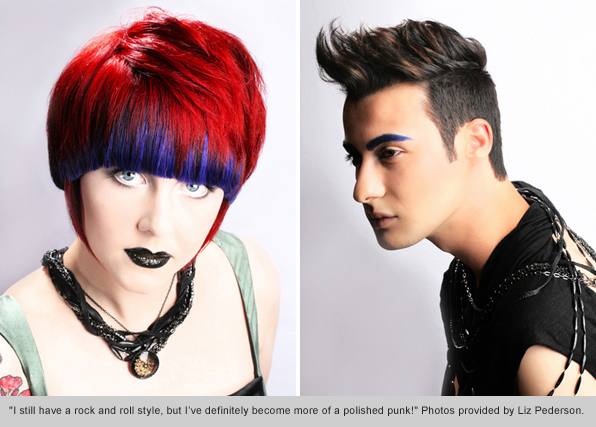 Although Liz continued working for MAC while at Hair School, after graduation she was eager to use her newfound skills. A phone call led her to a terrific salon and a brush with celebrity.
"I'd apprenticed at The Chop Shop when I was at Hair School, so when they called I knew it would a great place to work. I was there for a year and a half, and was on their reality show, which was on the Slice Network. I learned so much retro styling and barbering techniques there, and it was fun being on the show even for that short time. My memories at The Chop Shop are ones I'll never forget. They helped to shape the artist I am today and opened up so many doors in the industry. I had a pretty punk rock look back then. I still have a rock and roll style, but I've definitely become more of a polished punk!"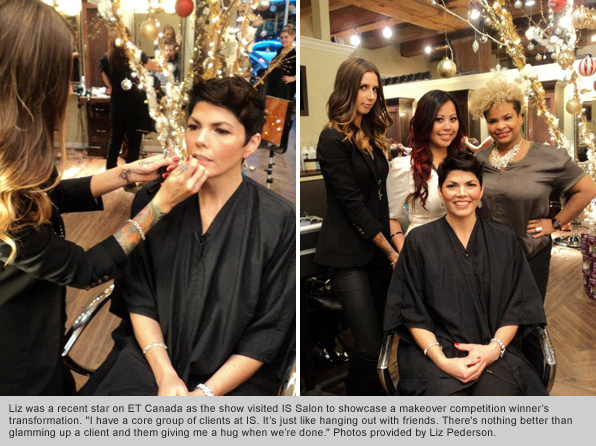 Liz was still busy with MAC after she left The Chop Shop, but she couldn't stay away from hairstyling. She found Is Salon and she's been part of the team ever since.
"When I came to Is no one else on the team did makeup, and I could do hair too. Information is constantly flowing there. If I didn't work at Is I'd be missing out on all the tips, tricks and new things coming out. I have a core group of clients. It's just like hanging out with friends. I feel so blessed that I've been able to cultivate these relationships with my clientele. There's nothing better than glamming up a client and them giving me a hug when we're done. Or better yet, seeing them holding back tears of joy. I get to express my self creatively and also get to be a friend. Sometimes I'm a therapist too. It's a full service!"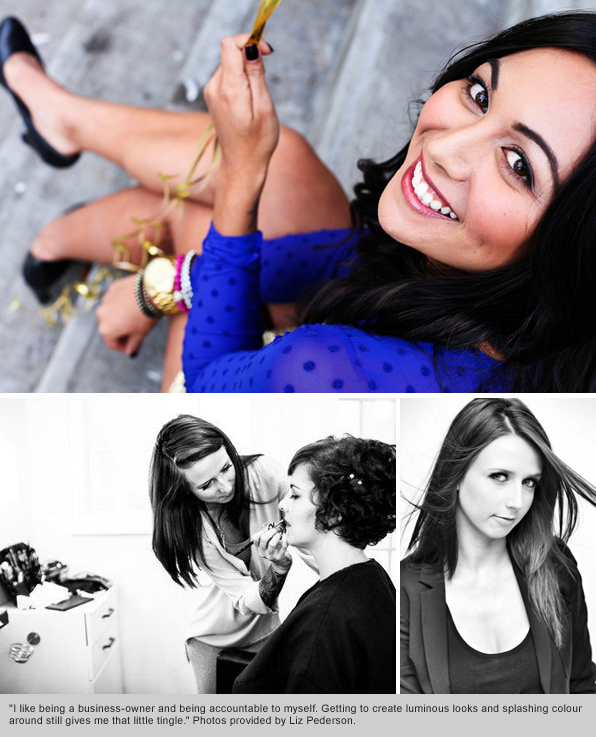 Proving that each opportunity is a springboard for new ones, Liz gained a client at IS who would take her back into the heart of the Makeup business.
"This client was a rep for Chanel. Every time she came in she'd say, 'Honey, you need to come work for me'. She was relentless. I hadn't done any retail for two years at that point, although I was doing makeup at the salon and weddings. I thought I'd give Chanel a chance and ended up taking on the Assistant Manager duties at The Bay Downtown. I love Chanel's makeup line. It's fabulous. That job made me realise that I wanted to express myself through hair and makeup even more. I decided to give the freelance life a real try – getting out there, meeting people, and showing them my work. I did a lot of unpaid gigs – but I met so many artistic people. I've done a lot with the photographer Shannyn Higgins. We just did a shoot that was 60s mod with a 90s grunge. The looks were gorgeous!
"Through my four years at Is Salon I've had the pleasure of working on some fabulous women, including Ioulia Reynolds and Mary Zilba of the Real Housewives of Vancouver, Nira Aurora from The Beat 94.5 and Fiona Forbes from The Rush. After meeting Fiona at a Breast Cancer Awareness Event, I instantly fell in love with her energy and cheeky humour. I frequently work with her on photo shoots and recently I was lucky enough to be invited onto The Rush to talk about Hair and Makeup trends. It was Fiona who introduced me to photographer Dennys Ilic, and I've been shooting with Dennys ever since, working on all these actors like Sarah Carter from Falling Skies, Aliyah O'Brien from Supernatural, and presenters like Isla Traquair from the Oprah Winfrey Network."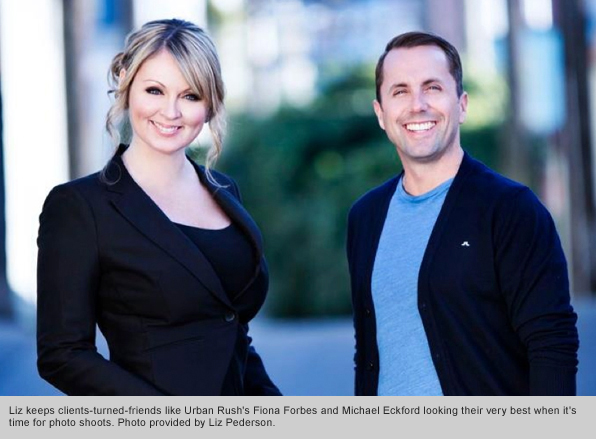 Every day is different for Liz now. Salon clients. Photo shoots. Celebrities. Weddings. It's the creative career she was hoping for when she first visited Blanche Macdonald. And it's just as fulfilling as she anticipated.
"I make my own schedule. I find my own clients. I like being a business-owner and being accountable to myself. Getting to create luminous looks and splashing colour around still gives me that little tingle. I'm friends with Jon Hennessey on Facebook. I'll see what he's doing and that keeps me motivated. Andrea Tiller, another Blanche Macdonald grad, is also someone I'm inspired by. She's touring with Carly Rae Jepsen. That gives me faith that if you work hard enough, you can make it as an independent artist."
Liz has made it as an independent makeup and hair artist too, with the skills, and the mindset, to take her career anywhere she wants.
"Don't compare yourself to other artists," she insists. "Just be inspired by them."