Hair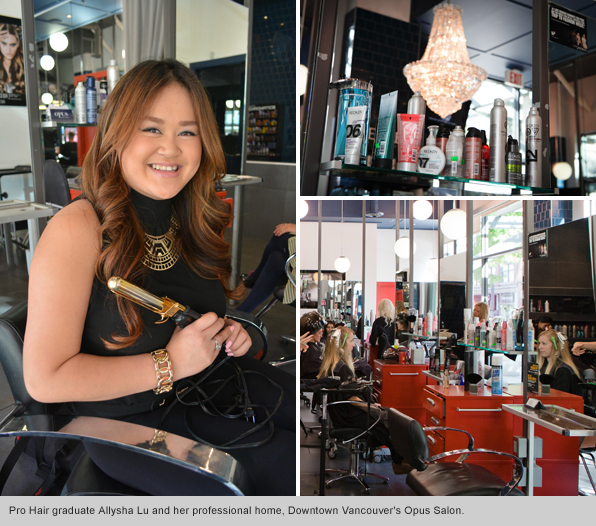 Allysha Lu isn't the first graduate from Canada's #1 Hair School to find a professional home at Downtown Vancouver's Opus Salon. She almost certainly won't be the last. But when it comes to the level of enthusiasm she brings to work every day, Allysha is a one-off.
"I still live in Coquitlam and my family is always asking why I don't work closer to home," she explains with a smile. "I can't imagine being anywhere else. There isn't a place in Coquitlam like Opus! We have such a great variety of people here. Jessica and Ludovic [the Paris and London-trained owners of Opus] share everything they've learned. That's so awesome. At Opus we have a lot of courses, learning about new products and styles. Fashion is constantly recycling itself, but it's innovated differently. That's why it's always exciting to discover."
Allysha's amazing enthusiasm for creativity was evident long before she'd even heard of Opus.
"I was always an artistic kid," she continues. "I always had a wild imagination that got me in trouble. I'd draw on walls or pretend I was in castle at the mall, digging my way through racks of clothing.
"My aunt was a hairdresser. She would do foils in front of me and cut and colour my hair. I watched her do that and was fascinated by how much she could change people.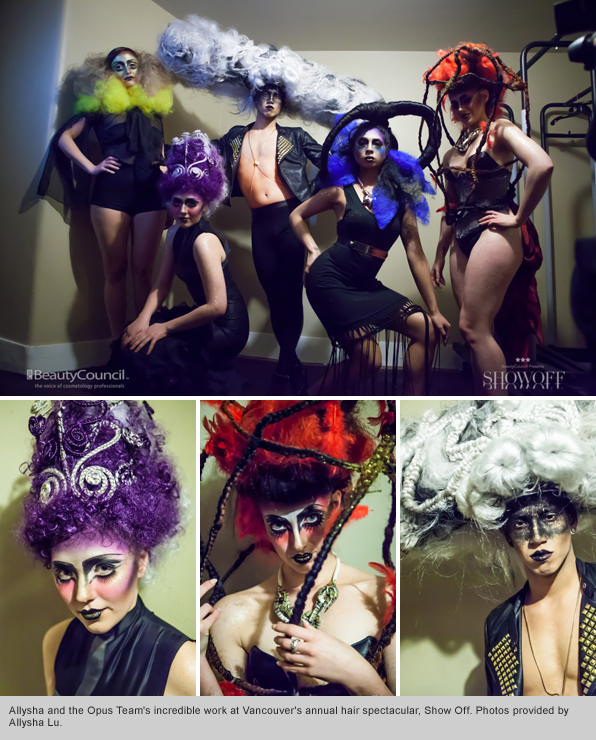 "At high school one of my girlfriends liked the way I curled my hair for a school dance and asked me to do her hair too. Soon all my friends wanted their hair done. I was always the last one to get ready! I never said anything about it, but I really enjoyed doing it. "
Allysha was on the road to becoming a professional hair stylist. Even an occasional wrong turn wasn't going to keep her from her destination.
"When I graduated high school my Mom wanted me to be a dental assistant. I started studying but before too long I realised that it wasn't the career for me. I took out a student loan and applied to Hair School. My Mom is totally supportive now. She knows how much I love my job."
Which Hair School that would be was never in doubt. Not after Allysha had modelled for a friend taking Blanche Macdonald's Pro Hair Program who needed a volunteer for her avant-garde hair photo shoot.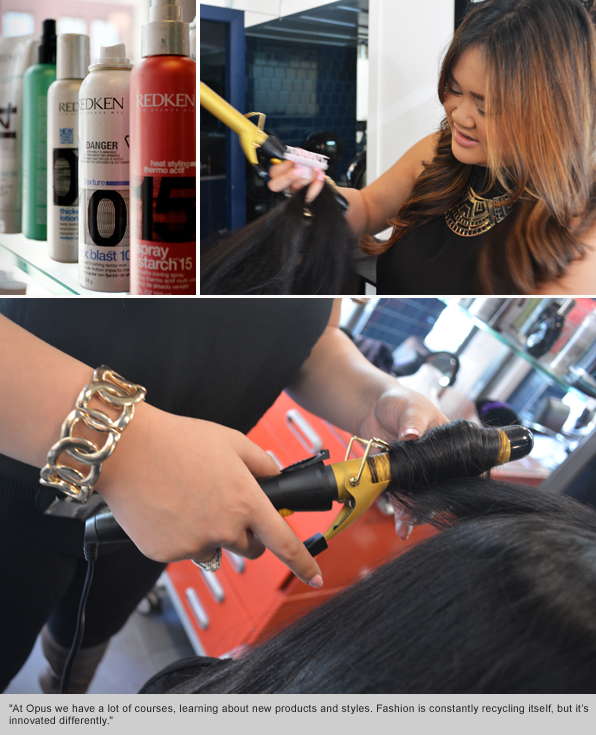 "I did my research and looked at a few schools, but when I modelled I became really interested in how the instructors at Blanche Macdonald were teaching. My hair was up in a giant ponytail with big Styrofoam balls it in. You know, totally wearable. I was sitting with my hair up in Vancouver Public Library drinking coffee and having a muffin."
From day one, Allysha wanted to learn and do everything the Program had to offer.
"The first day when we received all our equipment was overwhelming. It was like Christmas morning. I wanted to open all my stuff at once. I loved it.
"I was always competitive," she laughs. "If I wasn't as good as another student I'd always try to equal them. One of my classmates, Inez Eigenraam, was phenomenal. I learned a lot from her. Her hair always looked good when she came to class, so I started making sure mine looked good too.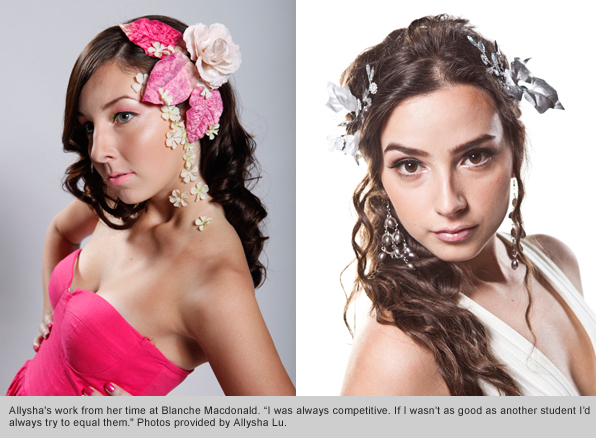 "All my teachers were great, and a lot of fun even though it was serious business. They told us what the dress code was, that we had clients coming in and we needed to be professional. That's what I wanted Hair School to be. It was tough, which made things easier once I graduated."
Allysha was clearly doing something right, impressing the very first client that sat in her chair in Blanche Macdonald's student salon.
"It was nerve-wracking having that first client. She asked me how long I'd been doing hair for, and I jokingly told her that now was my time to shine! She was such a sweet woman, she said 'good for you,' and asked me for recommendations for what I thought would look nice. We did a colour correction and made her hair darker and richer. She's been my client ever since!"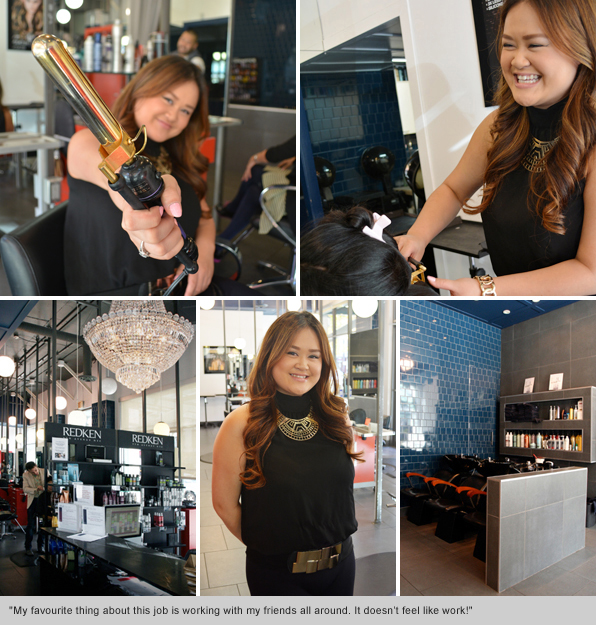 It was Blanche Macdonald that introduced Allysha to the salon that would become her professional home.
"One day Phil Loiselle called me into his office and said, 'I think we've found the place for you.' He told me that Opus was looking. I handed in my résumé, came in for my work experience and loved it. I felt that I fit in from the start. I was able to learn and help with whatever Ludovic and Jessica needed. After my work experience Ludovic told me to bring in a pair of models for a men's cut and a blow dry. Later that day he called and invited me back for good."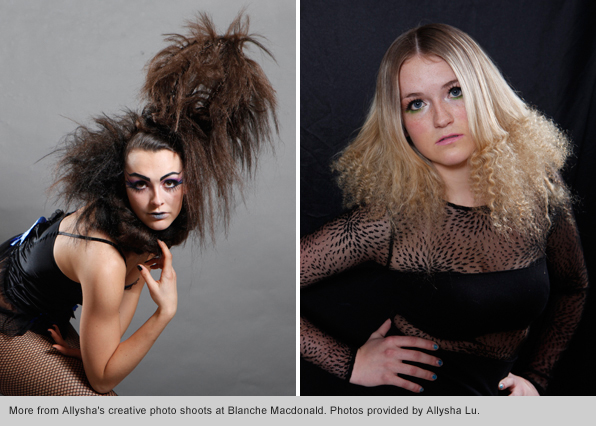 Continuing her hair education as a professional means more than picking up new techniques, cuts and colours. Every hair stylist needs to be a psychologist. And Allysha has become an expert in turning clients into friends.
"I guess I'm easy going," she smiles. "You eventually start to learn to read body language and subtle tones of voice a lot easier. When you know a client is going to stay with you, that's when you really click. It doesn't feel like work. It's just getting to know your friends a bit better. For me, my favourite thing about this job is this combination of working with my friends all around, in my chair and at the salon. It doesn't feel like work.
"I get to be creative every day with clients; even though you just can't always throw crazy purples and greens in there. You're creating a classic look, but doing it your way. Although when clients say, 'Do whatever you like,' I'm like, yeaaaah! My clients are my billboards. I can show people what I can do. And they spread the word."
Although not every client requests it, Allysha has a flair for the dramatic. At Vancouver's annual festival of spectacular hair, Show Off, she teamed up with Opus Salon's other Blanche Macdonald grads, Richard Vo and Saleemah Hassam, to push creative possibilities to their limits.
"Opus was invited to participate, and Saleemah and Richard decided that the three of us were going to take the reins on this. Me being so new to the industry, I thought they'd only want me doing little things, but they let me get in there with my own ideas. They let me be hands on with styles, the choreography and music. It was so good being there and competing.
"I created an alien-like helmet thing! I had a bunch of fluff in there too. I did a lot of braiding and wirework. I used tools I'd never used before and it was a lot of fun. I felt awful for our model because she had it on her head all day. She pulled through and was even dancing in it at the end of the night."
Whether Allysha is making clients and friends look great or pushing the artistic boundaries with avant-garde creations, that infectious enthusiasm never wavers.
"If you love what you do and you feel that that's what you should do, just do it! I live by those words."