Hair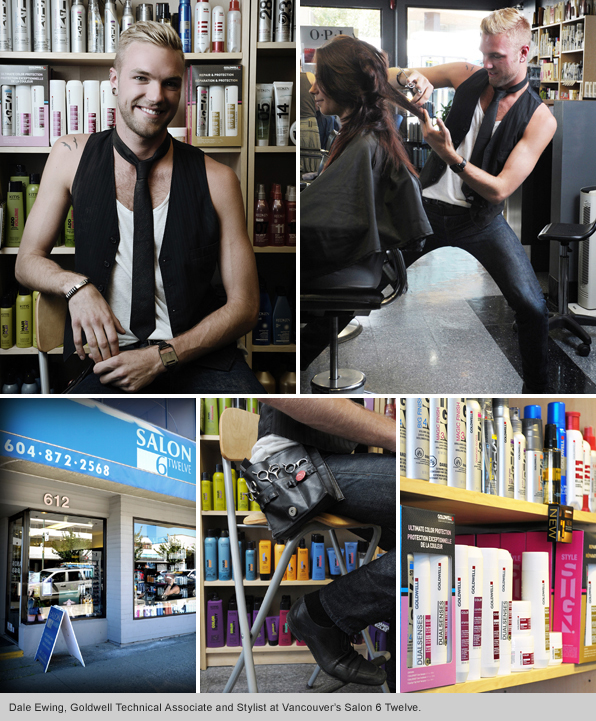 Every hair stylist faces challenges.
For Dale Ewing, Stylist at Vancouver's Salon 6 Twelve and Educator for global professional hair product brand Goldwell, his greatest challenge was getting his six foot five frame into a comfortable position to cut hair to begin with.
"It was tough when I started," he laughs. "Yoga works! I've been doing that for three years now. I've turned bending over from something painful into an exercise. I use a lot of power stances when I'm working and sit on a wheelie stool when I'm cutting bobs. It's not even problematic now."
Now he's working comfortably the graduate from Canada's #1 Hair School has been able to fully focus his energies on his dual careers. By day he's a stylist with a rapidly growing clientele at Salon 6 Twelve. On weekends and evenings he's a 'GTA', a Goldwell Technical Associate, sharing his vast knowledge and limitless enthusiasm with professional stylists across Vancouver.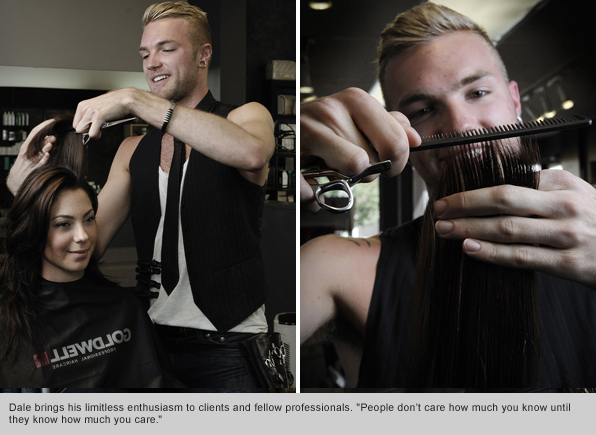 "Teaching is my passion," explains Dale. "I used to teach kids camps. And I love hairdressing. So I figure that if I can teach hair I get the best of both worlds!
"Our work goes beyond how much I know the products. It's also about letting stylists see how excited I am about it all. Our sales reps will introduce the product and ask if the salon wants to have an educator. That's where I come in. The more salons like me, the more they request me. It's great to teach people who are already passionate about Goldwell, teaching them more about what they're excited about.
"It can also be terrifying. The scariest audiences are people who don't have Goldwell. They'll have a lot of challenging questions, but that nervous excited feeling is what gets us going. Once we get comfortable we can fall into a comfort zone and get boring. Being a little scared is what pushes us."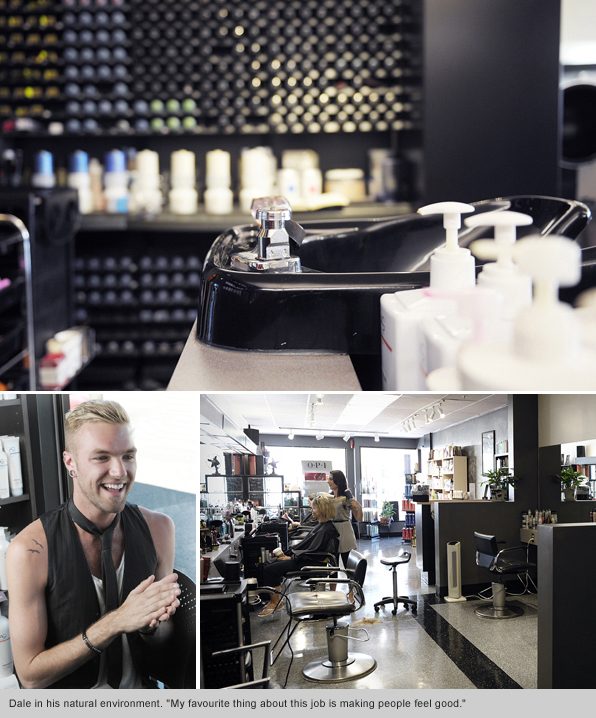 Education has always been important to Dale. After deciding that he wanted to be a hair stylist (narrowly beating out a career in the culinary arts) Dale had already graduated from one hair school and was working at Thrive Hair Company in his native Nanaimo when he heard about the Pro Hair Program at Blanche Macdonald.
"I wanted more experience. Blanche Macdonald had a great reputation was more high-end than my first Hair School. So I moved to Vancouver and took the Pro Hair Program. It was awesome! There was stuff that I'd already studied, but I was trying to get as much out of the program as I could. I made a lot of connections and met the people that helped me get into Goldwell and my Vancouver salons. I'm a very technical person. I need to know exactly what's happening when I'm doing a cut, whereas a lot of hairdressers are more visual and artistic. I was already technical from my first school, but coming to Blanche Macdonald transformed the creative side of me.
"The photo shoots were a great start to my portfolio. Coming into the Avant Garde shoot I made these big pieces that were black, purple and white sheets of hair. It was a lot of fun."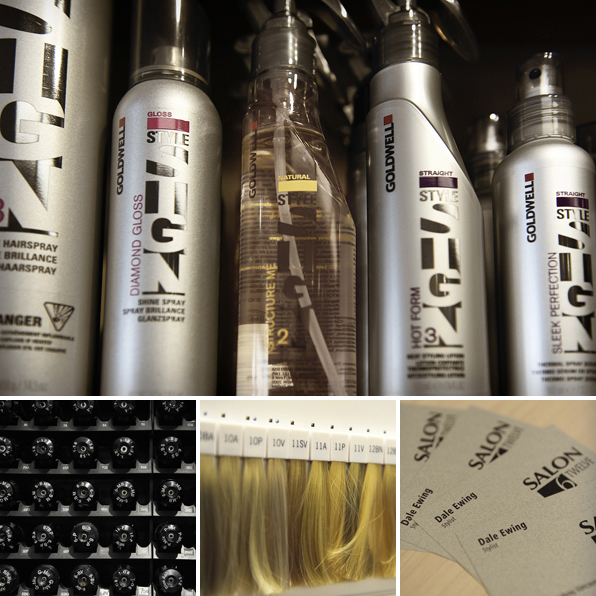 The work placement part of the Pro Hair Program took Dale to the Richard Jeha Hair Company in Kitsilano. They liked Dale so much that they offered him a job after he graduated, and he stayed there for two years, specialising in colour ("It's all chemistry; all about technicalities and ratios.") and building his clientele. One of his co-workers there was an Educator for Goldwell. She encouraged Dale to head down that path. The rest, as the cliché goes, is history.
"I'd loved Goldwell from my first time at Hair School. It was only when I started working with other brands that I realised how much I missed Goldwell. One of their sales reps had seen my work and she knew how excited I was about the product. Once she referred me it all happened very fast. Twelve people across Canada were chosen to go to the training at their Academy in Coquitlam. It was a five day course and it was intense: a combination of training seminar mixed with American Idol, because there were more candidates then there were jobs. We were trying to be not competitive, but we all knew not all of us would end up with a position.
"It was the most terrifying experience of my life, but it was also the most fun I've ever had. They checked our hands-on applications, but the toughest things would happen in a classroom environment when we were learning about products and we'd suddenly have to stand in front of the class and give a ten-minute presentation on what we'd just learned. They wanted to see how we worked under high-pressure stress. It turns out I do really well under pressure."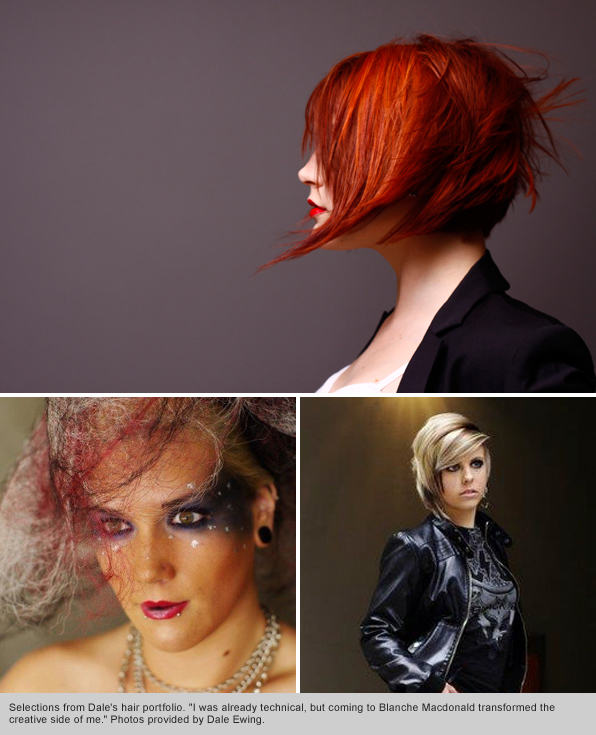 Dale has been doing fabulously ever since, taking his passion for the brand into salons across Greater Vancouver, teaching at the Goldwell Academy, and answering questions via email on a daily basis.
"The next level is a Field Education Manager. That's when you go into different cities and hold classes for educators. The future is an open door for me. I enjoy the education business. I could own my own salon one day, but right now I'd rather pursue education and teaching."
That doesn't mean Dale plans on stopping seeing clients any time soon. He enjoys his days too much to give that up.
"I love it here at Salon 6 Twelve! We're all a big family. If the boss is busy and I have a spare second I'll wash out her foils. And if I'm busy and she has a minute she'll pass foils to me. People like to see stylists working together and helping each other. We have everything Goldwell here. Anything we didn't have I brought in! We're right on Broadway, so we have tons of exposure and it's easy to pick up new clients. We're a big retail location too, so we get a lot of people walking in off the streets. If I'm not with a client I'll come up and talk to them. I'll recommend a hair spray and get them to sit in my chair so I can try it out on them. The more they see me excited about hairspray, the more they want me to cut their hair. I do approach people on the street and compliment them on their hair sometimes. It takes some guts but can be awesome.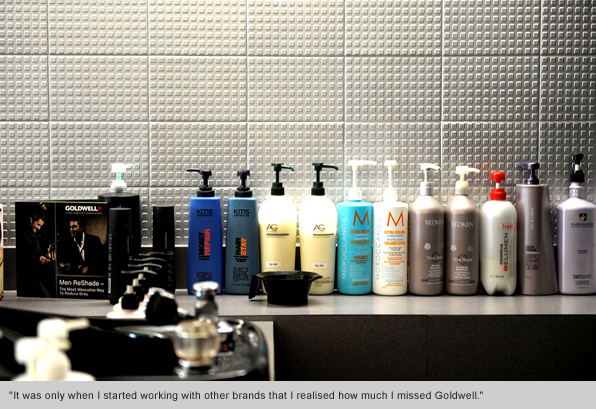 "My favourite thing about this job is making people feel good. A lot of hairdressers when they're in hair school think a career is going to be shaving one side of clients' heads, and putting bright colours on the other side. It's tons of fun for photo shoots and expressive clients, but realistically most clients want to look professional and feel sexy. You can do that creatively too.
"The moment when it starts to feel really good is when clients open up to you about something they wouldn't open up to most people about. It's amazing that they value my opinion about their relationships or their kids. I feel honoured that they're sharing these things with me. That gives me a warm, tingly feeling."
Whether he's working with clients or fellow hair professionals, Dale's enthusiasm towards his chosen art, his fellow professionals and his clients never wavers.
"Our Education Manager at Goldwell left us with this quote and it's inspired me ever since. 'People don't care how much you know until they know how much you care'."