Hair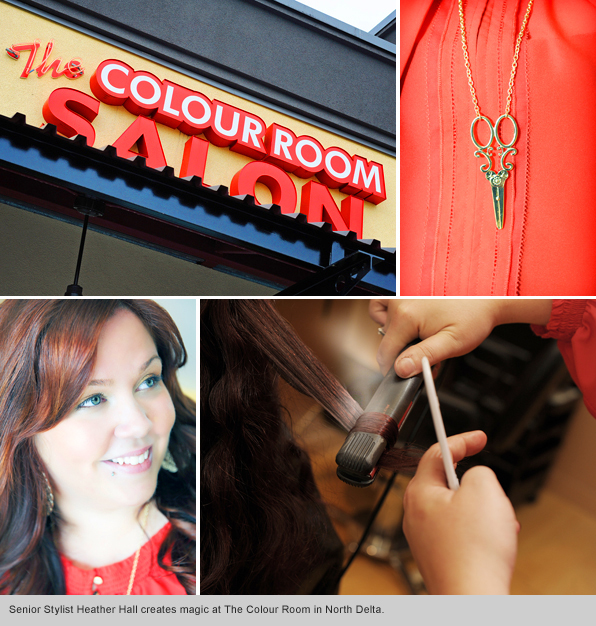 "We try to bring Downtown Vancouver style to North Delta here at The Colour Room," explains Senior Stylist and Blanche Macdonald Pro Hair graduate Heather Hall. "Our clients appreciate that. There's a misconception that you can only get style from high-end areas. If you know what you're doing and you've come from a good educational background you can create style wherever you are."
Heather speaks from experience. While she was studying at Canada's #1 Hair School she was fortunate enough to enjoy work placements at one of Vancouver's top salons, Avant Garde, where she was able to mine the expertise of one of BC's hair superstars, Jon Paul Holt.
"When I met Jon Paul I began to understand that personal relationships play such a big role in the industry," continues Heather. "He had hand-written cards with notes on all his clients. That's how I started to get to know people. I was Jon Paul's assistant for two days a week all the way through Hair School. It was a lot of fun. I was doing four or five blowdries a day for Jon Paul, and I was assisting his other stylists too. I was offered a chair at Avant Garde and had to weigh up whether I wanted to be Downtown or here in Delta at The Colour Room."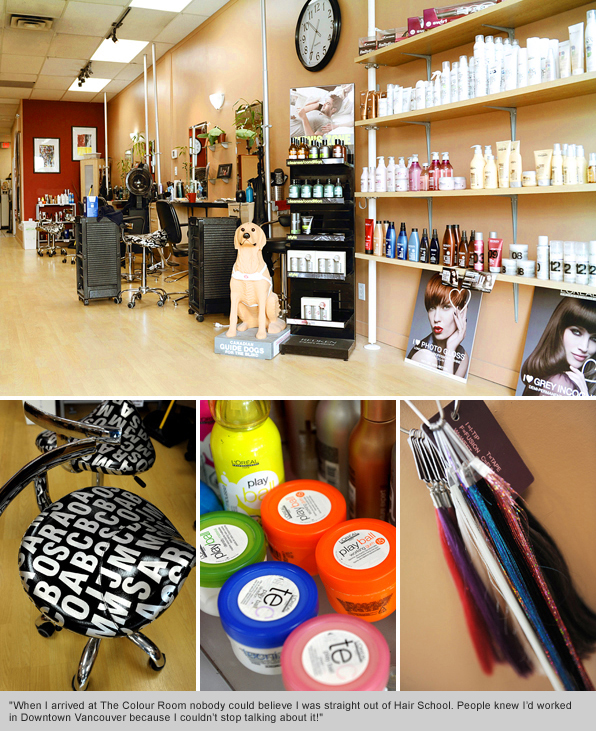 Heather is sure she made the right decision. She's still the youngest Senior Stylist at The Colour Room, and her rise to that esteemed position has been swift and richly deserved.
"When I arrived at The Colour Room nobody could believe I was straight out of Hair School. People knew I'd worked in Downtown Vancouver because I couldn't stop talking about it!" she laughs. "I was so excited. I knew I could cut, colour and finish. Clients could see that I could do updos, blowouts and curls. Sometimes people have to book a month in advance for a colour service now. I've been lucky enough to get a lot of brides too. People trust me. I'm forever a perfectionist. I like to explain to my clients how to do their own hair at home, so I try to get them to watch what I'm doing when I blow dry and how I apply product. I want them to be my best walking advertisements.
"We're an education-based L'Oreal Professionnel salon. I went to Paul Miller's wedding class, he's a L'Oreal Professionnel Platform Stylist, and learned a technique that I've used consistently – creating flowers with hair. I'm honing my skills through The Colour Room and L'Oreal Professionnel Training.
"I wouldn't say it's my job. It's part of my life. I live and breathe hair. I do it on my days off for my family. We do a lot of volunteering too. There are five high schools in North Delta and we help on their grad fashion shows and plays. I don't do it to get clients, but it happens. It's nice to see students' gratitude when they have a professional hairdresser coming in to help them."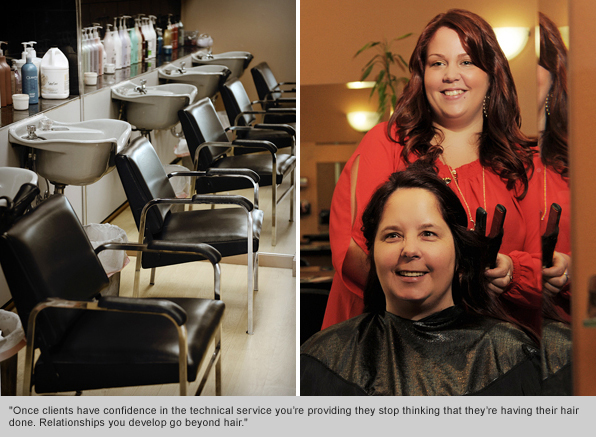 It isn't that long since Heather was part of her own High School's drama team, putting on plays in her hometown of Prince Albert, Saskatchewan.
"I didn't know that I would be a hairstylist. Although when I was doing theatre in high school I would do hair for everyone. I had long hair and collected curling irons. I would search on-line for how to do different hairstyles.
"I was really academic. We moved to Vancouver when I was 17 and I studied to be an elementary school teacher for a year until I realised I didn't want to write any more essays. I started looking into doing hair, because I enjoyed doing my own so much, although I wasn't sure I was going to enjoy it. And then Blanche Macdonald happened."
There were many reasons Heather chose Blanche Macdonald for her hair education. But one that spoke directly was the link to Heather's own Metis heritage.
"Blanche Macdonald was founded by an aboriginal woman. When I made my case to BC Metis Nation to sponsor me it was for a Hair School that offered so much more than everywhere else. I pleaded my case, BC Metis Nation started talking to Blanche Macdonald and everything went from there. I went for an interview at the Robson Campus and after that I didn't even go to the other schools. I liked the salon and how clean it all was. I really liked Phil Loiselle. At the time I was a client at The Colour Room. Carleen Bazowsky, the owner here, knew Phil and she told me that he's a great guy. That sealed the deal for me."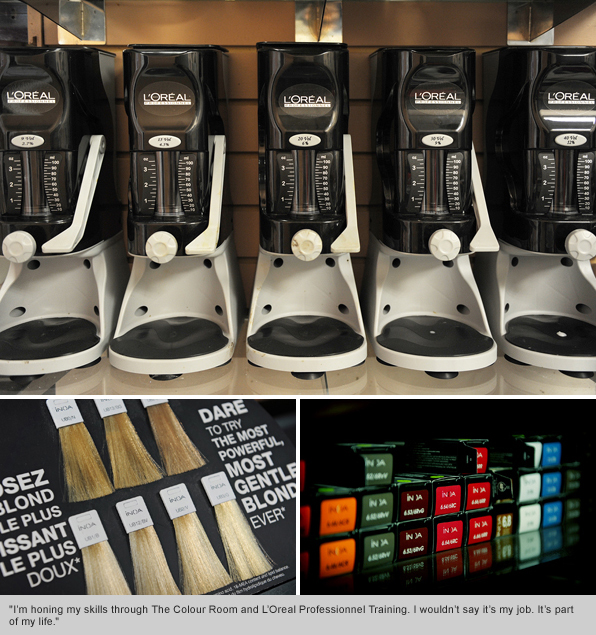 Heather shone at Hair School. Being assigned for work experience at Avant Garde proved that she was a star student. At the same time, she's the first to admit it didn't exactly come easy.
"There were times when I was happy to be there and times when I thought I wouldn't be able to do it," she explains. "When we had to do a roller set wrap I was convinced that my hands did not know how to do hair. I would have occasional meltdowns in Phil's office. I realised that it takes time to get these skills. That's when it started to happen. I would practice the techniques on my own hair and my sister's hair and my confidence would build.
"I was always asking for the next technique. I was always after extra skills. I wanted to excel and learn more. Working from 9-to-5 was a big part of it. I enjoyed that discipline. It all started to come together for me. We started to develop really good friendships within the group and we had a good camaraderie in the salon. You had to learn how to hone in your personality with people next to you who might be completely different to you. Your client base is going to be like that as well. I met Ana Luisa Valdes and thought, 'Wow, people are coming from Mexico to go to Blanche Macdonald!'"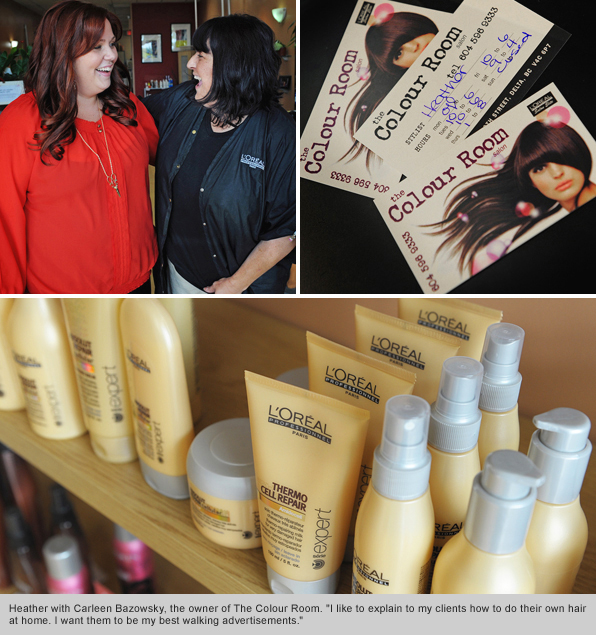 Heather enjoyed her work experience placements at both Avant Garde and The Colour Room. Three weeks after graduation she made her choice and started working close to home in North Delta.
"I was offered a chair at Avant Garde, but Phil had also told me I could learn a lot about colour theory from Carleen too. I really started to get along with the girls here and it started feeling like family. I knew it was the best fit for me. Right from the start Carleen would say, 'How do you have so much education already on colour?' I've been on the floor for five years now."
It was a smart move. Heather has loved working at The Colour Room ever since.
"One of my favourite clients is taking me to Niagara to do her hair for her wedding. We created this amazing bond and hang out all the time. I'm going for a hike with another client today. Once clients have confidence in the technical service you're providing they stop thinking that they're having their hair done. It's more like seeing a friend. We're a small community here and I've been able to meet so many people. Relationships you develop go beyond hair. It's nice for me to walk around the community and people I've never even met know who I am."