Hair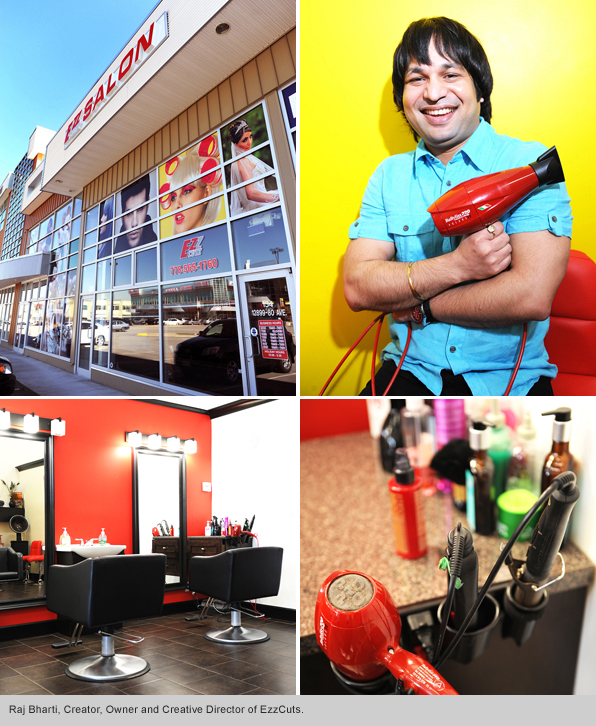 There's a reason Raj Bharti decided to call his Surrey salon EzzCuts.
That's pronounced 'easy cuts' and, as the name suggests, it's a space where men and women can treat themselves in a fun and informal environment; a salon where Downtown Vancouver styles don't come with Downtown Vancouver prices.
There's a gentle irony to the name too. Because getting to a point where Raj could become a successful stylist was far from easy. Although once Raj had decided that Hair was going to be his future career, he was determined to overcome any challenges that came his way.
"I'm from Delhi and my first jobs were in hotel management in Mumbai and Bombay," explains Raj, who graduated from Canada's #1 Hair School and is now the Owner and Creative Director at EzzCuts. "Lots of Bollywood stars live there. I would see film stars, TV stars, singers and models, and they all were having pictures taken the whole time. I liked that, and realised that I wanted to work in something creative. I wanted to work with my hands.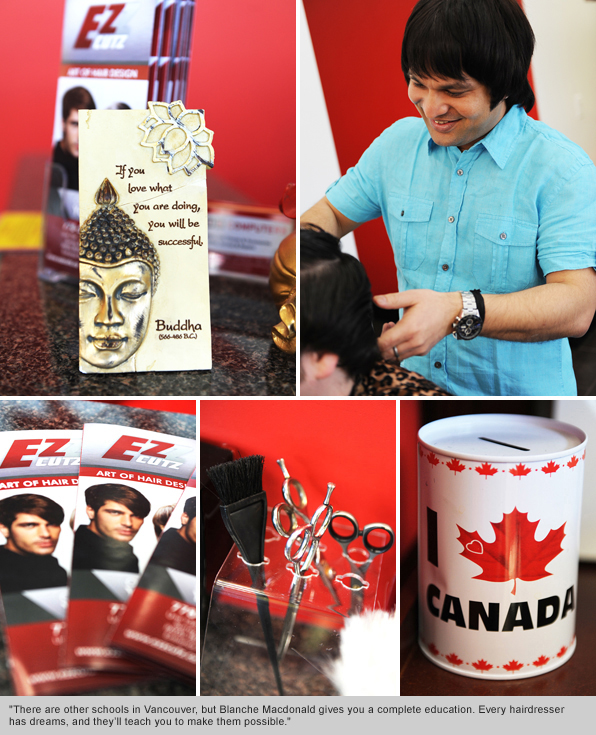 "Soon after I came to Canada I decided that I needed to go to Blanche Macdonald. It had everything. There are other schools in Vancouver, but Blanche Macdonald gives you a complete education. They teach you about fashion shows, how to work in media, TV and films. Every hairdresser has dreams, and they'll teach you to make them possible."
Raj dream was opening his own salon with his wife Aanchal. Starting Hair School with zero experience and limited English meant turning that aspiration into reality required perseverance and dedication. Luckily, those are two traits Raj has in ample supply.
"When I started at Blanche Macdonald I was really raw," he admits "I started at Hair School only three or four months after I'd moved to Canada. I didn't know how to talk to people and I was always quiet in class. There was a lot of theory, and I didn't understand a word. When I would come home my wife would help me translate every word from my books. That's what I did for the first few months. Then I got on the floor, and it was awesome."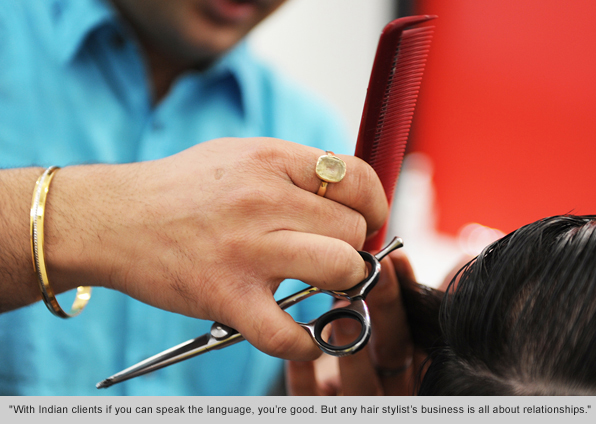 Program Director Phil Loiselle remembers just how tough Raj's first steps into Hair were, and how his student's work ethic saw success emerge from the struggle.
"Raj was in my office all the time," explains Phil. "He was having a tough time with the language. It was so difficult for him, especially with colour, which is so technical. That's when we started meeting a lot, me breaking everything down as well as I could and explaining what we needed from him in return, and his wife began helping him out with translation. Raj is stubborn enough that he saw it through. He's a very intelligent man, and once he got past that toughest point it seemed to come a bit easier for him. I could see the sparkle in his eye. After that, he just kept going. Once it clicked he did really well. You could see him progressively getting better. By the time we got to the photo shoots, you could see his imagination kicking in.
"He probably put in more time than anyone else in his class. He was here first thing in the morning and he was the last one to leave. Anybody who puts that time and effort into it has the drive to be successful. He had a plan to open up his own business, and he wasn't going to let anything stop him. You couldn't help but like the guy. Everybody loved him!"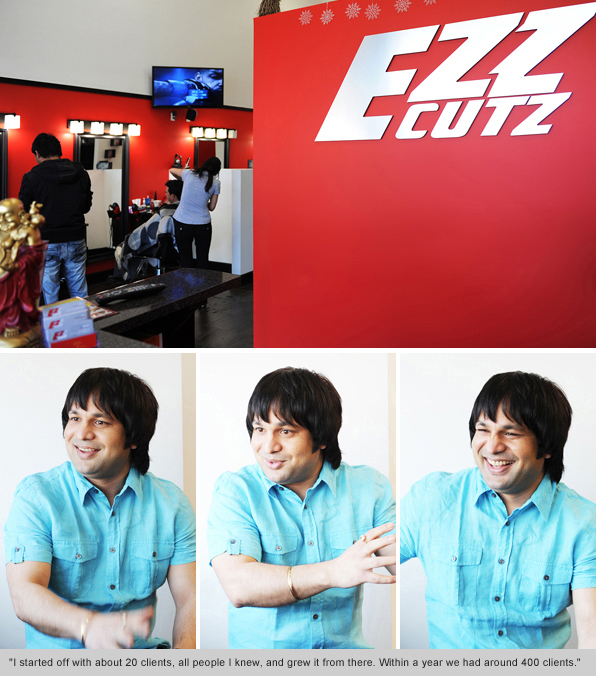 "I was fed up because it was so hard for me to understand," confesses Raj. "Phil told me I had to continue and that everyone was going through the same thing. Once we were actually working with clients in the School Salon language wasn't a problem. I could always explain what I was doing with sign language!"
Raj understood that to make his salon a reality, he needed experience. Once he met Omar Kanani, Managing Director of the Vancouver branch of Toni&Guy, he knew he had found his next home.
"I met Omar when he visited Blanche Macdonald and right then I decided I wanted to work with him at Toni&Guy. I could tell he respected hard work. He started on the floor and now he's the boss. He told me that when I finished Hair School I should apply for a job at Toni&Guy. I told him my English wasn't great and I wouldn't be good talking to clients. He's such a nice guy. He told me I could start slowly.
"Once I was there I really pushed myself. I was assisting Omar, continuing my education and always watching how he worked. I was studying how he talked with clients and how he managed a salon."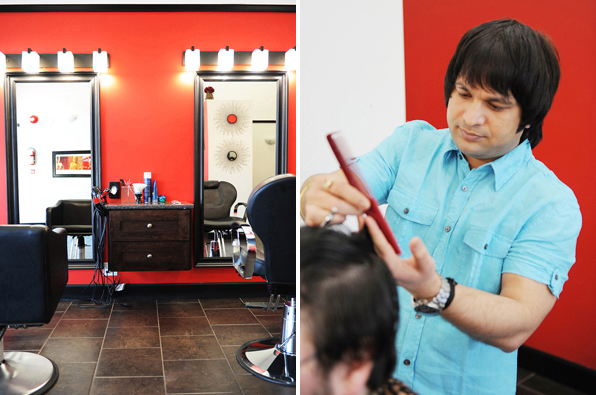 Raj learnt well. After six months at Toni&Guy he took the plunge, located and leased a space in the Khalsa Business Centre in Surrey (the biggest Indian Outdoor Mall in North America), and opened the doors of EzzCuts. All of a sudden, Raj's lone weakness – language – became his strength. He's been busy ever since.
"In the Indian market I don't have a language problem," he laughs. "From growing up in Delhi my mother tongue is Hindi but I know how to speak eight languages. Now I can speak the same language as anyone that sits in my chair, which they love! They feel like they're at home. I started off with about 20 clients, all people I knew, and grew it from there. Within a year we had around 400 clients.
"With Indian clients if you can speak the language, you're good. But any hair stylist's business is all about relationships. You have to understand clients' lives and their problems. You have to know what's going on in media and movies. I learn a lot from all of my clients: doctors, lawyers, mortgage brokers. I take that knowledge and share it with other clients."
Business is thriving for Raj. When clients started asking if EzzCuts could provide esthetics and makeup services, Raj saw the potential, created the facilities and hired the staff to make them possible. Now Aanchal is the second member of the family to take the Pro Hair program at Blanche Macdonald, and the husband and wife team are already planning opening a second EzzCuts location soon after she graduates.
"I want to hire Blanche Macdonald students!" insists Raj. "I'm confident that students come out of there perfect. I want to give graduates that chance!"
Raj arrived at Blanche Macdonald with a dream of starting and running his own business. But he also understands that success goes far deeper than dollars and cents. It's about making a creative difference in clients' lives.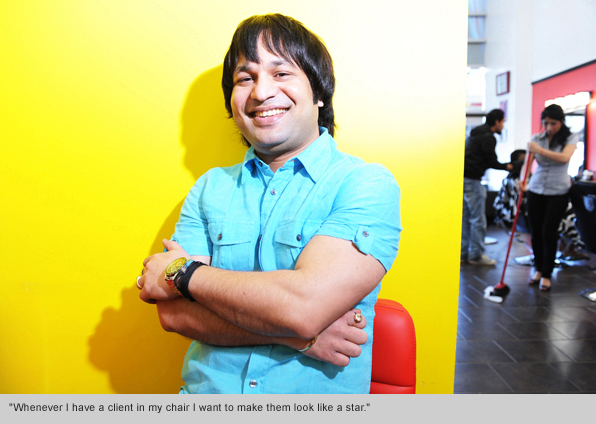 "Everybody needs to make money," he explains, "but you have to want to be a good stylist too. Whenever I have a client in my chair I want to make them look like a star. My schooling is good. My work experience is good. And we use high end products here. I have the confidence and clients can feel that. People like what I'm doing, which makes me feel like I have to get more creative with my next style. I'm always on the Internet looking at hair and celebrities and the latest trends.
"I can tell clients like what I'm doing because they keep bringing their friends and relatives," he smiles. "That's when I know I'm doing a good job."