Hair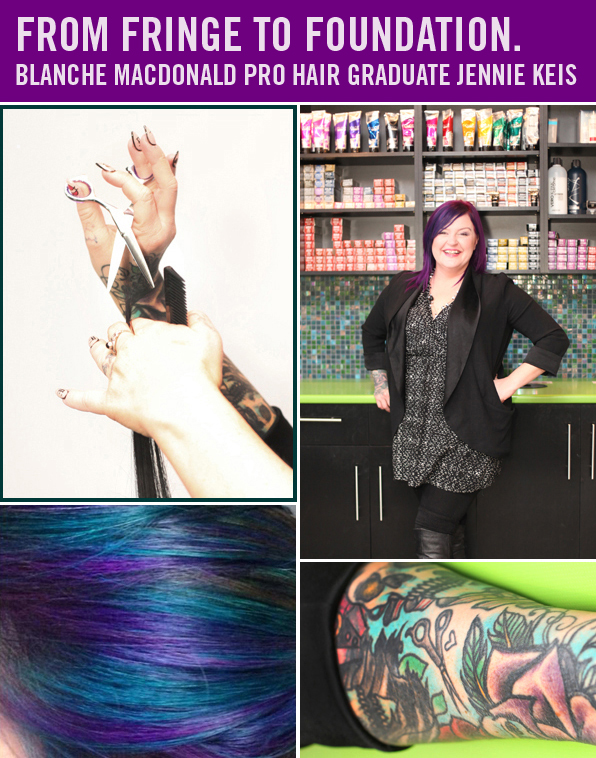 Jennie Keis knows how important a haircut can be. As a Stylist at the UBC branch of On The Fringe Hair Design the Blanche Macdonald Pro Hair and Makeup Graduate is helping students from around the world discover their sense of self-expression every day.
She's also taken her artistry out of the salon; launching her own Charity Foundation, Giving It Back, providing patients at Vancouver addiction centres with free makeovers as they prepare to restart their lives.
Jennie understands how hair and makeup changes lives. She's a prime example.
"I decided that I needed to do something with my life," she explains. "I was running a clothing, body piercing and tattoo store with a friend in Yellowknife. I was there for a year and it was way too cold for me. I returned to Quesnel, where I'd grown up, and realized that I needed to make a change. That's when I came to Vancouver and Blanche Macdonald."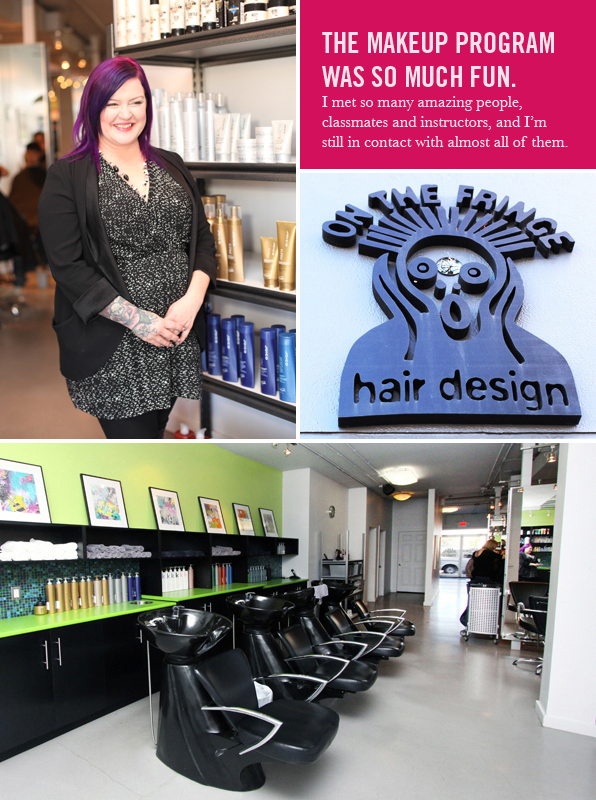 Jennie had loved hanging out in the local salon from an early age ("I was happy to sweep up the hair. I liked the community and the conversations."). But her inner hairstylist would have to wait, as she'd been understandably wowed by the artistry and career opportunities of the Global Makeup Program.
"The Makeup program was so much fun. I met so many amazing people, classmates and instructors, and I'm still in contact with almost all of them. Even now, if I have questions I'll message Ashley Forshaw, Leanne Rae Podavin or Jon Hennessey.
"We did a Hair module on the Makeup program with Tyana Nichole, focusing on updo's and wedding do's. So if you were put on the spot as a Makeup Artist you could whip up a hairstyle. Ty was inspirational. I aced the hair module. Which was the only thing I aced!"
Jennie stepped straight from Blanche Macdonald into life as a professional Makeup Artist, both in the independent movie world and at Shoppers Drug Mart. But the lure of Hair soon proved too strong to resist. When it came to picking a School, there was never any doubt.
"I knew what Blanche Macdonald expected of us when I started the Hair Program. I knew how high the standards were. I loved how the instructors are working in salons. Lisa Callender and Jeff Ranger are so cool! The education was great. And I liked talking to people all day!"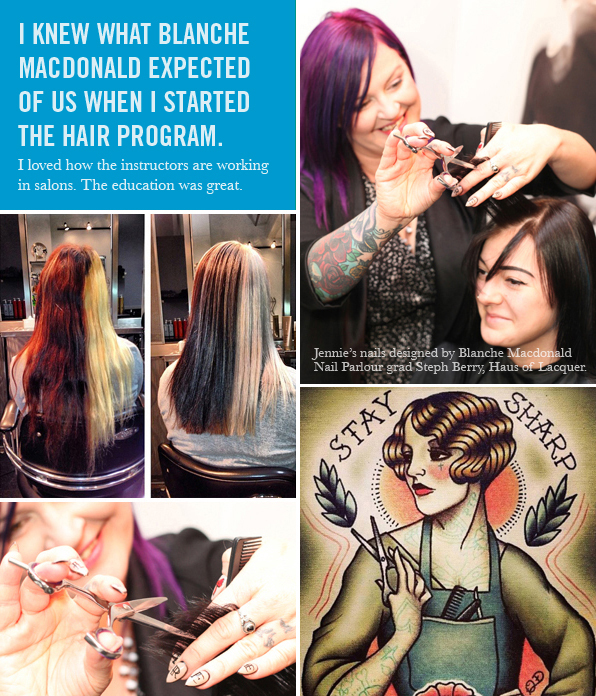 Talking comes naturally to Jennie. She's an unabashed people person, regularly punctuating her conversation with booming laughter. Connecting with clients has never been a problem: even before she had the technical abilities to match her innate interpersonal skills.
"When we first started seeing clients in the School Salon it was absolutely nerve wracking, but the instructors weren't going to give you something you couldn't do. They wanted us to be confident. The more confident you are, the better haircuts you give. The instructors would build us up. I loved it!"
Looking for some real-life experience (and income), Jennie's enthusiasm led her to a position assisting owner Shannon Simmonds at Vancouver salon On The Fringe Hair Design while she was still at Hair School.
"I ended up working at On The Fringe on Thursdays, Fridays and Saturdays, assisting and going to Hair School Sunday, Monday, Tuesday and Wednesday. I was working my butt off! In the salon I'd watch Shannon and the other stylists work. I did my Blanche Macdonald work placement here too! I knew this was the place for me."
On The Fringe Hair Design realised that they had a special one, and put Jennie to work seeing clients the day after she graduated. After a couple of weeks on Main Street, Jennie relocated to the branch at the University of British Columbia, one of Vancouver's liveliest salons. It's been her creative home ever since.
"It's really busy at UBC. We get walk-ins all day long. Our clientele are different from the clientele at the Main Street salon, but how we want to make them feel and what we want to achieve when they're in our chair is exactly the same. We want to make them feel that they're the only people we're thinking about when they're with us. We have clients that have moved to Vancouver from different countries and university life can be lonely for them. We want them to know that we care. Once every six weeks they have someone they can vent to."
For Jennie's global clientele, whether it's their first or tenth time in her chair, a trip to On The Fringe Hair Design is a chance to sit, laugh and chat with a friend. For Jennie, every client is a chance for a creative adventure.
"I love big changes. When girls come to university and are away from home for the first time of course they get excited about changing their colours or cutting it short. What are their parents going to do? Men's cuts are always fun. Girls have all these different accessories. But for men, their haircut is their accessory."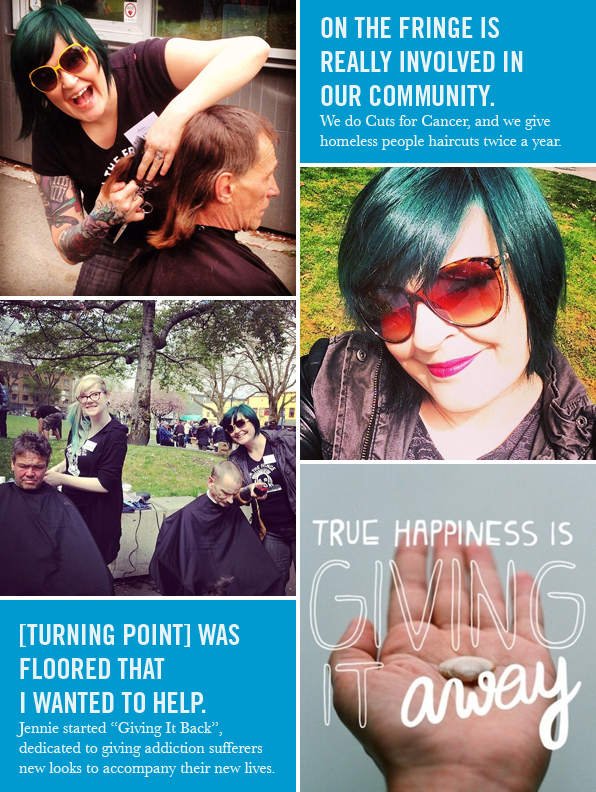 For anyone walking into On The Fringe Hair Design looking for a bold colour change, the orchid tones of Jennie's own hair is confirmation that they're in gifted hands.
"When people walk into the salon and think, 'Who here would be the best fit for me?' they can see my hair and ask if I can do the same for them. Colour is like chemistry. It's a legitimate science."
Jennie's commitment to filling people with confidence isn't confined to her clients. Taking inspiration from her volunteer work with On The Fringe Hair Design, she's started Giving It Back, a foundation dedicated to giving addiction sufferers finishing their treatment new looks to accompany their new lives.
"On The Fringe is really involved in our community. We do Cuts for Cancer at UBC, and we give homeless people haircuts at Oppenheimer Park twice a year.
"I realised that two times a year wasn't enough for me. I've had friends and family members struggle with addiction so I wanted to give back. I starting talking to Turning Point, which is a treatment centre for drug and alcohol addiction. They were floored that I wanted to help. I've done all this hard work to get to this point and I love doing it. I want to share these skills with people. I'm pretty excited!"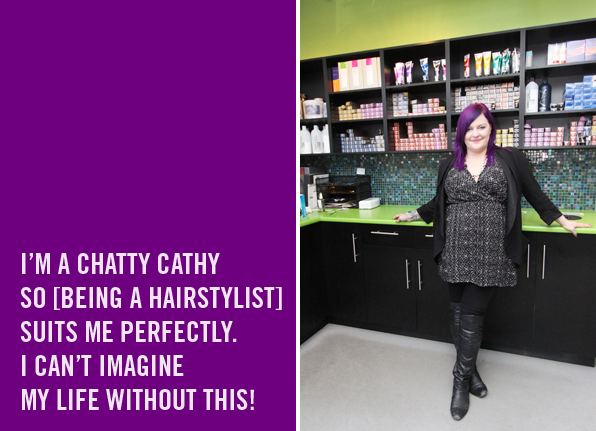 For Jennie, the art of hair is the art of understanding and appreciating people. Whether it's a regular client or a stranger, the world's most technically perfect haircut doesn't mean a thing unless it's on the right head.
"You have read people," she smiles. "How can I make you feel better about yourself? Will this haircut suit you? I'm not going to give someone shy bright pink hair if they're shy and don't want to stand out. You need to know something about the person to answer those questions. I'm a Chatty Cathy so it suits me perfectly. I can't imagine my life without this!"