Hair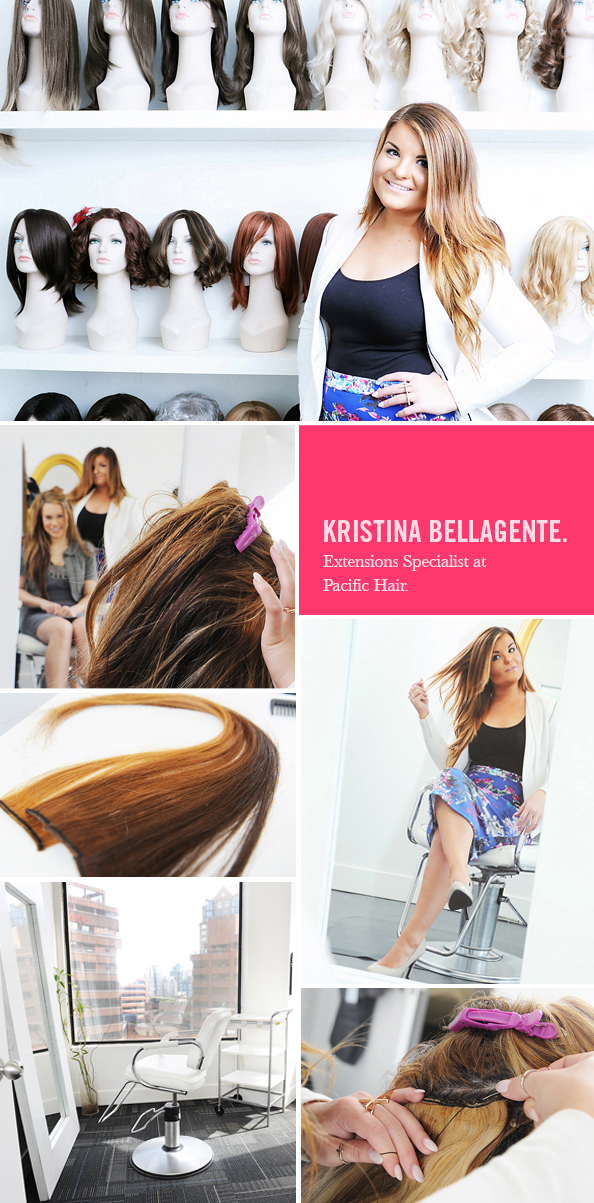 Kristina Bellagente always loved hair but wasn't sure that she wanted to work in a salon. So she found a job in the industry that suits her perfectly, becoming an Extensions Specialist at Pacific Hair Extensions. Now she delivers bespoke extensions solutions to clients who want added length and thickness, and clients who need additional coverage after suffering from unwanted hair loss.
"Working here makes you aware of the reality a lot of people face," she explains. "We specialise in extensions and hairpieces, so we have many clients who suffer from different types of hair loss. We have clients who have naturally thin or fine hair and want that extra body, and clients who suffer from many different types of hair loss due to alopecia or who are going through chemotherapy. It feels really great to be able to make them all feel confident and put a smile on their face, no matter what their reason for coming to us is."
It was only natural that Kristina would end up in the Extensions business. Growing up in Victoria, she was the teenager whose hair always had to look perfect. Soon after graduating high school she secured a job for herself doing clip in extensions (and, for a brief time, tape in extensions) with Luxury Hair.
"I started out doing extensions, selling styling tools and hair product with Luxury," continues Kristina, "and I ended up travelling with them doing promotional tours and trade shows. I worked for Luxury for two years and really enjoyed my time with them, but I always knew I wanted to learn colour and cutting. I wanted to be able to do everything, so I realized it was time to go to hair school and get professional training.
"When I started looking into hair schools the only place that offered extensions in its curriculum at that time was Blanche Macdonald. I thought, why not move from Victoria to Vancouver for a year? Vancouver is amazing!"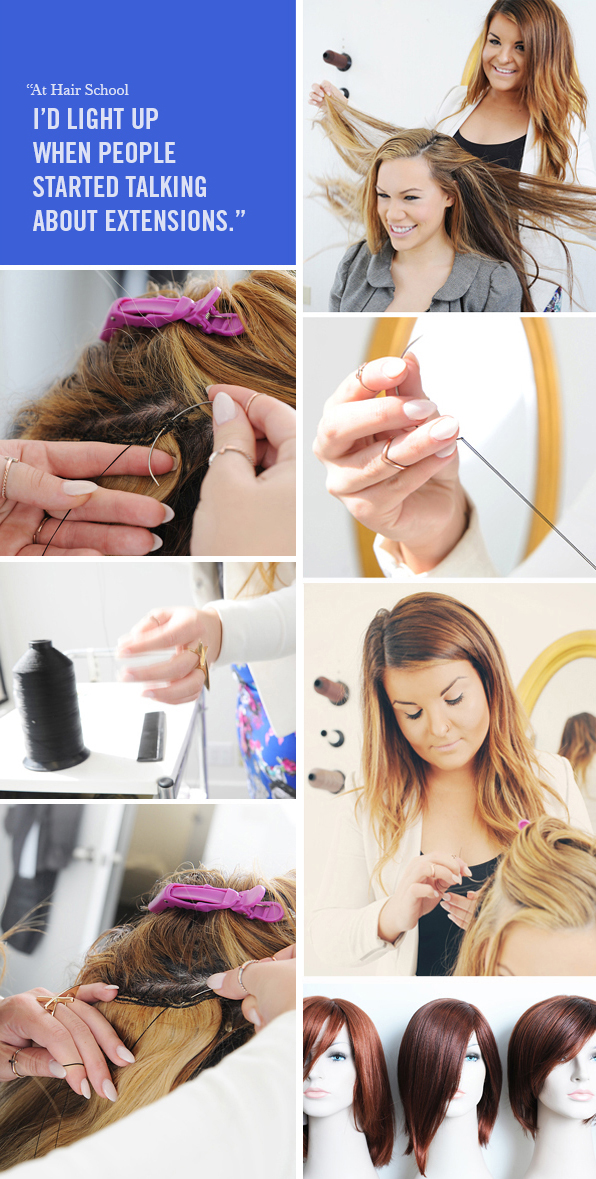 Kristina took the ferry across the Georgia Straight and began her Hair School adventure. Like the styles and techniques she was learning, the education was transformative.
"I felt myself changing a lot. I became more confident. I've always been outgoing and felt like I had potential. At Hair School that potential came to the surface. I knew I was doing what I loved and that it would be my career. In that first level at Blanche Macdonald you start learning about the client-stylist relationship. And they never let you forget that throughout the course.
"The most exciting part to me was the extensions level. The only methods I'd done with Luxury Hair were clip in and tape in extensions. At Blanche Macdonald we learned braiding, the technique we do at Pacific, and we learned how to do fusions and microlink extensions. It was all really great. Everyone at Hair School gets excited about different parts of the program. The instructors can definitely tell which aspects of the course you enjoy the most and a lot of people love cutting or colour. I liked doing those things, but I'd light up when people started talking about extensions. I remember coming into the school salon one day when another student had a client for extensions booked in. She didn't want to do it and I was like, 'I'll do it!'"
Alongside her amazing hair training, the Blanche Macdonald Pro Hair Instructors also provided Kristina with a suggestion of where she could begin her career with a job that suited her perfectly.
"I just couldn't see myself being a normal stylist," she admits. "So Jeff Ranger told me about this company called Pacific Hair Extensions. I came in, dropped my résumé off and got a call back to come in for an interview. They told me that this isn't a job for everybody. You have to really love extensions to do this. I knew right away this was exactly where I wanted to work."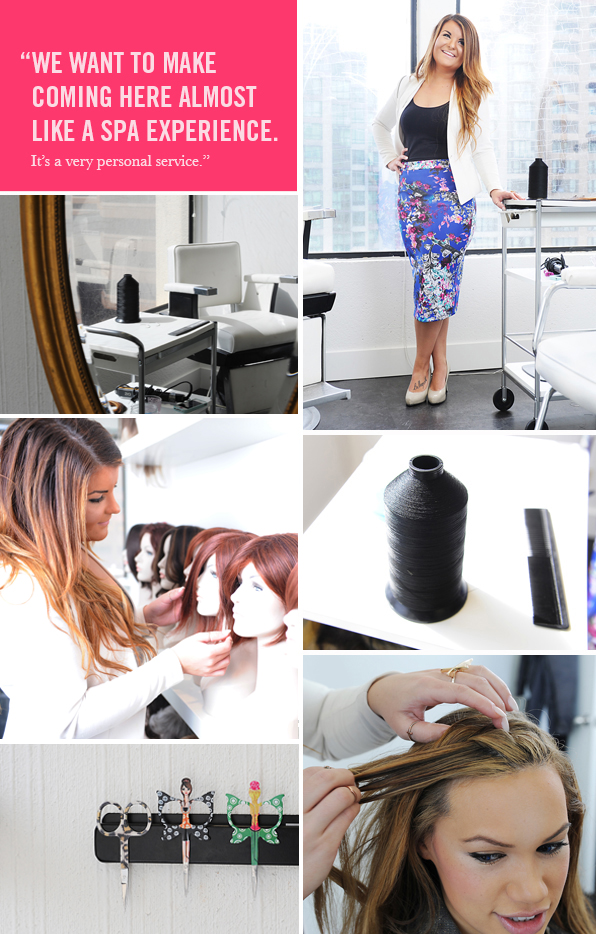 Pacific was looking for a stylist who loved extensions. Once they found Kristina, they stopped looking.
"My initial impression of Kristina was that she's a young woman who pays meticulous attention to presenting herself as a professional," explains Yanie Sesay, the owner of Pacific Hair Extensions. "I was struck by how genuinely interested she was in our clients, both in terms of technically providing the best service she can offer, as well as being a friend and lending an empathetic ear during trying times. Kristina quickly became an invaluable member our team.
"Working with Kristina on a day-to-day basis is an immense treat for me. I've been in this business for a long time and it's a rarity to come across a young person who is not only conscientious in the way they present themselves, but consistently supportive of their team and of her clients. Providing a host of services for clients undergoing medical and aesthetic hair loss can be quite challenging at times. Our roles run the gamut from advising clients of the best timing for wig fittings after chemotherapy, to helping a movie star in Vancouver for a week with her meticulously placed faux-hawk extensions. Kristina is very adept at switching from these various roles, in a way that leaves the clients feeling beautiful and confident."
"Discretion is one of our major goals at Pacific Hair, which is one of the reasons we offer all private rooms," continues Kristina. "We want to make coming here almost like a spa experience. It's a very personal service and for some clients, it can be like therapy for them. We like to make our clients feel as comfortable as possible and know that we are all here to make them happy and feel as though they can really open up to us. I know a lot of stylists have that close relationship with clients, but here it's taking it to another level. I'm always myself no matter who the client is. They say I'm easy to talk to and it feels amazing to have that kind of responsibility. It's almost like they can talk to us like they'd talk to their doctor. Of course, we're not doctors, so if we do notice something like accelerated hair loss, we'll recommend that they see their doctor. Any hairdresser should do that though. We might notice it more, because we see clients every six to eight weeks."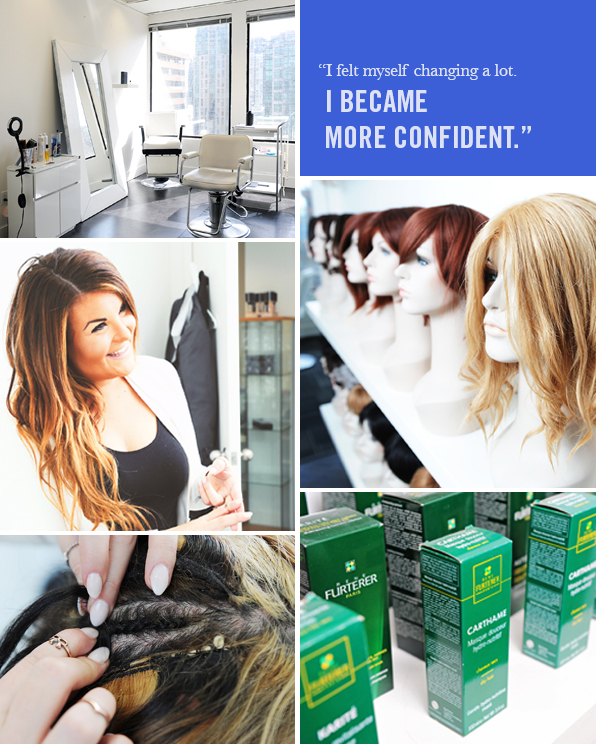 It's no surprise that clients are falling for Kristina. She's bursting with enthusiasm for her work, both for the challenge and creativity that each new head requires, and for the results and happiness her work is producing.
"I love to see the transformation!" she beams. "Our work looks so real you'd have no idea they're extensions. I came here straight from Hair School, and to get the feedback that I've been getting is incredible. I'm seeing my results so soon and it feels really good. We have clients coming from Vancouver Island and even the States to see us. The quality here is unbelievable. I've been working with extensions for a few years and this is the highest quality hair that I've seen. When people have been wearing wigs, hair pieces or extensions for a long time and they finally discover us, they're like, 'Why haven't I come here sooner?'"