Hair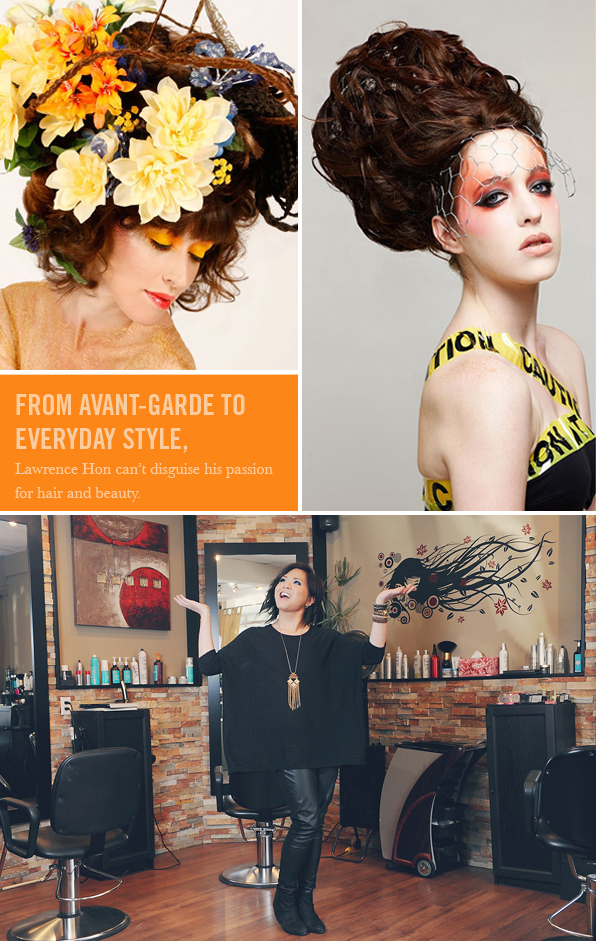 Lawrence Hon took a unique path to Blanche Macdonald. He was successfully working in the beauty industry as a self-trained Makeup Artist and Hair Extensions Specialist when he realised that some formal training at Canada's #1 Hair School could take his career into the stratosphere. Now he's a star stylist at Vancouver's Infinity Salon and Spa, and a Makeup Artist representative for L'Oreal Luxe.
"I would read the graduate profiles and was always amazed by the stories," he smiles, recalling his decision to add a Blanche Macdonald Diploma to an already-impressive résumé. "I was working as a full-time Makeup Artist and was considering moving to Toronto with Sephora. I had the honour of having my work photographed by Steven Kahn at the Toronto Film Festival and things were going amazingly. But I knew I loved education and that I'd missed out in certain areas. I needed to polish my techniques. Then Pearl Jung from Blanche Macdonald gave me a call. It was fate. I packed my bags and came back to Vancouver."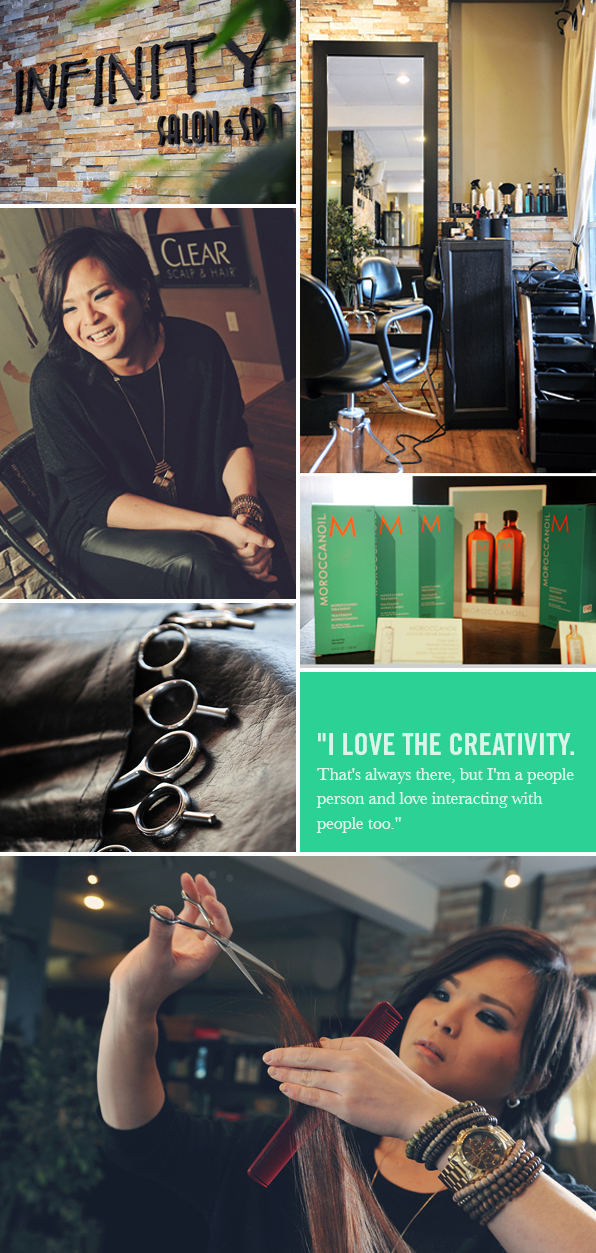 Lawrence was destined to become a beauty superstar from an early age. Growing up in an extended family full of women, he could witness the transformative power of hair and makeup at first hand.
"At my sister's graduation she had her hair and makeup done and all of a sudden she became so excited and so happy. Seeing that made me happy. I could see how it changed her appearance and confidence. I said to myself, I want to do that. I want to make every woman in the world feel that way."
When his sister went for hair extensions Lawrence saw the opportunity to jump headfirst into the beauty business.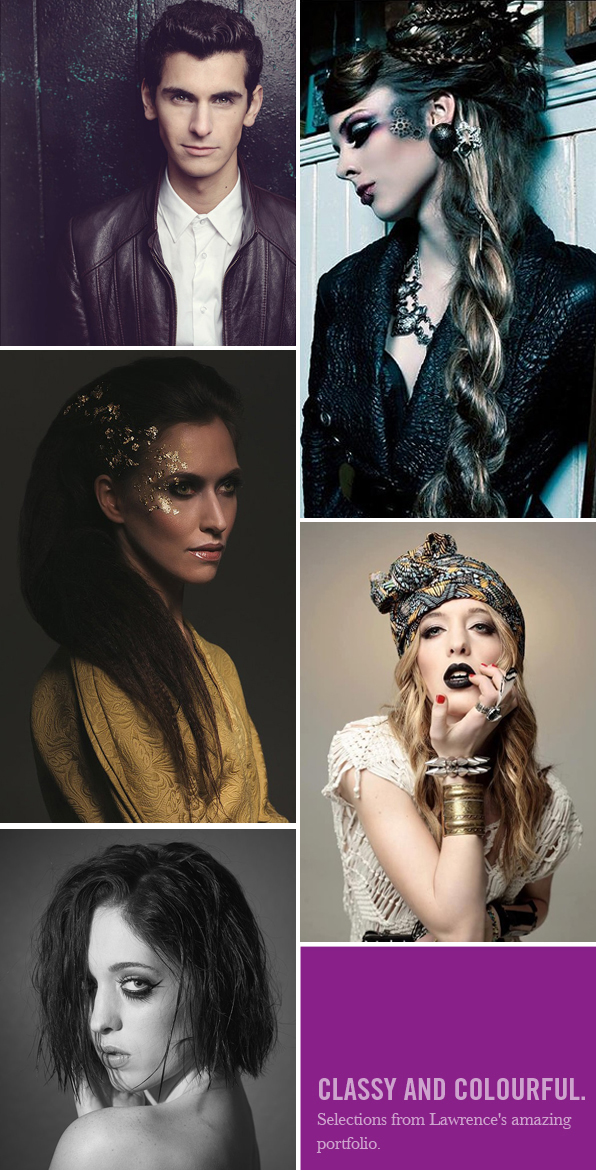 "I started studying her hair to see how extensions were created, then asked if I could do them for her. It was a disaster! She said, don't touch my hair any more! But I was determined to learn. I went to the library and read books on how to cut and style hair. It didn't really help. Neither did Google. So I started going to the best stylists in Vancouver and have them cut my hair. Or I'd just go to their salons and watch. I was the creeper sitting in the corner watching people cut hair!
"I went to Hong Kong for three months. My aunt and uncle are both hairdressers, and they passed a lot of knowledge onto me. When I came back I started a successful side business doing hair styling and extensions. My sister let me do her extensions again and I've been doing them for years now. I guess I wasn't all that bad after all."
Hard work comes naturally to Lawrence. His next task on his self-propelled journey into beauty? Makeup.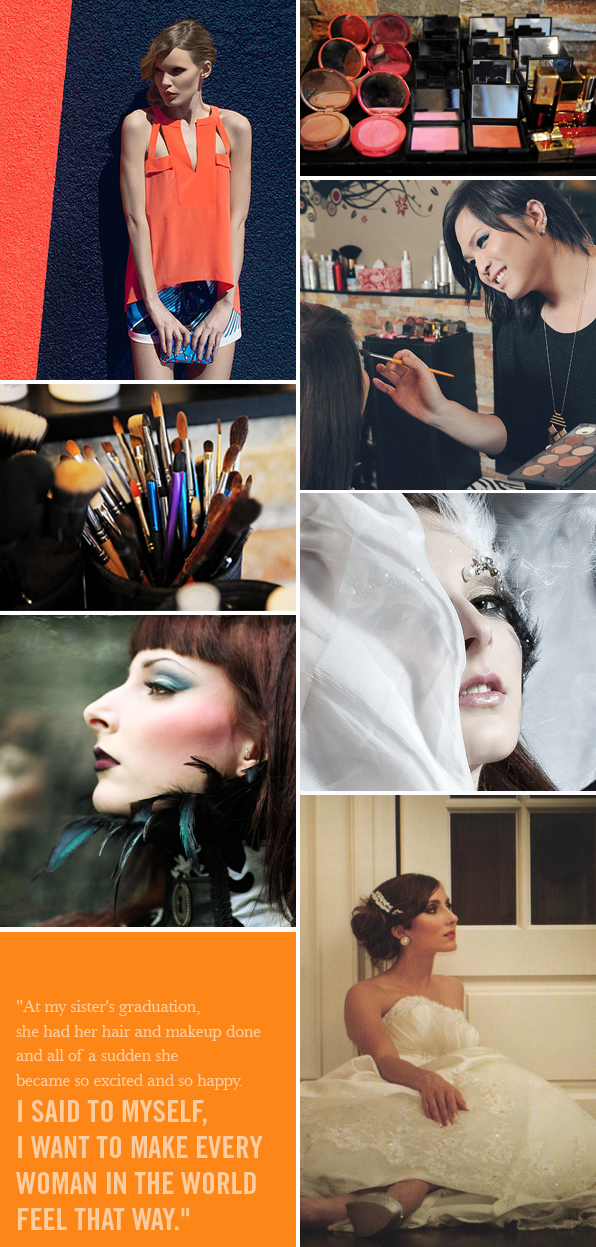 "I had a friend who worked at Sephora and he got me a job there. I guess they could see my passion. I was so inspired to move forward! Every time they saw me do a makeup they could see me getting better and better. They paid for all my training and flew me to San Francisco and Toronto to help further my education. After three years I was selected to represent Vancouver to compete in the Sephora Pro Team in San Francisco along with some of the top Canadian and American artists. That was a big deal."
Lawrence's Makeup portfolio speaks for itself. His work has appeared in magazines like Hush, Dark Beauty, Vigore, Kenton and My Persian Wedding. But still, he wanted something more. Coming to Hair School might have seemed like a bold decision for someone who had already worked as a hair stylist. But after two days, he knew he had made the right choice.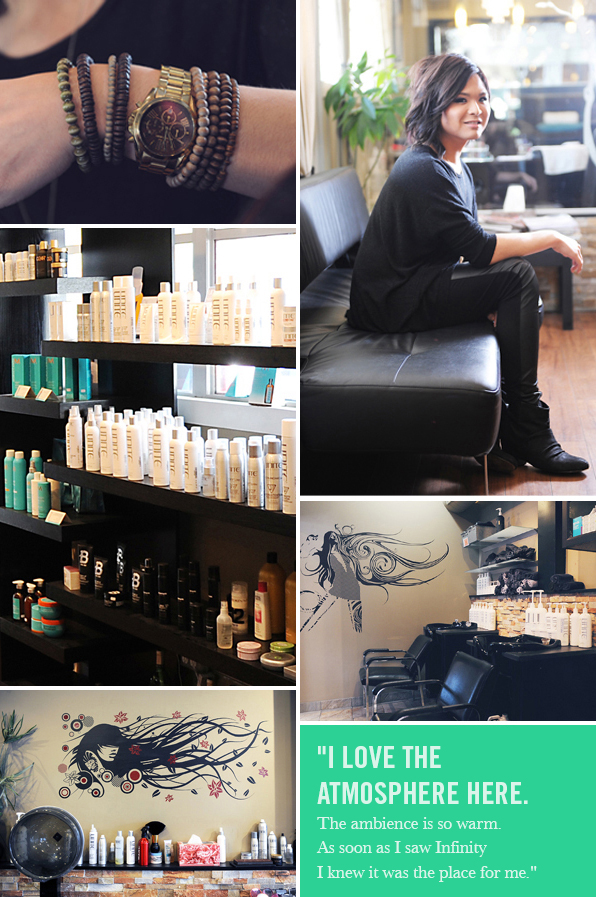 "We were learning about hair and I couldn't stop listening. I got so excited. It freshened up everything. I'd taught myself the fundamentals but what I relearned at Hair School set it in stone. The course was amazing. Their education program for extensions is very thorough and detailed. A lot of schools don't even teach hair extensions. That's why Blanche Macdonald students are at such an advantage. People know Blanche Macdonald grads are good at what they do. When salons are hiring they often ask, do you do extensions? Do you do perms? Blanche Macdonald grads can do everything. They're the top of the top."
Naturally humble, at Hair School Lawrence kept quiet that he had years of experience behind him. That was until the time arrived for the first editorial photo shoot.
"I got excited and whipped out my makeup case," he laughs. "Everyone was like, Lawrence, you have a lot of makeup. I had almost five years of makeup experience at that point and my entire kit had come as awards or gifts. When my instructors, Tyana Nichole and Lisa Callendar, saw that, they expected more from me. They were both makeup artist too, sharing some great tips and techniques with me. Learning in this kind of creative environment felt like second nature to me."
"I would ask Phil Loiselle, the Program Director, for advice on what route I should pursue. He told me to believe in my education and experience and do my best. That really helped me see my career path clearly. I know I can believe in the education I've received and all the support and knowledge passed down from my Blanche Macdonald Family!"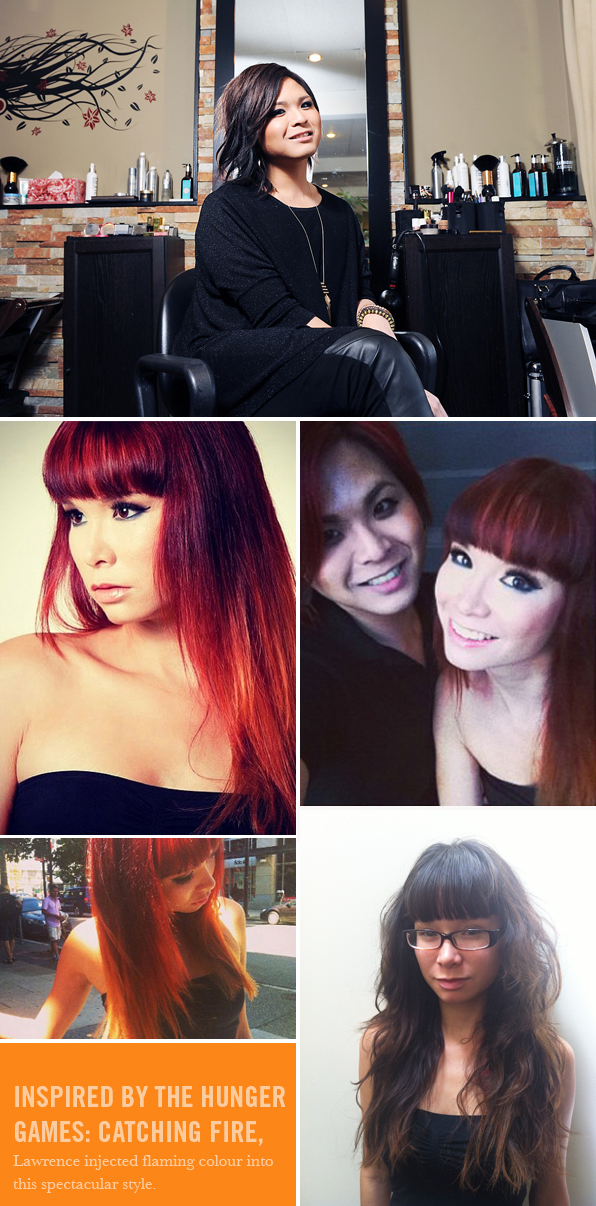 Lawrence didn't have to wait long to enhance his career. After graduation he resigned from Sephora and was almost instantly recruited by L'Oreal. Now he conducts makeup demonstrations at product launches and campaign events in Vancouver and works with brands including Yves Saint Laurent, Giorgio Armani and Shu Uemura. A few months after graduation he started looking for a full-time hair position too, which brought him to the door of Infinity Salon and Spa.
"I walked into the salon and Vivian, the owner, asked if she could help me with anything. I explained who I was and she said, 'As soon as I saw you, I had to speak with you!' I left my résumé and portfolio and four hours later she shot me an email telling me to come in the next day. She said my work spoke for itself and that I was hired. Right off the bat I was a stylist, an extensions specialist, a makeup artist and a salon manager. I was like, 'What's going on?'"
It was the start of a beautiful relationship.
"I love the atmosphere here. The ambience is so warm. As soon as I saw Infinity I knew it was the place for me. And I still get excited about the transformative power of hair and makeup. On my instagram page I'm always posting before and after photos. Now every client wants a makeover. The word spread and now every client wants something new. I've been doing this for five years and I still get overexcited."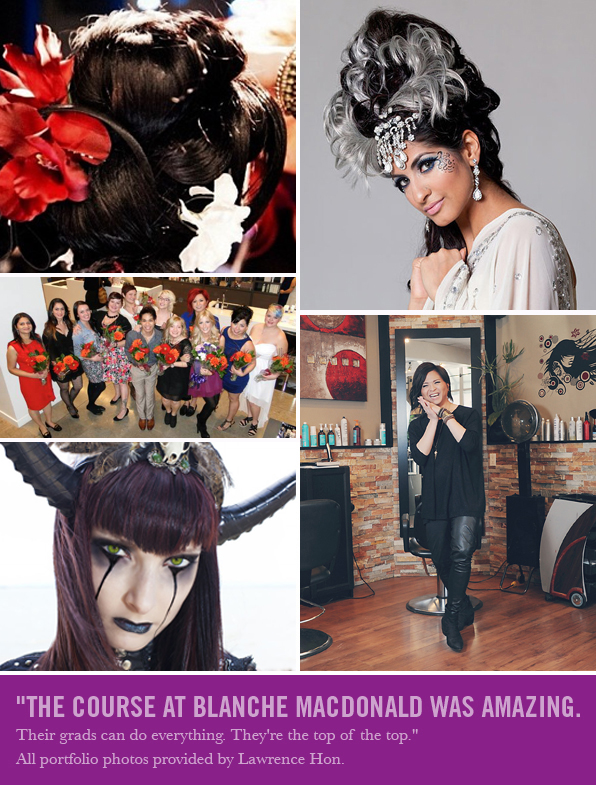 It won't be long before Lawrence is sharing his infectious enthusiasm with the next generation.
"I'm eventually hoping to become an educator for L'Oreal. They do hair and makeup, which is why it's the perfect company for me. And of course I'd really like to eventually go back to Blanche Macdonald to teach. I'll never stop doing hair and makeup though. Even if I was teaching full time, I'd take a day or two each week to work in a salon. I love the creativity. That's always there, but I'm a people person and love interacting with people too."
Lawrence's story is testament to the power of determination, along with an appreciation that the art of hair and makeup goes far beyond appearance. Which is why when he offers advice to aspiring beauty professionals, it's worth listening.
"Remember that being humble is the key to success in everything you do," he insists. "And it's the cheesiest line, but follow your dreams. I've fallen so many times: in my career and literally on the floor. But when you fall, get up. I've had my share of disasters, but I stood up strong and perfected it. Eventually the great things will fall into place."