Hair

"No matter how long I do hair, the most rewarding part of the job is still changing someone's life."
Despite reaching near-celebrity status on the Vancouver hair scene, Aaron Brousseau still marvels at the transformative powers of the hair he is entrusted to shape.
"I love that I have the ability to give someone the most beautiful accessory they're ever going to wear. Hair can be life-changing, absolutely."
Starting out with only tenacity and a strong urge to get snipping, Aaron's been taming locks since a young age.
"The first haircut I ever gave was on my brother. I must have been about twelve. I took some clippers and started to cut his hair. Then the guard on the clipper came off and left a nice sized bald spot on his head. It was the most wretched haircut. We ended up shaving it all off."
Growing up as one of twelve children in the rural town of Terrace, B.C. may have offered plenty of willing young hair models but it didn't offer Aaron the opportunity to gain formal training as a Hair Stylist.
"[My own Stylist] saw me cutting and colouring for my family and siblings' friends, and saw that I was getting better. That's when she said, 'You need to go to school for this. You have a raw talent. You're good at what you do, but you need to be trained. If you don't apply for school by September, I won't cut your hair anymore.' So I applied to Hair School."

The bright lights of Vancouver were the obvious destination for Aaron and it wasn't long before his research of Hair Schools led him through the doors of Blanche Macdonald.
"I looked into a lot of programs and Blanche was the only one that had everything. I wanted to learn every aspect of the industry and Blanche Macdonald had it all."
Canada's Top Hair School was just the thing Aaron needed to focus and perfect his passion for all things hair. Embracing the abundant, exciting opportunities both in and out of class, Aaron threw himself into both the Pro Hair program and Vancouver's bustling Fashion scene, gaining every ounce of practice he could.
"School helped me so so so much! Before I started, I would look at hairstyles and be like, 'OK that's how it looks' and that's exactly how I would cut it. I took hairstyling very literally. But when I came here I learned what I needed to do this stuff properly." He laughs, "It also corrected the bad habits I'd given myself! I had a good self-taught foundation, but Blanche Macdonald added so much more."

It is this foundation – bolstered by a wildly coveted patented ombre technique that he has developed over the years – that has allowed Aaron to launch the practice of hairstyling up into a vibrantly-hued art form. Today, he is re-imagining Vancouver's salon experience as an Independent Contract Stylist at Illusion Studio and Spa. And between the eager rush of clients (here more aptly-deemed fans) that fill his chair, he acts as Salon Educator for Bumble and bumble., as well as Co-founder of creative group BE Collective.
As an Independent Contract Stylist, Aaron is afforded the freedom to explore more channels of the industry. It's allowed him to broaden his abilities, strengthen his talents, and to focus on the development of his brand.
"I've always had 'the mustache followers' because of my crazy facial hair, but when I started doing rainbow and pastel hair with my ombre technique, that took me a lot farther on social media."

You'd be hard pressed to find someone in Vancouver who isn't sporting one of his signature ombres or at least familiar with his name as the ombre stylist.
"My ombre is something that I developed by taking classes and making mistakes, mostly! Though, I'm a huge nerd and I like to study, so I researched and took tips from L'Oreal's Balayage Collection. Working with companies like Bumble and bumble. and La Bioesthetique helped because those are three completely different styles I was able to merge in my own way. I also stare at people on transit all the time! Sometimes I'll just be like, 'Is that natural colour?' "
Whether it's moving from his hometown or starting up a side career, Aaron has never been one to ignore those pivotal "what if?" moments. It was a holiday in Hawaii that provided him the last inspirational push he needed to take the plunge from drag admirer to performer.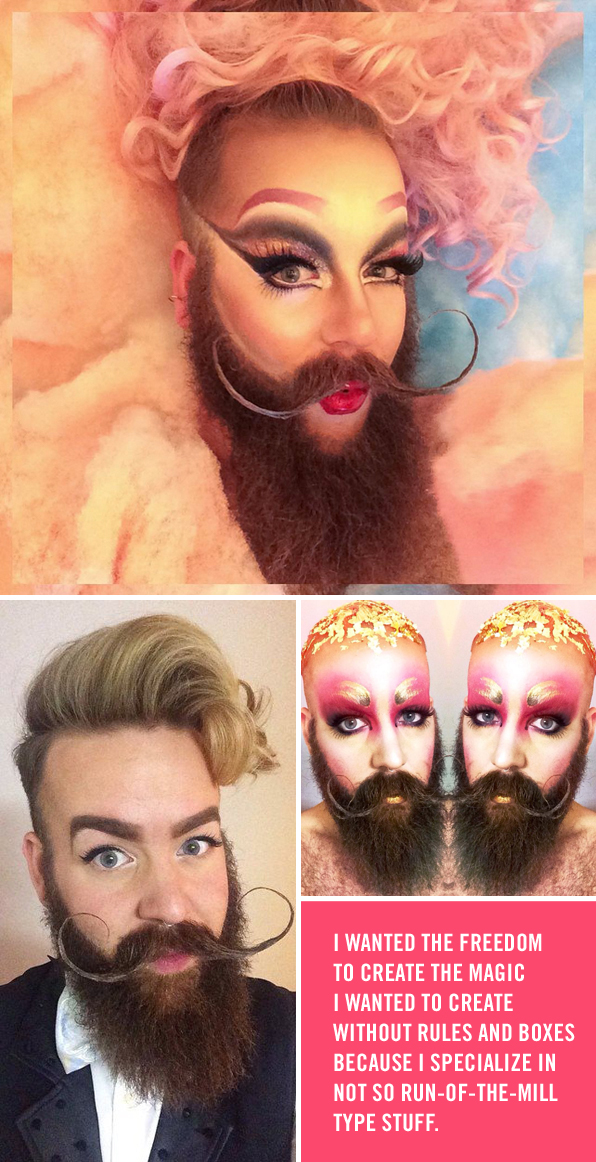 "I always thought I couldn't do Drag because I would never shave, but Grace Towers, another Drag performer who is one of my idols, changed all of that. I met her in Hawaii and she introduced me to 'Beardy Drag.' I could actually incorporate all my facial hair into a really glam performance. She really inspired me to just give it a try!"
It was thanks to a fateful New Year's Eve, that his social media and career now incorporates another majorly cool, colourful and artistic side of his personality. Aaron's newest role is a star Queen on the drag scene running the popular monthly "Sweet N Sticky" show.
"Evita Versace and I were going out in drag last New Year's Eve and a few of the servers at Displace Hashery in Kitsilano wanted to see me all dressed up, so we stopped by and the customers went crazy! They kept asking if we would perform for them, and of course, I'm in drag so I get all sassy and go, (with a hair flip of course!) 'I'll perform when you book me a show!' I was totally kidding, but then the owner actually reached out to me about it, and "The Sweet N Sticky" show was born!"
Combine Aaron's rainbow ombre fan base with his sprinkle-topped sundae of a drag persona ("I'm basically a cartoon version of a real person. I'm a hot mess. A big, colourful hot mess!") and you have a social media explosion.
"When I started posting a lot of drag looks and pictures, I lost a lot of followers, but in no time, I've gained a whole new set of followers. My social media community now is a meld of things that I love the most and it's all come together to make a big splash!"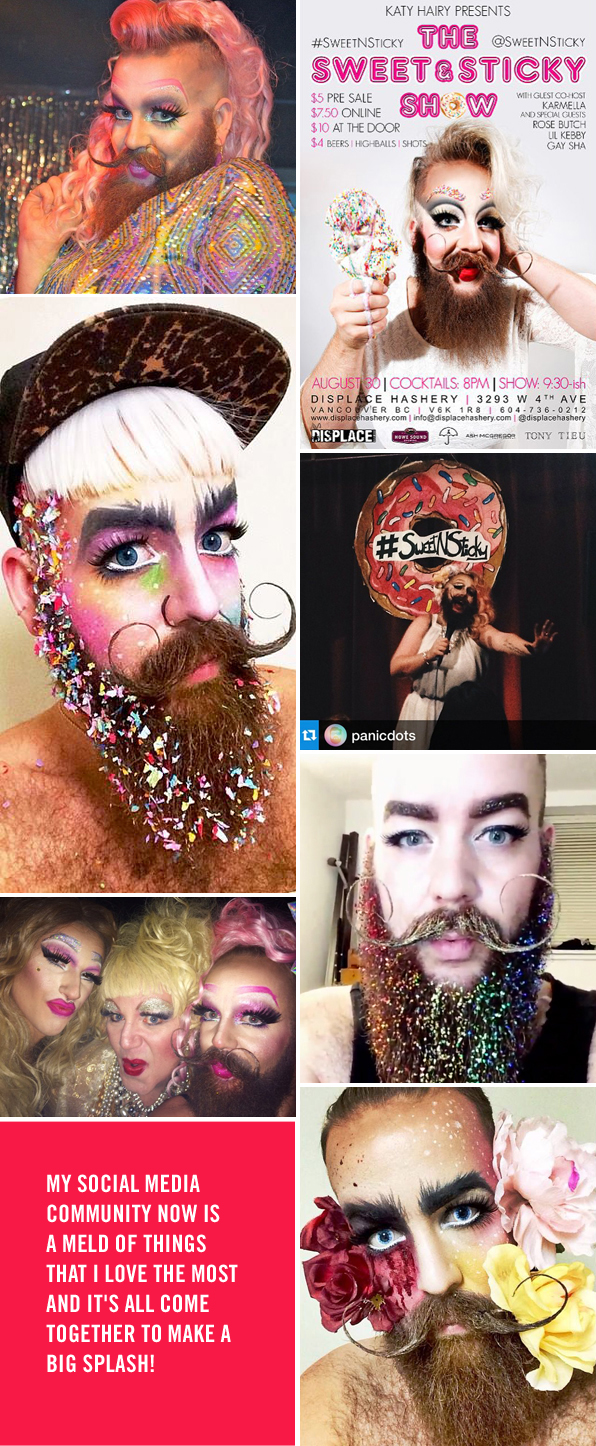 Aaron has become a Master of his craft and a highly respected expert in the competitive Hair industry, and he's done it by striving for the top of a niche he created for himself. He's seamlessly integrated the full gamut of his passions – from Pro Hair to Katy Hairy – into one vivid and flourishing career. Following his love of hair has taken him to amazing positions and opened countless doors of opportunity that Aaron never even considered for himself at first. If there ever was an example of letting your heart and dreams lead the way to success, Aaron is definitely it.
"I wanted the freedom to create the magic I wanted to create without rules and boxes because I specialize in not so run-of-the-mill type stuff. I've developed my own artistic style, so when I get to show people at another salon how to do that and then they put their own twist on it, it's super fun. Especially when they come up later and go 'I taught the Aaron ombre and it was amazing!'"