Hair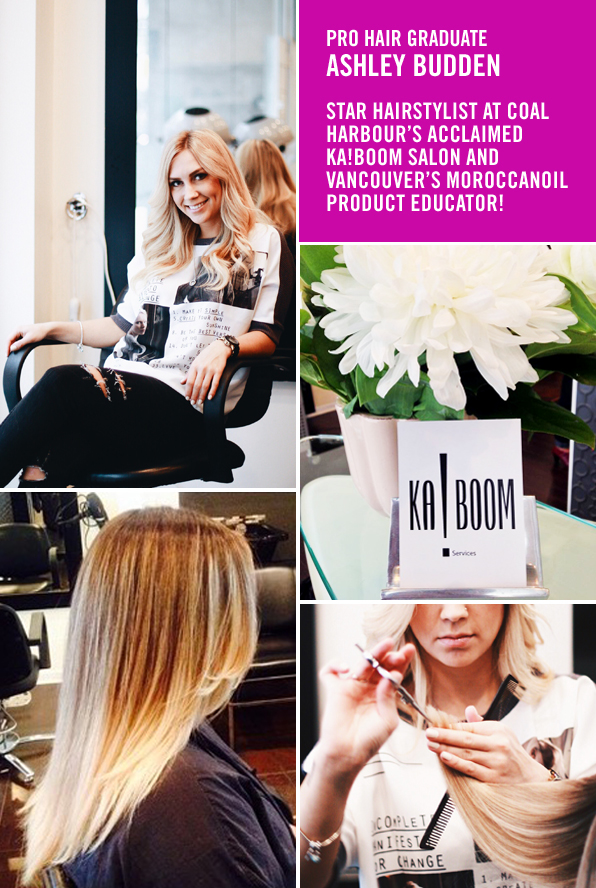 The critics have spoken. When Condo/Western Living magazine ran its "Where to get a real haircut in Vancouver" feature, Ka!Boom was listed as the best salon in the Coal Harbour neighbourhood, with a specific shout out to a certain Blanche Macdonald Pro Hair graduate.
"'Ashley works miracles' was what they wrote!" she smiles. "I got so many new clients from that story. The weird thing is, I don't know how it happened and I never found out who wrote it. I had my suspicions that it was a client but she denied it. So it's still a mystery!"
It's no mystery why that secret admirer is singing Ashley's praises. It's the same reason why her chair at Ka!Boom is continually filled with clients looking for the latest style and why pro hair line Moroccanoil has recruited her to educate other stylists across Vancouver; Ashley loves what she does. Growing up in Kamloops, BC, a life as a top hair stylist in the big city was always her ultimate goal.
"I was braiding my Barbie dolls' hair and experimenting on my younger sister from the time I was five. The first haircuts I gave happened in Grade 5 at a sleepover party. I announced, 'I can cut hair,' and went at all my friends with a pair of scissors. We all ended up going to hairdressers afterwards, but some of those hairdressers said, 'You know, she didn't do that bad a job!'"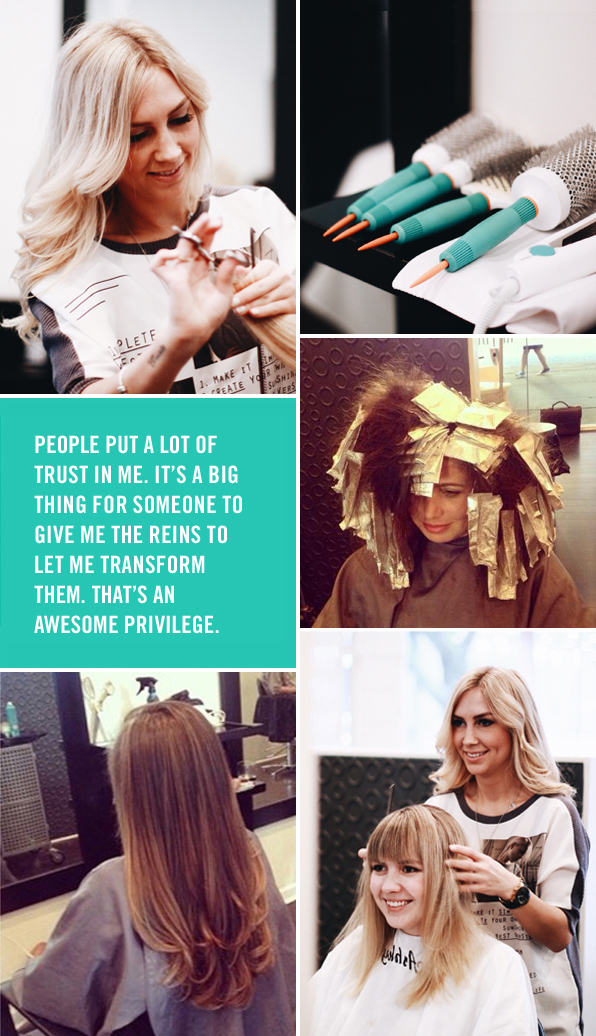 Ashley was sharing opinions about her and her friends' appearance before she'd even started high school. The essence of a hair stylist was already within her.
"When I was about 12 I was watching a lot of MTV and Much Music. I became inspired by the fashion I was seeing. I could tell when people had outdated styles. It bothered me. 'You have to get your Mom to stop feathering your bangs! You can't walk around like this!'"
Ashley graduated and put her plan into action. She moved to Vancouver and enrolled in her first choice Hair School.
"I wanted live in the city and make people happy. The way to do that was to go to the best school. That was Blanche Macdonald."
As soon as Ashley reached the School Salon, she started making people happy. Once she'd overcome her own nerves.
"Seeing my first client was terrifying!" she laughs. "But our instructors were by my side the entire time and I could ask if I was nervous about anything. You can panic when you first start cutting on real people because you don't want to mess it up. But at the same time it's so exciting. You get to change people's looks. I was able to experiment and make big changes in the Blanche Macdonald Salon. Clients tended to be young people and when I'd make a suggestion for a big change they'd often say, 'Sure! Be creative!'
"Blanche Macdonald educates you on so many different things. We were taught how to interact with people too. The etiquette training we did made us feel more confident to approach people in a professional manner."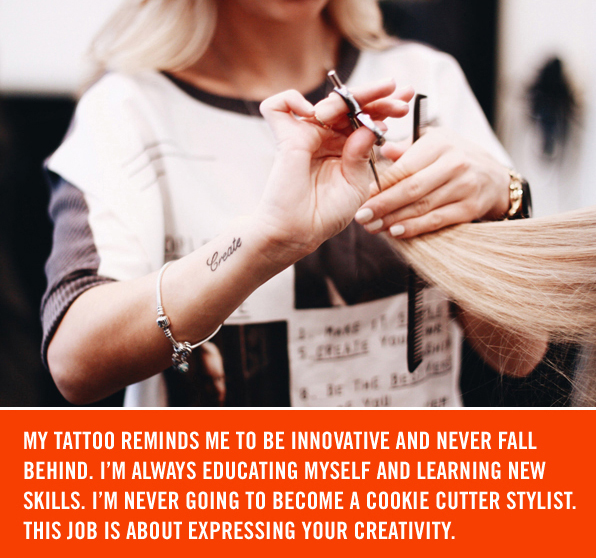 Ashley graduated from Hair School and went straight to her first job at the Hennessey Salon in Oakridge Mall. After a year she moved to Whip, a concept salon in Yaletown. It was there Ashley made the connections that allowed her to put what she'd learned on the Hair for Film and TV modules into action.
"I was working with a hair stylist who had worked on The Vicki Gabereau Show and was close friends with one of the Makeup Artists at CTV, Rebecca Simmons. Rebecca needed stylists for the morning show during the Vancouver Olympics. I had an interview at CTV, which was challenging as they gave me a newscaster to blow dry as fast as I could. I remember thinking, 'You've got this – don't mess it up!' They liked me and gave me a contract for the whole Games.
"I worked 1am to 9am every morning during the Olympics. We were on air from 3am, because we were broadcasting across the entire country. I was a big MTV fan and used to watch The Hills, so it was exciting for me to meet and style the talent that I once looked up to. I built a rapport with them, which was cool. There were random celebrities and medallists coming and going the entire time, which was really exciting. But I also missed being constantly busy like I would be in the salon."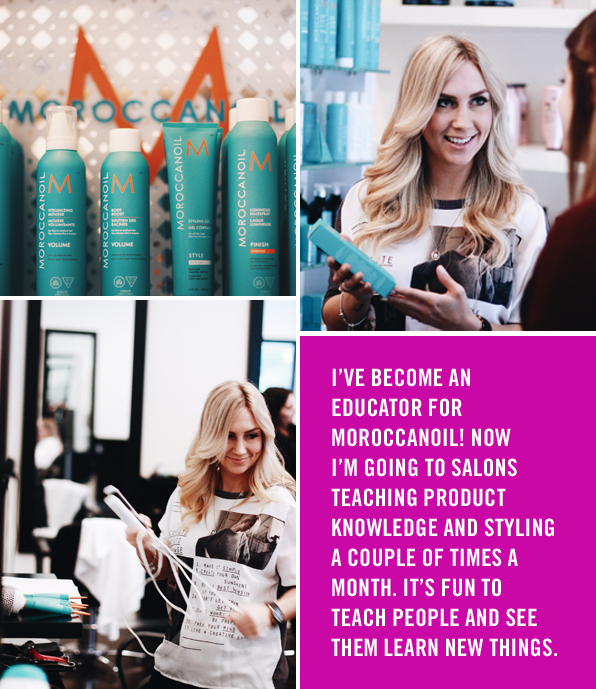 Ashley had decided on exactly what she wanted from her hair career. She just needed the right salon to make it happen.
"Because we were committed to one line of products at Whip I felt limited with what I could use with my clients. I wanted to express my creativity and wear what I wanted to wear. That's the best part of being a stylist. You get to be who you are, and people come to see you because of that."
The salon she was searching for was Ka!Boom. She's been a star member of the team ever since.
"It felt like home from the start. We're a bunch of friends who work together. We try to keep up on cutting edge fashion. And we like to experiment. I love to make someone's day or give them a change that they never knew they had in them. I understand that certain things work or won't work for people. Or at least, something else would suit them better. People put a lot of trust in me. It's a big thing for someone to give me the reins to let me transform them. That's an awesome privilege."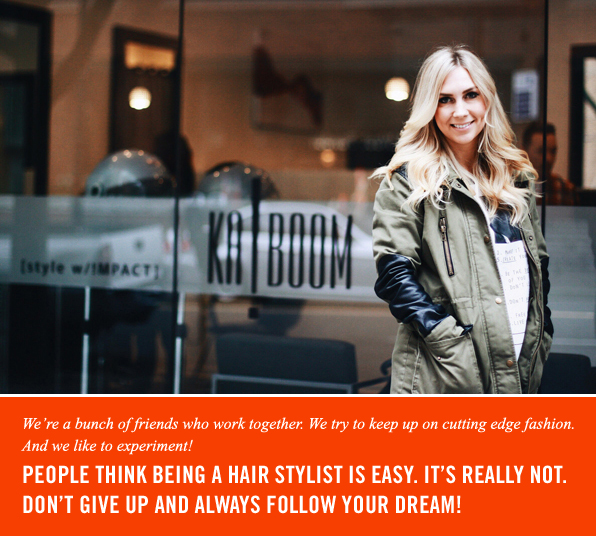 Clients instantly appreciated Ashley's commitment to excellence. So did the industry.
"I've become an Educator for Moroccanoil! They approached me. My boss, Amy Stollmeyer, is one of the Moroccanoil educators for North America. We had a class at Ka!Boom and Amy was showing us old Hollywood glam looks and I was super enthusiastic because I do a lot of weddings. So she and our modern rep put my name forward to be an educator in Vancouver. Now I'm going to salons around the city teaching product knowledge and styling a couple of times a month. It's fun to teach people and see them learn new things."
At the root of Ashley's successes are a desire to help people feel good about themselves and a passion for creativity. That tattoo you see on her arm is there for a reason.
"My tattoo reminds me to be innovative and never fall behind. I'm always educating myself and learning new skills. I'm never going to become a cookie cutter stylist. This job is about expressing your creativity. People think being a hair stylist is easy. It's really not. Don't give up and always follow your dream!"