Hair
Blanche Macdonald Makeup and Hair graduate Kara Alaric knows exactly when she fell in love with the movies. To her, they're more than entertainment. They're a connection to great times.
"Every Friday night growing up in Whitehorse my family would go to the video store and rent the VHS tapes we'd watch that weekend," she recalls. "But I never thought I would make movies. My family called me a while ago to say that they found the DVD of Lonesome Dove Church, the first big movie I worked on, in Walmart. Seeing my name in the credits was so exciting for them. And it wasn't even in the $6.99 bin!"
Kara doesn't rent movies any more. She helps create them, starring on the hair and makeup teams on TV and film crews in her adopted hometown of Vancouver. In addition to her work as Key Hair Stylist on Lonesome Dove Church (featuring the great Tom Berenger), Kara has been in the thick of the behind-the-scenes action on series like When Calls The Heart, CBC's Full Flood and the Garage Sale Mystery series of TV movies starring Full House's Lori Loughlin.
"There's a huge sense of accomplishment when you work in film," she explains. "It's a big group effort and it's an incredible feeling when the crew is on the same page and everyone works together. My priority is to get my job done efficiently. But I'm also a fan of having fun. Once you establish camaraderie with a crew it's really rewarding."

As a TV and film hair stylist and makeup artist, Kara knows all about lengthy workdays and nights. But she's never been afraid of putting in the hours to work on her craft. While still a high school student she represented the Yukon in Canada's National Artist Program as a tattoo apprentice. Although it took what seemed like a minor disaster to set her on the path to Canada's top Hair and Makeup School and the movies.
"I got dumped!" she laughs. "Via text message! I cried for a day then decided to change my life. I realized that nobody could make me happy apart from myself. I thought, what could I do that's artistic and will give my life some structure? I typed 'Hair Schools in Canada' into Google and Blanche Macdonald came up first."
Kara arrived at Hair School looking for structure. She found inspiration.
"I loved it. When Marcy Hodel taught my class the TV and Film module we learned to wrap hair to put on wigs. The idea of hair styling for film really opened a new door for me. As part of the Hair program we had a two-week taste of Makeup too. Ashley Forshaw was my instructor. Now we work on set together!"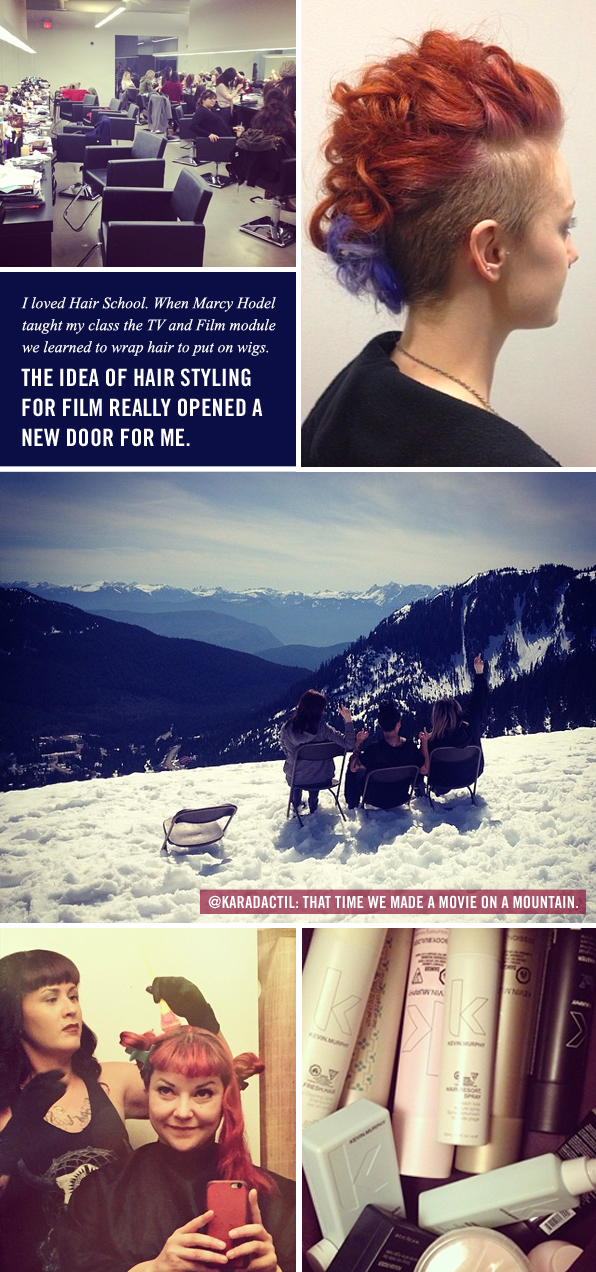 Kara moved back to the Yukon and enjoyed a short stint working in a Whitehorse salon. But the lure of Vancouver, and the chance to add to her skill set at Blanche Macdonald, proved too strong to resist.
"I figured, why not increase my opportunity to be hired in the future? So I took the Makeup program and loved it! I thought I was going to work in fashion until I got a second taste of TV and Film and Makeup Effects. Who wouldn't want to learn from Sydney Silvert? He has continuity photos of him hanging out on set with Johnny Depp! I loved his honesty, which is what you need in this industry. It's either camera-ready or not. I thought, if all these instructors are working on TV shows and movies, why can't I do the same?"
Kara understood that making the leap from Makeup School to professional movie sets wasn't going to happen without a concerted effort to acquire as much experience as possible.
"I volunteered all the time at Makeup school. It was like my time was on fast forward. I got a job working at the MAC Pro store on Robson Street early into the program. My experience there helped me so much. Working in retail taught me how to deal with people. It's your job to instil confidence in people, and that's a really rewarding feeling."
Filling her time with every makeup opportunity she could carve for herself, Kara entered the world's most prestigious makeup student competition and finished a couldn't-be-closer second in the Character Prosthetics category at the Toronto IMATS.
"That was really exciting. I placed second by one point. The Makeup Artist who beat me was Darla Edin, who just won the most recent series of Face Off. When you show someone your résumé and they see you competed at IMATS they know your passion and willingness to take a risk. You know you're not scared to show what you can do in front of a live audience!"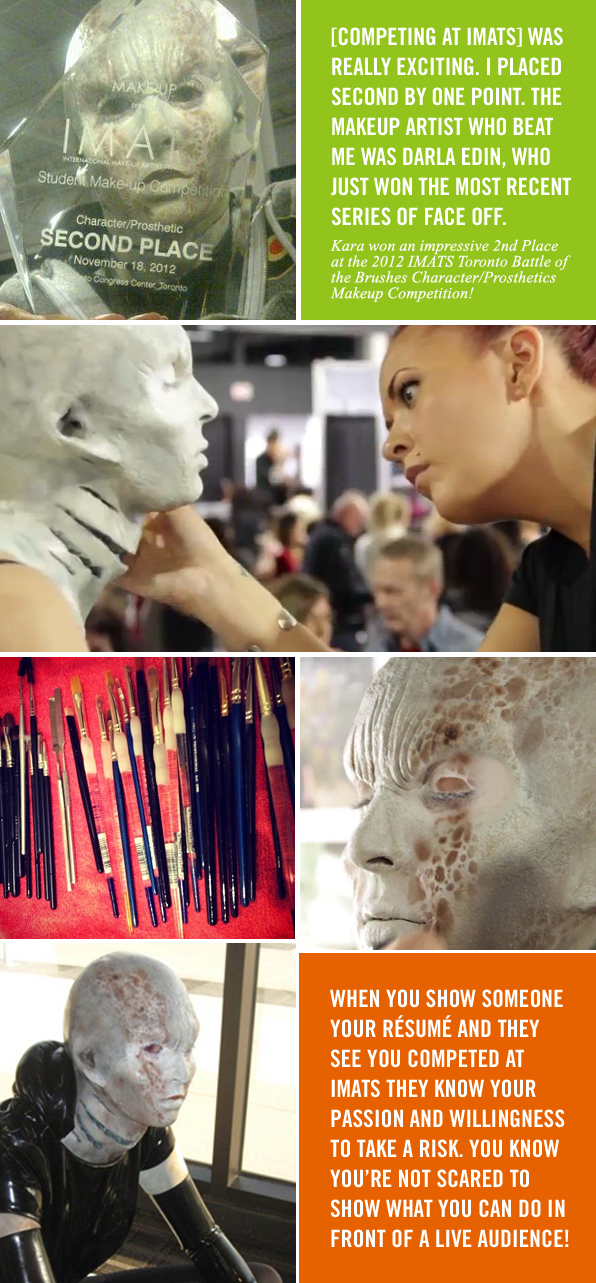 Kara had already started her journey into TV and film, working on student film projects, when a call out of the blue propelled her into major league territory.
"I got a call from an acquaintance Makeup Artist one day saying, 'Hey, I heard you do hair. Want to Key Hair on a movie?' I still don't know how she got my name and number. I had never keyed anything but of course I said yes! I didn't realize that the show was Lonesome Dove Church. Tom Berenger was the lead and this was way bigger than any student film project. Greyston Holt from Bitten was in the movie as well. His career was taking off. He's very grounded, which is my experience with most of the actors I've worked with so far. It's great to work with people when there's no ego. I had a blast! I was excited for the opportunity and the knowledge that it was going to open more doors for me. Which it did! Now there's a group of actors who like me and enjoy working with me more. The Unauthorized Story of Saved By The Bell was a Lifetime TV movie and another fun project I was a part of. I remember going home from school as a young teenager and watching Saved By The Bell. Now I'm working on a movie of the week about it! It was such a fun show to be a part of. I love the '80s!
"The opportunity to find creative solutions is always there. During Full Flood I hand-made hairpieces for a character where I combined shaving and extensions to give an actor a hairstyle no one would ever want. And it's exciting to have the opportunity to do that. I love getting involved with effects on a character design level. If I could make westerns and bloody horror movies all the time, that would be fine with me."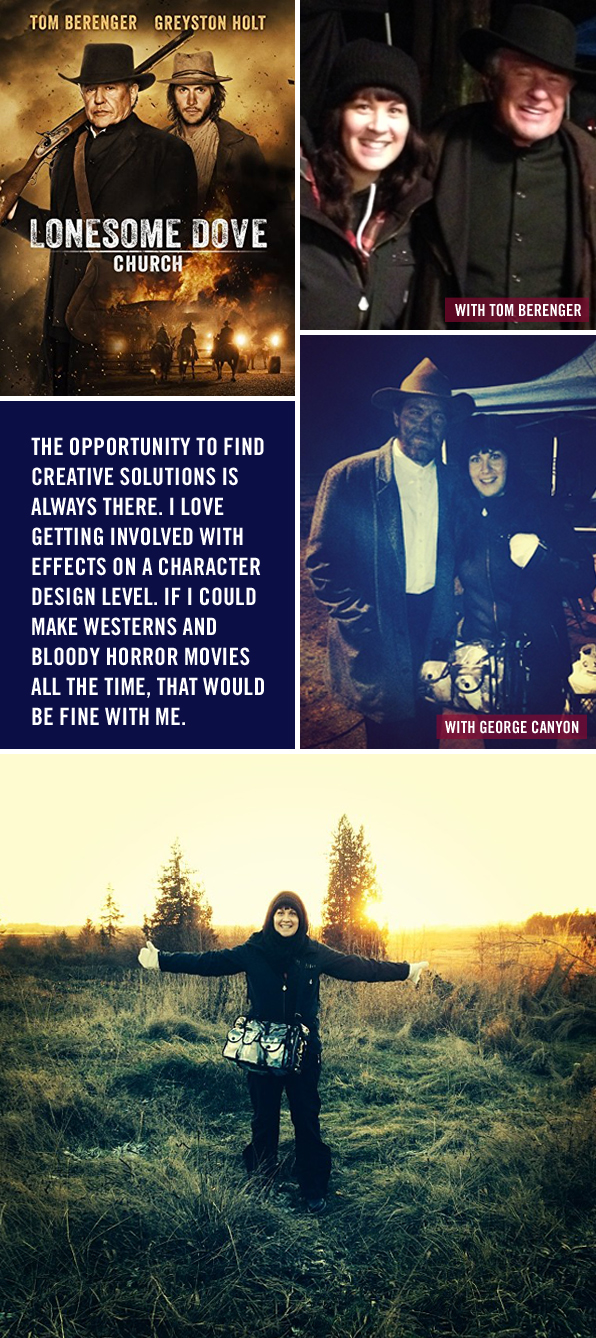 Another thing that Kara adores is sharing her knowledge and passion with the next generation. And although her schedule is too busy to allow her to commit to teaching regularly at Blanche Macdonald, she adores her time in our classrooms.
"If there's one thing I've learned, it's that you can't ever stop learning. Teaching doesn't just help students learn things. You learn so much from your students too. The way they approach new things and comprehend them is so exciting to see. When they don't understand something you have to think of new ways to teach them. Once that light bulb goes on it's such a rewarding feeling to know that you've broken through that barrier. When you show makeup students how much that can add to their skill set, and how much that can make them more employable, they soon understand.
"The TV and film lifestyle isn't for everyone. You can't go out partying every weekend. You must take care of yourself. You need to eat well and sleep when you can. You need integrity, common sense and professionalism. It helps to be a little bit crazy. But every day you can see your accomplishments and how it adds to the completed project. You can really see the hours paying off! And if you're not having fun, what's the point?"