Hair

As we nestle into the clients' lounge of Barbarella Hair Saloon with Blanche Macdonald Pro Hair graduate Nessa Pineda, the six-chair corridor-style layout is sunlit and buzzing. We start in, and the other stylists chirp in intermittently as they frisk by, plucking product off the shelves, whisking bowls of yummy pastel pastes, laughing through the hum of dryers. Some come to lounge with us in between clients, their hair twisted up into bows, or tinged in toothsome hues. The atmosphere is vibrant and blithe for so early in the morning. And yet...
"Well, I believe that the salon is haunted," Nessa declares, eyes glinting from behind her signature thick black frames. "So there are definitely some crazy things that have happened. A few weeks ago the manager, Erin and I were opening the salon and we hear this noise. In our back room we have two sinks, and the one for the colour bowls was completely turned on…
"And my hairdryer turned on by itself yesterday!" proclaims Haley, another stylist, with an ominous look as she struts back to her station tailing her customer from the sink.
We can only speculate as to the spooky origins of the salon's omnipresent client, but one thing that can be stated for certain is that Nessa loves being a Stylist at Barbarella. Ghost or no ghost.
"We see so many different clients here! Our services are very colour heavy, and we're always trying something new, so it doesn't get boring.
"It's a great team and the owners really emphasize on teamwork. It's nice to come into an environment where there isn't that competition, and where you feel comfortable sending your clients over to another stylist when you're away because you know that they're going to do an awesome job."

Nessa has been stationed at Barbarella for four years now, and she's somewhat of a veteran of the Main Street hair hub, which sees multi-hued youth and unique-seekers of Vancouver flocking for seats. Those that plunk down at Nessa's station are never disappointed – she loves what she does, and she does it with brilliance.
"I love the freedom and the creativity of hair styling! I'm not an office person, so it's nice to be exposed to new things every day – it's never the same! And I love making the client happy, giving them what they want. People are investing their money into this so it's really important to make sure they adore the outcome; that you're putting a lot of work and care into it.
"My favourite is when someone wants to cut their hair off, when they come in saying they want a transformation. Making people happy and seeing their face light up when they're going through that change is so fun. I love that aspect of my job."
Nessa was quite nearly an office person. Growing up in Ottawa, Ontario, she'd had her heart set on Law School, but it was during a reflection on the straight-ahead track of this career that she realized she needed something more dynamic. Coming from a family of hairstylists, Nessa thought she might try out a Hair program first; at the least she could use it to pay her way through Law School later on. She hunkered down for some Google-ing, but Blanche Macdonald's Pro Hair Program link was the first, and only, she needed to see.
"I'd been to Vancouver before, and it was a great reason to come back out this way. I had heard nothing but amazing things from this school; Blanche Macdonald has a great reputation. One of my friends from high school had moved out here at the same time, so it worked out perfectly!"

When Nessa finally did arrive to her first day at Hair School, she was taken aback by how fulfilled her cravings for study and challenge could actually be in such a creative field.
"A lot of people have these misconceptions when it comes to doing hair. I definitely did. I thought that I was going to come in, learn how to cut hair and that was it, but there was a lot of knowledge to it. You have to be very studious, very on point with everything that's going on. It can be fast-paced, and you have to put the work into it to keep up.
"It's definitely an amazing program, even if it does ask a lot of you. There will be days that are hard, and there will be days that are great. Just keep your head up and really put your best effort into it. And get a part time job at a salon while you're in school if you can! That way you're already starting out on that outside-of-school education too."
It's advice that comes from experience. Through Blanche Macdonald's Work Experience program, an internship network built right into the Pro Hair curriculum, Nessa started on at Barbarella Hair Saloon, and the Owner was so impressed with her technique and ethic that she hired her on immediately after. Nessa was handed one of few slots in one of Vancouver's most coveted hair nooks, and she hadn't even graduated yet.
"As soon as I started working at Barbarella I was like, 'Forget Law School!' I realized then that I am a creative person and wouldn't have been happy staying in one place my whole life. I like the movement of where I'm at now."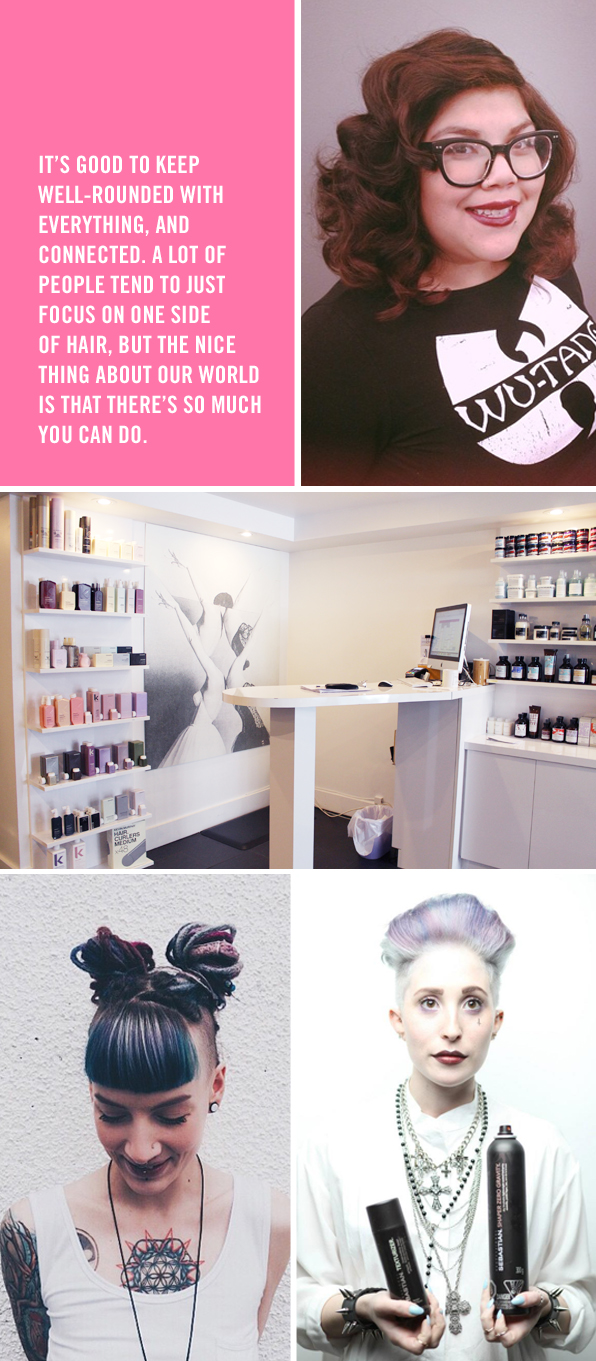 And she's active in keeping her momentum going; between the steady streams of snips and shades she doles out at Barbarella, Nessa also finds the time to collaborate with local creatives on editorial photo shoots, work the behind-the-scenes of runway shows, and beautify brides as a freelance stylist. It keeps her on her toes, and always learning.
"It's good to keep well-rounded with everything, and connected. A lot of people tend to just focus on one side of Hair, but the nice thing about our world is that there's so much you can do. In such a broad industry, being able to do bridal and to do editorial is an asset. It keeps things interesting, and so that you're not necessarily stuck to the chair.
"It's so important to keep educating yourself because it keeps things fresh and keeps you relevant in what's going on. It broadens your spectrum in how to be the best stylist that you can be. Once you stop learning, and stop updating yourself, is when you get bored."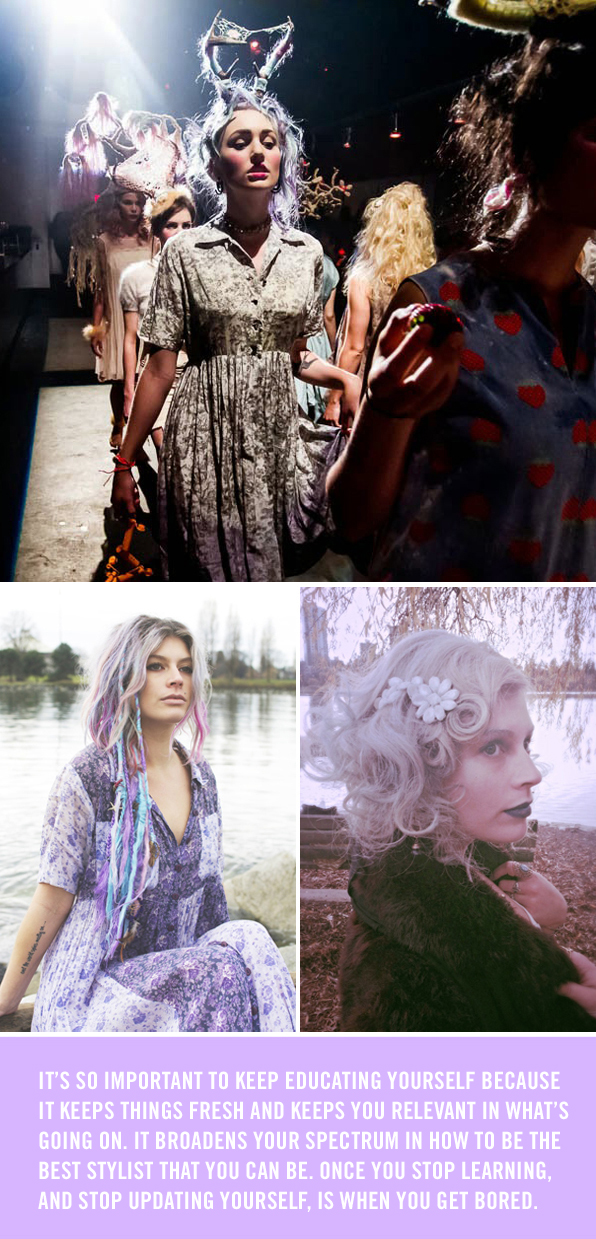 Keeping to the vanguard of the industry is something Nessa is familiar with. She's lucky to have bosses that support her in her personal boundary pushing, sending her to the Vidal Sassoon Academy a few years back, and nominating her Salon Ambassador for their sustainable beauty line, Davines. She's discovering that her love for learning is only one leg of a cycle that she'd like to propel.
"I get to go to classes with other Ambassadors and Educators around the city. We get the first look at new collections or products that the brand is putting out, so that we can then bring back this knowledge to our salons to educate our co-workers and clients on what's coming up. It's something that I really enjoy, and that speaks to where I'd like to be in the next few years.
"Eventually I'd like to move into education. I feel like there's a lot of mentorship being made available in this industry, and I would really love to be able to be a part of shaping up-and-coming stylists."
For now, Nessa is happy keeping Vancouver in fine chop and saturated hues. We leave her to prep for her first client, parting through the bright bustle with furtive glances over shoulders, in the hopes of spotting the elusive specter of Barbarella Saloon.