Hair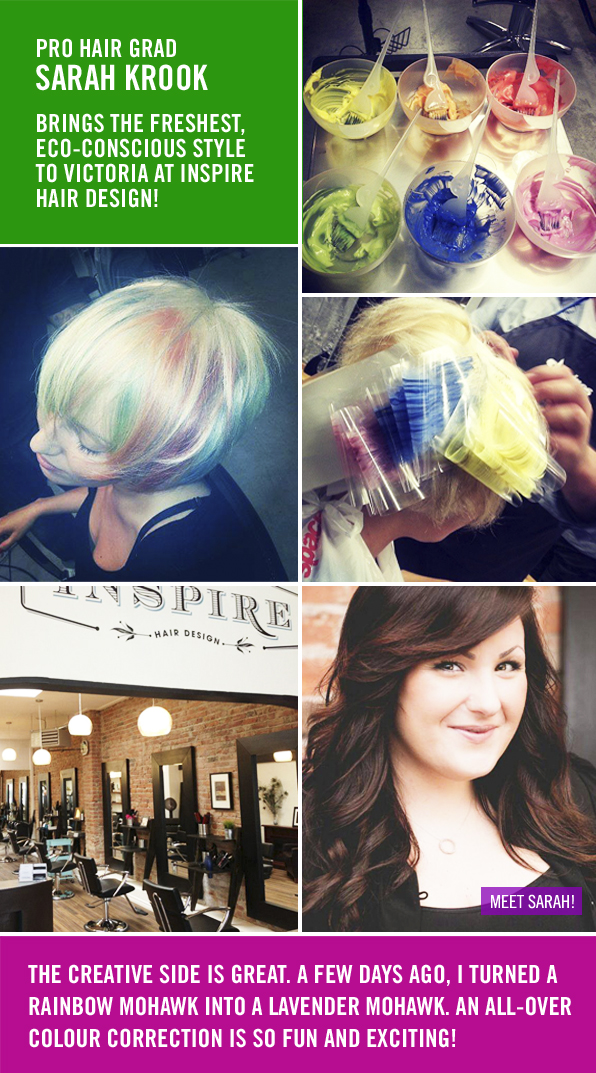 For budding hair stylists and entrepreneurs searching for inspiration, look no further than Blanche Macdonald Pro Hair and Makeup graduate Sarah Krook. Her personal and professional journey has taken her across much of Western Canada, eventually landing in Victoria, BC. Which is where, when presented with a chance to open her own salon, she seized the opportunity. Now Sarah heads a team of six stylists at one of Victoria's greenest and fastest-growing salons: its name, appropriately enough, Inspire Hair Design.
"Our idea was to have a salon that was as eco-friendly as possible," enthuses Sarah. "Our whole mentality is beauty with an eco-conscious mind. We just celebrated our two-year anniversary and it's been amazing! We started with just two stylists and took on more people from there. We put a lot of thought into who we wanted to bring into the team. Every one of our stylists are wonderfully talented and genuine, awesome people. I feel like every hairstyle that walks out the door has my stamp of approval."
Managing a thriving business in a big city like Victoria comes naturally to Sarah. Still, she's not forgotten her small town roots.
"I grew up on Quadra Island, three hours North of Victoria. I don't think there was a hair stylist on the Island when I was growing up. At 12 I moved to Port Hardy. I started picking up my first beauty influences from my friends there. I remember inviting a couple of the girls on our volleyball team over and colouring their hair with red box dye in my bathroom. The results were, let's say, questionable. And my bathroom looked like a murder scene!"
Sarah was living in North Vancouver when her friend Faye Alexander became the first member of her social circle to take the Makeup Program at Blanche Macdonald. Sarah volunteered to be Faye's model for the Hair Module of the Makeup Program. What she experienced opened her eyes to an entire world of possibilities.
"I fell in love with it," explains Sarah. "What Faye could create was crazy. She introduced me to the world of Kevyn Aucoin and his book, Making Faces. I saw what you could do with makeup. It was so fascinating to me."
Sarah enrolled on the Makeup Program. She loved it, of course, and was pleasantly surprised to discover the instant confidence she felt with a different kind of brush in her hand.
"In the Makeup Program there was a six-week hair course. I just felt like I had a natural ability for it. One of the instructors, Sharlene Gill, came into our classroom and told us that she needed some help with hair for a wedding. My teachers put my name forward. That gave me so much confidence!
"Honey Dawn Faircrest was my one of our instructors. When she was grading our final projects she told me that mine was camera ready. I never forgot that. I put everything I had into the hair of that final so it felt awesome knowing that an industry professional thought that it was that good."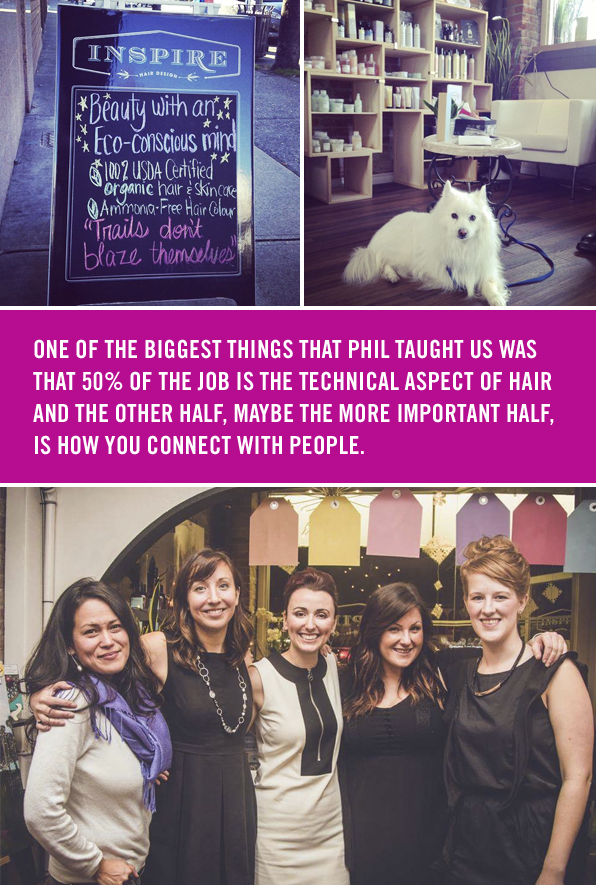 These were the days before Blanche Macdonald had begun its industry-leading Pro Hair Program. Which was fine for Sarah, who was happily starting her beauty industry career as a Makeup Artist.
"I moved to Lloydminster, Alberta following a boy and got a job on the Clinique counter. That's when I received a letter from Blanche Macdonald saying that they were starting a hair program. I moved straight back to Vancouver to start the program and left the boy in Lloydminster!"
Sarah remains a proud member of Blanche Macdonald's very first Pro Hair class.
"We couldn't have been luckier," she insists. "We got to work so closely with [Program Director] Phil Loiselle. To be able to work with someone who doesn't just know hair, but the business with it, was amazing. I was always the first person in class and the last person to leave. It was so exciting for me. I was able to be creative. It was great!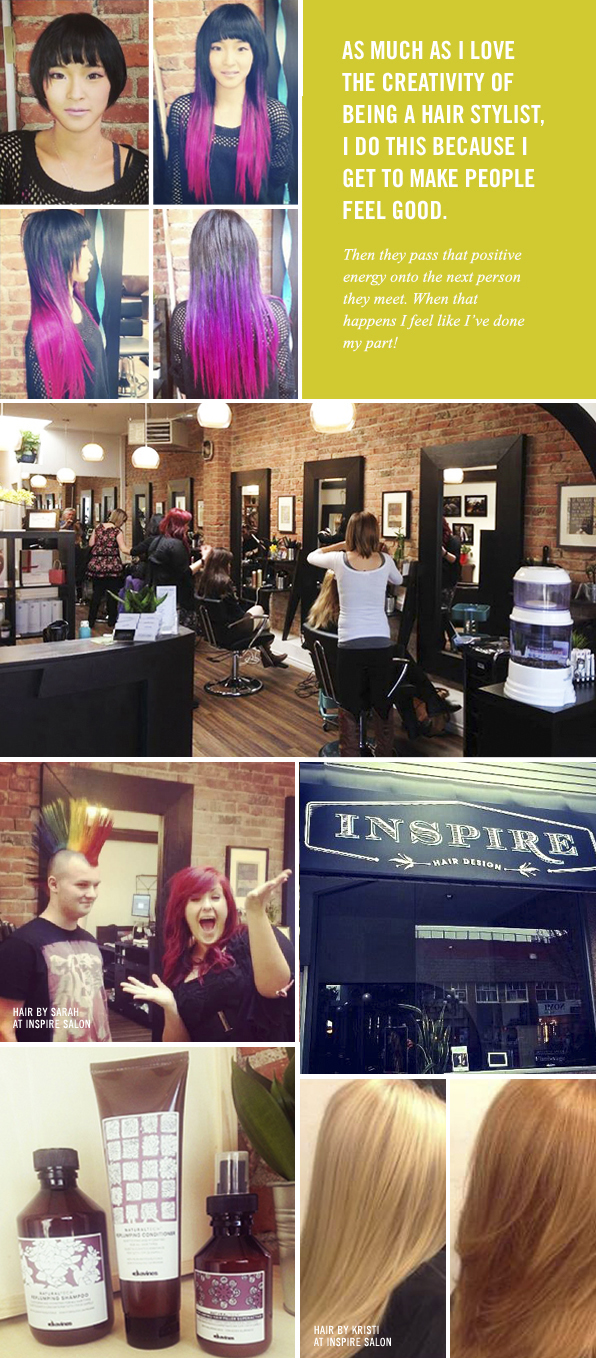 "One of the biggest things that Phil taught us was that 50% of the job is the technical aspect of hair and the other half, maybe the more important half, is how you connect with people. If clients are comfortable they can tell you what they'd like you to work on, what they're happy and not happy with. He stressed that from the beginning. People didn't know Blanche Macdonald had a Hair School back then so we had to learn how to persuade people to come sit in our chairs. This was before the Q&A salon at CurliQue opened. That's phenomenal! It's such a beautiful facility. I'm sure they get lots of walk-ins straight from the street."
Sarah graduated and was instantly on the floor of salons in North Vancouver, then Port Hardy and eventually Calgary, where a volunteer job provided a connection that would change her life.
"I responded to an ad for a volleyball team looking for an assistant coach. Kathryn Genereux was the head coach of the team. We became good friends instantly. She'd had a lot of terrible experiences at salons and felt that she could never connect with her stylists. I started doing her hair and she could see the passion I had for it.
"Soon after that I was visiting my family in Victoria. It was minus 40 in Calgary and warm and sunny in Victoria so I decided to stay!"
Visiting Calgary for the Stampede, Sarah was reconnecting with Kathryn when a friendly brunch morphed into a life-altering business meeting.
"Kathryn announced that she was moving to Victoria, told me that she wanted to invest in a small business and that small business was me! Of course I said yes!"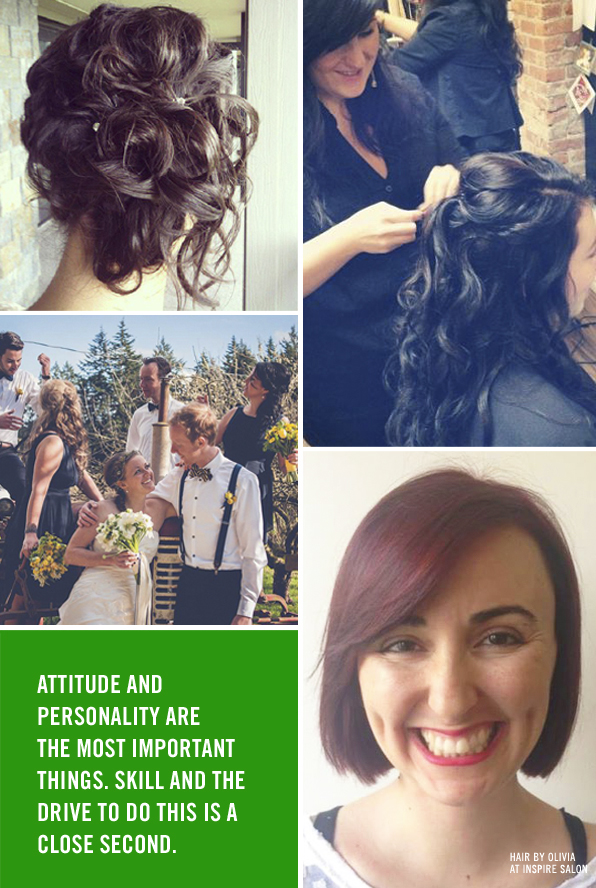 Two and half years later, the ideas discussed over that brunch have turned into Inspire Hair Design. As the head stylist and one half of the business partnership, every day Sarah is implementing the lessons she learned at Hair School, especially when it comes to recruiting and training her team.
"Attitude and personality are the most important things. Skill and the drive to do this is a close second. I still talk to Phil and Jeff Ranger every three or four months. When we were starting Inspire I would ask them questions about everything to do with salons, licensing and getting the business running and they'd always get back to me with the right answer. It was Phil who first pointed me towards Davines, which is our primary line. Phil said we would have the best education and support with Jessica Ruth, their amazing representative, in our corner. He was right! She created the Ambassador program, which lets me participate in Davines educator training classes in Vancouver. There I get to work closely with some pretty fantastic Davines Educators like Ana Luisa Valdes. She's the perfect example of someone who loves what they do.
"Right now I'm concentrating on the business development side of things – growing our social media, and arranging a spring/summer photo shoot. But I love seeing clients too, knowing the details of their lives and getting their looks perfect. I never want to lose that connection. The creative side is great. A few days ago I turned a rainbow Mohawk into a lavender Mohawk. An all-over colour correction is so fun and exciting!"
Sarah is refining that balance between business and creativity as Inspire Hair Design continues to grow. Part of that task is leading and building the next generation of stylists and entrepreneurs. In her mind, it all begins with education.
"The first thing is go to a good school. Coming from Blanche Macdonald and having dabbled in the fun and creative sides of cutting and colour made such a difference. It helped me build my clientele really quickly.
"You also need passion. As much as I love the creativity of being a hair stylist, I do this because I get to make people feel good. Then they pass that positive energy onto the next person they meet. When that happens I feel like I've done my part!"