Hair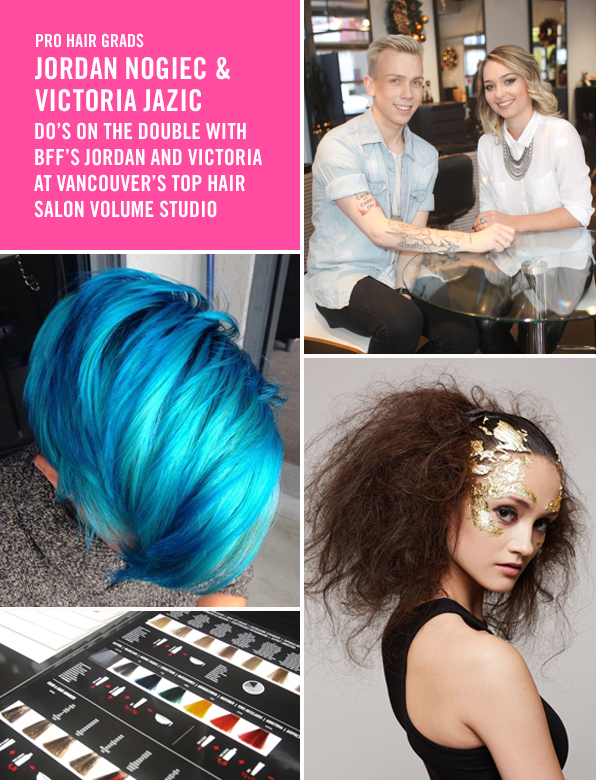 Whoever first gave the advice to never mix business and pleasure had obviously never met Jordan Nogiec and Victoria Jazic. Because every day is pure pleasure for the two Stylists at Vancouver's Volume Studio Salon. They're not just colleagues. They're best friends.
"Loving what you do makes such a difference in your life," smiles Victoria. "I enjoy what I do and who I work with. I never feel like I don't want to go to work in the morning."
"I get to see my best friend every day," interjects Jordan. "Even on my days off I end up hanging out in the salon."
Victoria and Jordan regularly finish each other's sentences. It's part of their special connection. It's been that way ever since they met on the Pro Hair Program at Canada's Top Hair School.
"I was really nervous when we started at Blanche Macdonald," recalls Victoria. "Jordan wasn't sure if I was being rude or just shy."
"She used to have really long hair and I always wanted to put my hands in it," he laughs. "I kept asking if I could curl or blow-dry her hair. That bound us together."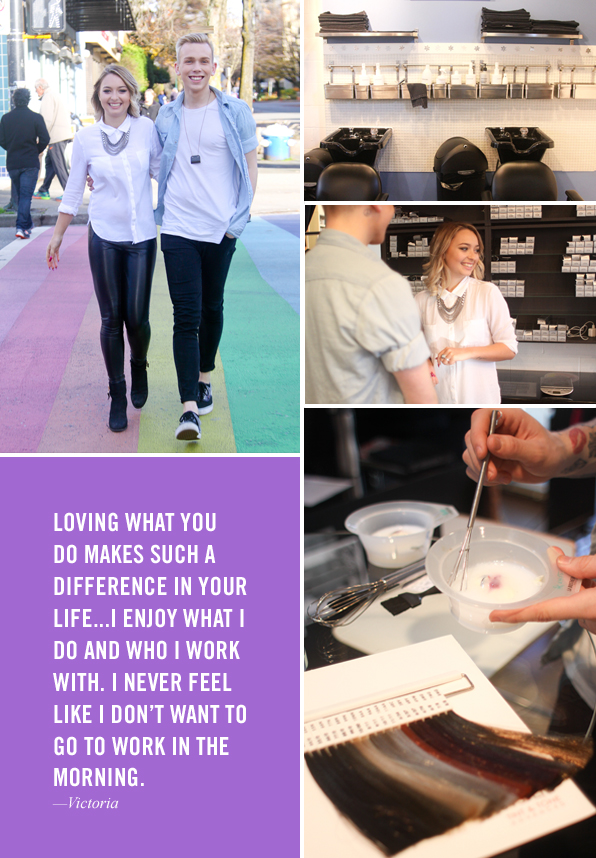 There was little indication that Jordan and Victoria would hit it off so spectacularly at Blanche Macdonald, arriving at Hair School with different backgrounds from opposite sides of the country. Victoria drove down to Vancouver shortly after graduating from High School in her hometown of Whistler. Jordan flew in from Kitchener, Ontario, where he already had a flourishing career as a Makeup Artist.
"I had a good job at MAC," he explains. "Hair was my first love though. At high school girls had a trend of clip-in hair extensions. I would make them come to my house so I could flat iron them. There would be six girls in my bathroom, and I loved it!
"When I started looking into hair schools my first instinct was to go to Toronto. But I always wanted to be the guy who graduated high school and moved far away. I read Blanche Macdonald's graduate highlights and that inspired me to apply. I saw Dylan Walker's profile and thought, I want to do that!"
"I was doing art all the way through high school," Victoria continues. "And there were a lot of bathroom hair colour sessions in my house. I wanted to turn my creativity into a career. Blanche Macdonald felt like the only option for me. It had the best program and I'd heard such good things about it."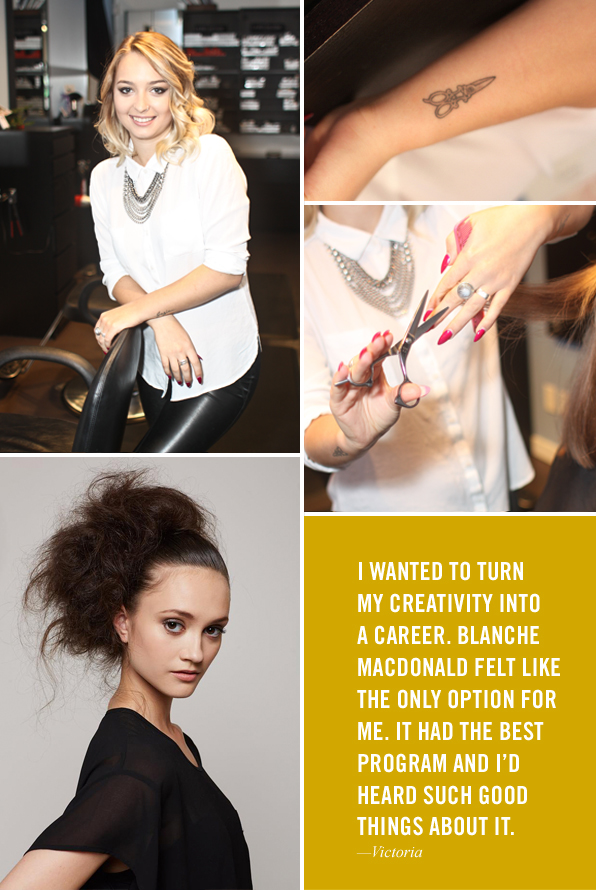 Skills and confidence, along with a unique friendship, were quickly developing once they started Hair School.
"We had Tyana Nichole as a teacher and she was like a friendly drill sergeant," recalls Jordan. "She would make sure you did things right. That built an inner confidence within us."
"She would tell you when something wasn't good enough and get you to do it again," confirms Victoria. "We knew we were learning properly. There was never the opportunity to develop bad habits. I was nervous when I had my first client in the school salon, but I realised the instructors weren't going to let me do something that would make me look bad or the client leave unhappy."
As the young stylists' skills improved, their creativity flourished in the Blanche Macdonald student salon and through the Pro Hair Program's four photo shoots.
"For the TV and Film shoot we had to recreate a character from a show or movie set before 1989," explains Jordan. "I did Freida Pinto's character from The Immortals."
"I did Audrey Hepburn in Breakfast at Tiffany's," Victoria jumps in. "We had four photo shoots in two weeks. They didn't baby us. We didn't have months to prepare and all day to do the shoots. It was like a shoot in real life. I loved it."
"We've both done some shoots after we graduated," continues Jordan, "so it was great to get thrown into that world at Hair School."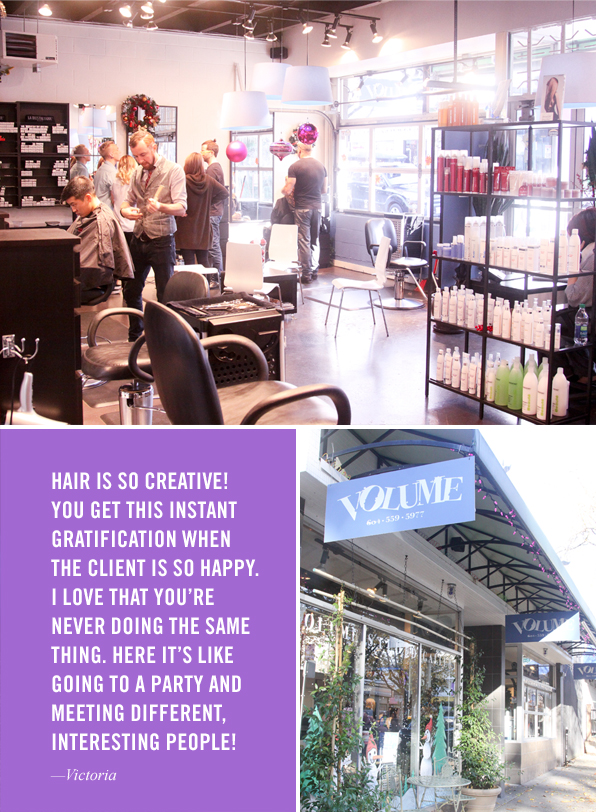 The new stylists were also introduced to the world of professional salons on their work experience placements. Jordan had his eyes on a particular salon since he first arrived in Vancouver.
"I lived across the street from Volume and could see the energy when I walked by. I wanted to show them that I wasn't there just to sweep floors and fold laundry. I was there to learn industry tricks. I would ask about products and colour techniques. Dean Thullner, the owner, could see my ambition. After two days he hired me! I would work there when I wasn't at Hair School. Dean asked me to recommend another student to help. I didn't hesitate to suggest Victoria. She came in for a two-minute interview with Dean, and we both had full-time jobs for when we graduated."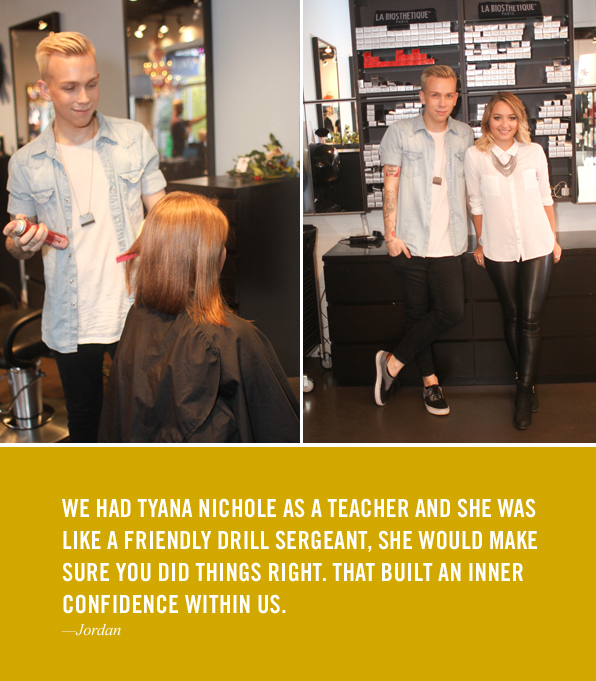 The terrific twosome were put behind their own chairs as soon as they graduated, but at Volume keeping clients happy is one part of a bigger picture.
"The salon is very philanthropic," explains Jordan. "We do charity work here all year round. Dean throws a big production called Brilliant! that raises money for Mental Health through St Pauls Hospital. We come together and do hair for a huge fashion show at the Commodore Ballroom. We raised $300,000 this year. It was so rewarding."
"We did hair for a fashion show that was raising money for Elevate to Celebrate," adds Victoria, "which is a charity aiming to make Hycroft Manor wheelchair accessible."
Victoria and Jordan understand the power of education and effort. Watching them in the salon reveals how committed they are to their careers. When they're not with clients they're continually busy helping and learning. But it turns out that what can look like hard work is essentially two people having fun.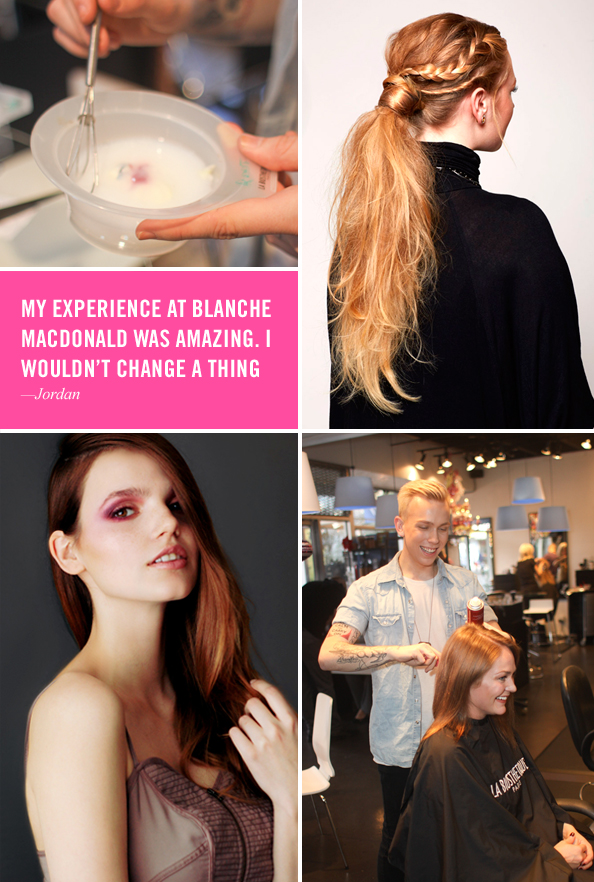 "Hair is so creative!" insists Victoria. "You can do so many different things for different people. You get this instant gratification when the client is so happy. I love that you're never doing the same thing. I would hate to be working in an office at a desk. Here it's like going to a party and meeting different, interesting people!"
"I love the human contact," adds Jordan. "I have one client who comes in every three weeks. I feel like I shouldn't even charge her. It's like I'm hanging out with a girlfriend. There's nothing better than having your client jump out of the chair to give you a hug!"
The commitment to hair is skin deep. Both Victoria and Jordan have shears tattooed on their arms, his pivot bolt reading '69,' their group number at Blanche Macdonald. Whatever the future holds for them, they'll be ready and prepared.
"I love the salon atmosphere here," states Victoria. "Volume is a place where you're given opportunities. You can take your career where you want to go and still be part of the salon team."
"I'd love to do more photoshoots and print work, but still be behind the chair here," agrees Jordan. "I don't like giving myself limits. I want to do everything! Why not keep going?"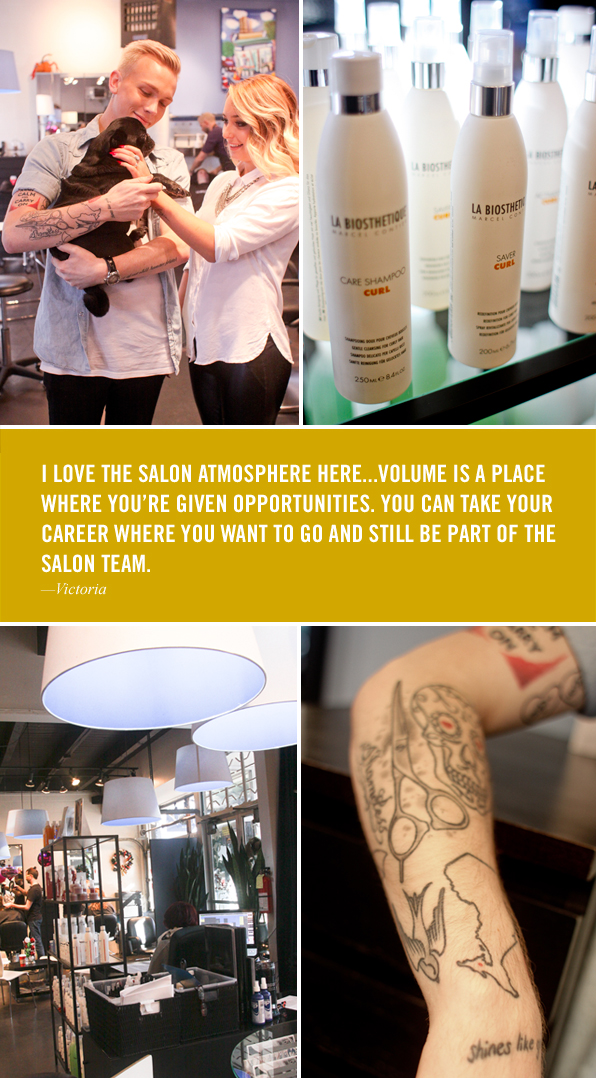 Business and pleasure? They're one and the same thing for Jordan and Victoria. Having formed a wonderful friendship at Hair School it's only natural that they look back on their time at Blanche Macdonald with fond memories and words of wisdom for the next generation of styling superstars.
"Don't get discouraged when you're not amazing the first time," insists Victoria. "Hair is not as easy as you might have thought it would be. It's hard. Skills come with practice."
"Don't beat yourself up if someone is doing better than you," agrees Jordan. "It's a learning curve. My experience at Blanche Macdonald was amazing. I wouldn't change a thing; other than remembering to pack my own lunches!"