Hair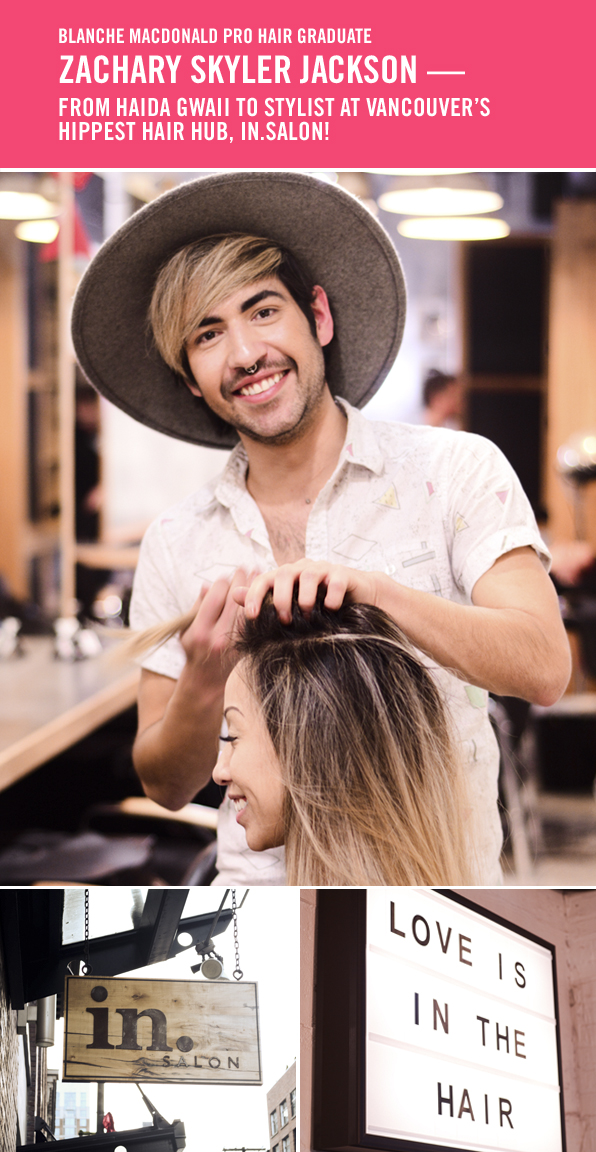 It's not where you're from. It's where you're at.

Few people illustrate this maxim better than Blanche Macdonald Pro Hair graduate Zachary Skyler Jackson, whose journey has taken him from a village on the Northern British Columbia islands of Haida Gwaii to one of Downtown Vancouver's busiest and most fashionable salons.

"It was awesome growing up on Haida Gwaii," explains Zachary, relaxing in the bustling surroundings of in.Salon, his creative and professional home for the past two years. "I just knew I wasn't an island boy. My hometown, Masset, has two streets and about 900 people. I loved cities and fashion was always an outlet for me, which mainly meant MTV and the magazines I could pick up when I went to see my Dad in Prince Rupert or visited Vancouver."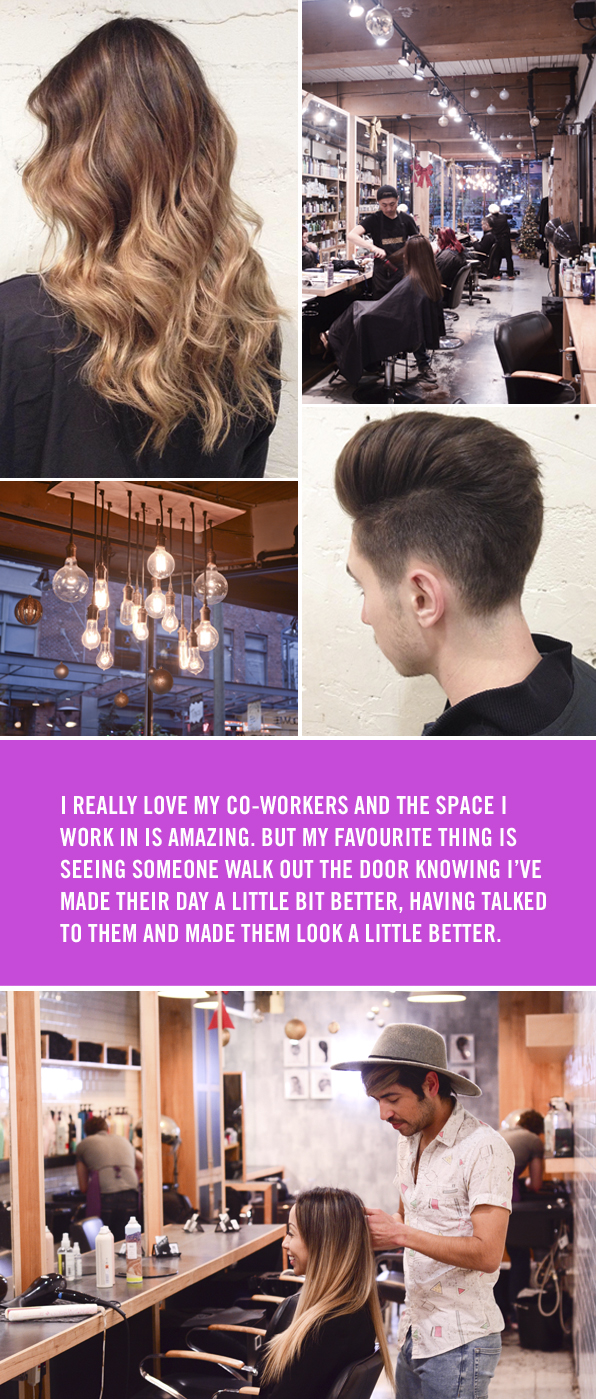 Zachary isn't looking at the fashion world from the outside any more. As a key member of the team at in.Salon, photo shoots and fashion shows come with the territory. Located in the heart of fashionable Yaletown, in.Salon does more than pay lip service to its tagline of 'Vancouver's trendiest salon.'
"in.Salon and our sister salon is.Salon both contribute to Brilliant, Vancouver's annual hair and fashion fundraiser. We play big parts in the Wella and L'Oreal shows too. So at least a couple of times every year I find myself backstage at a fashion show. It's pretty different from working in the salon when you have to get a dozen people on stage in half an hour. It's hectic but exciting. The energy backstage at a fashion show is incomparable. It's always cramped but everyone is having a great time."

As much as Zachary enjoys his forays backstage, he insists that even his adventures in high fashion don't compare with the connections and creativity he encounters every day at in.Salon.

"I really love my co-workers and the space I work in is amazing. But my favourite thing is seeing someone walk out the door knowing I've made their day a little bit better, having talked to them and made them look a little better."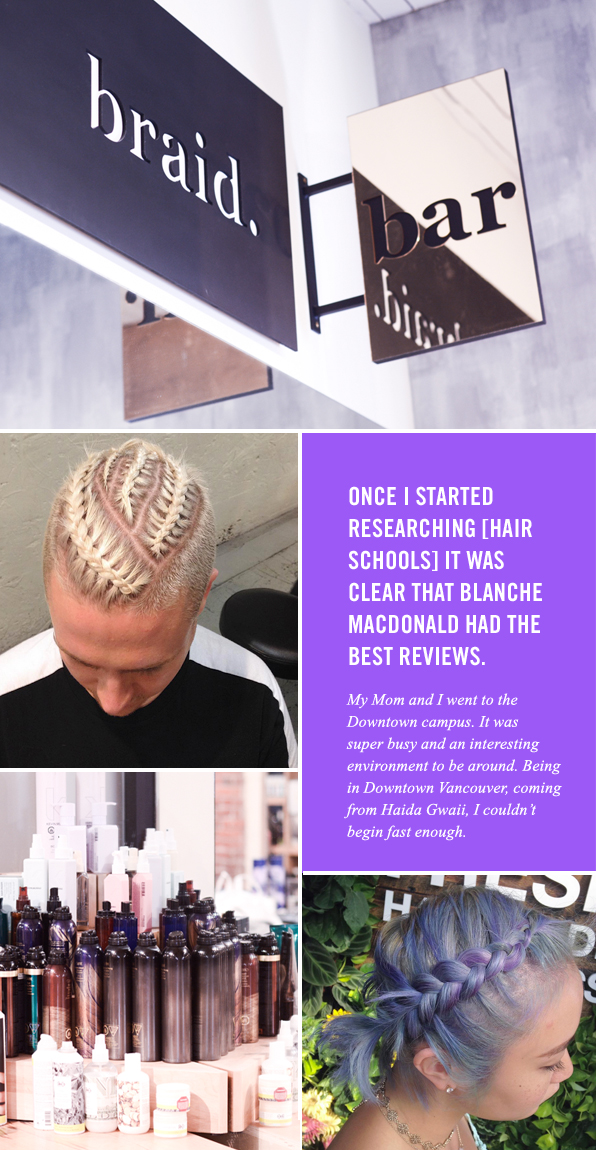 Connections are special for Zachary. He understood how relationships are the heart of the hair business before he even came to Blanche Macdonald.

"I was working as a receptionist at a salon before I moved to Vancouver. That started me thinking about hair school. Once I started researching it was clear that Blanche Macdonald had the best reviews. My Mom and I went to the Downtown campus. It was super busy and an interesting environment to be around. Being in Downtown Vancouver, coming from Haida Gwaii, I couldn't begin fast enough. Six months after I graduated high school I was starting Hair School."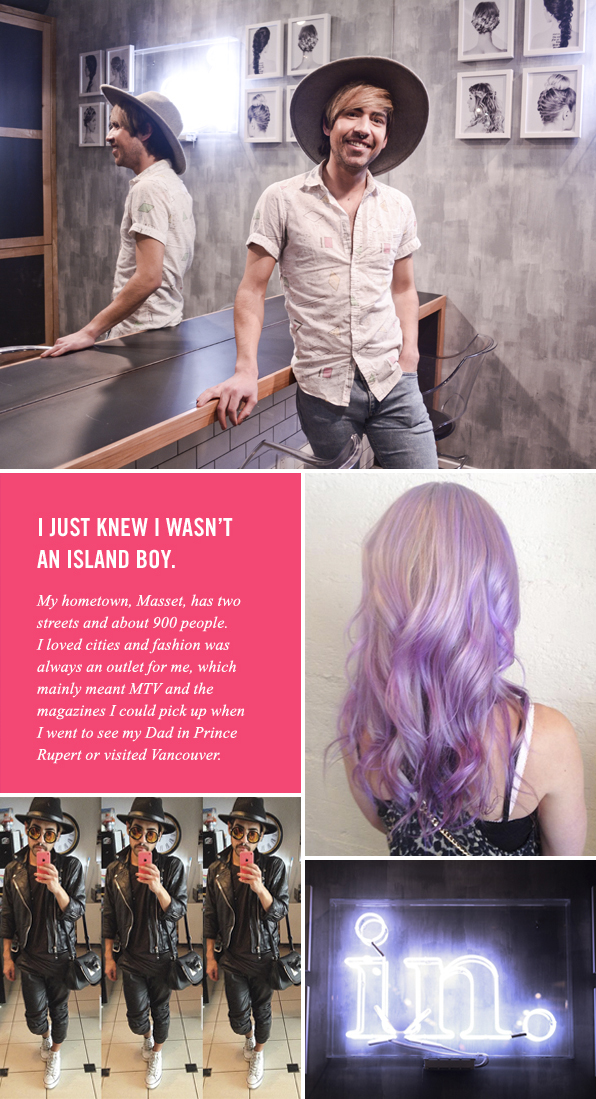 What Zachary lacked in experience he made up for enthusiasm and, thanks to his instructors, a quickly discovered confidence.
"I have a brother, and it wasn't like we braided each others' hair growing up. Everything was new to me. Those first hands-on experiences were a little terrifying. I can remember my first men's haircut, being helped by Jeff Ranger. I was using clippers and it just came naturally. I became comfortable pretty quickly. There were only seven of us in our class, so we had a lot of individual attention from every teacher. I was with Marcy Hodel for the TV and Film program, which took me out of my comfort zone. I definitely felt prepared by the time we graduated."

Zachary was prepared. His first job straight out of Hair School was in Kitsilano's Propaganda Salon. One short month after he arrived he was cutting, colouring and seeing his own clients on the salon floor.

"Propaganda was on the edgy side compared to here in Yaletown. Everyone working at the salon had tattoos and crazy hair, so that brought in a mixed clientele. Which was very different to clients we see at an extensions specialist like in.Salon. I was there for four great years, but when they tore down the building I realized it was time to move on."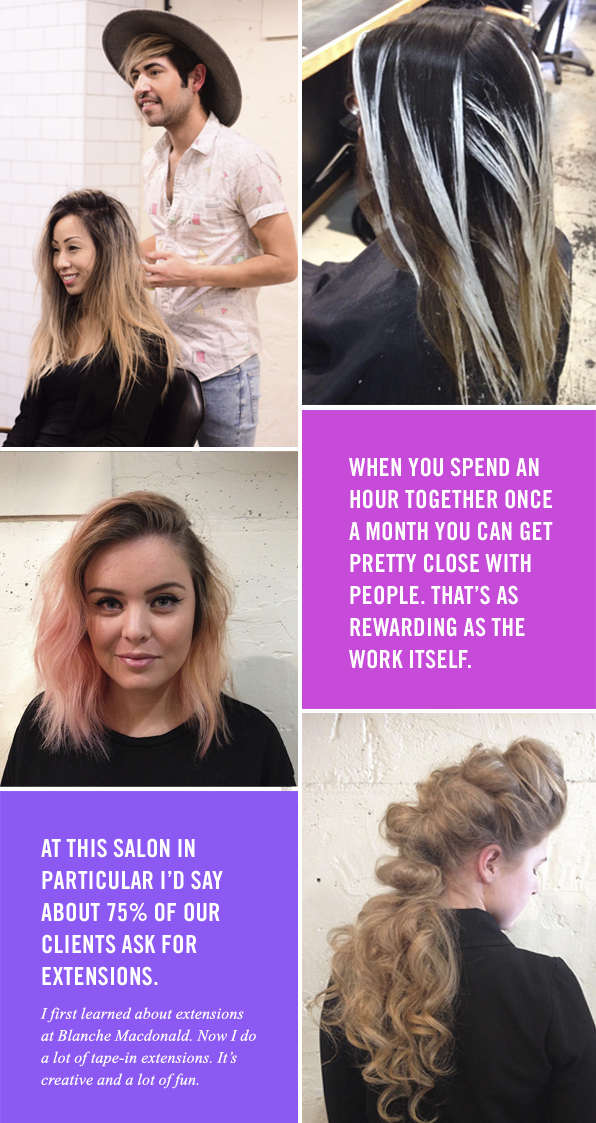 Thinking about a fresh challenge in a new location, the solution arrived before Zachary had even started searching.

"One of my co-workers at Propaganda started working at in.Salon and she referred me to the boss, Erin Moore. I was welcomed with open arms! I'd always wanted to work in Yaletown. It's Downtown and always busy. And it only takes me 20 minutes to walk to work.

"At least 90% of my clientele followed me here. I was worried at first that people wouldn't want to trek all the way Downtown to see me, but I'd built relationships with my clientele and it turned into a pretty easy move. Clientele and friendship mesh together. I hang out with a lot of my clientele outside the salon. It's not just a hair stylist-client relationship. When you spend an hour together once a month you can get pretty close with people. That's as rewarding as the work itself. They're concerned about my life and I'm concerned about theirs. It's not like they're just coming in to get a haircut, even though they do get a great haircut! Sometimes I look around and see what I do for a job and cant help but feel blessed."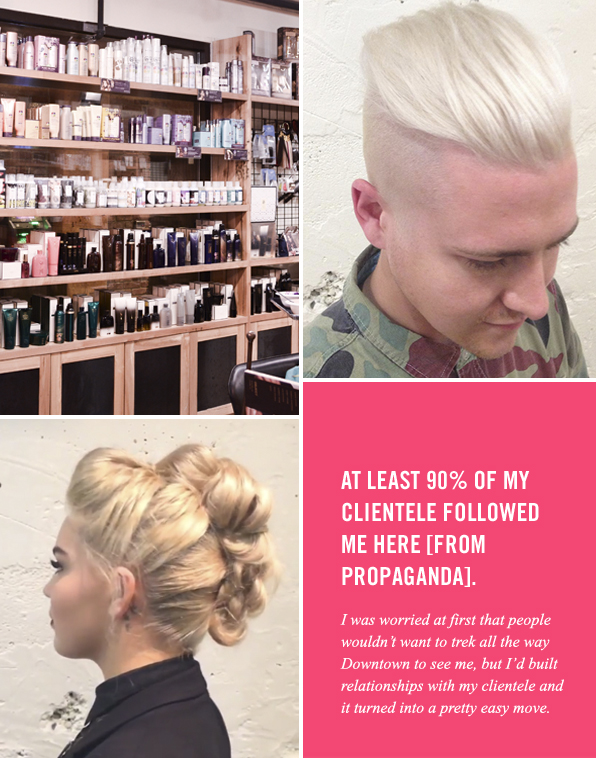 Zachary's clients feel the same way, especially the many coming to take advantage of his expertise in extensions.

"At this salon in particular I'd say about 75% of our clients ask for extensions. Because of the Kardashians everyone wants thick, voluminous hair. And you can't blame them! I first learned about extensions at Blanche Macdonald. Now I do a lot of tape-in extensions. It's creative and a lot of fun. Erin, our boss, is a tape-in extension educator across the Lower Mainland. When I moved here I knew she was the Queen of Extensions. That's important, because you want to constantly learn something new. You never come to work and feel like it's stagnant. Even if you're doing the same types of haircuts or styles, you're constantly inspired by new products or new ideas about doing things. There are amazing people to learn from here. I'm only 25, but I have six years of experience under my belt now. I'm happy to help apprentices and co-workers."
Eagle-eyed readers might have noticed Shaw TV's Fiona Forbes among Zachary's portfolio shots. He won't mention it unless you ask him, but his celebrity clientele list is slowly growing.
"Fiona Forbes isn't my client but I do her hair from time to time," he insists. "She's such a sweet heart! I've been on set at Shaw TV to do her hair. There are a number of Real Housewives of Vancouver that I style every once in a while. They're lovely! Matt Webb, the drummer from Marianas Trench, has also been a client of mine. Really nice guy! So down to earth and chill."
Although Zachary is unlikely to ever stop seeing clients – he loves it too much – it's only a matter before that passion for sharing knowledge takes him on the next step of his professional journey.

"I'd love to be an educator, maybe for a product line or even at Blanche Macdonald! Erin teaches the team here on a daily basis, and she teaches extensions on her days off. Seeing someone who is so passionate about passing on her knowledge shows that it's one of the best things you can do. I've done some styling classes already. I just need to build up the nerve to stand in front of a room of 30 strangers!"