Hair
They're the pruners of our strands, the keepers of our secrets and the masterminds behind those picture-perfect balayages. These Blanche Macdonald Pro Hair graduates are just getting their feet wet in the whirlwind world of Hair, but already, they're making waves in their new careers. Spanning the scene from stylists and barbers to Pro-Educators and entrepreneurs, our grads own their very own hair salons, hold the hottest seats in top salons, and work behind the scenes to create stunning editorials. Armed with the knowledge of our internationally recognized training, and a pair or two of super-sharp shears, these remarkable individuals have heard the entrepreneurial call of the Hair world and they have answered back. With Contessa Awards and other prestigious national and international competition wins under their collective belts, our grads are climbing the ranks of local and international scenes one snip at a time. It can be hairy, but they're ready for anything!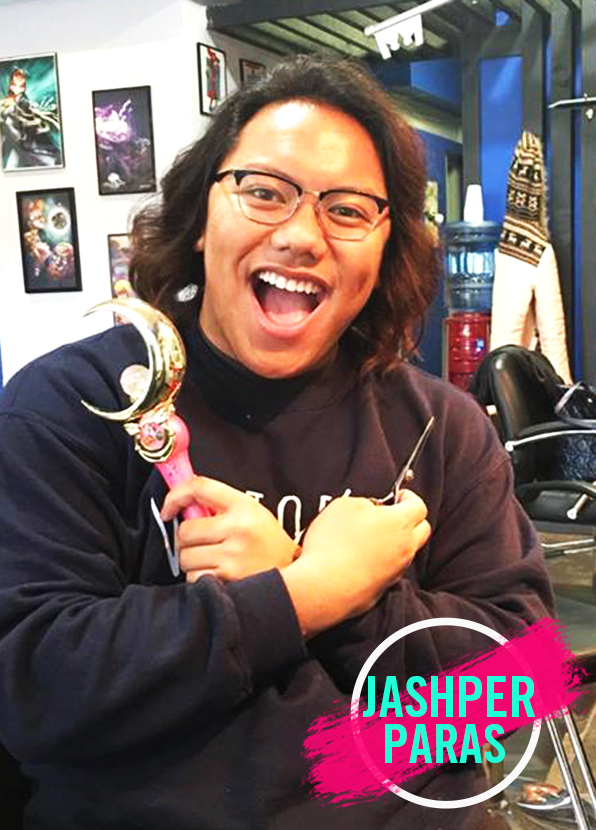 What happens when you mix a spot of South Park, a dash of Pokémon and a heaping tablespoon of competitive cheerleading and shake it up with a little somethin' extra? You get Blanche Macdonald grad and wearer of infinite hair bows Jashper Paras! With such eclectic interests, it's no surprise that Jashper has found his home at B-Bombshell Salon "Where Geek is Chic." Jashper is here, in charge and ready to rock your hair world with a dazzling smile that just happens to bring out the cutest dimples you ever did see - and let's be real, a dramatic cape flourish upon entrance. With a penchant for everything and anything from easy everyday looks to crazy fashion colours, there's nothing he can't do - including a darn good bouncy blowout. Skills? Check. Entertaining? Double Check. Enter your new stylist Sailor Jashper Paras: Agent of love, beauty and killer hair days.


Blanche Macdonald: What was your favourite part of our Hair program?
Jashper Paras: My favourite part of the Hair program was the TV & Film module. The module combined history and hairstyling - which was very interesting. Doing hair through the ages gave a great insight into which trends were popular in each era. On the practical side, it expanded our knowledge in styling by creating different textures and silhouettes that you wouldn't normally do on a client. Also the photo shoot at the end of the module was like one big cosplay contest and we were given the freedom to recreate an iconic character from TV or Film. It was very fun!
BMC: 
What is your specialty (cut, colour, ombre, etc)?
JP: I love everything about hair! There is so much I've learned at Blanche Macdonald and in continuing my education with brands like L'Oréal, Redken and Davines. But my passion lies in styling. I love blowdry styling especially; there are so many possibilities and techniques to give a natural finish.

BMC: Was there any advice you got going into Hair school from your friends and/or family?
JP: Yes! My mother told to me to never be ashamed of working hard or letting people see you sweat. And I believe that some people can get caught up in appearances trying to look effortless, which ironically makes them not focused on their work. Another tidbit of of advice that I had echo in my head during photo shoot exams specifically was "KISS" or "Keep It Simple Stupid." I'm not sure where it comes from but I heard it quoted by a drag queen, Ginger Minj during her interview for RuPaul's Drag Race so basically, it's gospel.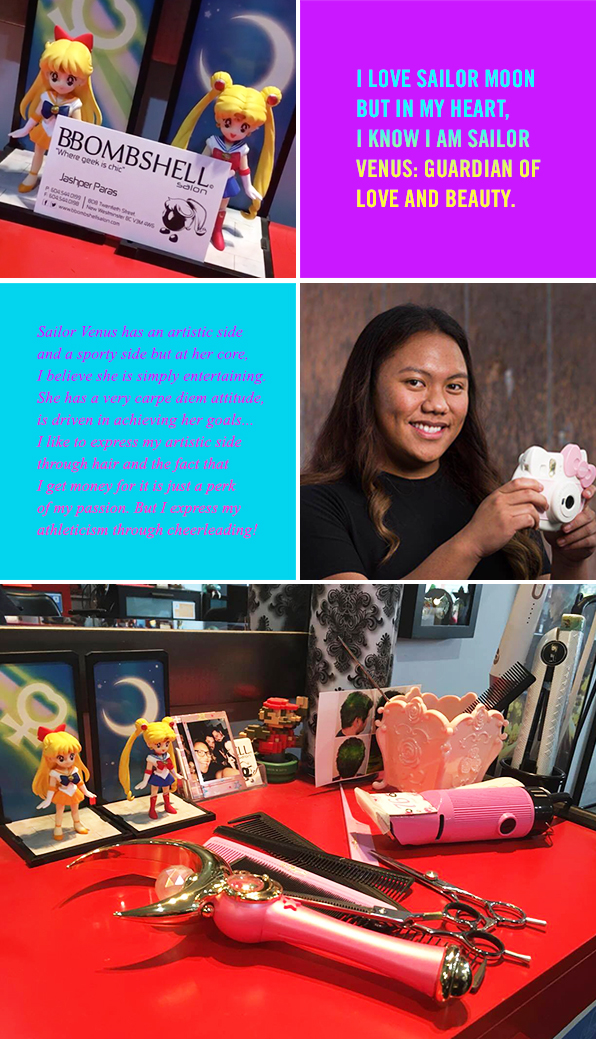 BMC: How did our Career Services and job placements help you find work?
JP: My job placement gave me real life expectations of what it takes to find the courage to introduce yourself to salons and go through a hiring process. I chose to do my work experience at B-Bombshell Salon in New Westminster. I was attracted to it because of its unique gaming style setting and high quality products. This experience helped me find work because around a year later, I was asked to come back and work as a stylist!

BMC: What's one hair trend you'd love to try?
JP: A few of years ago Davines came out with a colour idea called "Mother of Pearl." The concept was to mirror the opalescent effect of the inside of a seashell on the hair. By taking slices of hair and applying red, blue and green to the hair in blocks it creates a very interesting versatile look.

BMC: What's the one thing about doing hair you find the most difficult? And why?
JP: Breaking old habits. There are so many techniques and different ways to do hair. If something isn't working for you, try doing that technique a couple different ways and you'll find one that sits well with your style.
BMC: 
What movie title best describes your life?
JP: La Vie En Rose, the movie depicting the life of French singer Édith Piaf. The translation of the title is "life in pink" or, "life through rosy glasses", meaning that you look at things with joy or a cheery disposition. I feel like I always strive to look at the bright side, to see the good in everything and everyone. It also describes the state you are in when in love, and I'm in love with life.


BMC: If you had to wear one outfit for the rest of your life what would it be?
JP: That's a hard question! I would love to wear sweatpants and a baggy knit sweater. But it would also have to be something all black and the outfit would totally have a cape or poncho – basically anything I can flourish for dramatic effect during casual conversations!
BMC: Which Sailor Scout are you and why?
JP: I love Sailor Moon but in my heart, I know I am Sailor Venus: Guardian of Love and Beauty. I most relate with her because of the way she balances her dreams of singing and being a volleyball star. Sailor Venus has an artistic side and a sporty side but at her core, I believe she is simply entertaining. She has a very carpe diem attitude, is driven in achieving her goals and so supportive of her friends. I like to express my artistic side through hair and the fact that I get money for it is just a perk of my passion. But I express my athleticism through cheerleading! I've been a cheerleader since I was 15 and I compete at national and international competitions. With both my passions of hair and cheerleading, I may falter and excel in certain aspects but I always try to keep a high level of entertainment. And that's who Sailor Venus is; she's an entertainer, and a star just like me!

Photo credits: @jashpy, process photos by Sam Chua: Image Creator. All photos provided by Jashper Paras