Hair
They're the pruners of our strands, the keepers of our secrets and the masterminds behind those picture-perfect balayages. These Blanche Macdonald Pro Hair graduates are just getting their feet wet in the whirlwind world of Hair, but already, they're making waves in their new careers. Spanning the scene from stylists and barbers to Pro-Educators and entrepreneurs, our grads own their very own hair salons, hold the hottest seats in top salons, and work behind the scenes to create stunning editorials. Armed with the knowledge of our internationally recognized training, and a pair or two of super-sharp shears, these remarkable individuals have heard the entrepreneurial call of the Hair world and they have answered back. With Contessa Awards and other prestigious national and international competition wins under their collective belts, our grads are climbing the ranks of local and international scenes one snip at a time. It can be hairy, but they're ready for anything!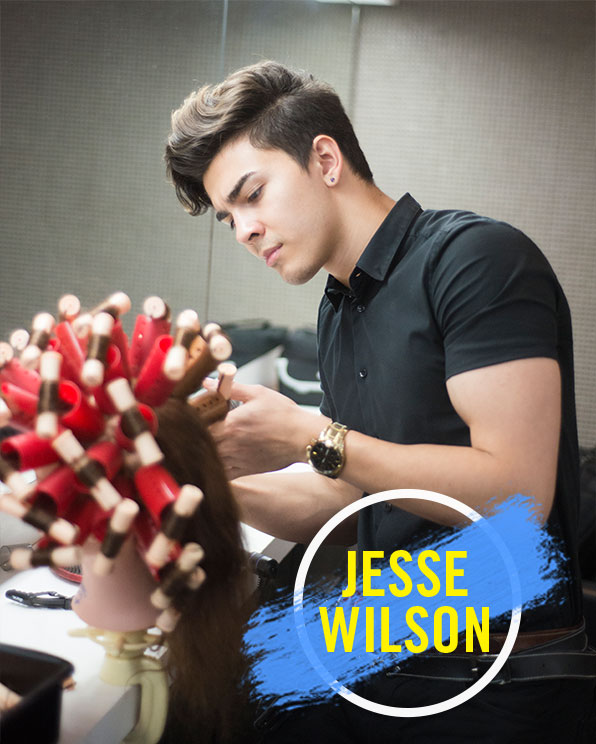 Take one part Calvin (or is it Hobbes? You'll never know!), a handful of dragon scales and an almost unspoken obsession with Dungeons and Dragons, shake and simmer under a winter moon and watch as your new dream stylist takes form. Despite only recently graduated the Blanche Macdonald Pro Hair program, Jesse has landed a chair at a branch of one of the most respected and popular salons in the Vancouver area - Hennessey Salon and Spa. Hilarious, dazzling and completely wacky, he's the unofficial Smile Specialist of Hennessey Richmond, a burgeoning hair artist and an Dragon enthusiast. Meet Jesse Wilson. Or, as he hopes to be known in his imaginary musical career, J. Beavis. And he promises not to mess up your hair because that would be entirely too upsetting for him.
Blanche Macdonald Center: Serious question first. Are you more Calvin or Hobbes?
Jesse Wilson: Definitely Hobbes. Why? Because I'm definitely more Calvin, and that's what he'd say to blow your mind.
BMC: Consider my mind blown! Now as far as hair goes, what would you say your specialty is?
JW: At this point, I don't think I can identify an aspect of my work that I would consider a specialty . . . I genuinely feel as though my best work comes from a solid communication between myself and my client whatever their service may be. I like making my client smile as many times as possible. I don't know if you'd call that a specialty, but it is special to me.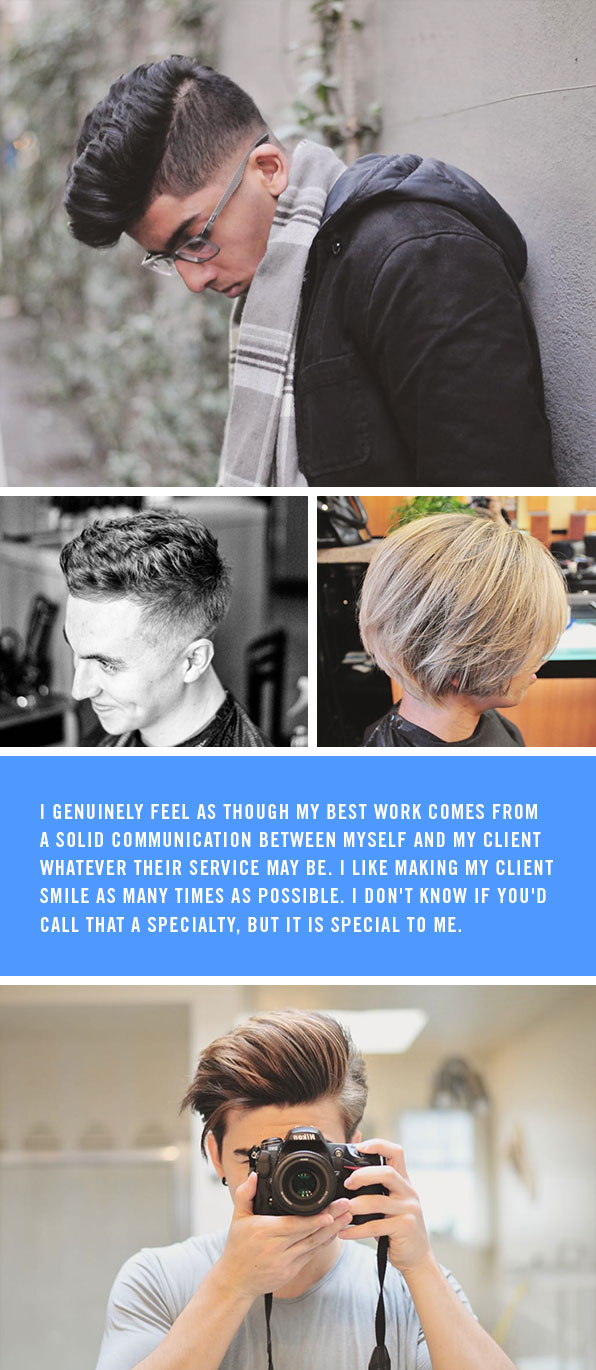 BMC: Well that's pretty heart melting. Spill the beans on your guiltiest pleasure.
JW: I play Dungeons and Dragons on a weekly basis. That is all I will say on the subject.
BMC: LOL fair enough. Can you tell me what your favorite part / level of the Hair Program at Blanche Macdonald was then?
JW: In level 7 we got a chance to do some Avant Garde work, which I would say was my favourite part of the program. I have always enjoyed doing art, whether it be painting or sculpting etc., but this unit gave me an opportunity to work with a medium in ways that I never would have considered. And even to this day in my professional work, I utilise many of the techniques that I learned during those two weeks in level 7.

BMC: That's great to hear! So how did our Career Services & work experience help you find a salon to eventually call home? And how did you know that Hennessy was right for you?
JW: Work Experience was a big eye opener for me. It gave me a sneak peek into the real salon environment. I quickly realized how physically close I was going to be working with my coworkers, so I knew how important it would be to find a good team that could handle my "different" personality. I appreciate my coworkers at Hennessy for doing a good job of adapting to said personality, but I'm still not quite sure if they're fully sold on it. 😉
BMC: But, if you had to spend the rest of your days as an animal, which animal would it be and what would you spend your days doing?
JW: 100% a Dragon. Ravaging townsfolk and partaking in other dragon-ly business.
BMC: And if you were a musician, what would the name of your debut album be?
JW: "Prodigious, The J. Beavis Collection."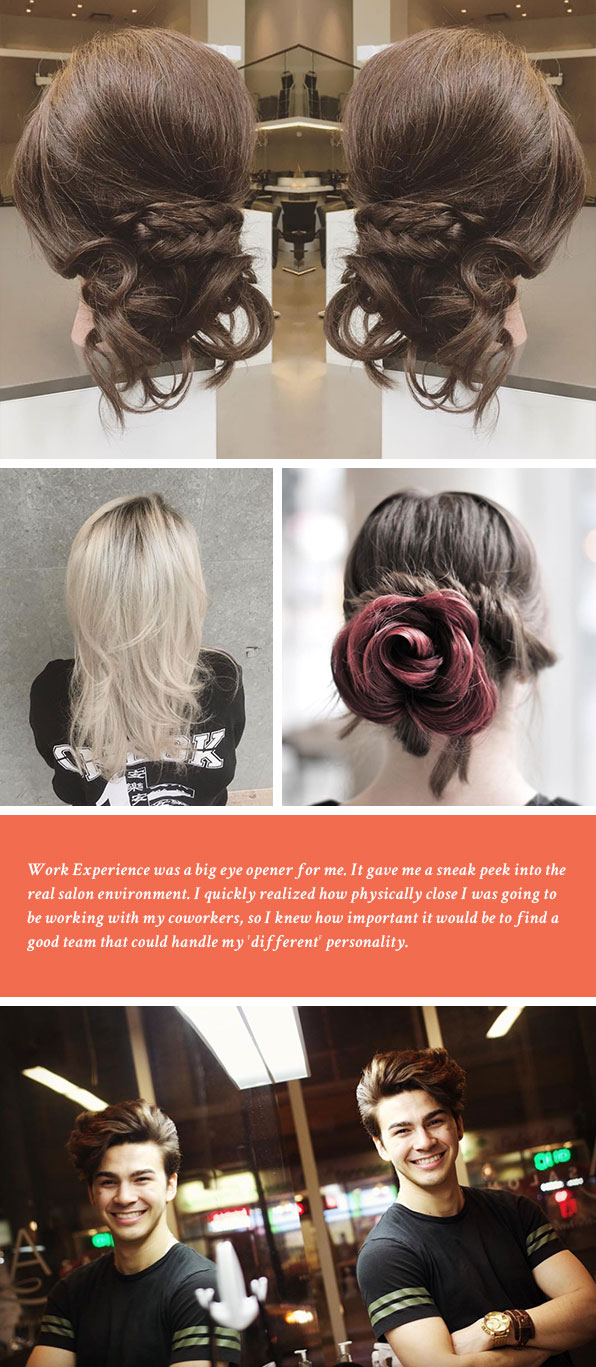 BMC: Melodious. Tell us what your daily motivation is when you're doing hair?
JW: Not to screw up someone's hair and ruin their month. 'Cause that would ruin my month. And I don't want that for me.
BMC: That's solid motivation. What would you say your favorite product for styling men's hair is?
JW: I really like Bumble and bumble's SumoClay. It's light enough to be used as a pre-styler, but has enough hold to be used as a finishing product as well. Suuuuper versatile.
BMC: In your opinion, what is the most important thing to know about yourself before getting into Hair?
JW: This one is important so I'm going to be serious for a moment here: If you're someone who quits, don't even bother. I've come across far too many people who have gotten into the industry and dropped it after a few months because it got too overwhelming. It's not an easy industry! The enjoyment, fun, and satisfaction of the industry doesn't just happen - it comes accompanied by stress, disappointment, daily challenges, and a whole lot of failure. So if you aren't someone who is prepared to handle these things, maybe work on that before getting shears tattooed on your forearm.