Hair
They're the pruners of our strands, the keepers of our secrets and the masterminds behind those picture-perfect balayages. These Blanche Macdonald Pro Hair graduates are just getting their feet wet in the whirlwind world of Hair, but already, they're making waves in their new careers. Spanning the scene from stylists and barbers to Pro-Educators and entrepreneurs, our grads own their very own hair salons, hold the hottest seats in top salons, and work behind the scenes to create stunning editorials. Armed with the knowledge of our internationally recognized training, and a pair or two of super-sharp shears, these remarkable individuals have heard the entrepreneurial call of the Hair world and they have answered back. With Contessa Awards and other prestigious national and international competitions under their collective belts, our grads are climbing the ranks of local and international scenes one snip at a time. It can be hairy, but they're ready for anything!
If you can't tell by her huge, lit up smile, Stefanie Middleton LOVES to do hair. Whether she's turning those dry strands into a luscious moisturized mane or helping you take your fringe to the next level with a funky chop, she's your girl. But a fresh look isn't the only thing that Blanche Macdonald Pro Hair grad Stefanie promises. The self-proclaimed "happy hair stylist" looks to keep your strands looking extra silky, but first and foremost to build each client's confidence higher with each visit to her welcoming chair. Tell us you don't want in on that deal! Coupled with her tenacity, Stefanie's desire to create exactly what her clients imagine has naturally placed her on the floor of Xziste Studio, whose mantra is exactly that – respect the utmost importance of the customer's needs. Daring enough to rock the latest trends on her own hair, Stefanie is at the ready to get your best hair on – and your best self!
Blanche Macdonald: What was your favorite part of our Hair program?
Stefanie Middleton: My favorite part of the program was our photo shoots. They were a lot of fun most of the time, but also extremely challenging. You need to keep your focus (which the instructors always helped us with) and then slowly watch your visions come to life. The toughest challenges are always the most valuable! The whole program taught me a lot about myself, especially how to trust my gut and to work under pressure - which is needed in this industry!
BMC: What is your specialty?
SM: COLOUR! Haha, I know I still have many things to learn about it, but color has been the biggest part of hair that my clients and myself love. I especially do well with the more creative punky colors. There's just something about seeing people rocking wild colors in a classy way that I love to create. The best is seeing the happiness from your clients with the work you do. It is literally the most satisfying feeling in the world.
BMC: How did our Career Services and job placements help you find work?
SM: The school provided us with a booklet of salons, the owner's info and areas where each salon was located. It was helpful for all us to find work experience near us and at salons that would teach us new things in a professional setting. It did land me work experience in two amazing salons. If you're willing to put the work in it and do your part, the school will back you up 100%.

BMC: How do you feel about the baby bang trend?
SM: Oh I love them! I actually just cut some edgy baby bangs on myself. If you can pull something off, then work it!

BMC: What is one thing you find most difficult about doing hair? Why?
SM: Honestly, the hardest part for me personally isn't doing hair itself, but trying to help educate our clients about the timing a service might take and helping them understand that not everything can happen all at once. You never know what you are walking into, especially with new clients. Color corrections can take hours depending on what the client desires. You cannot always promise to get them to where they want to be right away. I was always told to under promise and over deliver - that's what I always aim to do!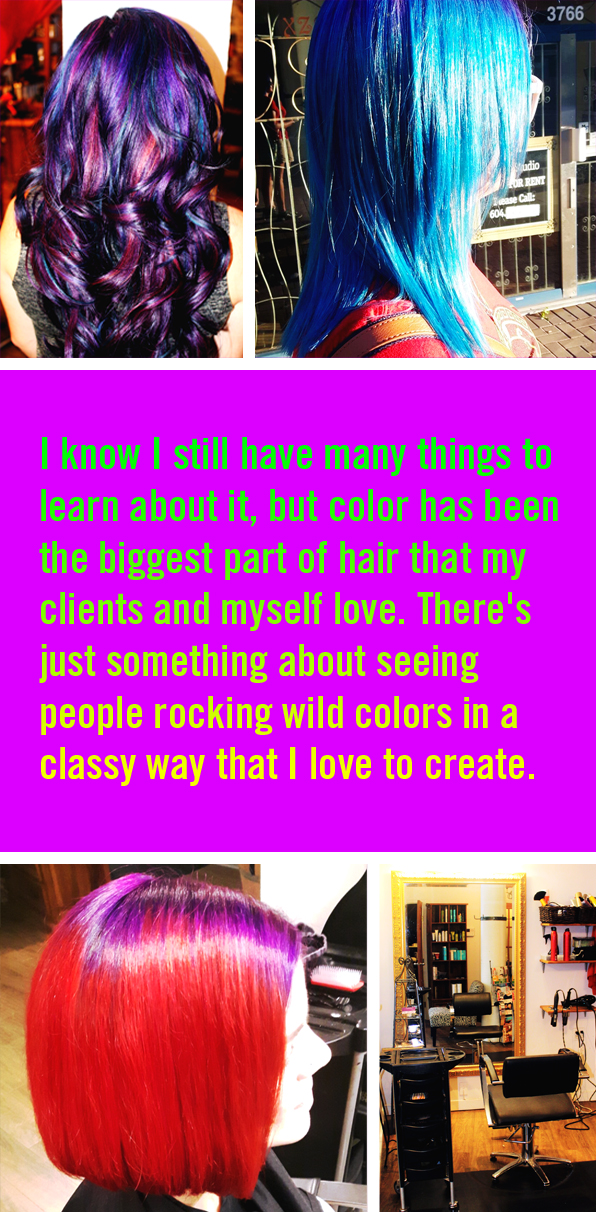 BMC: If you could throw a parade, what would it celebrate?
SM: This is actually something I have never thought about before. Perhaps pizza? Everyone likes pizza, right? I could have people with pizza costumes while handing out free slices? Mm, this actually sounds great!


BMC: Best thing about the 90's?
SM: The hip hop back then! That was the real deal. Back when Missy, Aaliyah, DMX, Tupac, Biggie and Bone Thugs-N-Harmony were all still around and slaying!
BMC: What's your favorite candy?
SM: Sour dinosaurs! The red and green ones are the best!
BMC: Which Sex and the City character do you think you are? Why?
SM: Hmm, that's got to be a toss up between Samantha and Carrie. Samantha because she is always real with herself and her relationships, she never sugarcoats, which is how I usually handle things. Carrie is also a character I relate to moreso because she is really a passionate person. When she is feeling something, she goes after it. She is a strong independent woman living in the city just trying to make it somewhere - just like me!