Makeup
Makeup Artistry Graduate
Professional Makeup Artist (專業化妝師), Hong Kong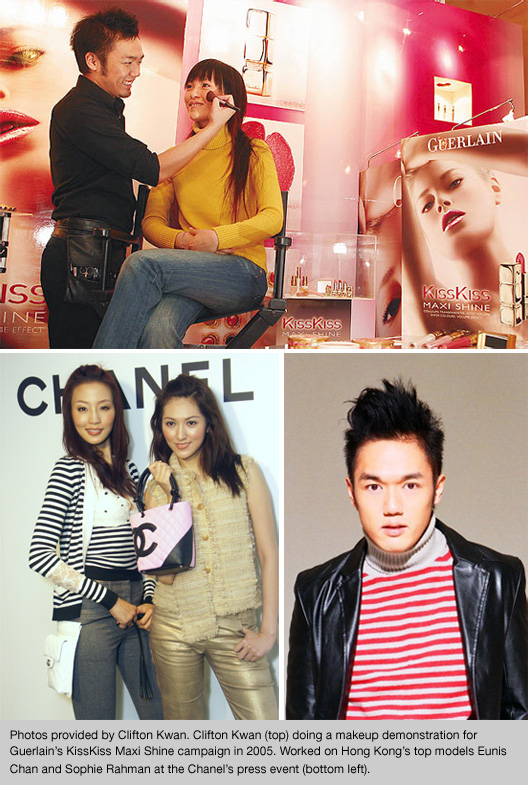 BMC: Tell me what it was like working at Niko Cosmetics and Shiseido. What were some of the memorable moments while working in Vancouver as a Makeup Artist?
CK: Working for Niko was a fun experience, because the brand itself was quite new and so was I. It's nice to grow with a brand; my manager was probably more tolerant towards me because she understood that I was just a fresh grad from Blanche. As for Shiseido, it's very different because my role was a Makeup Artist, where my only duty was to apply makeup for customers, it did not involve any selling.

BMC: Wow! Head Makeup Artist/Makeup Trainer for MAC, Chanel and Guerlain - how did it happen? Was it a challenge?
CK: I was actually just Store In-charge when I was with MAC. It was my first job after returning to Hong Kong in 2004, and at that same time they were looking for someone with leadership to take that post, so it just happened. Chanel was different because I decided that a supervisory role was not right for me at that time, so I left MAC and moved on to Chanel. Again, it is very rare to have a company hire a Makeup Artist that did not involve selling, which I liked. Guerlain came along the way in 2005 when I started to gain a little "fame" within the industry and they asked me to become their makeup trainer. It was a challenge because I have never taken such a role, but it's one that gave me a very good experience.

BMC: What were some of exciting things you have worked on while you were at MAC, Chanel and Guerlain? Any hard to forget moments?
CK: Well, makeup workshops are very popular in Hong Kong, and it was fun to share my experience with customers who have the vaguest idea about makeup. It was very weird for me to give seminars at first, but once I got used to it, it became very exciting.

BMC: What were some interesting campaigns and/or faces that you have worked on?
CK: I have done makeup for fashion shows, magazines, as well as press events for Chanel. I've also worked on Eunis and Sophie who are the top models in Hong Kong.

BMC: Lane Crawford, nice! So what was it like working as the Cosmetic Concierge Supervisor there?
CK: It's a very different approach. Lane Crawford as you know is an equivalent of Holt Renfrew of Hong Kong, and what the Cosmetic Concierge did was a service counter that provided information for customers who had questions regarding makeup or skincare. We also provided complimentary services like makeovers, makeup styling, Cosmetic floor tour, etc. Our focus was not to sell; our goal was to provide a neutral and non-bias service and opinion for customers who have interest in Lane Crawford cosmetics.
It's interesting because not only do I have to maintain daily counter operations, I also need to develop regular "Theme Services" as well as working on proposals on how we can constantly upgrade the services we offer at the counter.
Also with this job, I get to work with all the brands that are available within Lane Crawford, which makes it way more interesting, I am not stuck to one brand. It also opened a lot of doors for me because with my good relationship with all the brands, I get job offers from them once in a while! In fact because I got into the Marriott, I got an offer from one of the biggest international brands to be their Makeup/Skincare/Fragrance trainer!

BMC: Who is your favorite Makeup Artist in Hong Kong?
CK: I think each makeup artist has his own style, I like Zing's creativity but let's just say that he's no longer a "beauty" makeup artist, he's more like a creative makeup artist. Rick Chin is good at doing beauty makeup, and he's actually working on developing his own makeup line too! I am friends with both of them in fact.

BMC: How did the education and experience you acquired while studying at the Blanche Macdonald Centre's Makeup School help you?
CK: Oh, it is probably one of the most important decisions I've made in my life. Without a diploma from Blanche Macdonald I would've been tough for me to even start my career as a makeup artist, hence I have such a good development in this area.
The demand for a good makeup artist in Hong Kong is so big that I got a job within two weeks after I first returned to Hong Kong, where some of my "normal" office job friends took months to find a job.

BMC: Which part of the course was your favorite?
CK: I really enjoyed fashion makeup because that's where we can go all wild and creative!