Makeup
Makeup Artistry Graduate
Silver Ariel Award Winner for Best Makeup Artist - Mexico
The Ariel is the Mexican Academy of Film Award. The award recognizes excellence in motion picture making, such as acting, directing and screenwriting in Mexican cinema. It is considered the most prestigious award in the Mexican movie industry. The Blanche Macdonald Centre is proud to announce that Blanche Macdonald Makeup Artistry Graduate, Gabriela Benito, is the Winner of the 2008 Silver Ariel Award for Best Makeup Artist.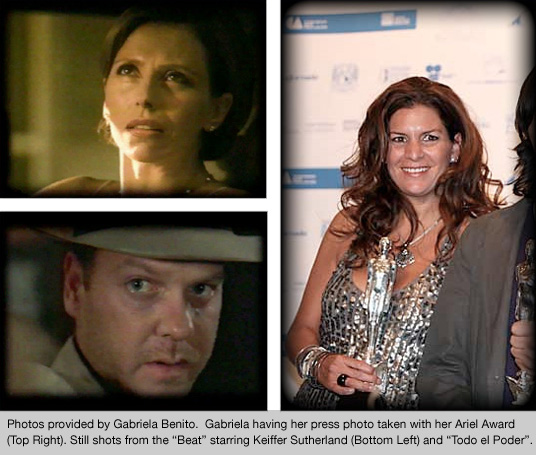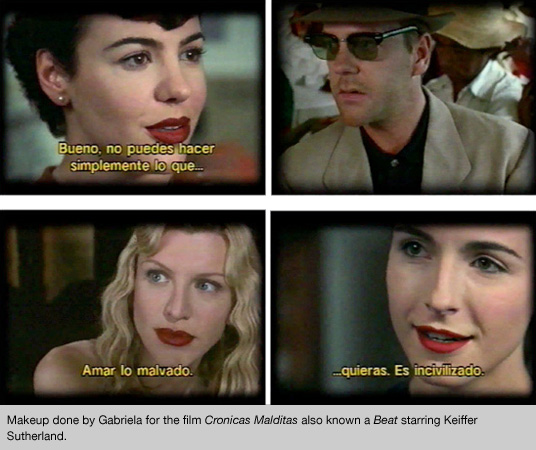 BMC: You have worked with numerous Mexican celebrities and recording artists such as Ricky Martin, Thalia, Alejandro Fernandez, Boys Zone, All Saints, David Usher and many more, who were some of your favorites?
GB: My favorite so far has been Alejandro Fernandez. We did a few videos together. He is a well-rounded guy and very down to earth -- a very fun person to be around.

Working with Keiffer Sutherland and Ron Livingstone was also a pleasure. We worked together in an independent movie that was shot in Mexico called "Beat".
BMC: Winning the Silver Ariel Award for Best Makeup for Kilómetro 31 must of have been exhilarating. What was going through your mind when you were on stage receiving the award?
GB: Not much, everything went pretty much blank! I was super proud of being recognized for my work in "el Palacio de Bellas Artes", The most beautiful and important building in the country that signifies the arts in the country.
BMC: I heard that you were pregnant with your first child while you were working on Kilómetro 31, how did you manage to pull through?
GB: Although I was exhausted I decided to be a part of this movie as I was already on the boat and you cannot let down the people who trusted you in the beginning. So you gather up strength from inside and make it happen.
BMC: What kinds of makeup did you create in Kilómetro 31?
GB: There were a lot of aging and wigs and because of the way the story is I needed to make the main characters to look extremely tired, sad and scared.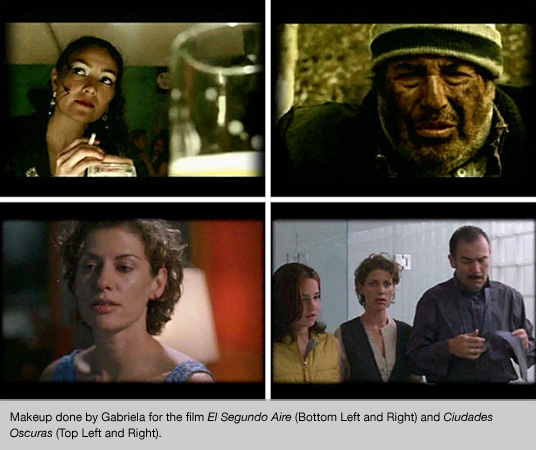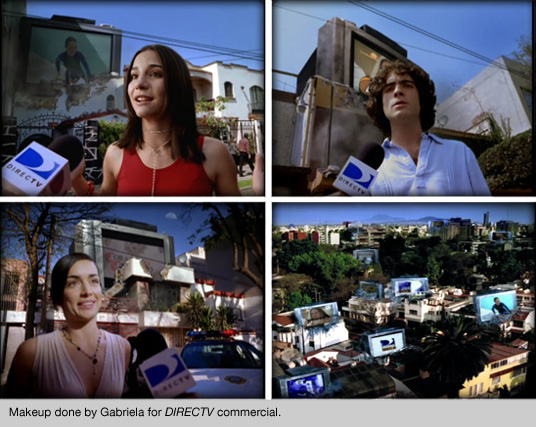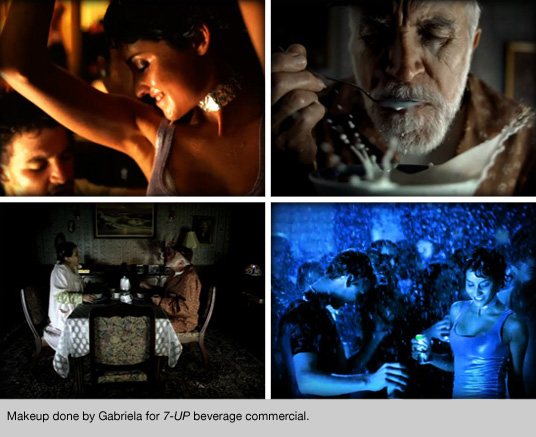 BMC: Beside feature films, you have worked on a lot of TV commercials such as Bacardi, Coca Cola, Gatorade, Nissan, McDonald's and many more, what is the main difference between working on a commercial versus on a film?
GB: The main difference is time. A commercial is shot in a small period of time from 1 day to 8 depending on the project.
In general, you don't usually have to create a character and you don't need to explain where the character came from or where it is going. The character is in present time doing some sort of an action.

There are some commercials that require more character work, which is more challenging and way more fun.
BMC: Of all the commercials you have worked on which ones were the most memorable?
GB: Bacardi, Santander serfin where I had to recreate a lot of classic characters such as the Wizard of Oz, Cinderella, Snow White...Hotel campaigns are fun too as you get to travel a lot. Every project is very different so it's always exciting. The best part is that you don't really know what sort of character you are going to create next.
BMC: What are some of your favorite brands and tools that you recommend?
GB: I have a little bit of everything in my kit. From professional brands to drugstore brands, it depends on what I'm doing.

Nars bronzer and blushes, Laura Mercier's concealers; I love Shu Uemura's foundations and loose powder and Makeup Forever pigments for strong eye shadows. At the moment I am in love with the Benefit mascara and I will always have Benetint from Benefit in my kit.
BMC: What sort of skills would you say are very important to have when working in Mexico City?
GB: You need to love what you do because you are going to work for loooooooong hours of which most of them are waiting. You have to be able to work in any condition. Some times you'll find yourself applying liquid eyeliner in a moving bus or setting up your "make up station" in the middle of the woods with nothing but a chair so you have to be very creative and very adaptable and again enjoy what you are doing.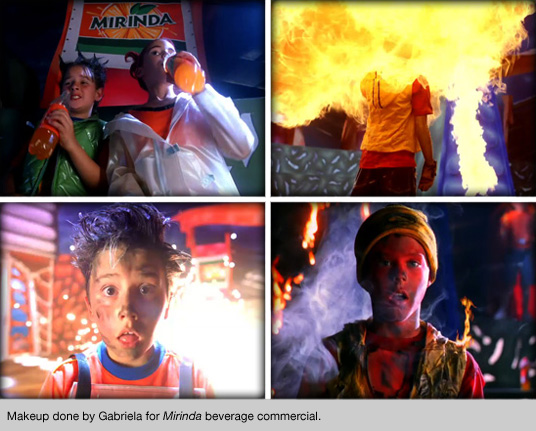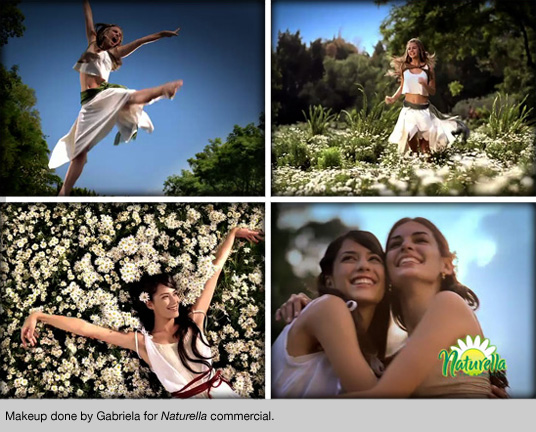 BMC: How did you hear about Blanche Macdonald Centre? What made you decide to attend Blanche Macdonald?
GB: Somebody handed a business card to me so I went and visited the school and loved it. I was a makeup artist for 10 years and never had formal training, as I am self-taught. I thought I could benefit from taking the diploma and indeed that decision was the right one as it was a great experience.
BMC: What did you learned during your study at Blanche Macdonald?
GB: I have learned the methodology of things as a self- taught Makeup Artist. I experimented with a lot of products and materials to get a desired result. Being in school was great because it made it easier for me to do my job in terms of speed and effectiveness. I learned a lot about products and their function for different media. It was a great introduction into the special effects world.
BMC: Why was it a great experience?
GB: It was a playground where I was able to practice my art on a daily basis and have experienced instructors demonstrate new techniques to improve my skills.
BMC: What advice would you would give to other International students who are planning to come to Canada to study so that they have the best experience possible?
GB: To embrace the program and try to get as much as they can of their instructors' knowledge. They should know the ride will be not always be smooth and it is going to take hard work to be successful in this business, but once you are there it is going to be an amazing ride!