Makeup
Makeup Artistry Graduate
Makeup Artist and Hairstylist changing the world one face at a time - Vancouver, BC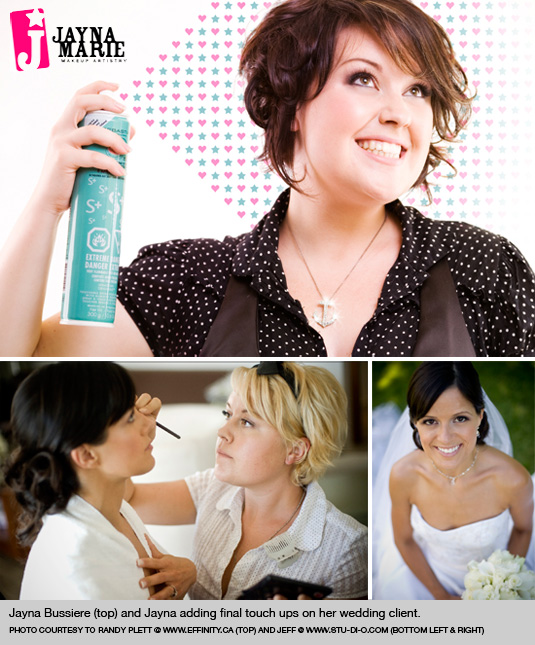 After studying at the University in Kelowna for three years, Jayna decided to pursue her creative passions and study Professional Makeup Artistry at Blanche Macdonald's Makeup School. Over the past few years, Jayna has developed a blockbuster career as a busy, busy international wedding, fashion and makeup effects artist. She has worked for such prestige lines as Estee Lauder, Benefit and Bobbi Brown and was recently featured in GLOSS Magazine for her inside Bridal Makeup tips. Jayna has been booked for over 60 weddings this year. One weekend found her schedule packed with up to six weddings!
BMC: In what parts of the world have you worked as a makeup artist?
JB: So far, makeup has taken me many wonderful places from doing weddings in Whistler and Galiano Island to doing photo shoots in Thailand, Mexico and Hawaii...

BMC: From your travels have you worked in any unique or unforgettable settings?
JB: I did one photo shoot at a temple in Chiang Mai, Thailand that was absolutely breathtaking. I did hair and makeup right there in the middle of the temple with people watching and asking about what we were doing. The model loved the attention...it was a hot, beautiful day. I felt very blessed. I also did a shoot on the beach in Waikiki at sunset. It was truly amazing...the beach was crowded with tourists taking pictures of the model and us. The pictures that came from that shoot are some of my favorite work.

BMC: What are some of the challenges you've encountered when working internationally?
JB: Language barriers. It's hard to explain what you're doing to people when you can't speak their language. I speak some Spanish, so in Mexico the photographer asked me to direct the models...it was pretty hard getting an entire mariachi band to understand what we needed from them but we did it! Another issue is the heat. In Hawaii, I thought all my makeup was going to melt no matter how many ice packs or coolers I used.

BMC: How did you come about being a makeup artist for one of the top stock Photographers in N.Y?
JB: The photographers Project Manager contacted me from New York and asked if I was available to do two weeks of photo shoots with them. I said I was and that they would want to meet with me and take a look at my portfolio (even though I had a website). I didn't have a portfolio printed at the time so I had two days to pull one together. I was so nervous and stressed out! When I met the photographer, he was so serious and I was very intimidated...but after the meeting I hugged him and I think it took him off guard. I was told that they interviewed a bunch of makeup artists but after 3 hrs, they called me to say I got the job. After working with him that time, he wanted me to come with him to his other shoots in California but I was already booked. It was an honor to be asked though!
A year later, he came to Vancouver to do more shoots and hired me again. After working together for the second time, he asked if I would produce two weeks of shoots for him. I would be responsible for finding the locations, hiring the models, taking care of the budgets, payments etc. It was a HUGE challenge and lots of work but it felt good to do something different than just makeup and hair for a little bit!

BMC: From retail to movies to commercials and weddings, which area is your favorite in the industry?
JB: Wow! That's a tough question! I love that I get to do all of them because it keeps life interesting. A couple weeks ago, for example, I woke up early to get a bride and her 3 bridesmaids ready in Port Moody then I went to Coquitlam to get 2 grads ready and after that, I went to Vancouver to turn a burlesque dancer into a sci-fi sexy snake creature...it involved some crazy makeup and a whole lot of body paint. It was so neat to do such a variety of things in one day. If I had to pick though, I would certainly say weddings. I love being able to make a bride look and feel her best. Sure brides are the pickiest clients, but I shouldn't be working in the bridal industry if I can't meet their expectations!

BMC: 60 Weddings!! That is unbelievable, how did that happen? What would you say is the key to your success?
JB: Every summer gets busier. The first year I started doing weddings, I was booked for 6. Then, the following year I moved to Vancouver (to go to Blanche) and was booked for about 15. The second summer in Vancouver I got booked for 37 and this year I'm getting close to being booked for 60 weddings between March and October! If you work hard and keep your clients happy they LOVE to tell their friends about you. I get most of my work through word of mouth! I would say the key to the success I've had up to this point is a combination of confidence and personality. I am careful to act calm and relaxed all the time, regardless of how crazy or stressed out I might feel inside. I never want the bride to feel panicked or rushed - only beautiful.

BMC: Most memorable makeup job?
JB: I was hired to do the hair and makeup for a wedding in Whistler. The bride paid for me to stay two nights in a really fancy hotel with a hot tub by the bed, a fireplace and everything! The surroundings were so beautiful and the bride was so great to work with...sometimes the perks can be amazing!

BMC: How was your experience at Blanche Macdonald?
JB: Blanche Macdonald was great for helping me build my confidence. I did hair and makeup before going to the school but was unable to reach my full potential until I learned how to use the resources and tools available to me. When I first started out, I did bridal makeup with a blush brush, and angle brush and q-tips. I really had no idea what all those other brushes were for! As soon as I learned all the different techniques, I was able to be even more creative. I made a lot of sacrifices to be able to go to Blanche so I wanted to be sure to get the most out of my time there. I really tried to get to know each of my instructors so that I could gain as much information and advice as possible. Everyone was so encouraging and supportive of my career...it was the perfect place to start!

BMC: What advice would you give to future Blanche Macdonald Centre students?
JB: Just attending class at Blanche isn't enough to be successful. It's a great step in the right direction, but it is only one step. You have to work hard on your techniques, do a lot of volunteer work and promote the heck out of yourself! Also, you have to love it. There are times when money won't come so easily or you won't have work but your passion for the industry and support from your peers/instructors is what will keep you going. Work hard, get to know your instructors and do as much volunteer work as possible!