Makeup
Makeup Artistry Graduate
Leo Award Winner, Movie Producer, Zombie Expert - Vancouver BC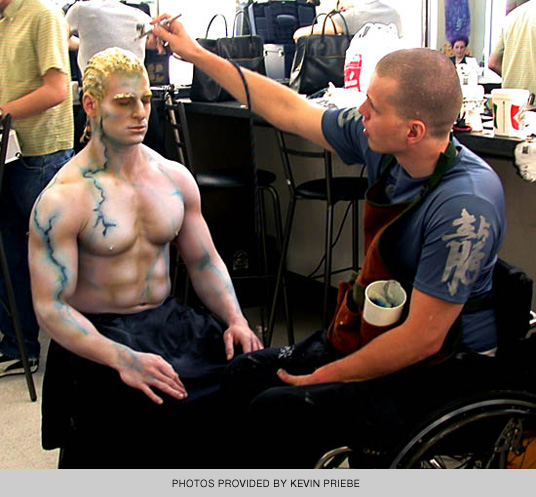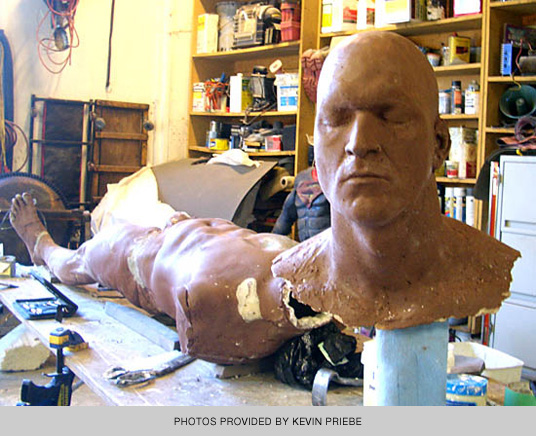 It's the oldest story in the book. Boy falls in love with dirt bike racing and dreams of a career as at the cutting edge of motorcycle mechanics. Boy is involved in serious auto accident and is confined to wheelchair. Girl suggests boy tries new career direction in makeup. Boy finds his calling. Boy wins Leo Award in 2006 for his brilliant work. And is nominated for a second Leo in 2008.
OK, so it's pretty unusual. But for the boy in question – Kevin Priebe, who's now a man – it's a story still far from ending. "I had my accident in 1993," recalls Kevin. "Since then I've been a paraplegic. I spent a few years in rehabilitation, went to Simon Fraser University to study Philosophy. After that I managed a hair salon. But it didn't really sit with me right. A girlfriend suggested I try makeup at Blanche Macdonald, and it just felt right to me."

If the ex-biker in the wheelchair sounded like an unlikely makeup student, the staff at Blanche Macdonald's Makeup School didn't think so. Once Kevin had his spot in his desired course, studying beauty, airbrushing and effects makeup, he knew he was in the right place.
"After learning the basics I definitely thought this could be a career," he explains. "I take most things pretty seriously and I try to do my best, but honestly my time at Blanche Macdonald was so enjoyable. I was always laughing and having fun. The teachers and staff were all really helpful and accommodating. They always stood behind me when I had any questions and when it came to finding work I found them very helpful. Being in a wheelchair was a non-issue."

With the help of the Blanche Macdonald team, who were recommending Kevin for jobs before he even graduated, he was soon working as Special Events Technician and Consultant in Downtown Vancouver at various salons and makeup stores. There was another side to Kevin's makeup work though: a side that was unleashed with an invitation, shortly after graduation, from a short film called 'Canadian Zombie'.

"It was basically a political zombie movie," laughs Kevin. "It was supposed to be a comedy; like Shaun of the Dead. It was a lot of fun. It wasn't meant to be really gory."

The time had arrived to take the special effects makeup skills from Blanche Macdonald's classrooms to the field. The budget was small, but that didn't mean the effects would suffer.

"Being on a budget definitely forces you to be more creative," he reckons. "When I'm on a tight dime I can't just go gangbusters. I have to make things work and we work on the camera shots to juggle things. For example, latex aging is a great thing for zombies. You get some latex from an effects shop – it only costs about ten dollars – and a little bit of paint. You stretch the skin and apply it, hold it, dry it and then when it's dry you powder it and then the contraction of the latex makes it all wrinkled. Then you can add your greens and your deceased colours for your zombies. It's effective for old age make up too. It's just a matter of getting things in the right order. A lot of time on set I'll have assistants and I'll talk them through it. Subtle changes in people's technique and they can do it."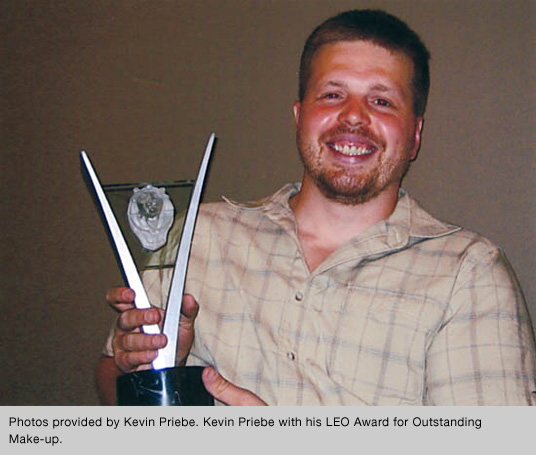 Since then he's worked on many short films in and around Vancouver, including 2006's 'Remembrance: A Soldier's Story', the movie that earned Kevin his first credit as producer and his first Leo Award.

"That was pretty exciting," he laughs. "Brent Butt from Corner Gas was there. I didn't expect to win but it turned out great. I really wanted to do my own thing in makeup and effects with that film. I felt I if helped produce it, I could really end up making something that was my style. I wanted to be more involved. The more you get involved, the more you get your foot in the door."

Kevin will be heading back to the Leo Awards this year, having just received his second nomination for his work in the comedy 'The Collinwood Campaign'.

"I've been nominated for turning a woman in her fifties into a hobo," he explains. "Lots of scratches and bruises, and there were a lot of continuity issues. I've kind of floated more towards the effects side of makeup. More towards aging and making people look cruddy. I've done some body painting and tattoo work too. I'm always trying to push the envelope or push myself. I guess that's how I get nominated for these things."

There will inevitably be more award ceremonies in the future too. The man who started off as a dirt bike racer hasn't lost his competitive edge, and continues to prove that disability doesn't stop creative achievement.

"I've just started to work on a new short comedy with a working title of 'Dancing With People in Wheelchairs'," he explains, "which is being produced by the Centre for Disabilities in the Media. I'm one of the key members there. I'm kind of a producer. The National Film Board is helping us out with that too. There'll be a lot of people with disabilities working behind the camera and in front of the camera. We're also doing a feature film for the 2010 Paralympics called 'At Play'."

Producing movies, creating zombies and winning awards, there's no telling which direction Kevin Priebe's career will take next. The one certainty is that despite the obstacles he's overcome and the opportunities he's winning for himself, he'll always want to be on the makeup frontline.
"You get people to help and you have faith in them," he smiles. "But sometimes you have to get your hands dirty. I've always liked going out in the mud and doing whatever it takes."