Makeup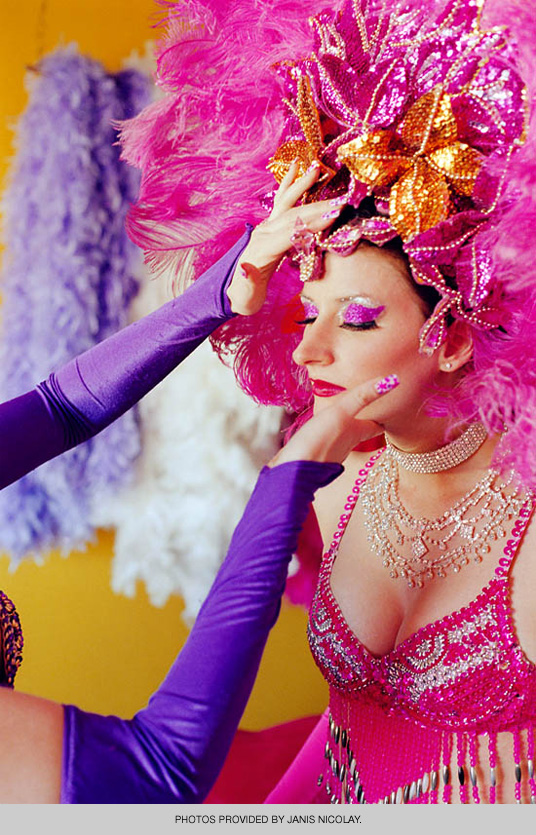 Jonathan Seti is a busy man. He's Head of Hair and Makeup for Las Vegas production studio Dreamvision. He's Barry Manilow's personal Makeup Artist for the singer's Vegas residency. He's been Key Makeup Artist at the MTV Music Awards and the Latin Grammys. And he's worked with some of the most recognizable politicians on Earth. Not bad going for a man who only decided his future lay in makeup on Halloween night four years ago.
"My sister has a Halloween-slash-birthday party every year," he explains from his Las Vegas office. "My brother had an intricate makeup costume that I ended up doing for him, similar to Darth Maul from Star Wars. Everyone at the party loved it. My brother said, 'Why don't you go to school for this?' The next day I started looking for schools on line.
"I requested some information from a few schools and the very next day Mary Hombrebueno from Blanche Macdonald actually called me. That first conversation lasted 45 minutes. A year later I was in Vancouver."
Not only had Jonathan put a well-paid job as a property manager on hold, he was moving from Las Vegas to Canada to pursue an entirely new career. Daunting on paper, but Jonathan had come prepared.
"I knew I'd made the right decision before even I got to Blanche Macdonald, because of the people I'd spoken to there. I couldn't go for a year because they didn't have room. During that time I spoke to the head of the makeup program and Mary on numerous occasions. People there didn't know me, but they already believed in me. They could hear in my voice how excited I was about taking that class. They knew I was going to put my heart and soul into it. Being away from your home and your fiancé for ten months isn't an easy thing to do. You wonder if you're making the right choice. There are people at Blanche Macdonald who assure you that you are, and before you know it you've stopped doubting yourself and doing makeup every day becomes a way of life. I couldn't have asked for anything better."
Jonathan had come to Vancouver with dreams of a career in special effects makeup. But the longer he spent at Blanche Macdonald, the more he realized that he was excelling in beauty makeup too.
"I was lucky enough to have some great teachers at Blanche Macdonald," he insists. "My fundamentals teacher, Sandra Anderson, was a lot of fun. I did a hair program. I'm six foot four. With the size of fingers I have it's not easy, but I had Michelle Morrison as my teacher who was one of the coolest people I've ever met. And then I met Sydney Silvert who I can honestly say was very influential in the way I think about makeup. From that point I knew I was in the right place. My work was making me smile after every application I did. I'd look at it and think, 'Wow, I can't believe I just did that'. I was working on a movie after I graduated when I suddenly stopped and said 'Oh my God, Sydney was right!' To see everything that he said actually come to life was so right on."
Since graduation Jonathan's skills have been in almost permanent demand. He hasn't been out of school long, but he's already the first makeup artist called when America's biggest events visit Las Vegas.
"I was the Key Makeup Artist for the MTV Video Music Awards. That was phenomenal. People were offering me $1,000 for my Access All Areas badge. That turned into me being the Key Makeup Artist for the Latin Grammys. I personally had to make up the tenor Andrea Bocelli in his dressing room while he was warming up his voice. People pay thousands of dollars to see this man perform, and I had my own private show.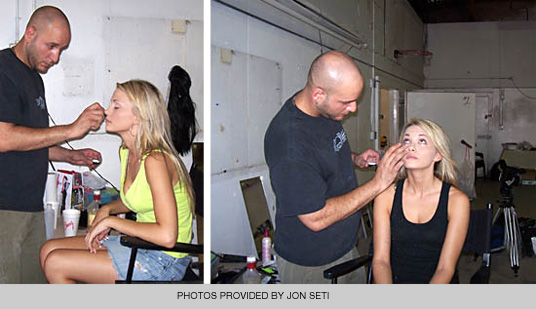 "I've worked with CNN a couple of times. The first time was over All-Star Weekend when the NBA was in town. I got to do makeup for Wolf Blitzer, Magic Johnson, Charles Barkley and the mayor of Las Vegas.
"When CNN came back to Las Vegas for the Democratic National debate I got a call from the Head of Makeup and I got to do the makeup for Barack Obama when he was running for the Democratic nomination. We had to hop on a trolley from the dressing rooms to the debating hall. It was myself and the two other makeup artists, Hilary Clinton, Barack Obama, John Edwards and four secret service men. I remember thinking, is this real?"
Not every job comes with the risk of potential assassination. Sometimes it's just fun. Like the time Jonathan worked with Ellen DeGeneres on Ellen's Really Big Show, a two-hour variety show on TBS.
"She is exactly the way you see her on Television," he promises. "She never stops joking around and is always having fun.
"We're always busy at Dreamvision too. We've done a number of commercials. We've worked with VH1. We had Hollywood movies come in."
Jonathan's life may be busy making pop superstars and presidential candidates look good, but that doesn't mean he's had to abandon his passion for special effects makeup.
"I did the effects on a short film called Jack The Ripper which won Best International Short Film at the Napoli Film Festival. It was only four minutes long but it was very, very gory. I got to be very creative."
Jonathan Seti is a busy man. But his busiest day still remains Halloween, when the same partygoers that encouraged him to pursue makeup professionally once again call on his services."
"Four years ago I only did my brother," he laughs. "This past Halloween I did my brother, his girlfriend, my sister, her fiancé and myself. It's funny, but looking back now that first costume really wasn't that good."