Makeup
In May last year Blanche Macdonald Makeup Artistry graduate Sarah Appleby made the move from Vancouver to New York City to further her career as a freelance makeup artist for the fashion, print and music video industries. Since arriving there, she's worked for clients like Victoria's Secret, BMW, Dove and MTV, magazines like Rolling Stone, Nylon, Paper and Glamour and with musical stars like Little Boots, Tyson Ritter, Paramore, Taylor Hanson and Dave Matthews.

There may be more glamorous jobs than Sarah's in the world, but it takes a while to think what they might be.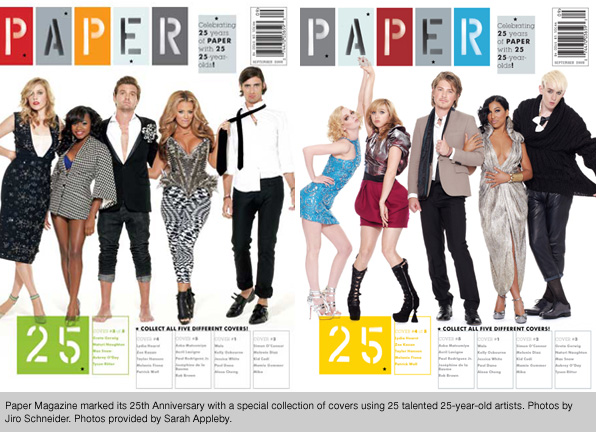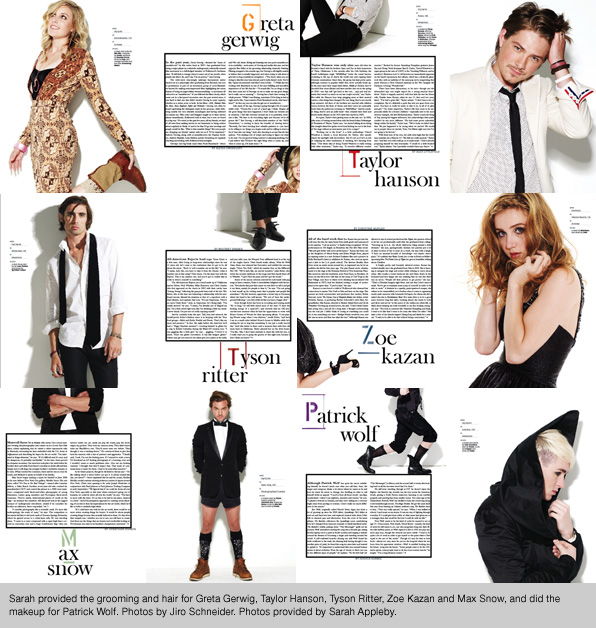 "The day it stops being a creative adventure is the day it stops being fun," she smiles. "I love makeup. I love the creativity and the art of it. I love working with artistic, passionate people. My place in the industry lends itself to incredible opportunities, fun collaborations and such inspiring workdays. Working with people who are so good at what they do is such a privilege."

Sarah's road to Manhattan began in her hometown of Edmonton.

"When I was a kid, my Dad saw an ad for child actors and asked if I was interested. One thing lead to another and eventually I was appearing in commercials and print ads. I always loved the makeup artists. It seemed really fun that that was their job. I wasn't a huge girly girl growing up, but when we were out shopping my Mum would take me to the makeup counter and let me pick out a few things every time. I think those two experiences were huge in developing my passion for makeup."

Sarah was thinking about a career in Public Relations when she heard about an opportunity for aspiring makeup artists.

"When I heard about Blanche Macdonald I made an appointment and checked it out. The more I found out about the school and what they offered, the more I liked the idea of attending."

Sarah decided to take the full 10-month programme, taking instruction in hair and makeup for everything from special effects to weddings, TV and film, and fashion. Soon after graduation in 2005, word spread around Vancouver that a talented young artist was available for work.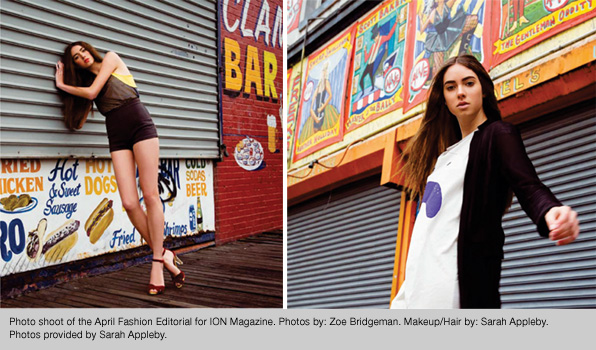 "One of the things I liked about Blanche Macdonald," she continues, "was that you'd be recognised when you put in the effort and hard work. I loved that instructors offered amazing opportunities to me as a student, taking me on test shoots, having me assist and showing me what it was like out there. I tried to get as much out of it as I could and I never missed a day of class. When I had graduated, an instructor at Blanche Macdonald told an agency about me. They approached me and I ended up with them for about a year and a half. I was getting a lot of work. Aside from my own clients, I had the opportunity to continue assisting Vancouver's top artists as well."

Although Sarah had been introduced to a range of makeup industries at Blanche Macdonald, once she'd had her first taste of fashion, the route ahead was decided. And no matter how winding that road appeared at times, nothing was going to stop her from reaching her destination.

"Going through Blanche Macdonald and being exposed to so many different facets in the makeup industry, you get a pretty good idea of what you're interested in, your forte. Fashion thrilled me. Print really excited me. It's the idea of being able to create a really beautiful makeup on someone's face and then having it captured in a photograph. Just being able to express that art, using textures and colours and design still excites me."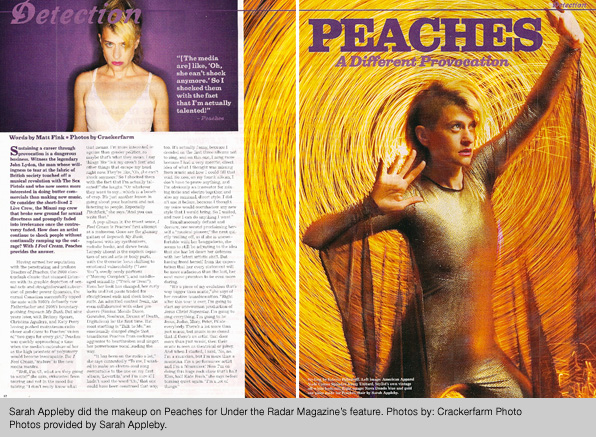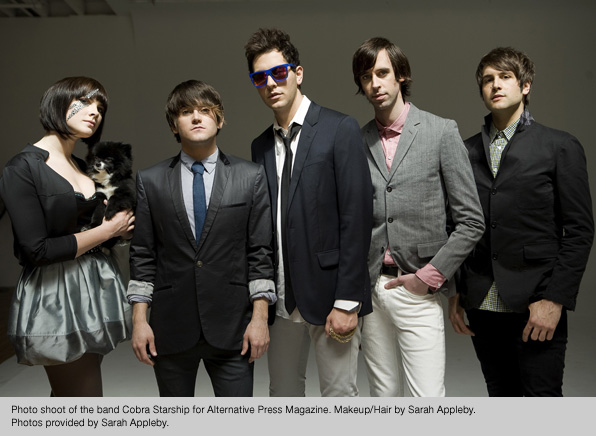 The possibility of a life in New York's fashion industry was on the horizon. First came plenty of hard work.

"I worked really hard on my book in Vancouver," she recalls, "Collaborating with photographers doing tests and making sure I had the best beauty and the best fashion editorial I could possibly have. Eventually, it seemed photographers that had originally known me as someone's assistant would eventually hire me for a job.

"I have this mentality of 'Go until there's a no'. In other words, don't let others limit you by their own experiences, and don't limit yourself. I would rather be a dreamer than complacent. I would rather try than always wonder. I have learned that so much of this business is networking. You can do one job, meet the right producer or photographer or creative director, and then see many more jobs come out of that. Right from the get go, I was serious about creating a business. I had a web site right away, invested money in a good portfolio and sent out regular updates to clients of my work. Even when I was freelancing in Vancouver, I continued serving in a restaurant. You just do what it takes to make it happen."

The work paid off. On route to a job shooting in the Turks and Caicos Islands in the West Indies, Sarah stopped off in Miami to speak to a pair of agencies. She signed with one, who sponsored her US work visa, and in May 2008 Sarah landed in her new hometown of New York City.

"It's more than lived up to expectations," she's pleased to report. "I'm working with amazing people and clients, shooting for everyone from Victoria's Secret to Italian Vogue to Target to Dove. I've worked with photographers like Victor Demarchelier, Jiro Schneider and Emir Eralp, and with actresses like Leighton Meester, Zoe Kazan and Rebecca Hall. I have found myself working with many musicians as of late; the Dave Matthews Band, Passion Pit, Paramore, Tyson Ritter, Peaches, Taylor Hanson, Little Boots, Patrick Wolf. I feel so blessed.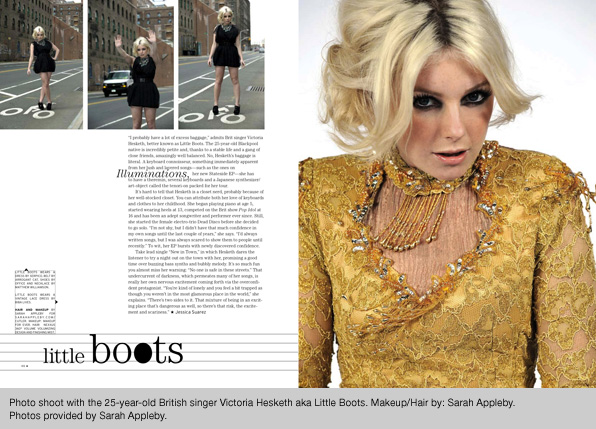 "Prior to living and working in New York, the thought of doing makeup for the shows with top models and working with celebrities regularly was a dream, now it's really become my new normal. It's so fun. It's fast-paced. I'm working alongside, arguably, the most talented people in this industry. What a treat!"

Despite arriving in New York at the precise moment America fell into recession, she's becoming one of the Big Apple's most in demand makeup artists. She can tell you stories about Patrick Wolf's love for glitter, Dave Matthews' perfect skin or why unknowns will always have diva attitudes and the real stars won't. But the new location and lifestyle hasn't changed her. Sarah may be mixing in A-list circles now, but that doesn't mean that she insists on only using products with A-list price tags.

"I continually get new product sent to me, for my kit, from different makeup/hair companies," she explains. "Like, 'I'm doing a 14-page story for an Italian magazine. Do you want product credit?' I was sent the whole line from Lipstick Queen. I use a lot of Kiehl's in my kit. They are so good to me. Bumble and Bumble is a fave for hair and are great with keeping me stocked. MAC and Make Up For Ever and most companies, have generous gratis programs. I think it's more like I have favourite products but not favourite brands."

"I'm not someone that will just use $50 blush. If something from the drugstore gives me better results, I'll use it. It's what I can do with the product, not what's on the label. I'll continue using those until I find something better. Why spend $50 when the $6 product is just as good?"

You can take the girl out of Canada, but you can't take Canada out of the girl.