Makeup
Makeup Artistry Graduate
Freelance Makeup Artist and Owner of Show Attitude – Richmond, BC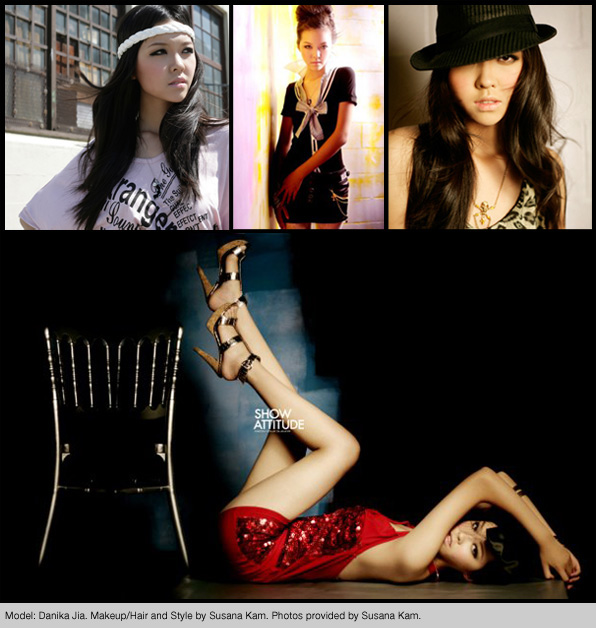 After graduating Blanche Macdonald's Makeup Artistry Program, Susana Kam established her Richmond and Burnaby boutiques Show Attitude on the basis of representing all the best aspects of beauty – cosmetics, fashion and photography. When she's not coordinating fashion shows or running beauty workshops for Show Attitude, she's working as a popular freelance bridal makeup artist, traveling abroad to New York (where she's worked with the Creative Director of Clairol Professional at a photo shoot) and Shanghai to unearth up-and-coming fashion designers and promoting local Vancouver-based Asian artists and stylists by incorporating their designs into her boutique.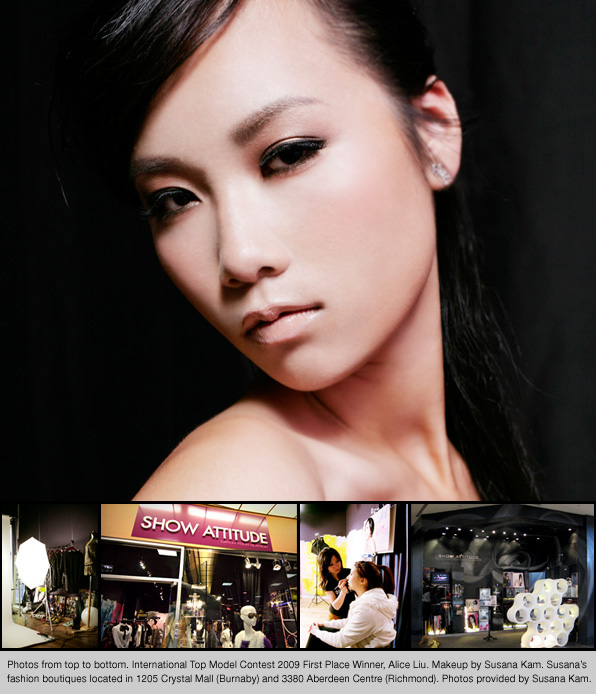 BMC: Tell us more about your edgy, Japanese-style fashion and beauty boutique Show Attitude. Why the name "Show Attitude"? What is the inspiration behind this fantastic creation?
SK: Show Attitude is a one-stop shop for fashion, beauty and photography; we create a vision of total beauty, and then capture it with lighting and film. I chose the name "Show Attitude" because fashion is a show business and style implies attitude. That's how the name "Show Attitude" came to be.
As for the inspiration behind creating SA, I wanted to create something unique and original – not only just doing cosmetic retail or being a freelance makeup artist or selling clothes. I wanted to create something inspiring for this city.
BMC: What is the most challenging part of your job as a makeup/hair and fashion stylist?
SK: I think what's most challenging is educating the customers. Many of them are often quite conservative, afraid to change.
BMC: Wow! You had the opportunity to work with the Creative Director of Clairol Professional in New York! What was that like?
SK: I treasure every project that I have done, but I have to say the most memorable one was working with the Creative Director of Clairol Professional doing a photo shoot in the middle of the meatpacking district in New York. When he works with hair, it's like magic! He is always pushing me to the next level. He's like a mentor to me.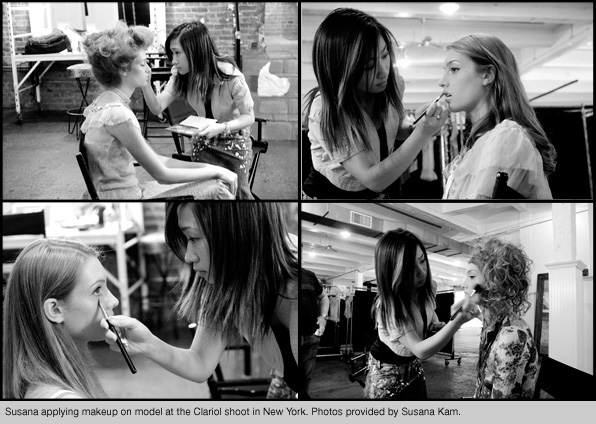 BMC: You've held many makeup events for Show Attitude. Can you describe some of the fashion shows and beauty workshops that you've organized for your boutique?
SK: We've done 5 fashion shows so far; I would say they are all like my babies since everything started from scratch like searching for models, coming up with a theme, styling, creating makeup ideas, doing numerous rehearsals…it's total teamwork.
Our upcoming show is at the end of September; this time we invited the NARS team to do the makeup for the show. I am looking very forward to seeing the transformation from this creative team.
BMC: Tell us about the in-store events with Dior and Anna Sui that were held at Show Attitude.
SK: Both of the events were a success. We tried to introduce our clientele to new beauty products through these events, mix and match with the latest style from Japan's fashion trends. These events benefited all three parties. Everyone had a great time!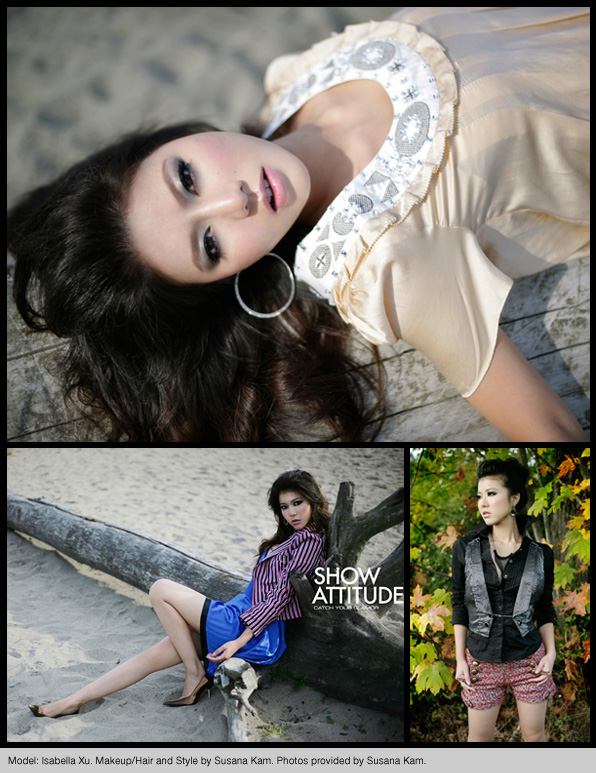 BMC: Being a fashion boutique owner, makeup/hair artist and fashion stylist, you must travel quite often. What are some of the places you have traveled? Any favourites?
SK: I love New York! I love the energy I feel around me every time I am there. These days, I travel to Shanghai at least once a year just to explore this new spotlight of the world. There are so many opportunities to search for those up-and-coming fashion designers. I want to be the first one to carry their line.
BMC: In addition to running Show Attitude, you also book numerous bridal makeup gigs during the wedding season. Incredible! What would you say is the key to your success?
SK: Yup, I am booked every weekend during the wedding season! As for the key to my success, I would say you have to have a passion for it and to understand what the bride really wants. It thrills me whenever I see the glow of happiness on the bride's face after I have done her makeup and hair.
BMC: You have also worked with quite a few local Asian artists and stylists in the beauty industry. Who are some of these talents?
SK: I worked with hairstylist Hiroshi Nakagawa, nail artist Yasushi Arakawa and also the music band Locus; you can check them out in the in the SAX section on our website showattitudestudio.com/sax. We tried to develop a platform for these awesome artists in different fields and combine them with our vision. We collect information – not just beauty or fashion, but a lifestyle. We want to strengthen our audience's overall sense and knowledge in the world of creative arts. Our future content will include art and design, films…also automobiles!
BMC: How did you hear about Blanche Macdonald Centre? Why Blanche Macdonald?
SK: Blanche Macdonald is everywhere! I wouldn't think of any other institution than BMC.
BMC: Was Blanche Macdonald what you expected? Did it meet your expectations?
SK: Blanche Macdonald's uptown campus is such a beautiful campus. The instructors and staff are so caring and patient! There are constantly seminars being held by industry experts, numerous job opportunities through the school…the whole package was more than I expected.
BMC: What would you tell future students coming to Blanche Macdonald?
SK: Being a makeup artist or any position in the fashion field is not as easy or glamourous as it may look; there is lots of hard work involved. Be prepared to handle all the different types of challenges and pressure. And, most importantly of all, treasure every moment in the class and pay attentions to the details.