Makeup
Makeup Artistry Graduate
Makeup Artist, Edmonton Fashion Week - Edmonton, Alberta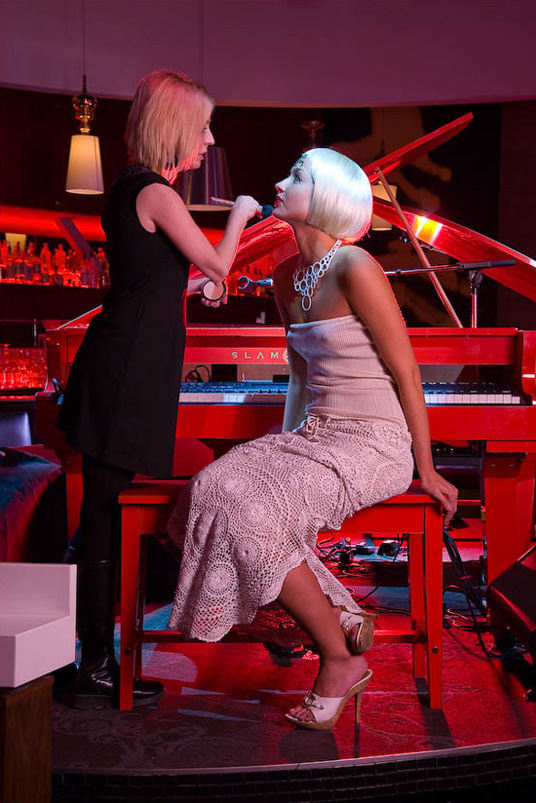 BMC: What are some of the projects you have been working on since graduating from Makeup School at the Blanche Macdonald Centre?
TL: Primarily, I have been working with Edmonton Fashion Week (EFW). I sought out the opportunity to do makeup for a few designers after graduating and continue to do so. I have also been able to do print work, specifically for EFW- The Magazine, the new quarterly magazine we launched last season. Before attending Blanche Macdonald, I was involved with the film and television industry starting in 1995. The people I met through being involved in that industry now know I am a makeup artist and I've gotten calls for television, commercials and film work.
BMC: Memorable projects?
TL: Absolutely! My most memorable makeup project that I did was for a docudrama about our potential water crisis. I was able to work with very talented friends/filmmakers from the film community here in Edmonton. I met amazing people who I continue to work with on other films and have become good friends. Working on films incorporates three of my passions: makeup, filmmaking and social issues. This was an incredibly rewarding experience! I'm certain the film will do well and I can't wait to see it when it's finished.

BMC: Tell me about the multiple roles you are involved in with Edmonton Fashion Week. How did you get started?
TL: I went into Planet Ze Design Center to meet with Sandra Sing Fernandes, the creator of Edmonton Fashion Week. I wanted to get involved doing makeup, so despite my nerves I brought in my portfolio. After taking a look at it, she gave me the opportunity to do makeup for two designers – Michelle Djonlic of Andeo Hats and Kelsey McIntyre of Serendipity. I have been so blessed to work with them; they are incredibly talented designers and I have been doing makeup for their shows for the past four seasons.
As for my other roles, they include: coordinating our charity event, recruiting and organizing the volunteers, upping our media coverage, calling the shows back stage…whatever needs to be done. Recently, I created and designed our new website – a very new venture for me! I am literally helping with everything from the paperwork to designers to post EFW cleanup. I became aware of the need for people to take on roles to help EFW thrive. Up until this past year, EFW was a one woman show with Sandra doing it all – an incredibly huge endeavor for one person! I'm convinced that EFW is an extremely important event for Edmonton designers, stylists, makeup artists and the like. It gives us a chance to collaborate, work together and pull the industry up to the higher and more professional standard that it deserves. It's a full time job, but as a makeup artist, it's important to me that if flourishes.

BMC: What were some of the challenges you had to overcome organizing Edmonton Fashion Week?
TL: I can't tell you what the initial challenges were getting it off the ground as I wasn't there. I can tell you that we are four years in and we still have the challenges of making it really take off. More interest is generated in EFW every season, but the fact is Edmonton is not a fashion mecca. We live in a very conservative province that loves oil and hockey; however on the other side of the spectrum we are also quite bohemian. I think the core values of EFW are creativity, promoting our design talent and fostering new talent; we are trying to create a community where there wasn't one before. We have incredible talent in this city with EFW being the only venue in Alberta that offers all who are involved in the fashion/style/beauty community the opportunity to work on a large-scale show. This is where we can all come together to learn from each other and have the opportunity to be creative.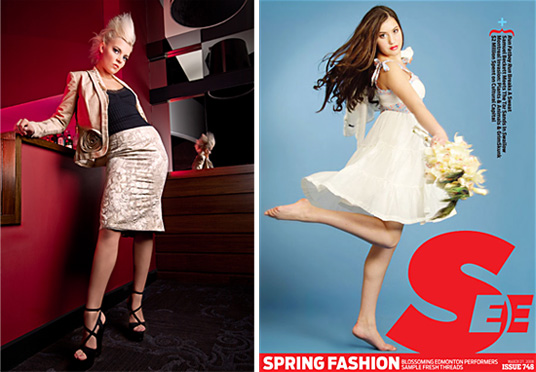 BMC: How did you become a Certified Paramedical Camouflage Makeup Specialist?
TL: Oddly enough, it was through EFW that I became certified in doing camouflage makeup. I had coordinated a few artists in the city to work on a silent auction project in support of our charity. I mentioned I was a makeup artist to one of the artists; she knew an Occupational Therapist who was looking for a makeup artist who could do camouflage for burn survivors. I gave her my card and the next thing I knew the University of Alberta Hospital emailed me. I was introduced to Sweet LeiLani Colour Cosmeceuticals in our Cosmetic Retail class – the background of the product and LeiLani herself. I was able to email her and said, 'I have been given this opportunity to do camouflage makeup, would you consider training me?' She got back to me and said, 'Yes, and why don't we take this one step further, we just lost our Edmonton Representative – would you be interested?' I flew to Vancouver where she trained and certified me. I am one of three makeup artists the University of Alberta Hospital Burn Unit recommends, but the only certified artist. I use the product exclusively (it is such a beautiful product) and both LeiLani and her sister and partner Tana are amazing and inspiring women.
I think Paramedical is my calling within the makeup artistry industry. It feels very natural; having arthritis, which has damaged my joints to the point of having a physical difference, I understand society's perceptions of differences and some of the subtleties that others may not. To be honest, the biggest challenge is getting my name out there and building my reputation as a Paramedical Makeup Artist. Right now my name is more associated with EFW, film and TV than in the medical community with Paramedical, but I have received calls from other provinces so it is slowly happening.

BMC: What was your experience like at Blanche Macdonald Centre?
TL: The experience at Blanche Macdonald was absolutely incredible and the instructors were amazing. It's now three years later and I am still in awe at the talent and caliber of the instructors and the relevancy/real life application of what we were taught. I would never have thought that the instructors and directors would even remember me with all the students that attend the school, let alone support, help and encourage me three years after graduating! Going to Blanche Macdonald was one of the best decisions I have ever made.