Makeup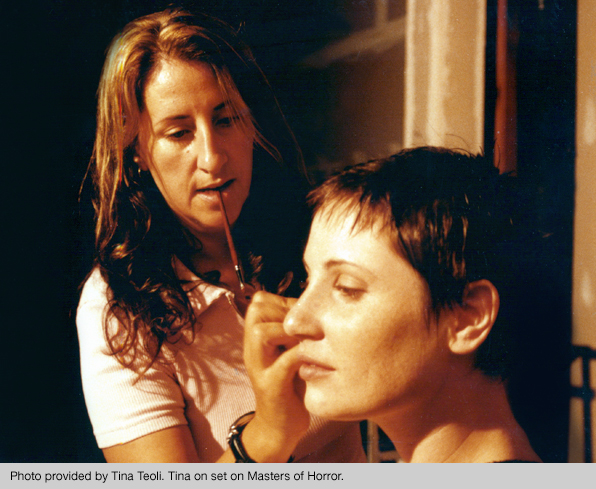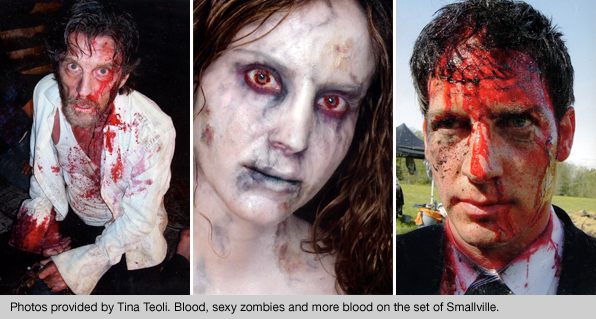 There's a certain etiquette that comes with winning a Leo, British Columbia's most prestigious award for its massive movie and television industry. Tina Teoli understood that even before she won the 2010 Leo for Best Makeup in a Short Drama for her work in the horror/espionage thriller, Serum 1831.
"I'd been to the Leo Awards before so I knew what to expect," she laughs. "I went as part of Natalie Cosco's team when she won for Smallville. They don't feed you until eight, so you drink a lot of wine on an empty stomach, which isn't necessarily good. I was on heels too, so when my name was announced I was concentrating on not falling over. You get a trophy and do your speech, then they walk you off set, take your trophy, give you another one, take a photo and they take the trophy back again. I have no idea where my Leo is right now."
Tina's sense of humour makes any time spent in her company terrific fun. But she also knows that an outgoing approach isn't appropriate for every situation. That's one of the reasons why, over the course of nearly two decades in the film and TV business, the Blanche Macdonald makeup grad has risen to the top of her profession, including being named head of the makeup department for the last two series of Smallville.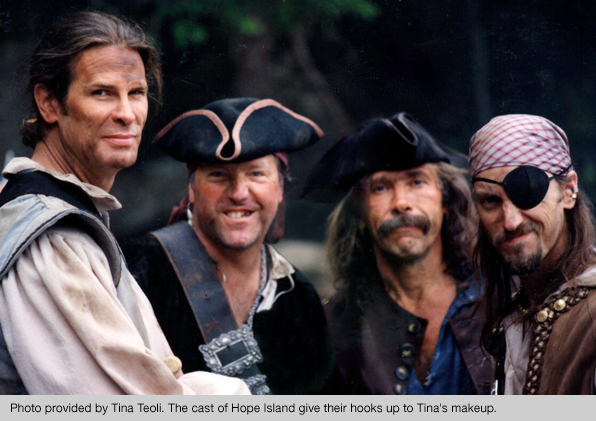 "Makeup is more about psychology than people realise," she insists. "I'm able to talk to people. I can be a clown and get people out of a funk. And I'm able to calm people down when they're on the ledge. That's my strength. You bring your personality to the set but it's not about you, it's about the work. On set you need to keep your mouth shut and your ears open. I've met makeup artists who can't stop telling everyone how much they know. But we're all still learning. There are always new products and techniques."

Tina has learnt to keep her lively personality capped when the set and situation demands it. It's a philosophy she first picked up when she attended Blanche Macdonald and learnt from the professionals back in 1993. Fed up with a going nowhere job as a phone operator, Tina decided to turn her creativity into a career.

"I'd always done costumes and when Halloween came around I'd do costumes, makeup and hair. I'd always painted too. One day I was watching makeup artists work on some monster on TV and thought, 'Wait a minute, that's kind of like painting'. I started investigating and ended up at Blanche Macdonald. I liked the course and I was able to flip my schedules at work and go to makeup school at the same time. That was 17 years ago."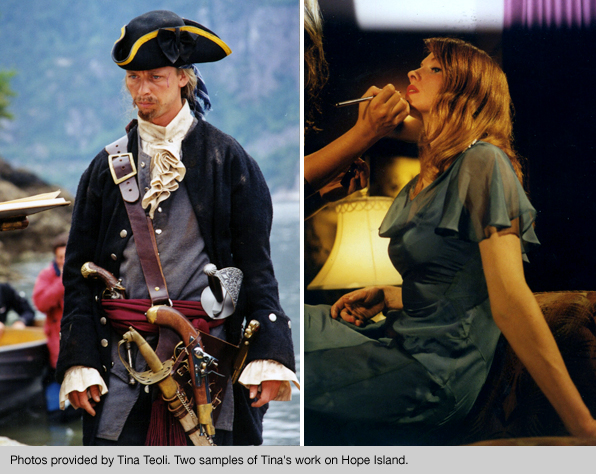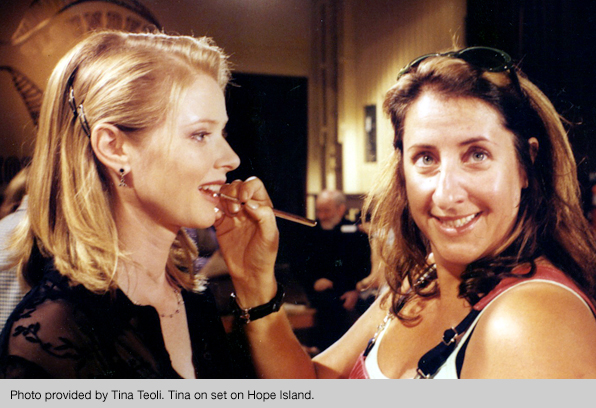 With a day job that routinely involved listening to strangers whine, Tina was hungry to build a career from the ground up. She worked hard at Blanche Macdonald, but it was a labour of love at a makeup school she's happy to give a glowing review.
"I loved the courses and my teachers. The program brought out what you had. If you had talent it shone. It gave you the skills. I had all sorts of ideas but I didn't know how to get there. I got motivated. I wanted to do well. While I was in school I was volunteering. Getting your name out there works. One of my teachers, Michelle Pedersen, ended up hiring me!"

That show, Madison, ran for five seasons and won multiple awards. Tina still remembers her first day vividly.

"I was so nervous, but I felt prepared, as much as you can be. My teachers were all working makeup artists, so that was invaluable, but you can never be totally prepared for set life, because a set has nothing to do with reality! Things there don't make any sense. Madison had a large cast and we did hair and makeup, so we had some busy mornings when twelve people would come through our trailer. It was a great experience for me. You had to learn to get along with a lot of different egos, including your own. You learnt when to fight and when to put it away."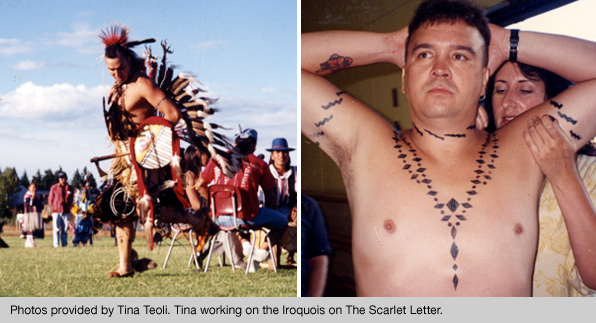 Tina learnt quickly. Her reputation as a talented and professional makeup artist led to her first feature film, the Mark Wahlberg and Reese Witherspoon thriller, Fear.

Tina doesn't hesitate to stress that big movies doesn't necessarily translate to big glamour. Fear was made over a course of unrelenting 18-hour day weeks, while as part of an under-funded makeup team on The Scarlet Letter, Tina was reduced to tattooing 400 Iroquois warriors with Sharpies. On the set of 2003's horror hit Freddy vs Jason, the movie's violence began to affect her psychologically.

"The script got to me," she admits. "Of course it's fake, but horrible things happen in reality too. I was standing in a cornfield at 3am covered in blood from head to toe, surrounded by dead teenagers. At that point I started being offered shows I really liked."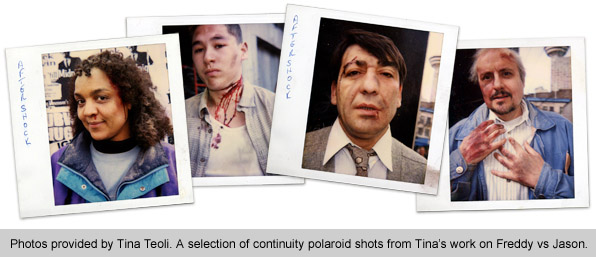 The fun times had begun in 1999, when Tina keyed the series Hope Island. Winning a job on The Chris Isaak Show in 2004 meant that the days of slain slasher victims were officially over.

"I was first assistant on The Chris Isaak Show for two seasons. Chris is a perfectionist, but the band was fantastic and we had a free concert every week! I got involved with Jake 2.0, and Natalie Cosco asked me to do the second unit on Smallville when Jake finished.

"Natalie showed me that you don't have to boss people around to key. For me the most happy and creative productions I've worked in as an assistant were when I was treated as a partner. When I started for Smallville Natalie never had to tell me who's boss or tell me to be quiet. I am quite outgoing and opinionated, which doesn't always go over too well. When Natalie decided she was done with Smallville I was given the honour of keying seasons nine and ten. Smallville can be a beast the way it's edited. You can be duplicating something intricate from two months earlier that another unit did in the first place. We manage to do it."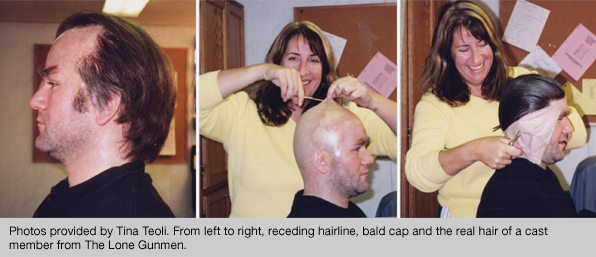 As key makeup artist on a major TV series you'd be correct in assuming that Tina's spare time is precious. Which is why she's dedicated to putting that time to good use, volunteering for projects that allow her to flex her creative muscles. Case in point, the Leo-winning Serum 1831.

"We did it on weekends," she explains. "Volunteering is still a great thing to do. Serum 1831 had a small cast, so I didn't need a lot of people, just my second unit key from Smallville, Michelle Lemieux.

"There was a bit of blood, and boils and peeling skin. Basically, it stars a living zombie. It's so much fun when people rely on you to come up with the ideas. When you do an independent production you're the boss. It's you who needs to come up with ideas for $1.99!"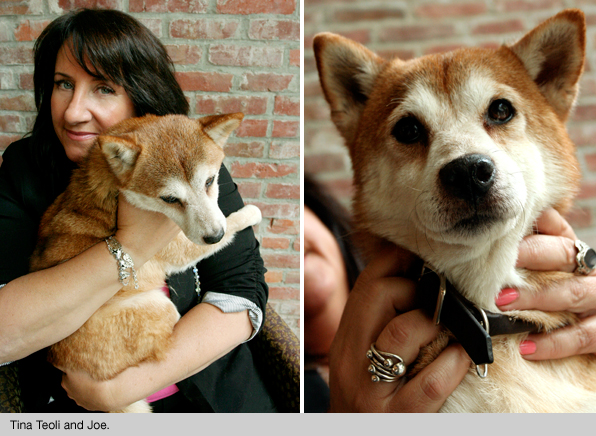 Whether it's major studio movies, globally distributed TV shows or independent zombie flicks, Tina brings her talent and personality to the set every day. Even when it's been tough, it's been fun.

"There have been way more good moments than bad," she smiles. "I've worked with incredible creative people! Film crews are the most entertaining, ridiculously funny people you could ever work with."